New Stores at Montecito Country Mart
Two new stores are calling Montecito Country Mart home as business picks up throughout the Mart following the lifting of the state's stay-at-home order in January. "People are here, they are shopping and eating, all in a safe way," says Mart rep Kristin Teufel, who introduced us to the new shops earlier this week.
The Mart has undergone some changes as Space NK Apothecary closed its doors in October, and that space then became home to Studio C, the concept from C Magazine founder and editor Jennifer Hale, who, along with her team, continually curate an array of California-made items including ready-to-wear clothing, bathing suits, beauty products, fashion and home accessories, homewares, and more. The former space of Studio C is now held by Clic.
Clic is the brainchild of Christiane Celle, who was the original founder of resort-wear company Calypso. The first Clic store was opened in 2008, as a photography gallery and bookstore in Brooklyn, New York. The store has evolved, now offering a collection of contemporary photography, home goods, books, textiles, apparel, and accessories. "There really is something for everyone," said store manager and longtime Montecito retailer Nicole Green, who helped Celle open the store prior to the holidays. Green is likely a familiar face: she worked for Pierre Lafond for 15 years, owned Lola Boutique for eight years, and most recently managed Maison K for three years before coming to Clic. This is Green's first foray working in the Mart, which she calls a retail hub in the community. "I see people I know here every day on their way to run errands or shop; it really is a special place," Green said.
The Montecito Clic store is the 8th Clic to open; other locations are in NYC, the Hamptons, Marin, and St. Barth. The happy, whimsical store is full of colorful house wares, from textiles like blankets, rugs, and throw pillows, to handcrafted items like alpaca figurines and wood serving bowls, pottery, furniture pieces, coffee table books, photographic art, and much more. The store is also lined with racks of a variety of apparel, from resort-style dresses, to luxurious jackets, and everything in between. There is also jewelry, select kids' items, and much more. "It's carefully curated to evoke a certain sense of style," Green said. A full array of the offerings is available on www.clic.com.
Also recently opened: Cynthia Benjamin, a Los Angeles-based optical boutique store owned by husband-and-wife team Cynthia and Benjamin Montoya. The pair has been in the eyewear business for over 25 years, with a successful and beloved store in the Brentwood Country Mart for the last 16. With the global pandemic prompting many Los Angeles residents to flee the big city and settle in Montecito and Santa Barbara, the Montoyas felt it was a perfect time to expand into a second store in Montecito Country Mart. "A lot of our clientele frequent both areas, so it really was a perfect fit," said store manager Jordan Feldman, who managed the Brentwood store for four years and moved up to Montecito to manage the Mart space, which is located in the former home of Merci To Go.
At the heart of Cynthia Benjamin is the customer experience, which includes educating the client on fit, quality, and style of both sunglasses and eyewear. "We make sure they leave with something that fits their face well and is a quality product; we are not about trendy frames here," Feldman explained, adding that fit on someone's unique face shape is emphasized over trends. "When we find the perfect pair for someone, we know immediately, and everyone gets really excited!"
The shelves at Cynthia Benjamin are filled with a mix of small, independent eyewear brands, as well as an impressive array of vintage frames, which date all the way back to the 1940s. The frames are from what is known in the industry as "dead stock," or new, never used frames from old stock. Feldman pointed out signature frames that were once made famous by Grace Kelly, along with hard to find frames by Oliver Peoples, Persol, Ray Ban, and others. "They really are small pieces of art, and we work hard to curate a really beautiful selection that you are not going to find anywhere else," Feldman said, explaining that the vintage frames are from Benjamin's own collection.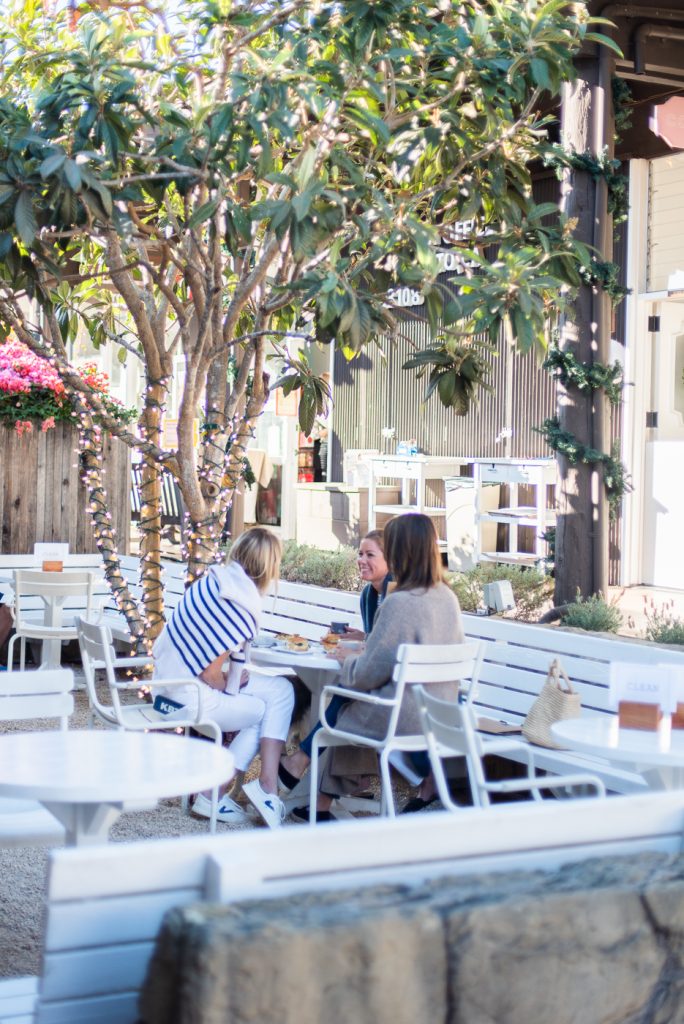 New lines include Salt, Cult, Native Sons, Thierry Lasry, Eyevan, Jacques Marie, and more. All frames can be completely customized with optic lenses or for wear in the sun. The shop has its own lab to produce customized glasses, as well as equipment that can read eyeglass prescriptions from existing lenses. The full service boutique can also help with frame adjustments, troubleshooting, repair or rehabbing old frames, advising on prescription concerns, and more. Cynthia Benjamin also carries a small line of ready-to-wear readers, as well as blue blocking lenses, and glass spray that prevents fogging of glasses while wearing a face mask.
Feldman says the store takes COVID precautions very seriously, including sterilizing frames after every try on, and offering portable handheld mirrors for customers to move outdoors to briefly try on a pair of frames without a mask. "It's hard to find the perfect pair of glasses while wearing a mask, so we've found a way to do it safely," said Feldman.
For more information, visit Cynthia Benjamin at Montecito Country Mart, or visit www.cynthia-benjamin.com.
The new stores, which are in long-term leases, join other Mart shops Clare V, Coco Cabana, George, Hudson Grace, James Perse, Malia Mills, Mate Gallery, Poppy Marche, Studio C, Montecito Natural Foods, and Toy Crazy, along with Montecito Cleaners, Read N Post, and Montecito Barbers, which reopened last week when the stay-at-home order was lifted.
Teufel tells us the eateries at the Mart: Bettina, Caffe Luxxe, Little Alex's, Merci, Panino, Pressed Juicery, and Rori's, are all excited to be able to offer outdoor dining once again, after only being able to offer takeout for the last two months. The Mart has plentiful outdoor seating for the various restaurants, as well as communal seating which can be enjoyed by all patrons. Bettina's large outdoor patio, which is located in the center of the Mart, will be reopen for tableside service in two weeks. The Mesa Produce Farm Stand has increased in popularity during the pandemic, offering a satellite location of the beloved open air market on the Mesa. Open daily from 9 am to 5 pm, the stand, located in front of Union Bank, offers a quick place to stop for fresh produce.
For more information, as well as the latest happenings and events, visit www.montecitocountrymart.com. The Mart follows all COVID-19 precautions, including requiring mask wearing, offering hand sanitizer, and limiting the number of patrons in stores in order to encourage ample social distancing.
Water Updates
At a quarterly board meeting in late January, Montecito's Groundwater Sustainability Agency (GSA) reported that a study of the groundwater basin in Fall 2020 shows that the basin is still recovering after seven years of drought.
The GSA monitoring program investigated 60 Montecito Water District-owned and privately owned wells, and showed that, on average, groundwater levels recovered six to eight feet in the past year, according to a staff report. Groundwater levels throughout the basin, on average, remain at or near historic dry weather levels and 17 to 72 feet below historic wet weather levels.
Local environmental consulting firm Dudek reports that there are 748 known wells in the groundwater basin, with approximately 567 active wells in the basin. Roughly 250 additional wells outside the basin have been identified, and the GSA is in the process of obtaining well records from Santa Barbara County Environmental Health Services (EHS); this work is expected to be complete by this spring. As of June 2020, the County's EHS, which regulates the drilling of groundwater wells along with the California Coastal Commission, has been providing the GSA with all new groundwater well permits that they receive that are located in the Montecito area.
The GSA is currently seeking public participation and comments on the Groundwater Sustainability Plan Chapter Development Process. All draft chapters of the plan are or will be posted online for public review. Anyone can review the documents at www.montecitogsa.com/plan-gsp/chapters and send comments to info@montecitogsa.com. Once each chapter has been reviewed by the Montecito GSA's Committees and the Board of Directors, they shall be integrated into one Groundwater Sustainability Plan Administrative Draft. The draft shall be available for the public to comment on for a review period of 90 days. The Public Review period is tentatively scheduled for Spring/Summer 2022. For more information, visit www.montecitogsa.com.
Montecito Water District also reminds district residents that the rainy season is the perfect time to switch off irrigation systems and save water. Last week's atmospheric river event brought much needed rain to Montecito, while local debris basins and creek channels held up well despite heavy showers at times. Visit www.waterwiseSB.org for more info on water conservation during the winter months.
You might also be interested in...