'Coffee With a Black Guy' Creator James Joyce Announces Santa Barbara Mayoral Bid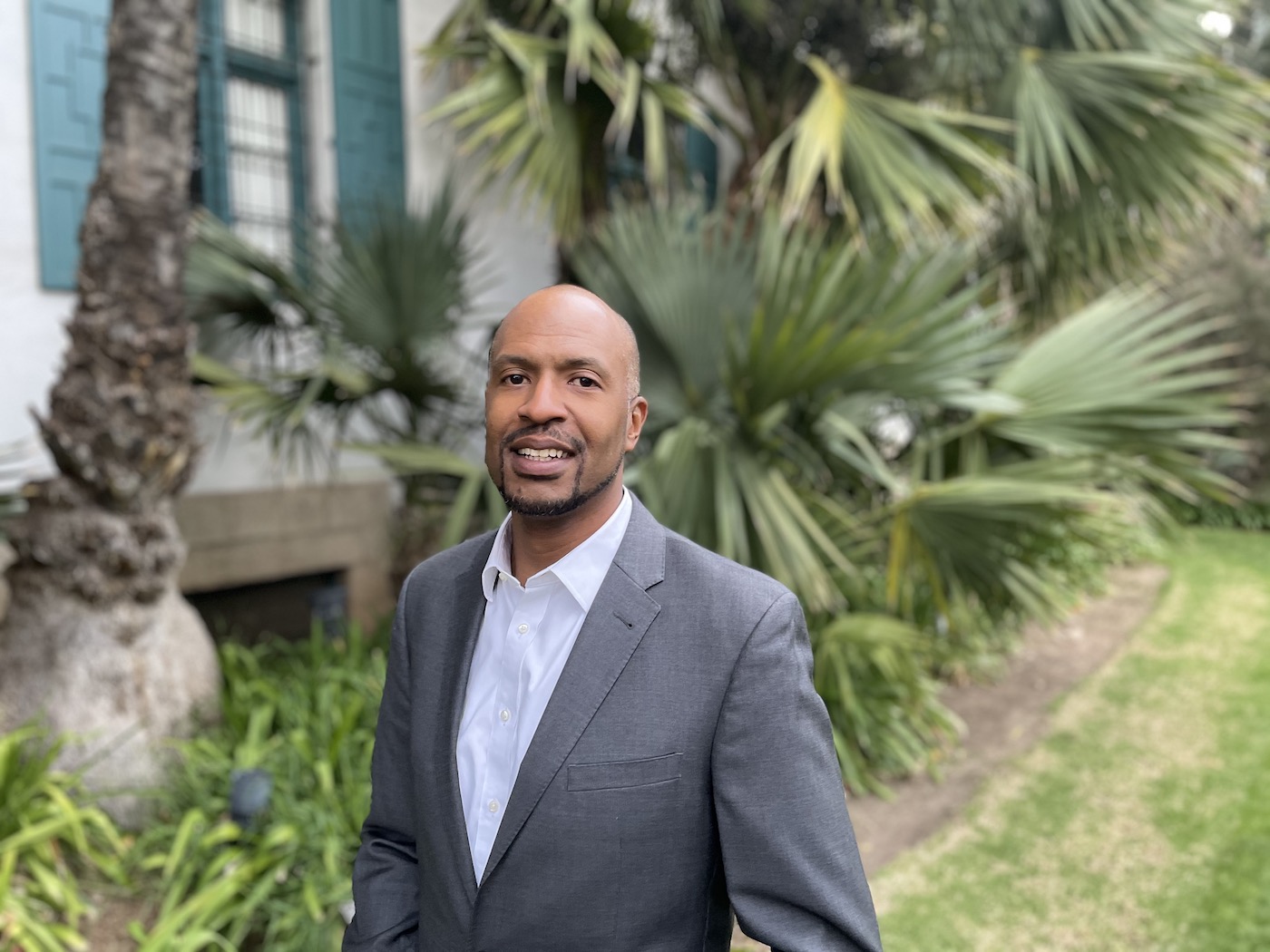 Four years ago, James Joyce III began an ambitious project called "Coffee With a Black Guy." The idea was simple: Using a combination of wit, humor, and blunt honesty, Joyce sought to help Santa Barbara residents engage in a frank dialogue about issues relating to race and politics, both in our community and nationwide. The program started out with just a handful of audience members but gradually drew hundreds of participants before ultimately, morphing into a COVID-friendly podcast.
Meanwhile, the Black Lives Matter movement expanded into a crescendo of protests and rallies nationwide that united Black and White Americans fed up with heavy-handed policing and the lack of accountability over an epidemic of in-custody deaths of Black Americans culminating with the tragic killing of George Floyd in Minneapolis last year. Suddenly, "Coffee With a Black Guy" became a crystallization of Santa Barbara's connection to the national zeitgeist.
Now, Joyce has perhaps an even more ambitious project on his hands: Along with city Planning Commissioner Deborah Schwartz, who just threw her hat in the ring for this November's race, he's running to unseat Santa Barbara Mayor Cathy Murillo. A progressive Democrat endorsed by labor unions and the state and local party establishment, Murillo has nonetheless faced criticism for being tone-death after she refused to take a knee in a street-corner meeting with local Black Lives Matter protesters last year amid an unsuccessful run for State Assembly.
We caught up with Joyce just before he announced his candidacy and asked him why he's running for office now and what he hopes to accomplish as Santa Barbara mayor.
Q. Politics have obviously always been part of your passion as a journalist and public figure. But what finally made you want to put yourself out there as an actual politician hoping to gain public office?
A. Well, I've always been a behind-the-scenes kind of guy. I worked for Supervisor Das Williams two years, then for Senator Hannah-Beth Jackson behindthe scenes, keeping folks in her districts in the know when she's up in Sacramento. I have seen how things work and don't work, and how you can be more effective behind the scenes than as a candidate. But I turned 40 years old in June, and realized I have a skill set that I can use to move the city of Santa Barbara forward. There are so many good elements to our city: Educational institutions, philanthropic organizations, and an innovative business committee. But we have challenges. The area has been facing one disaster after another and COVID is just the latest example. Instead of demonizing people, in my career as a journalist and in public service, I feel and other folks in the community feel it could be useful at this time moving our city forward.
Tell us a bit about your background before you got into politics.
I was born and raised in Westminster, Maryland, which is a bedroom community near Washington, D.C. It was a pretty white town but had its own challenges, not the least of which was too much attitude and too much snow. At the end of the day I just didn't want to endure that. So I went to Ohio University and obtained a journalism degree. I ran track but I was also extremely involved on campus, and ran for student senate, to help diversify the campus leadership. We did a lot of things, including building a new and improved student center. After graduating, I went into journalism and became an education reporter. I worked at the Toledo Blade and covered the 2008 Presidential election. Ohio was a battleground state that year. Joe the Plumber lived a half a mile down from me.
The actual Joe the Plumber? That's certainly a name from the annals of presidential politics.
Yep, that Joe the Plumber. It was a wild time. I was one of six or seven reporters the Blade hired that year. But that's when the economic crisis hit, and suddenly newspapers had to lay people off, so I ended up coming out to California and ended up unemployed, renting a room in Oxnard. I knew a woman who was the lead organizer for the Central Coast Alliance for a Sustainable Economy and she asked me to help elect Das Williams, and after that working for Senator Jackson, so that is how I got into local Santa Barbara politics.
Even though you've done some political work, especially given 'Coffee With a Black Guy,' you still have a considerable reputation as a journalist. Do you still consider that part of your calling?
Being a journalist is more than a job, but how you view the world. If your mom says she loves you, check it out. What I've noticed as a journalist over the years is I go to one side and then another side of an argument, and the root of the problem is these people just aren't communicating with each other. What I've been doing with 'Coffee With a Black Guy' is celebrating the notion that we may not see eye to eye but you can still sit down and talk to each other and communicate. We can still do that, it's a universal aspect to our approach of addressing tough topics.
So what are the most important issues we as a nation and a community aren't adequately addressing?
Racism in America is a cancer, and we have to deal with it. We have to sit down with people and listen to each other and try to figure things out, and unfortunately that hasn't been happening. To me, it's pretty simple: You don't solve a problem by looking the other way. You have to go into the problem, just like how law enforcement and fire firefighters, when everyone is running away, they are the ones running toward the problem.
So if your campaign had a motto it would be to talk less and listen more?
Talking is important, but mainly I just think we need to listen to each other. When I was a 22-year-old cub reporter I had a column called 'Hmm. Interesting.' which was a way to get people to think more deeply about issues and see the common ground. Too often the dialogue is between the far left and far right and the people in the middle, the majority of people, are left out of it.
It sounds like you are saying Santa Barbara has the ability to tackle these problems, but just isn't getting the work done, thanks to a basic leadership crisis.
We have a lot of great assets that work for the city, employees that have worked here a long time and know the city and their departments. But they are only going to rise to the level of their leadership. Once you share what that vision is and have them understand as community members and city employees that they are part of it, that's what is needed.
So what exactly do you hope to accomplish as mayor, starting on day one?
The main thing I hope to do is set the right tone. The tone of the city council is not the greatest or most collegial and hasn't been for some time. So my main goal right off the bat is setting the tone and listening to people. As a mayor of a city with a strong administrator, coming in with your own policy agenda isn't the most realistic way to do that.
With homelessness for example, we have a contract with the nonprofit, City Net. While I would want to see if it is something that is working, for me to come in with an agenda on an issue like that where we just introduced something new would be tone deaf. I have walked the streets and have contacts in those areas but there is no easy solution. You can't really say you are going to listen to folks and then come in with your own policy decision. I am going to listen rather than dictate from the top down. It may be heavy on the front end, but that's a more transparent form of government.
Despite High Profile Meeting, Mystery of Trev Broudy's Coppery Water Continues
Two weeks ago, the Montecito Journal reported that First District Supervisor Das Williams had set up a meeting where representatives of Cox Communications, SoCal Edison, and the Montecito Water District (MWD) could begin the process of establishing why exactly Broudy's drinking water had tested abnormally high for copper, a problem that seemed to coincide with his house briefly turning into an electrocution hazard because of an electrical current that somehow tapped into his copper plumbing.
MWD first discovered the problem during routine testing late last year; Broudy subsequently paid an electrician to replace a length of copper pipe with plastic, which ended the electrical issue. Both Edison and Cox have denied any responsibility for the issue, and neither agency has so far offered a theory on how the problem started. Despite an initial meeting where representatives of the three utilities met remotely and failed to reach any conclusions, Broudy says a subsequent virtual meeting last week was much more productive.
"The meeting went really well," Broudy said. "It was incredibly productive. I was rather shocked to be honest." According to Broudy, MWD's executive director Nick Turner facilitated the discussion, which also included a supervisor from the California Public Utilities Commission, who promised his agency would get to the bottom of the mystery. Broudy added that Williams' chief of staff, Darcel Elliott, was instrumental in asking tough questions that he hopes will lead more transparency from the agencies involved about how this happened.
"We need these agencies to be held to account for how this happened so that we can find out who exactly created this mess," Broudy said. "We need to know what kind of oversight exists to prevent this from happening again and possibly affecting anybody else, because so far all the companies are saying, 'Hey, we took care of this, the issue is resolved.' The meeting was good, but Cox certainly looked like the bad apple. All fingers were kind of pointed at them."
Speaking of Cox Communications, Charla Batey, a communications specialist, provided the Journal with the following statement which is notable in that while assuring that there's no current cause for alarm, fails to address the lingering questions over how Broudy's home became electrified in the first place.
"It has been affirmed that the Cox equipment in question has been repeatedly inspected and verified to be working properly," Batey said. "There is no electric current running from our equipment to Mr. Broudy's home. There have been no reports or findings to the contrary, nor have there been any similar complaints from other homes or customers in the area. We took the additional step to have a third-party certified electrician confirm there is no electric current running from Cox equipment to Mr. Broudy's home. We remain committed to customer service and safety as we work with our elected officials and other service providers as they look at this issue."
MWD's Turner confirmed that the agency still does not know what caused Broudy's water to get all coppery. "Thus far, MWD still doesn't not have an explanation as to the cause of the current," he said.
Supervisor Williams promised his office will continue to press for an answer to that question. "We had a productive meeting last week but there was still no conclusive resolution to where the current has come from," he said on Monday, February 1. "The meeting resulted today in the California Public Utilities Commission pledging to schedule an on-site meeting with all utilities that have equipment in the area to once and for all determine where the current is coming from, how it came to be, and how to resolve the issue. My office is also working with our state representatives and the utilities to review current policies and procedures in place to make sure something like this doesn't happen again."
You might also be interested in...