Gearing up for a Lovers' Weekend? Show Some Love to our Local Eateries, Too!
This year, diners are getting ready for a different kind of Valentine's Day with restaurants focusing on both dine-in and takeout options. Because the holiday falls on a Sunday, some eateries are offering their special menus on preceding days. It's one of the busiest days of the week on one of the busiest days of the year, so make your reservations now.
Whether you want to dine in the intimacy of your own home (with lit candles and old-school tunes by Marvin Gaye and Tony Bennett as part of your ambient evening), or reserve an outdoor table out on the town, here's a look at some of the city's most romantic meal options on February 14.
Stonehouse at San Ysidro Ranch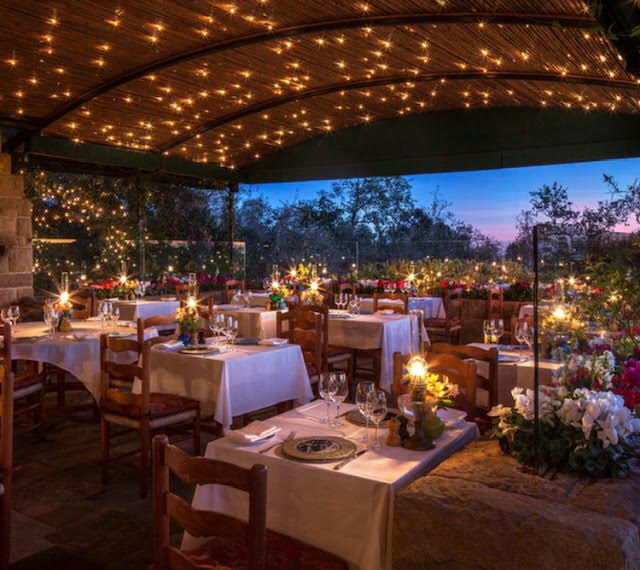 Citrus groves, olive trees, brilliantly colored lantanas, lily pond, and the sweet smell of lavender and rosemary are the backdrop for Valentine's romance here. The culinary team has devised a three-course Sunday brunch menu and a four-course dinner menu for this special occasion. Pair your wines from the menu or make a reservation for a pre-dinner tour of the wine cellar and choose from a variety of vintages and regions.
Valentine's Day Fare: Brunch starters include house-smoked salmon, duck spring roll, oysters on the half shell, and prawns. Your choice of main dishes includes roasted vegetable shakshuka, Maine lobster benedict, buttermilk fried chicken and waffle, peanut butter crunch French Toast, and grilled prime New York steak. The dessert selections include the Ranch's Meyer lemon tart, red velvet cake, and Valrhona chocolate souffle. Guests will be treated to bottomless G.H. Mumm Brut, France, Bisol "Jeio" Brut Prosecco, Italy, Ty Bellinis and Mimosas, fresh juice, and coffee ($120 per person, tax and gratuity not included). The evening menu will begin with your choice of house-smoked salmon tart, seared foie gras with puff pastry and port glazed cranberries, carpaccio of venison loin. Choose from sweet corn bisque or roasted heirloom beet and strawberry salad for the second course. Butter braised Maine lobster, seared tuna, apple cider glazed duck breast, and grilled prime veal are selections for the main entree. Finish the evening on a sweet note with red velvet cake with berry coulis or a warm molten Valrhona ganache with cherry yogurt ice cream ($185 per person, tax and gratuity not included).
San Ysidro is located at 900 San Ysidro Lane in Montecito.
For more information or to make a reservation, please call (805) 565-1700.
Tre Lune
Tre Lune will offer fine authentic Italian cuisine with romantic Old World charm on its outdoor patio. One of the restaurant's busiest days of the year, make your reservations early or place pick-up orders in advance. Care to eat at home? Order for pick up via Tre Lune's snazzy car hop service.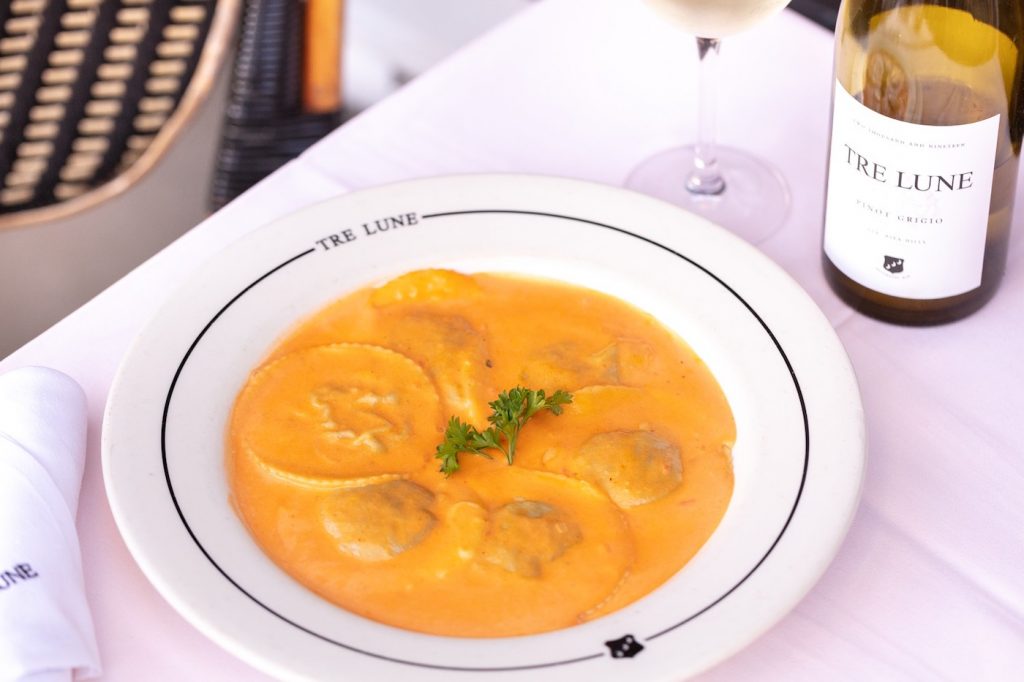 Valentine's Day Special: A sumptuous four-course dinner featuring Beau Joie Brut Champagne. The dinner features a zesty burrata caprese salad; house-made lobster ravioli with a creamy saffron sauce; and a prime beef tenderloin grilled with fresh herbs and served with farmers market vegetables. Not included in the four-course meal but equally delicious and available to order is the tender rack of lamb with rosemary and garlic. For dessert, loosen your belt and indulge in a warm chocolate cake with a mixed berries compote or make it á la mode. The cost is $250 per couple or $175 without Champagne, tax and gratuity not included.
On this evening, take your time and enjoy a classic Negroni or Aperol Spritz before your meal.
1151 Coast Village Road, Montecito.
To make a reservation or place a to-go order call 805-969-2646 or visit trelunesb.com.
Little Dom's Seafood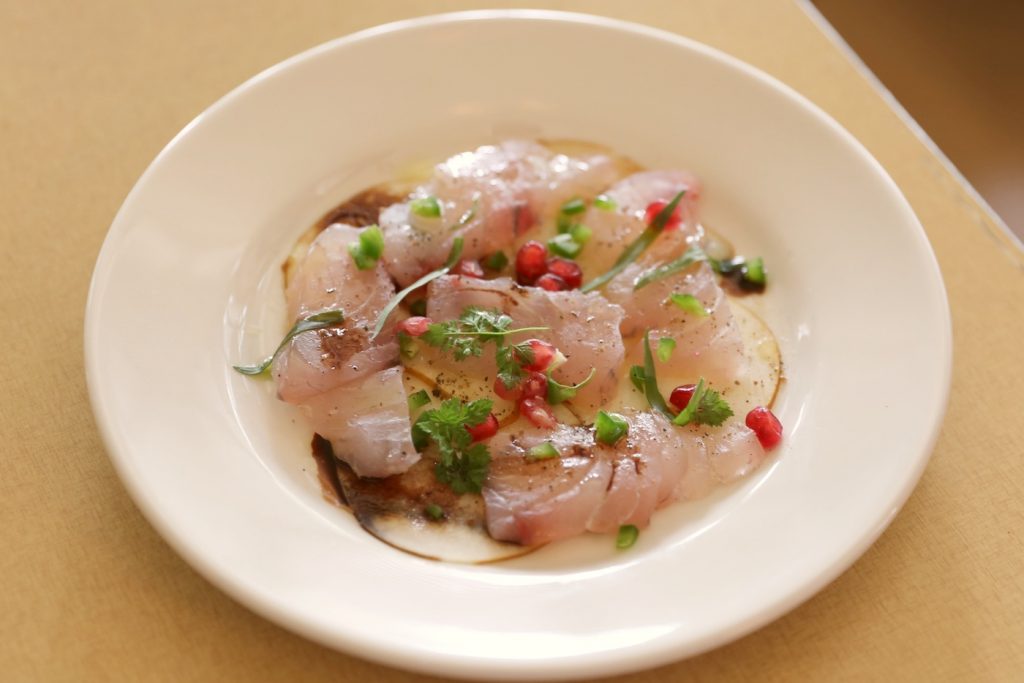 As truffle season winds down, Little Dom's Seafood in Carpinteria will celebrate the day of love with a touch of truffles served with its Italian classics.
Valentine's Day Special: One black truffle that guests can shave over each course beginning with asparagus salad or Hamachi Crudo and pappardelle with imported butter and parmesan. Vanilla panna cotta is included for dessert. Add truffle slicer for $12. Price of $150 is for two guests.
686 Linden Avenue, Carpinteria.
To make a reservation or place a to-go order call 805-749-7400 or visit ldseafood.com.
Ca'Dario
Guests can enjoy a romantic afternoon or evening al fresco with Ca'Dario's Tuscan-style cuisine created by popular local chef Dario Furlati on a spacious outdoor patio or to go.
Valentine's Day Special: Chef Furlati is preparing a refreshing mix of Italian favorites such as lobster and creamy tomato bisque; polenta with porcini mushrooms; fontina fondue; watercress and red endive topped with pears, walnut and blue cheese crumble; sautéed sole with lemon sauce; roasted duck breast with Cipollini onions and balsamic glaze and charred steak with broccolini and parmesan sauce. Guests may choose between chocolate mousse with berry sauce or freshly made panna cotta. The cost is $80 per person, tax and gratuity not included. Guests receive a complimentary Prosecco split with each entree.
1187 Coast Village Road, Montecito.
To make a reservation or place a to-go order call 805-884-9419 or visit cadariorestaurants.com/montecito.
Rosewood Miramar
Available for patio seating or carry out, Caruso's at Rosewood Miramar is offering a six-course dinner for two.
Valentine's Day Special: The six-course dinner features selections such as a dozen Kumamoto Oysters; yellowtail crudo with tangerine, pickled kumquat and pistachio; seared scallops with minted sweet peas; black cod with chickpea and almond crema; duck with parsnips, fregola sarda (tiny ball-shaped Sardinian pasta) roasted beet, fennel and orange and Angus filet with truffles, potato and wild mushrooms. For dessert, savor a Guanaja (Caribbean) chocolate mousse with raspberry sauce. The cost is $325 per couple.
1773 South Jameson Lane in Montecito.
To make a reservation or place a to-go order call 805-900-8388.
Bossie's Kitchen
Located in the landmark Live Oak Dairy building at the corner of Milpas and Canon Perdido streets, Bossie's Kitchen will offer a full menu that will be available for takeout and patio dining, weather permitting, from 5 to 8 pm. Some dishes sell out quickly so schedule your orders in advance.
Valentine's Day Special: Braised beef brisket, mashed potatoes, roasted carrots, horseradish crème fraiche ($23.50); seared scallops, spring vegetable and truffle risotto with chive butter ($32).
901 North Milpas Street at Canon Perdido Street, Santa Barbara.
Orders may be placed by calling 805-770-1700 or visit bossieskitchen.com.
California Pizza Kitchen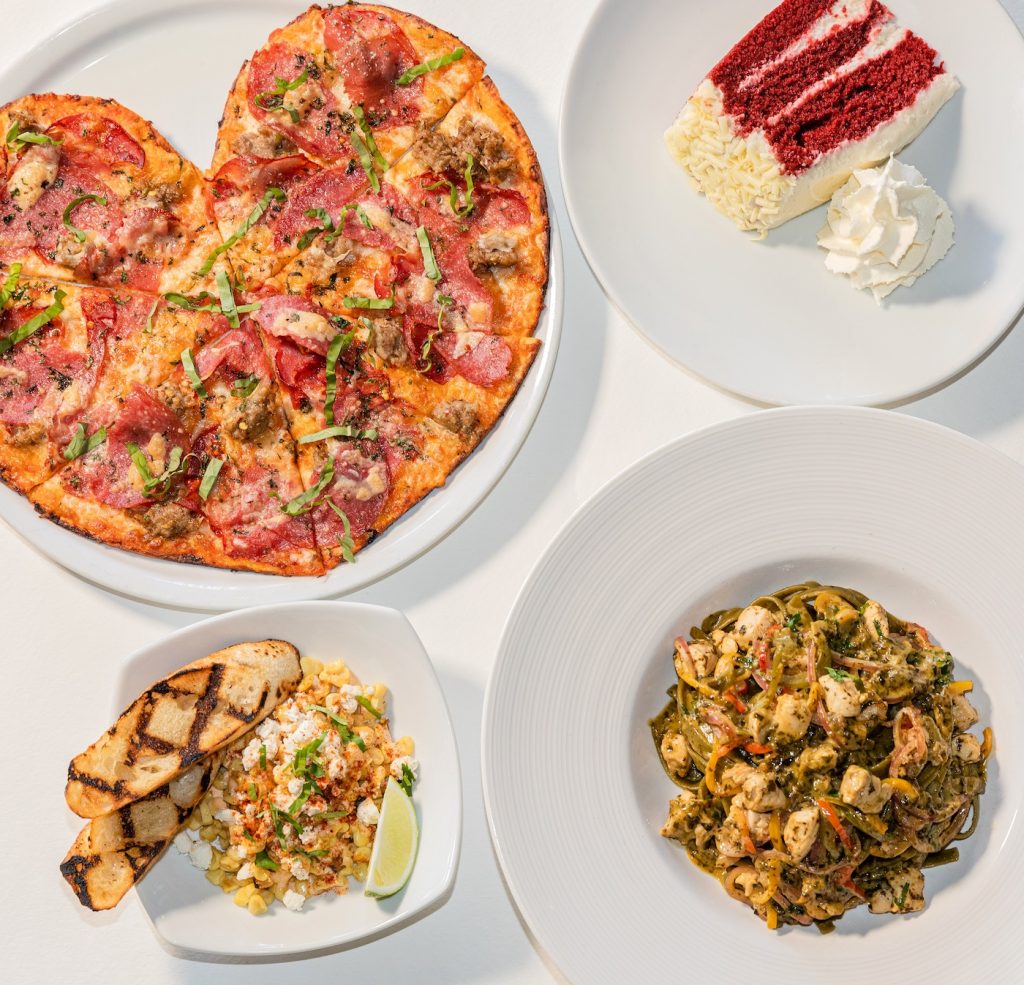 Pizza, salad, and pasta lovers will enjoy a sweet deal for two with a prix-fixe menu featuring some of the restaurant's most popular dishes. For Valentine's Day diners can order any of their favorite CPK pizzas on special heart-shaped crispy thin crust for no additional charge.
Valentine's Day Special: Choose an appetizer, two entrees (salads, pizzas, or pastas) and dessert for $35. Add wine for two for $12. Mexican-style street corn, crunchy Thai salad, (heart-shaped or regular pie) barbecue chicken pizza, chicken tequila fettuccine, and red velvet cake are just a few options.
719 Paseo Nuevo (along Chapala Street) at Paseo Nuevo Shopping Center.
To place an order call 805-962-4648 or order online at CPK.com.
Eureka!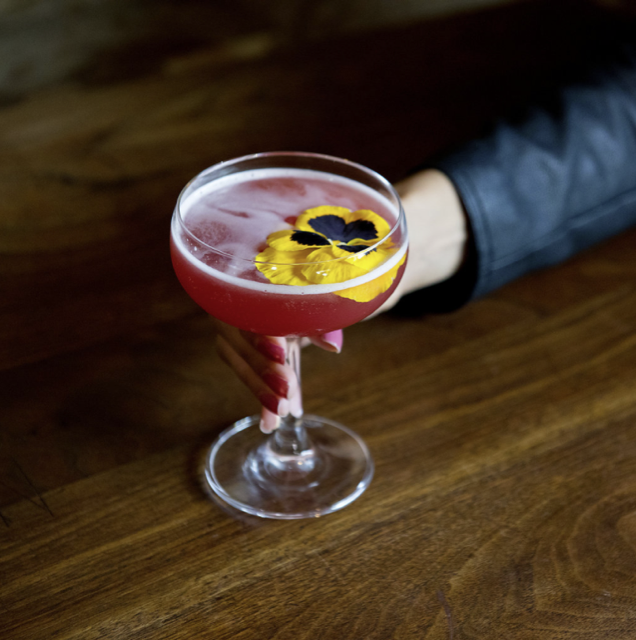 Open for takeout or patio service, Eureka! offers a bevy of all-American dishes paired with local craft beers and small-batch whiskeys.
Valentine's Day Special: Perfect for celebrating the day of love with your family bubble, Eureka! offers an eclectic meal package for four people. It includes crispy glazed Brussels sprouts; mac 'n' cheese balls; a pair of Eureka! classic cheeseburgers with a side of fries; rich and savory Cobb salad, family-style; spicy fried chicken sandwich with fries on the side and two personal-size bourbon barrel cakes. The meal includes your choice of a bottle of red or white wine ($60).
The Eureka! mixology team has devised a cocktail to commence the evening called Young and in Love, a delicious concoction featuring vodka, elderflower, St. George raspberry, blood orange shrub, and lemon.
601 Paseo Nuevo (along Chapala Street) at Paseo Nuevo Shopping Center.
To place an order call 805-618-3388 or visit eurekarestaurantgroup.com.
Uncle Chen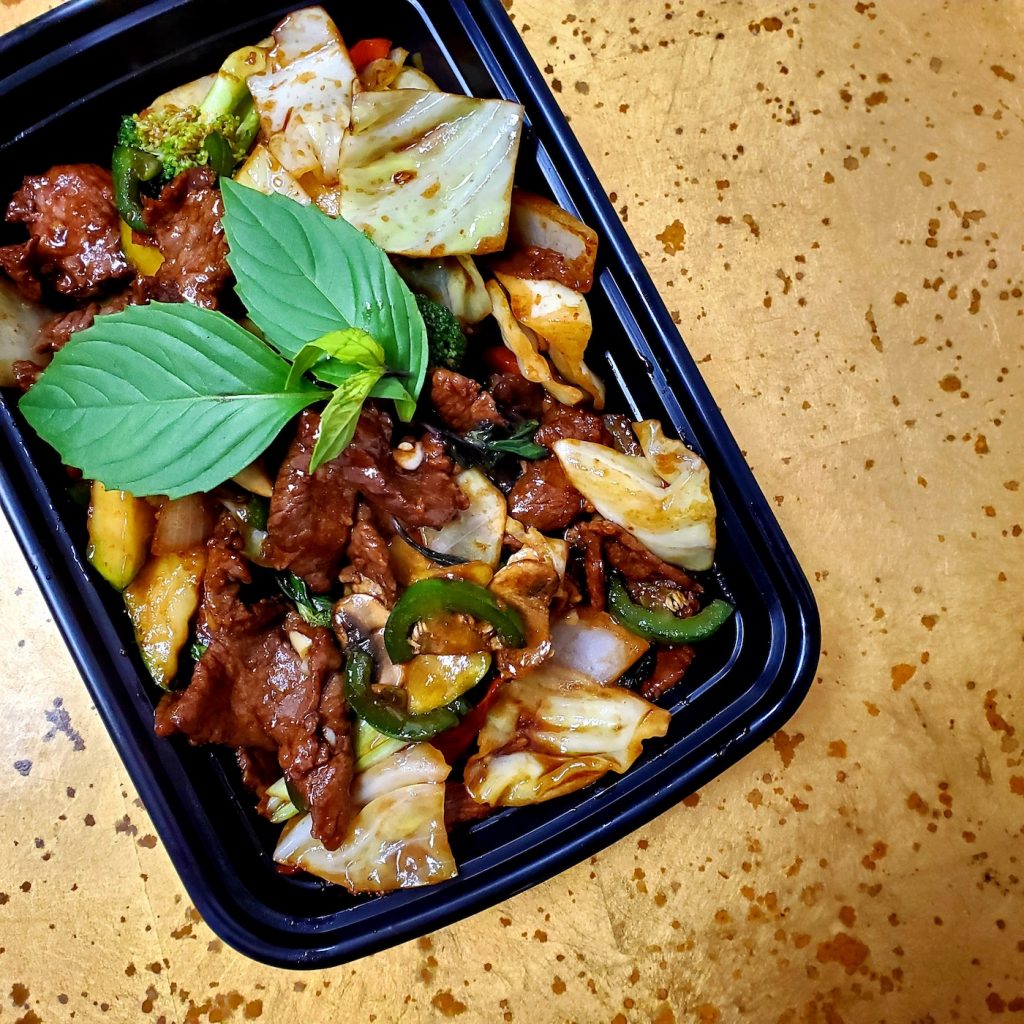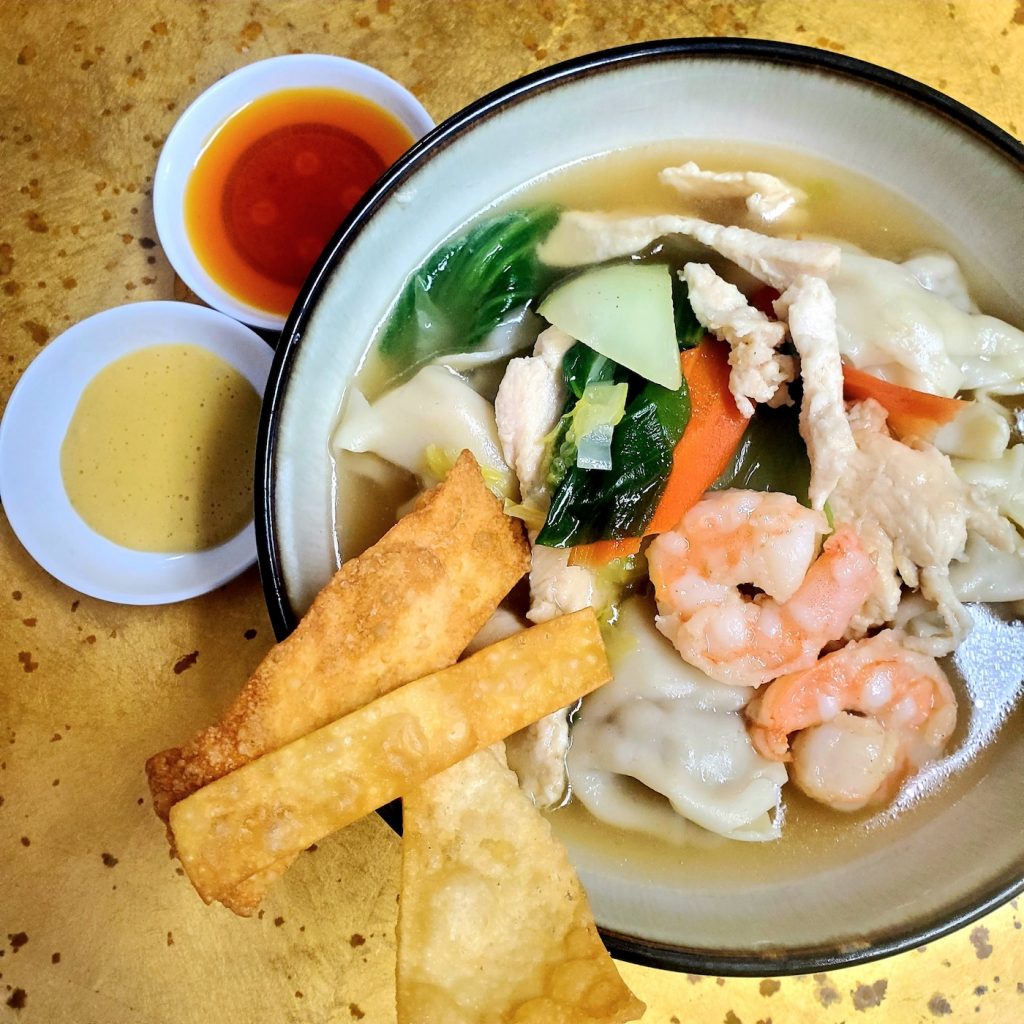 This casual Asian bistro – that goes by the name of its first owner – offers an intimate atmosphere and MSG-free Chinese cuisine. Locally sourced produce drives a menu of family recipes (including gluten-free options) from glazed and sticky barbecued spareribs and a brothy shrimp and chicken wonton soup and to elegant cumin lamb and ginger duck entrees.
Valentine's Day Special: Casitas Greens featuring lightly sautéed spinach, bok choy, broccoli, snow peas, black and white mushrooms, and ginger ($11.95); pan-fried or steamed pot stickers made with chicken and ginger ($8.25 for 8 pieces); sautéed chicken breast simmered in a tangy orange sauce ($11.95); spicy basil beef sautéed with chilies, mushrooms, zucchini, carrots, broccoli, cabbage and onions ($12.95). The fried banana egg rolls or mango ice cream will add a tropical twist to your romantic evening.
1025 Casitas Pass Road, Carpinteria. For more information, call 805-566-3334
Santa Barbara Zoo to Host Zoo Brew @ Home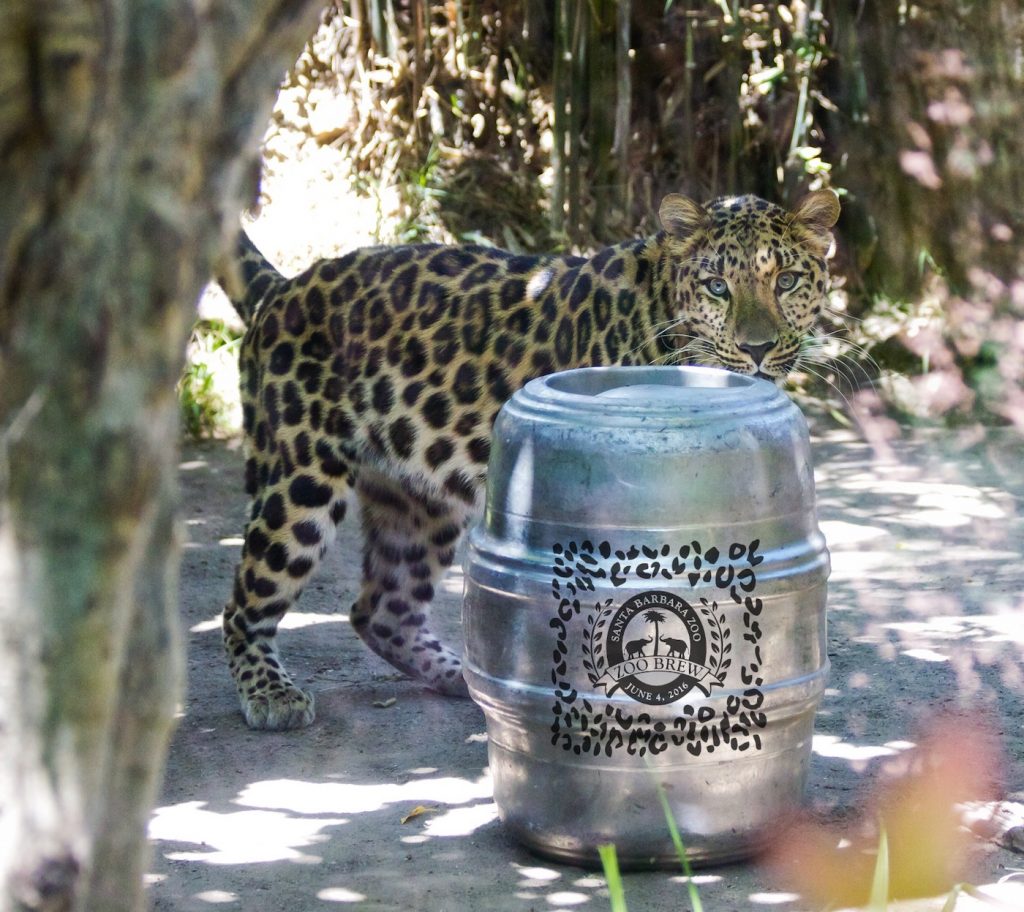 The annual fundraiser that brings beer lovers and zoo supporters together to benefit the Santa Barbara Zoo is going virtual this year, with Zoo Brew @ Home, on Saturday, February 13 from 12:30 to 3:30 pm. The "wildly" popular event is already sold out, however, livestream tickets are available for $25. Organizers said a full list of beverages from participating breweries, wineries, and more will also be sent prior to the event for livestream guests who wish to purchase drinks on their own.
Hosted by Surf 'n' Suds co-founder Andres Nuño, Zoo Brew @ Home guests are in for an exciting day of sipping a whole herd of beverages, listening to zookeeper talks, and meeting some of the Zoo's most famous animal couples. This year's "brew-tiful" event is three hours long and will include a walkthrough of 14 beverages from 13 craft beverage makers from California, including beer, cider, hard seltzer, kombucha, and wine. Hear from the people who craft those great-tasting beverages, check out some music, and turn your house into the ultimate beer festival zone.
"We're blown away by the amazing response to Zoo Brew @ Home, and really excited about putting together another entertaining Virtual Beer Festival," said Nuño. "Guests will get to enjoy some great behind-the-scenes moments at the Zoo, and discover some great alcoholic beverages, all while raising funds for the Santa Barbara Zoo during these challenging times."
To purchase a ticket to the livestream-only event, please visit sbzoo.org.
Make Something Sweet for Your Sweetheart
Martha Stewart's Easy Chocolate-Dipped Shortbread Hearts
Yield: Makes 4 dozen 2 1/2-inch heart cookies
Ingredients
1 cup (2 sticks) unsalted butter
3/4 cup sifted confectioners' sugar
1 teaspoon pure vanilla extract
2 cups sifted all-purpose flour, plus more, for dusting
1/2 teaspoon salt
3 ounces semisweet or bittersweet chocolate, finely chopped
1 teaspoon canola oil or pure vegetable shortening
2-inch heart cookie cutter
Directions
In the bowl of an electric mixer fitted with the paddle attachment, cream butter, sugar, and vanilla until combined. On slow speed, beat in flour and salt until combined. Wrap dough in plastic wrap; chill until firm, at least 2 hours or overnight.
On a lightly floured surface, roll out the dough until 1/16-to-1/8 inch thick. Cut out hearts with a 2-inch heart cookie cutter. Transfer cookies to an ungreased baking sheet; chill for 30 minutes.
Heat oven to 300 degrees with a rack in the center. Press the tines of a fork into each cookie to make designs. Bake until just beginning to brown around the edges, about 18 minutes. In the top of a double boiler or in a heatproof bowl set over simmering water, melt the chocolate, stirring occasionally. Stir in the oil. Dip half or one third of each cookie into the chocolate mixture. Transfer cookies to a cooling rack to cool until chocolate has set.
Cook's Notes: For the most beautiful cookies, don't reroll the scraps. Cookies will keep in an airtight container at room temperature for about five days.
You might also be interested in...