Young Artists Shine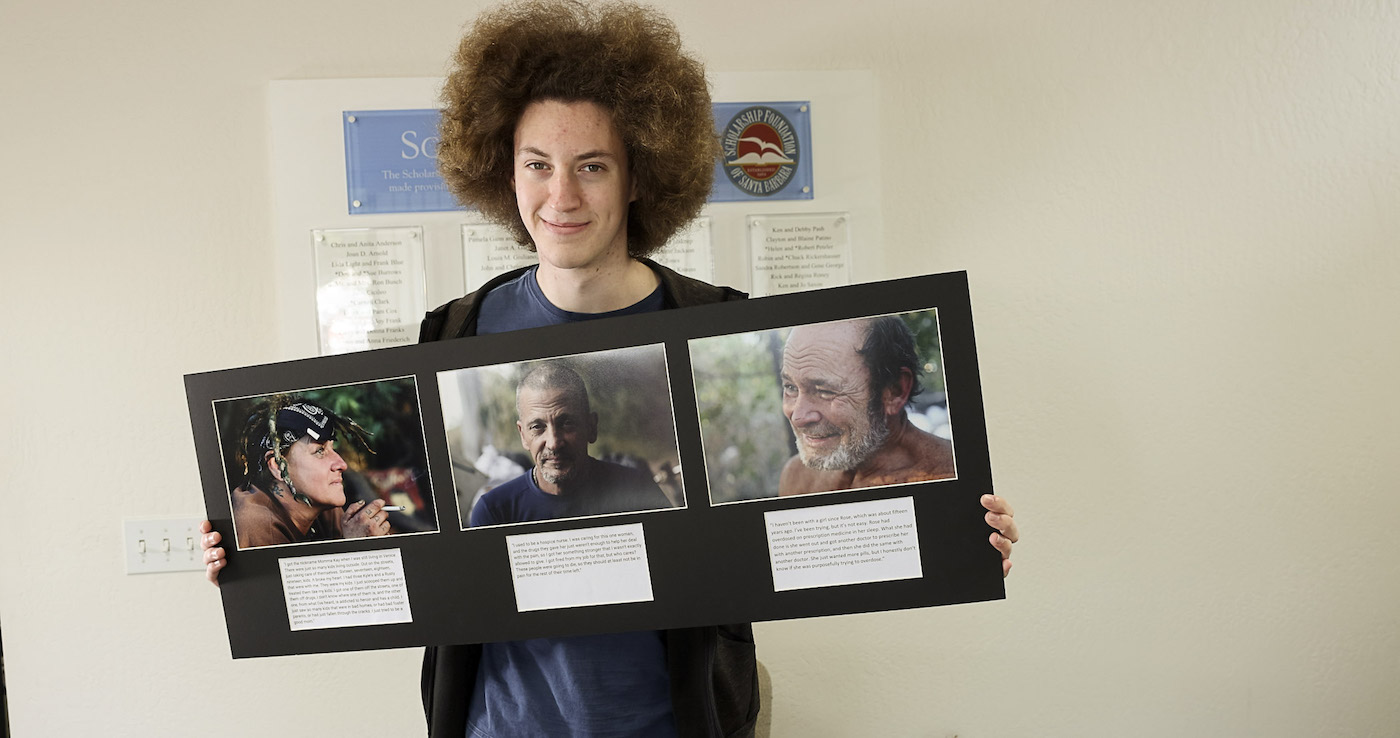 The Scholarship Foundation of Santa Barbara has named 22 student artists as winners of its art scholarship competition.
Each will receive a colleague scholarship for the 2021-22 academic year.
"Under normal circumstances we would hold the competition at the Ridley-Tree Education Center and host a reception for the winners at the Santa Barbara Museum of Art the following week," says foundation president and CEO Barbara Robertson. "We worked hard to adapt to the current moment, and are proud to recognize these talented young artists."
Each year the foundation invites high school seniors to submit a portfolio of original work for its scholarship competition. Prominent local artists Anthony Askew and Patti Jacquemain judged the submissions. Forty-seven students competed this year, with each winner receiving a $2,500 scholarship, with the Schall Family best of show winner, Isaac Babus, a senior at Dos Pueblos High, receiving an additional $1,000.
Home Videos
It may be good news or bad news for Montecito resident Meghan Markle, wife of Prince Harry, Queen Elizabeth's grandson.
Her father Thomas Markle, 76, is making a documentary about his life and says the film will feature previously unseen home videos and photographs of the Duchess of Sussex.
Meghan, 39, has not seen her father since before her 2018 wedding to Harry at St. George's Chapel, Windsor, when he had to cancel walking the former actress down the aisle because of a heart problem.
Markle, a retired Hollywood lighting director who lives in Mexico, says the documentary "begins with my life, my family, my love of theater and television, and how I got there.
"Then my life and Meghan, growing up, her school days until she went off to college, and when her career began."
I'm sure Meghan can't wait…
Youth Symphony Concerto Competition Goes Virtual
The Santa Barbara Symphony has announced the annual Youth Symphony Concerto competition, a longstanding tradition of providing the county's finest young musicians the opportunity to be featured as a soloist with the youth symphony.
For the first time, the event will be virtual, and this year's competition, normally only open to members of the symphony's programs, is now open to any student up to the age 18 residing in Santa Barbara County that studies an instrument other than a traditional orchestral instrument.
"During these uncertain times, our music programs are more vital than ever, given their ability to support the social and emotional well-being of students, and their ability to foster community," says Kristine Pacheco-Bernt, the symphony's director of education.
"While this year's Concerto Competition will look a little different, we're so excited to be able to continue this prestigious opportunity for our students and show case their talent."
Students interested in applying must complete an online application available on the symphony's website by February 7.
Mighty MOXI Members
MOXI, the Wolf Museum of Exploration + Innovation, has six new members on its board of directors, with incumbent director Alixe Mattingly, who has been on the board for nine years, as the new chair.
Her new cohorts are Lily Hahn, Stephen Leider, Kirsten McLaughlin, Deji Olukotun, Amber Kaplan Sprague, and Casey Summer.
The volunteer board works directly with museum's president and chief executive officer Robin Gose to oversee and support the organization's commitments to its mission to ignite learning through interactive experiences in science and creativity.
Remembering a Broadcasting Legend
On a personal note, I remember TV talk show titan Larry King, who has died in Los Angeles aged 87.
Recognized by his trademark suspenders and black rimmed glasses, I appeared on his CNN show innumerable times over the years talking about the Royal Family.
Initially I started doing the show from the network's studio at Manhattan's Penn Plaza, but in later years I would catch the Amtrak train from Penn Station to Washington, D.C. to meet him face to face, which I preferred to the then Eastern Airlines shuttle.
Given his international outreach, friends in London and Cornwall, where I started my career, could watch me gushing forth on Queen Elizabeth and her family from 3,000 miles away.
Larry, who held the job for 25 years making it CNN's longest running show, was eventually replaced by another old friend, Piers Morgan, who now co-anchors a U.K. morning show and writes as a columnist for the London Daily Mail, my former employer.
He collected innumerable accolades, including several Cable ACE and Peabody Awards.
A true broadcasting legend…
Sightings are suspended during the total lockdown ordered by Governor Gavin Newsom, hopefully to return in due course.
Pip! Pip! – Be safe and wear a mask
Continue reading...