Venturing Out for a Bite
Craveable Carryout: Colossal Burgers, Spicy Vegan Pop-Ups, and Savory Pizza Pies
It's only natural to seek solace in food during an isolating winter. But with an ongoing regional ban on both indoor and outdoor dining severely affecting Santa Barbara's restaurant scene, doing so has become much more challenging. Many restaurants continue to offer both take-out and delivery service, even offering wine, beer, and cocktails to go. If you don't have the time or energy to go out, have food brought to your doorstep. So, take a break from self-quarantining. We've put together a list of local eateries with exceptional takeout offerings to help ease our minds and fill our bellies during the pandemic.
MONTECITO:
MESA BURGER
Until recently you could enjoy colossal gourmet burgers and locally brewed beer on the popular patio of this upscale burger joint, co-owned by celebrity chef Cat Cora. The latest restrictions haven't slowed orders, so call ahead or be prepared to wait in line. All burgers are served on fresh brioche bread with a side of signature fries. 
Popular To-Go Items: The Montecito Burger includes glazed mushrooms, grilled onions, arugula, goat cheese, truffle aioli, and it's topped with a single fried onion ring ($15.25). Shoreline Veggie Burger combines pickled red onions, arugula, salsa verde and red pepper hummus ($15.25); and Iron Chef Cat Cora's Slider Flight is a trio of the house's best sellers ($17.50).
Reason to order: You're craving a juicy backyard burger, all dressed up with gourmet toppings and ready to devour.
1209 Coast Village Road. To order, visit mesaburger.com, or call 805-565-0642.
BETTINA
This chic trattoria gets its inspiration from the owners' travels in Italy, experiences living in New York City, and the abundance of amazing produce growing in Santa Barbara. The pepperoni is a perennial favorite, but there are always a few seasonal pies inspired by the farmer's market.
Popular To-Go Items: Wood-fired Ezzo sausage pepperoni, Bianco di Napoli tomato sauce, and hand-pulled mozzarella on naturally leavened pizza dough ($20); Baby Gems from Roots Organic Farm, pickled onions, goat cheddar, cucumbers, radishes, carrots, and house ranch dressing ($16); and Niman Ranch beef and pork meatballs made with fresh egg, milk, sourdough bread crumbs, onions, garlic, parsley, lemon zest, and harissa marinara ($17).
Reason to order: Bring the eatery's chic vibe home by adding California wines, specialty cocktails, artisanal cheeses, and other gourmet treats – all the makings for one fun and fabulous self-catered meal!
1014 Coast Village Road at Montecito Country Mart. Order online at bettinapizzeria.com, or call 805-770-2383.
DOWNTOWN SANTA BARBARA
OLIO e LIMONE RISTORANTE, OLIO BOTTEGA & OLIO PIZZERIA 
Olive oil and lemon are essential ingredients at these bustling go-to eateries, specializing in Sicilian fare such as red sauce dishes, meatball plates, sautéed and grilled seafood, and wood-fired pizzas. There are antipasti, salads, and soups to enjoy too, along with lots of wine and a decadent dessert menu.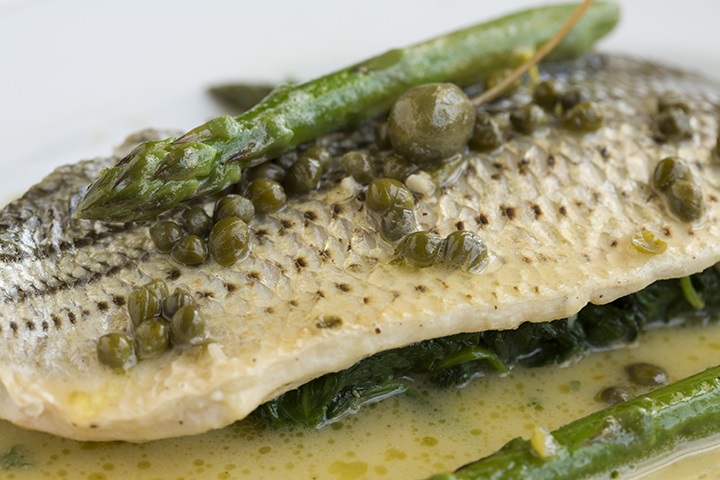 Popular To-Go Items: Filetto di Branzino at Olio e Limone Ristorante is a pan-roasted Loup de Mer (striped bass filet) sautéed in lemon-white wine sauce and served with sautéed spinach and asparagus tips ($30). Arancini at Olio Bottega consists of rice balls filled with ragù (meat sauce) then deep fried to perfection ($7). The Signature Parma Pizza at Olio Pizzeria is made with fresh mozzarella, Prosciutto di Parma, arugula, and shaved parmesan ($20).
Reason to order: All three restaurants serve pan-Italian cuisine, but with Chef Alberto Morello hailing from Sicily, you'll notice many touches of the island on each menu. Think Sicilian street food!
Victoria Court at 11 West Victoria Street. Order online at olioelimone.com or call 805-899-2699. All orders, including walkups, are being processed via Olio Pizzeria.
RASCALS POP-UP ON STATE STREET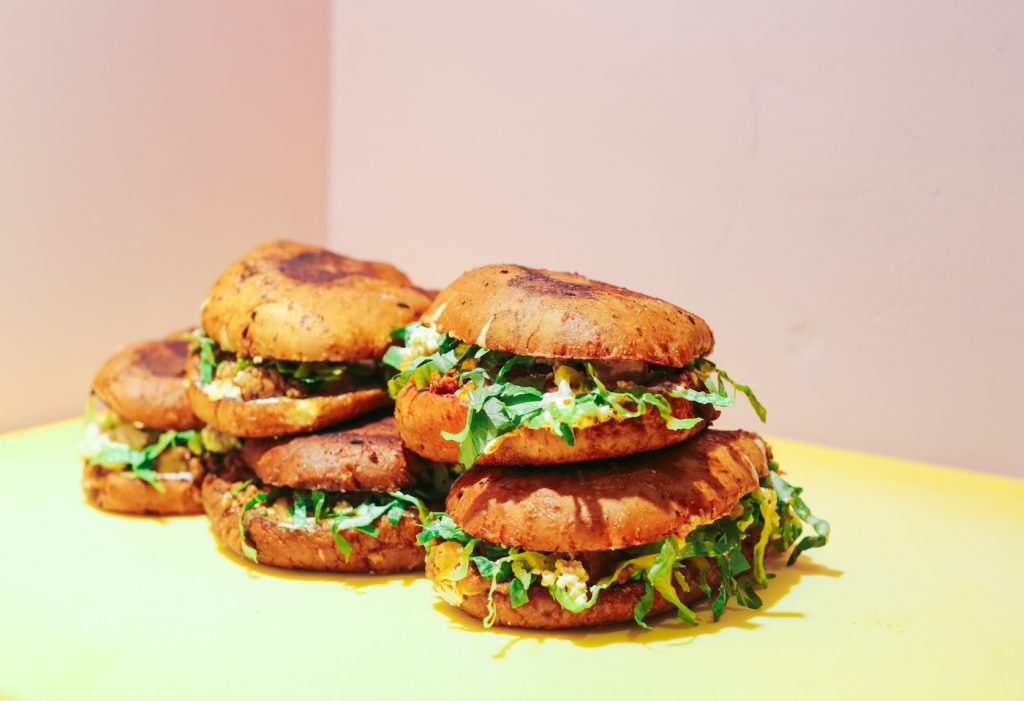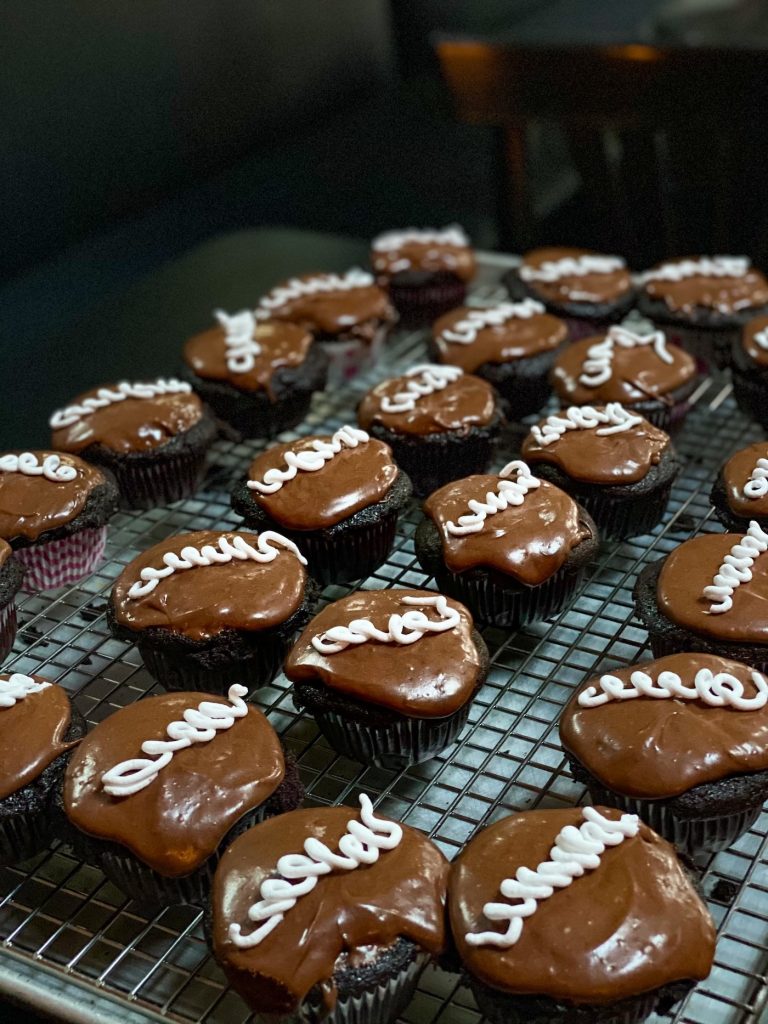 As any follower of Dalan Moreno's Rascals Instagram account can confirm, the tattooed chef cranks out some tasty American classics and Mexican street fare. Oh, and it's 100 percent vegan. Fried Chicken Sandwich ($12), Chicharrón Chile Verde Burrito ($10), Mac N Cheese with pesto ($8), Elote ($6), and green pozole ($6) are just a few rotating favorites.
Popular To-Go Items: Pinguino, a Hostess-inspired cupcake filled with sweetened whipped cream and topped with a cute squiggle ($6); Pambazo Torta with salsa, house-made chorizo, potatoes, lettuce, house-made cheese and cashew crema ($12), and a Chile Relleno Beyond Burger topped with a cheese-filled poblano pepper dipped in vegan egg and deep fried with lettuce, tomato, and veganaise ($14).
Reason to order: Rascals' hip, underground vibe makes you feel like you're embarking on a culinary adventure.
734 State Street (at Bibi Ji) on Tuesdays from 5 pm to 8 pm and Wednesdays from noon to 8 pm. Order at the window or via Instagram direct message at @rascals_sb.
RINCON BREWERY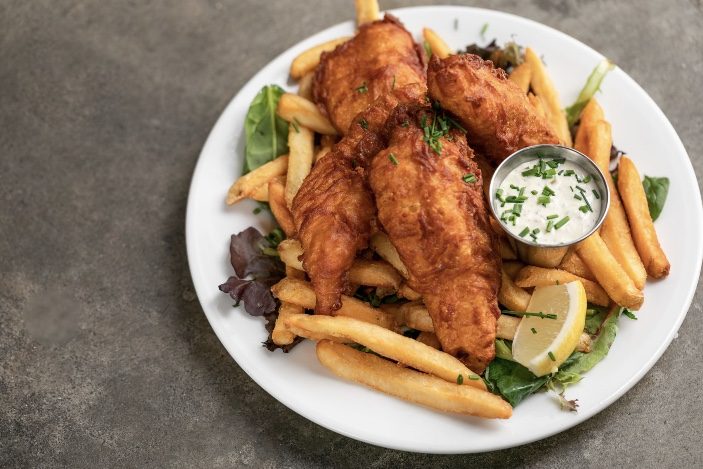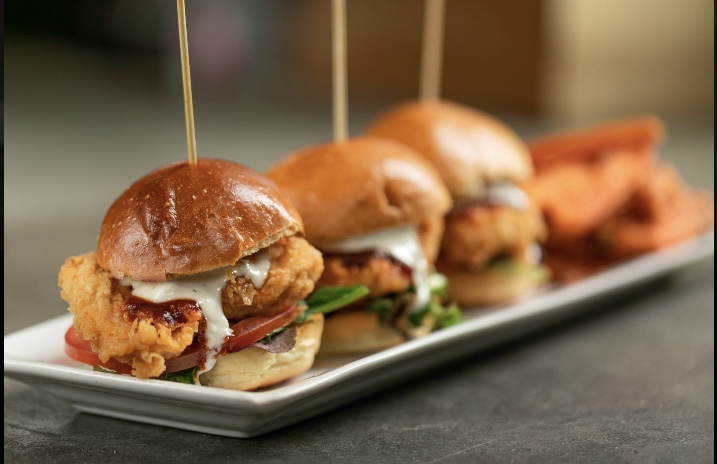 This craft brewery and restaurant is dedicated to sustainable seafood and local organic produce. 
Popular To-Go Items: Crispy Chicken Sliders made with flaky golden fried chicken breast, blue cheese, Sriracha, lettuce, and tomato ($14); La Reina Lager Marinated Tri-Tip Sandwich ($15) is made with grilled tri-tip on a deli roll with mayonnaise, grilled onions, cheddar cheese, organic lettuce, and tomato. Choose either Rincon Brewery's Rivermouth Stout BBQ sauce or pico de gallo, both house-made. Bate's Blonde Fish and Chips is a superior take on this traditional seaside fare. It's made with ale-battered and fried Alaskan cod served with a choice of fries or sweet potato fries ($14.50). The brewery offers a nice selection of IPAs, pilsners, and ales to pair with any dish.
Reason to order: Go for the sustainable seafood, enjoy a wide selection of brews.
5065 Carpinteria Ave. To place an order call 805-684-6044 or visit www.rinconbrewery.com.
Bettina Meatball Recipe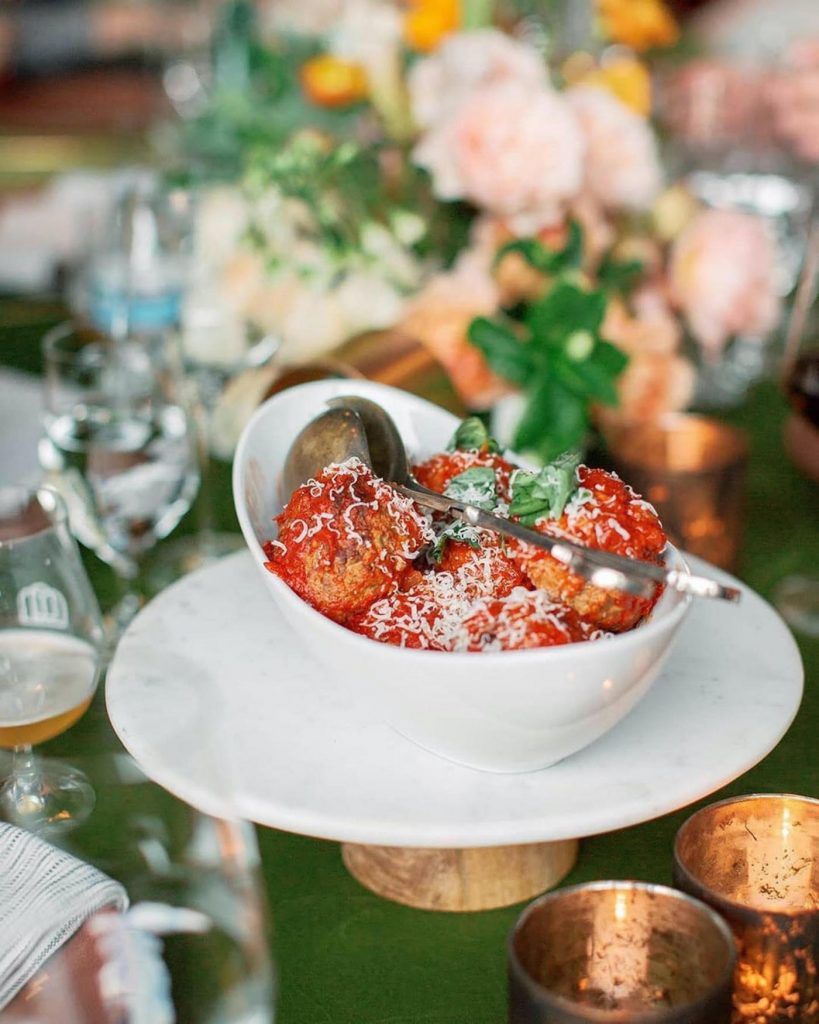 INGREDIENTS
Makes 25 meatballs
2 ½ lb ground beef
2 ½ lb ground pork
Half bunch parsley, fine chop
Lemon zest from one lemon
7 oz (half a loaf) day-old sourdough bread, cubed medium 
10 oz whole milk
1/2 lb parmesan, fine grate
1 medium sized onion, fine dice
3 cloves garlic
3 eggs, large, and whisked
Pinch dried oregano
1.5 oz salt
Pinch black pepper, ground
ASSEMBLY
1. Sweat the onion and garlic. Set aside and cool.
2. Mix all of the ingredients (except the meat) and add the cooled onion and garlic mixture. Let the mixture rest for at least 1 hour to overnight.
3. Mix ground meats together and combine with previously made mixture until everything is evenly incorporated.
4. Pan-sear a small patty of meatball mix to check for seasoning. Add more salt, pepper, or oregano if needed.
5. Pre-heat oven to 350 F. Scoop out into 4 oz portion balls and place on a large sheet pan fitted with parchment paper. (Pro tip: first spray the tray with non-stick spray so the parchment sticks!)
6. Bake at 350 F until the meatballs hit an internal temperature of 160 F (approximately 20-30 minutes).
7. Plate the meatballs. Heat your favorite marinara sauce and pour it over top. Garnish with basil and parmesan. •MJ
You might also be interested in...