The Rotunda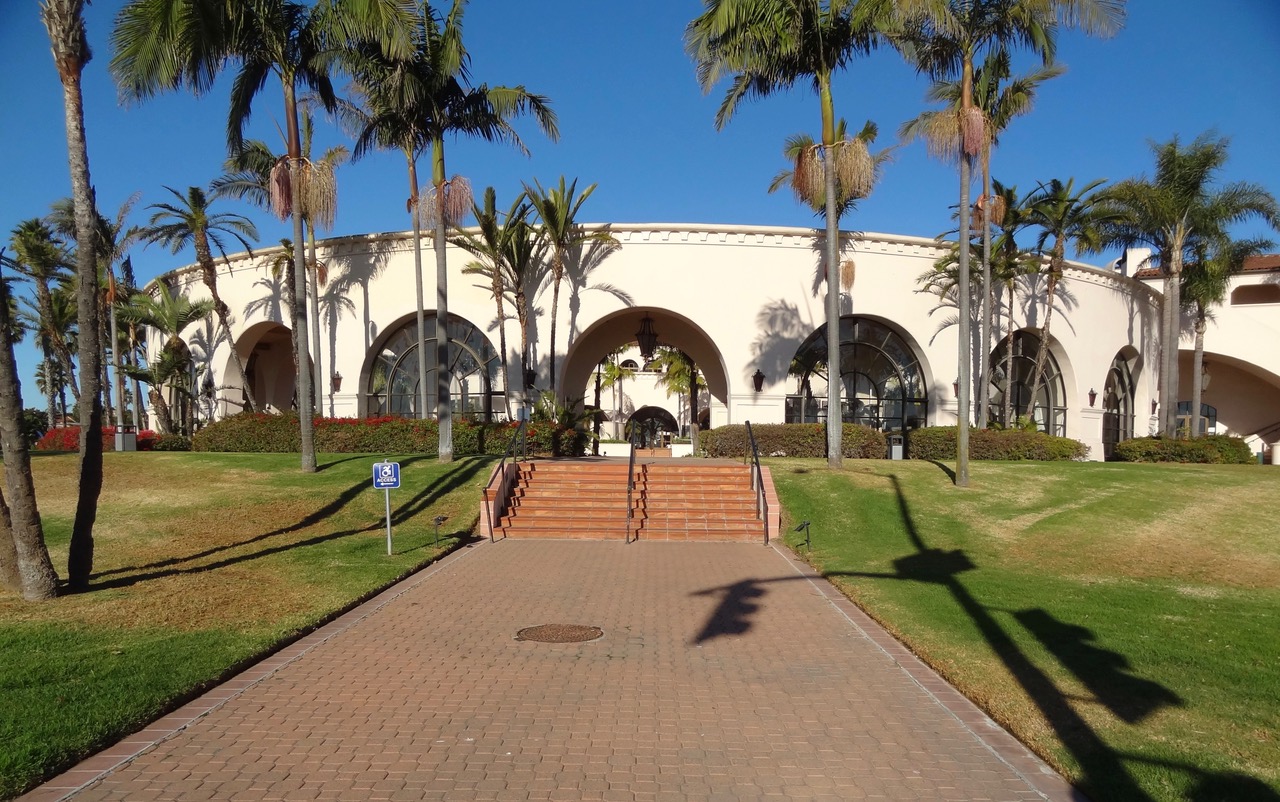 Did you ever wonder about the Plaza del Sol or the Rotunda at the Hilton Santa Barbara Beachfront Resort, formerly Fess Parker's Resort? Was it originally for bullfights because it's patterned after the bullring in Sevilla, Spain. Why was it built there anyway? The arches are reminiscent of the façade of the Old Mission.
The answer is it used to be the site of the old train turntable and roundhouse. The turntable allowed train cars to be turned in a different direction and put back on the main tracks and the roundhouse had stalls to house the steam engines during cleaning. My husband Don's grandfather used to have that job back in West Virginia. Not exactly picturesque.
The great earthquake in 1925 destroyed the original roundhouse and apparently Southern Pacific's new design wouldn't pass the tough building codes until they made the exterior wall in a design similar to the famous Plaza de Toros in Seville (bullring). I used to attend bullfights there.
The Historic Landmarks Commission listed the roundhouse as a potential historical structure. On its site the "skeleton" was incorporated into the Rotunda when Fess Parker's Red Lion Resort opened in December of 1986. I always love walking by and knowing the history of the Rotunda and its connection to Spain.
History Trivia
Santa Barbara has always attracted the rich and famous – even presidents – eight of them out of 44 have visited. Benjamin Harrison arrived by train in 1891. William McKinley came in 1901. In 1903 there was Theodore Roosevelt and in 1941 Franklin Delano Roosevelt making plans to create a summer White House here in a Riviera mansion (now Marymount School), but WWII got in the way.
In 1953 senator John F. Kennedy honeymooned at the San Ysidro Ranch. Governor Ronald Reagan purchased Rancho del Cielo in Santa Ynez in 1974 and hosted British Prime Minister Margaret Thatcher, Queen Elizabeth II, and Soviet leader Mikhail Gorbachev. Bill Clinton stopped for a bite at the Nugget in Summerland in 1992 and jogged on East Beach. In 2007 Barack Obama rallied at City College while campaigning for the presidency.
And so it goes today with a mighty push in real estate sales as we speak. And many of us are here because we wouldn't want to live anywhere else on earth. Here's to 2021, the way it used to be!
You might also be interested in...