Fiesta at the Courthouse
One of these days the Santa Barbara Courthouse will be open to the public once again. Meantime there is an interesting story about the sixth Theo Van Cina painting that hangs on the ground floor near the lawyer's entrance titled "Fiesta at the Courthouse," circa 1930s.
There are five others on the second floor: "Cabrillo Landing," "Figueroa Funeral," "Presidio Cross Ceremony," "Bouchard Coastal Voyage," and "Wedding at del la Guerra House." These were commissioned by Mortgage Services for the 1929 opening of the new Courthouse. Only "Fiesta at the Courthouse" somehow disappeared and somehow it disappeared along with the "Lost Cannon" painting. Not only was the cannon lost historically, but literally, never to be found.
Who was the artist Theo Van Cina? He was born in Holland and became a painter, sculptor, and educator. He studied at the Academy of Arts in Rotterdam. Before immigrating to the United States he traveled throughout Europe: Spain, Italy, France, and England studying medieval art. He lived in Chicago first. He was a talented costume designer joining the Metropolitan Opera Company at age 24 to design for them. While working with stage productions he was discovered by Hollywood. He was so acclaimed that he was offered to come to California to work with directors like Cecil B. DeMille. Without hesitation he went and met the Santa Barbara-Hollywood art community. The tie between the two remains, even today.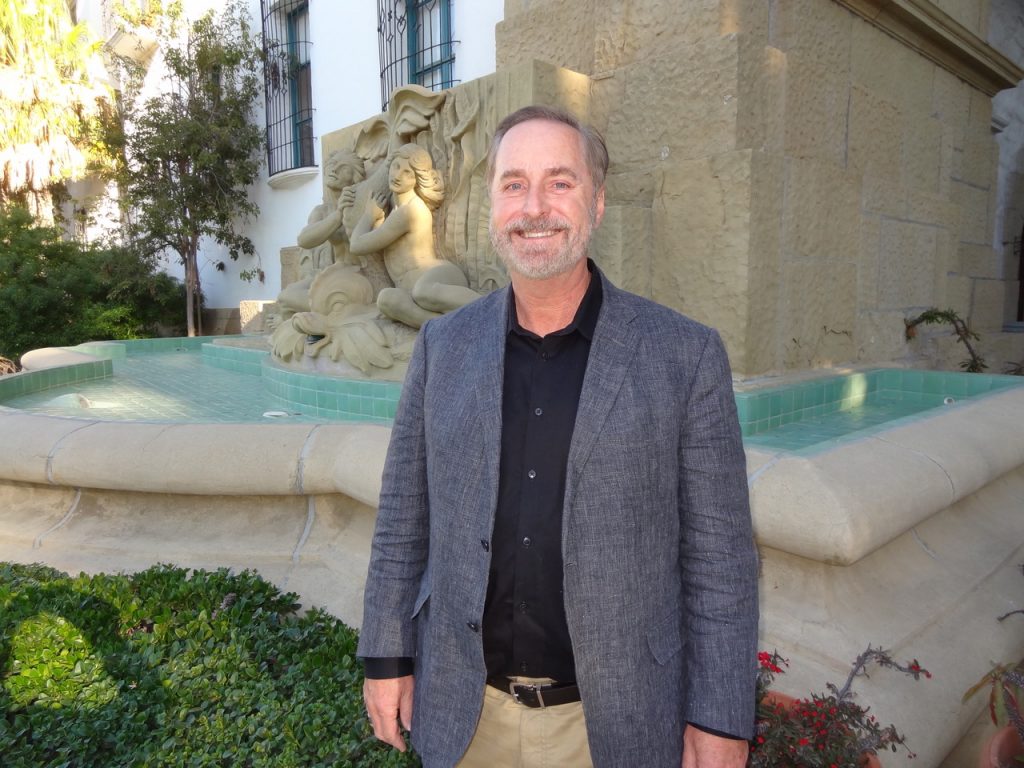 It's interesting to note that California in the '20s was undergoing a Spanish renaissance. Its architecture and art were going Spanish. This was driven by a wish to retain the heritage of early Alta-California. After Theo lived in Hollywood for a short while, he moved to Santa Barbara. Historically Holland was having its own struggle to throw off the yoke of Spanish oppression. Fortunately this didn't seem to bother the native Dutchman Van Cina when he was asked to paint Spanish scenes for the new Courthouse.
Fast forward to 2009 when Keith Moore, a young art collector, purchased a 9-foot-by-18-foot painting from an estate signed by Theo Van Cina. Keith hung it in his Summerland home where it took up one whole wall. It wasn't framed because there was no room for one.
Then Keith decided to downsize. In his new home there was no room for the Van Cina. He decided to see whether the Courthouse would want it to go with their other Van Cinas. He called supervisor Naomi Schwartz and Courthouse Legacy Foundation (CLF) board president Tom Thomas. They were thrilled and couldn't believe Keith would just give this valuable painting away. They held a reception for Keith where one of his friends wanted to know, "Why isn't it framed?" When she learned why, she offered to pay for the gold frame. No small donation because it cost $5,000.
Keith not only donated the picture but ended up joining CLF and serving on its board for nine years as a fundraiser. The picture was also chosen by El Presidente Michael Dominguez to be the Old Spanish Days poster for 2010.
Next time we can be in the Courthouse again, have a look on the first floor. Thank you, Keith!
You might also be interested in...