Chock Full of Chanel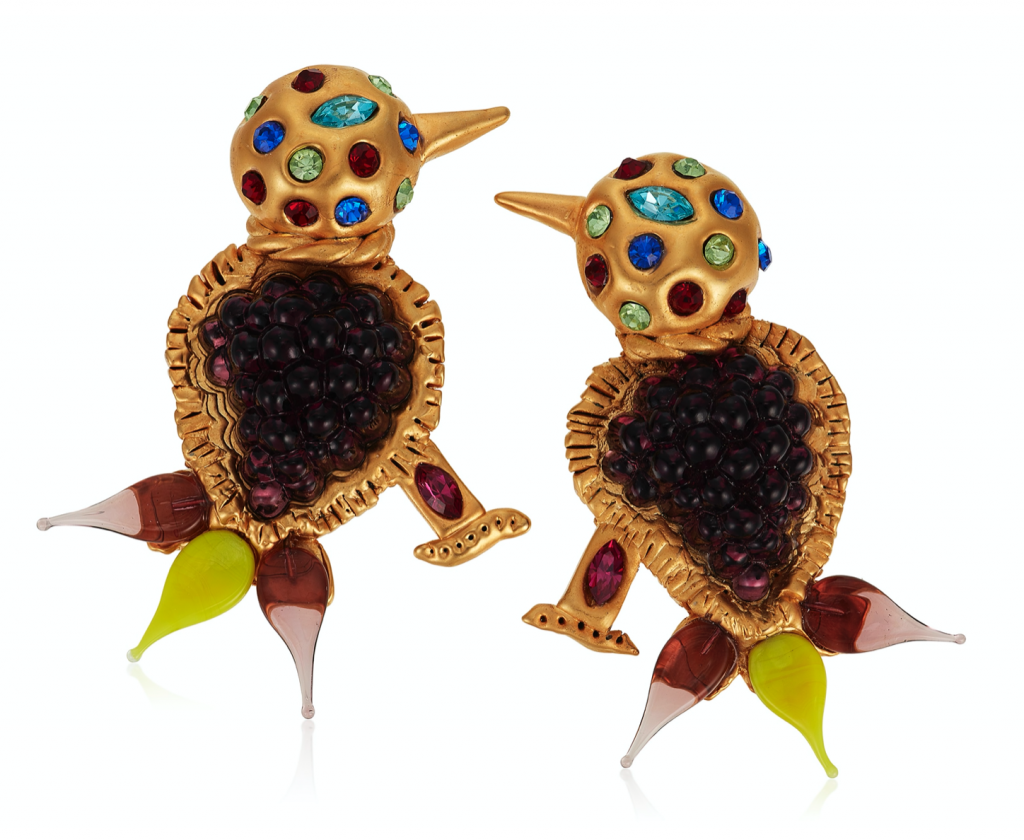 New York auction house Christie's is selling more than 100 pieces of rare vintage Chanel jewelry estimated to be worth more than $163,000.
The 106-piece hoard of designer necklaces, earrings, brooches, and more comes from the collection of Susan Gutfreund, an interior designer and Manhattan socialite, who was a good friend of the Kate fan fluttering Chanel designer Karl Lagerfeld.
Susan's late husband, John Gutfreund, was CEO of the investment bank Salomon Brothers, who was dubbed The King of Wall Street by Business Week, before he died in 2016 aged 86.
I used to know the dynamic duo quite well given their son, Peter, was a fellow student of my godson, Carlitos Curkin, at Buckley, the elite Upper Eastside prep school.
They lived in great splendor in a 12,000 sq. ft. Fifth Avenue apartment, which later sold for $53 million, and an equally magnificent Paris townhouse. They even rented the Duke of Marborough's country home, Blenheim Palace, for a lavish bash and the Musee Carnavalet in Paris for John's 60th birthday, even buying two seats on Concorde for the cake and its baker to be flown in from New York.
Julia's Back
After being wonderfully portrayed by Meryl Streep on the big screen in 2009 in the Nora Ephron-directed film Julie & Julia, beloved culinary goddess Julia Child is about to hit the small screen again in an HBO Max TV series Julia, based on the world-renowned chef who spent the final chapter of her colorful culinary life at Casa Dorinda in Montecito before moving to more heavenly pastures in 2004 at the age of 91.
The initial eight-part series, from Lionsgate Television and 3 Arts Entertainment, stars English actress Sarah Lancashire from the PBS Masterpiece Theater show Last Tango in Halifax as the towering chef, who wrote Mastering the Art of French Cooking and became a regular presence on American TV screens for decades in The French Chef, with her original kitchen now exhibited in the Smithsonian in Washington, D.C.
Frasier's David Hyde Pierce will play her devoted husband. It is scheduled to shoot under House of Cards director Charles McDougall in Boston this spring.
The series, written by Daniel Goldfarb of The Marvelous Mrs. Maisel, also stars Isabella Rossellini and Bebe Neuwirth.
Never Say Never
Montecito actress Gwyneth Paltrow says she's no longer comfortable in front of the camera.
The Oscar winner, 48, tells former supermodel Naomi Campbell, 50, in an internet interview that she'd have to be the writer.
"But that's sort of it. If my husband, Brad Falchuk, writes something and he wants me to do it then I'd do it.
"I could never say never. I would like to go back on stage one day. I really loved doing theater."
Gwyneth, whose last film was 2019's Avengers: Endgame is now focusing on her global lifestyle brand, Goop, worth $250 million.
Remembering Eve
On a personal note, I mark the passing of the extraordinary Eve Branson, mother of Virgin Atlantic tycoon Sir Richard Branson, 70, who has died at the age 96 after a valiant coronavirus battle.
Over the years I met the former ballet dancer who gave her son 100 pounds to start his Virgin empire, a number of times, the last being at a party in Beverly Hills to celebrate her new cooperative to help Berber tribeswomen in Morocco, near Richard's Kasbah Tamadot resort outside Marrakech, market their carpets through her eponymous foundation.
Having been a guest on many of his inaugural Virgin Atlantic flights, including Los Angeles and San Francisco, as well as staying at his private Caribbean retreat, Necker Island, in the British Virgin Islands, I met Eve and her late barrister husband Ted, who died in 2011.
Eve, who experienced a very colorful life, was one helluva lady who took glider lessons disguised as a boy in her youth, served in the Royal Navy in World War II, and was an air hostess for British South America Airways.
She was also an avid croquet, golf and tennis player in her later years, and at the of 89 penned her amusing autobiography Mum's The Word: The High Flying Adventures of Eve Branson.
Sightings are suspended during the total lockdown ordered by Governor Gavin Newsom, hopefully to return in due course.
Pip! Pip! – Be safe and wear a mask.
You might also be interested in...