Senior Portrait: Peter van Duinwyk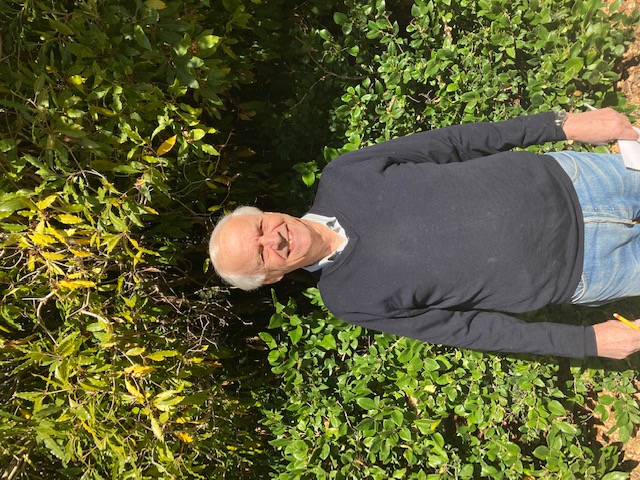 A lot can be learned from a book, but wisdom and insight are often obtained through life experiences. The elders of a community are naturally the most experienced and have their entire lives to reflect back on the lessons they've learned along the way. At a time when we are all looking to remain connected to our community and make sense of what is happening around us, our senior citizens (who could also use some company right now) have the experience we could all use to help us put the current state of the world in context. This column will explore the fascinating stories and experiences of our senior community, passing along their life lessons and celebrating the accomplishments of those who have spent their lives contributing to our community. Peter van Duinwyk is a natural fit for this very first column. As a political science high school teacher for over 30 years and having served as an officer and instructor in counterintelligence, he has helped prepare future generations to become active members of the community and contributors to society.
Peter was born in New York as the son of an airline aircraft mechanic. The family originally came out to Los Angeles so his father could work at the Los Angeles Airport. Peter grew up in the San Fernando Valley. Both of his parents being city folk, they immediately bought a horse and livestock for their property, which Peter has continued on to this day. With his dad being a tradesperson, Peter was encouraged to pursue a craft during grade school. When his counselor asked him what he planned to do for a career in his senior year of high school, Peter realized he had no idea. The counselor handed him some papers and told him to fill them out. It was an application for UCSB, where he was accepted and ended up attending. No one in his family had attended college and Peter had never even heard of Santa Barbara before that moment but he immediately fell in love with the area once getting to campus. Working his way through school, he majored in history with a minor in biology, focusing specifically on insects. He also enrolled in the ROTC during college, which led him to being commissioned as an officer in Army intelligence. It was at UCSB where he met his future wife, Susanne, who was born and raised in Santa Barbara. Upon both of them graduating, she was looking for a change of scenery and he decided to apply to a military academy on the East Coast.
They both moved to Maryland where he attended the United States Army Intelligence School in the now defunct Fort Holabird in Baltimore. He notes that this was the best education he had ever received and instilled a passion in him for constitutional law and history, many of the courses being taught by University of Maryland professors. After the 16-week program, he was assigned to the Presidio of San Francisco as Chief of the Special Investigation Section along the West Coast. The high position came as a big shock to him, but he turned out to be well suited for it, even receiving decorations for "finding solutions to potentially controversial operational matters." He was given a team of agents that spanned from Washington state to San Diego and all the way over to Salt Lake City, Utah, whose role was to investigate loyalty and suitability cases in individuals with or receiving security clearances. They looked into everything from potential gambling and drug problems, to people with problematic beliefs or connections behind the Iron Curtain, and even those that had compromising family ties in those areas. He stayed in the position for 14 months, but not wanting to spend his entire career in the military, Peter and his now-wife Susanne ultimately decided to return to where they love, Santa Barbara.
After his military service, Peter decided to pursue his passion for teaching. He first taught high school science for two years before becoming a senior government and political science teacher, which he continued for the next 32 years. His in-depth experience in counterintelligence and constitutional law taught him to always look for compromise and the middle ground in a discussion. During his classes he encouraged students to think in the grey areas, looking at a question from multiple sides, with Peter always willing to play Devil's Advocate in a discussion. With summers off from high school, Peter was accepted as a summer school instructor in Army Intelligence, which he continued for nine years. And his love for teaching shows, having received both the Santa Barbara County Teacher of the Year award and an outstanding instructor award at the U.S. Army Intelligence Center during his tenure. For the last five years of his educational career, he served as the Assistant Principal at Santa Barbara High School.
Although he retired in 1999, Peter remains an active contributor to the community. He feels that every person has an obligation to pay back what past generations have given us and pay it forward for future generations. He would impress this lesson on each of his students in his classes but also wanted to make sure he lived up to it. Over the years he has served on the Santa Barbara County Grand Jury and was an officer on the board of the Montecito Association. He still currently serves on the board of the Montecito Union School District as Finance Committee Chair and as a solar subcommittee member on the board of the Montecito Fire Protection District. He also believes in finishing what you start, which can be seen in his hobby of fixing vintage cars and even the restoration of their Montecito home. Whether it is supporting electric energy with solar panels and Teslas, or through personal investments, Peter is a big proponent of saving and investing in the future, both personally and globally. He was able to buy a home in Montecito on a teacher's salary where he has lived for the past 50 years with his wife of 60 years as they raised their three daughters, two of which still live in the area, including one who lives next door to them. While many discussions exist in a grey area, Peter's contribution to the community does not.
You might also be interested in...