Homeless Camp Cleared Prior to King Tides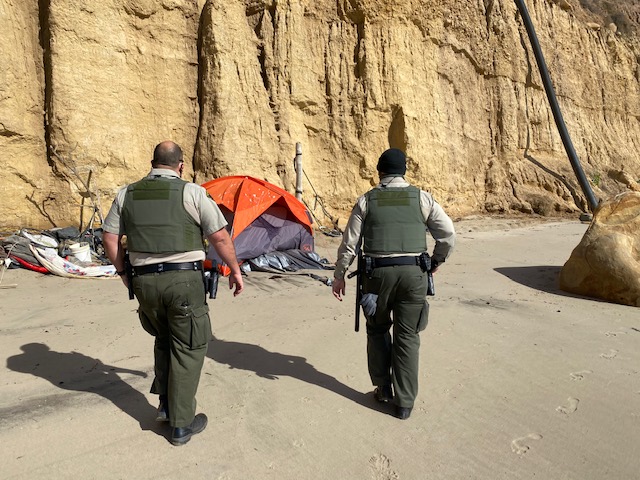 An abandoned homeless camp surrounded by trash, bicycle parts, car batteries, flooded tents, and more became an eyesore on the "Graveyards" beach in Montecito, at the base of the cliff below the Santa Barbara Cemetery. In a recent newsletter, Heal the Ocean says they received a call about it from a concerned citizen last week, and it took some time to figure out how they could legally do anything about it, as one cannot remove a homeless camp in use.
"Then we learned a King Tide, the highest and lowest tides of the year, would arrive along with high surf warnings on Monday and Tuesday mornings. The King Tide is about a foot or two higher than average tide levels. Knowing that everything in this camp would soon be swept to sea, HTO Advisory Board member Harry Rabin alerted HTO Executive Director Hillary Hauser, on Saturday, that something must be done about it," the newsletter reads.
Hauser attempted to reach officials for permission to clear out the camp, while Rabin was able to get the assistance of two County sheriffs, who came out to inspect the camp, verify that it was abandoned, and give the okay for it to be cleared. By then Hauser had engaged Big Green to come with trucks and workers to do the bagging and hauling. The crew at Big Green had been working all day, and some had even gone home for the evening. But they reversed gear and arrived en masse to the site and jumped into action. By sunset, the mess had been loaded into trucks and driven away – less than 48 hours before the high tide hit on Monday morning.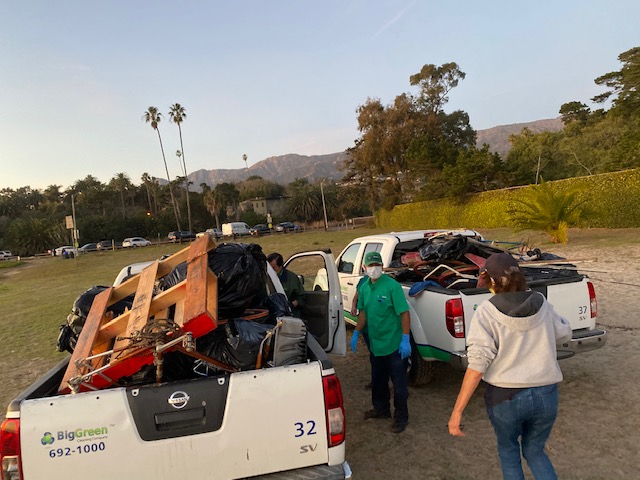 Hauser and Rabin have joined a working group organized by Santa Barbara City and County fire chiefs to work on the problem of homeless encampments in problematic and sensitive areas. For the fire chiefs, the big worry is about these camps starting fires that can become instantly threatening to the Santa Barbara community and HTO's concern is that homeless camps, which have no sanitary facilities, should not be parked on beaches or near storm drains, in creeks, or other watersheds as they pose a risk to water quality and environmental safety. 
Heal the Ocean gives big thanks to Mark Walker, the citizen who called about the situation, and to the County Sheriff department as well as Big Green, for helping on such short notice. Heal the Ocean paid Big Green's charges for this work through a grant from Nora McNeely Hurley and the Manitou Fund.
You might also be interested in...