Taste One, Taste Them All
Santa Barbara Public Market is a culinary favorite for devoted foodies who come to sample the unique flavors of local chefs. The 19,400-square-foot gourmet food hall houses seven vendors with culturally diverse culinary offerings in a single location, and can now be combined in a single food order. Outdoor/indoor dining is not available but there are several ways to enjoy the culinary artistry from these small businesses, including takeout and delivery. You can even sample dishes by different vendors through Restaurant Connection. Here's a roundup of popular items on their menus.
El Jardin (The Garden)
This urban contemporary beer garden features a rotating array of beers on tap, including pilsners, lagers, IPAs, reds, browns, stouts, and sours. Note: orders are only available online through thegardensb.com.
Popular To-Go Item: The El Jardin Burger, with two premium ground beef patties, American cheese, a tangy and delicious "secret" sauce, pickles, and grilled onions piled on a brioche bun is a masterpiece ($12). Add: smoked bacon ($2), fried egg ($2), avocado ($3), and lettuce and tomato ($1) for the works. A tasty selection of ale growlers is available for pickup Tuesday through Saturday from noon to 5 pm ($13.99-$31.99).
Reason to order carryout: Because you want to light up the grill for burgers on a Friday night but don't want to brave the cold winter temperatures outside.
Corazón Cocina
Inventive Mexican cuisine by chef Ramon Velazquez offering tacos, ceviche, and salads.
Popular To-Go Item: The Norteño Taco, featuring grilled skirt steak served on a handmade flour tortilla with melted cheese, topped with perfectly stewed Peruvian beans, salsa mugrosa (roasted tomatoes, chilies, garlic), guacamole and cilantro ($8.50) gives Taco Night a whole new flavor.
Reason to order carryout: Customer feedback is that the Norteño Taco is the best steak taco in Santa Barbara.
Wabi Sabi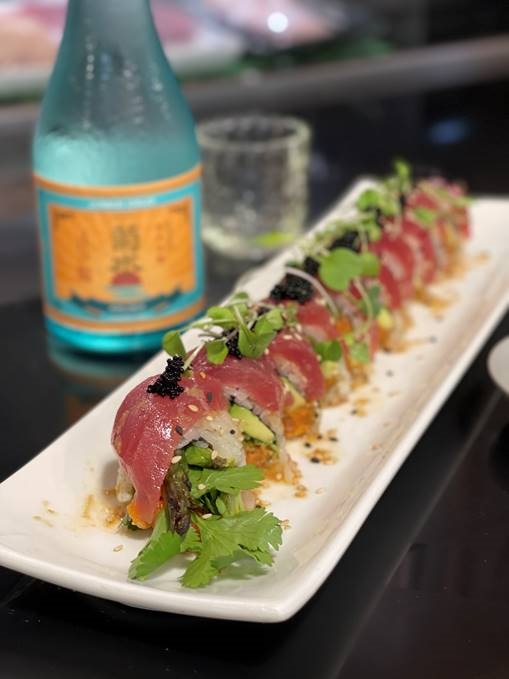 A dazzling array of sushi, sashimi, sushi rolls, and other Japanese favorites.
Popular To-Go Item: TunaTanMan Roll made with spicy tuna, grilled asparagus, avocado, cilantro, Japanese sprout and topped with yellow fin tuna, black flying fish egg, micro greens, and garlic ponzu sauce ($18.97).
Reason to order carryout: Wabi Sabi's artful presentation in a box is awe-inspiring.
Ca'Dario Pizzeria Veloce
Northern Italian-style pizzas and seasonal salads created by chef Dario Furlati.
Popular To-Go Item: The "El Gringo" ($12.95) is made with a 24-hour raised, house-made dough rolled to a perfect 10" pie. Fresh tomato sauce, mozzarella, Italian sausage, sweet red onion, and serrano chili make this pizza a one-of-a-kind experience.
Reason to order carryout: You're craving a savory, meaty pizza pie with a spicy kick.
Fala Bar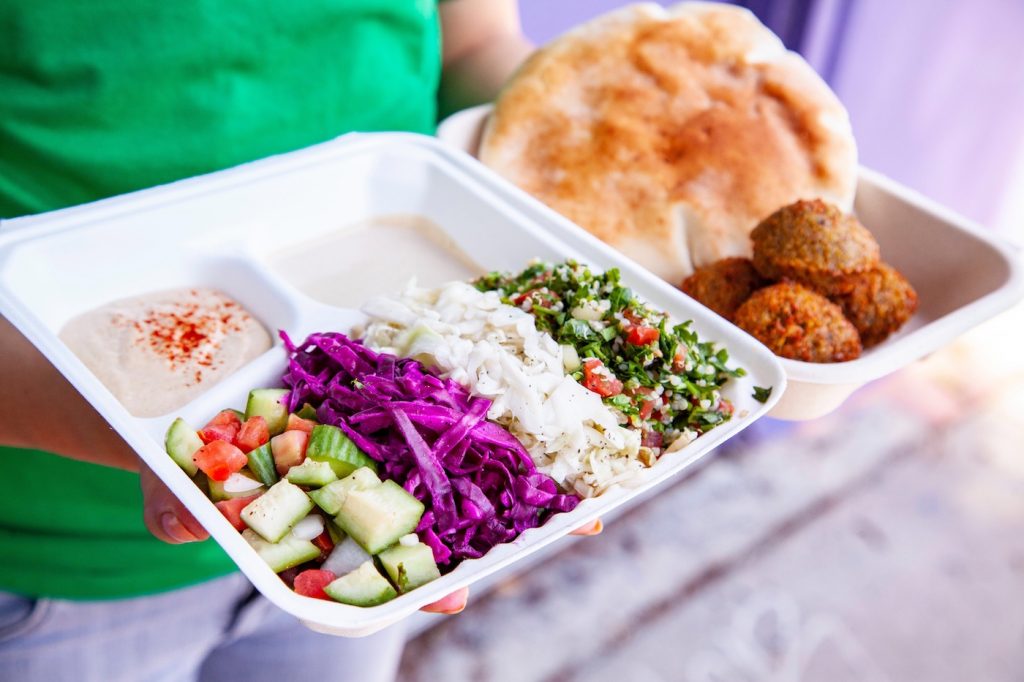 Serving up vegan falafel, sandwiches, and salads, its traditional Middle Eastern cuisine with a healthy twist.
Popular To-Go Item: Fala Plate is an all organic and vegan plate featuring a medley of quinoa tabouli, Israeli cucumber salad, purple and white cabbage served with warm house-made pita bread, hummus and tahini. Falafel flavors include original, spicy, kale and sweet potato ($15.50).
Reason to order carryout: Your body is a temple, feed it wisely.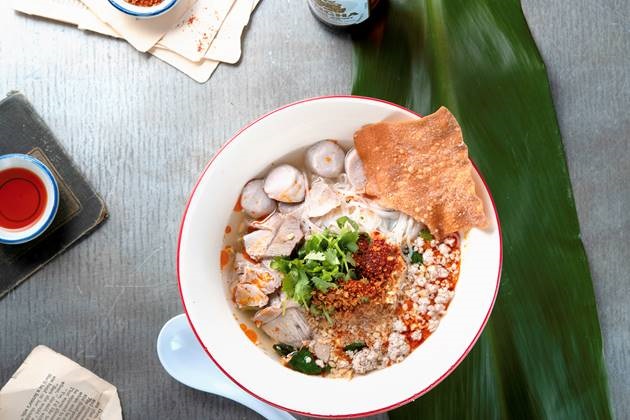 Empty Bowl Gourmet Noodle Bar
Authentic regional noodle bowls, specialty small plates, and handmade dumplings inspired by the cuisines of Thailand and Taiwan.
Popular To-Go Item: Bangkok Street Noodle bowl with rice noodles, seasoned pork broth, barbecued pork, minced pork, pork meatballs, fish sauce, bean sprouts, Chinese broccoli, green onions, cilantro, fried garlic, crushed peanuts, and dried chilies. Prepared mild or spicy ($14.95).
Reason to order carryout: It's the next best thing to eating a bowl of noodles in the streets of Bangkok.
Rori's Artisanal Creamery
Organic ice cream made with unique flavors and ingredients.
Popular To-Go Items: Rori's offers gastronomic pandemic relief in a pint with rich and creamy flavors such as an almond brittle and honey ice cream made from San Marcos Farms honey; a tart passion fruit (vegan) ice cream and black pepper pistachio ice cream made with all-natural ingredients, no artificial flavors. The pistachio and pepper flavors mingle well in this creamy dessert ($11.75 per pint).
Reason to order carryout: Because life's too short to skimp on the good stuff.
The Public Market is located at 38 West Victoria Street (at Chapala). For more information, or to place an order for pickup or delivery, please visit www.sbpublicmarket.com.
Two More Favorite Carryout Options
Joe's Cafe
Comfort food, stiff cocktails, and a friendly ambiance has always made Joe's Cafe a downtown destination since 1928.
Popular To-Go Item: The Diablo Dip Sandwich is a new twist on the classic French Dip ($18.95), with thinly sliced tri-tip doused in hot sauce and served on a brioche bun alongside fries and a mixed green or Caesar salad.
Reason to order carryout: The cafe sources its fiery hot sauce from Florida.
Joe's Cafe is located at 536 State Street. For more information or to place a carryout order, visit www.joescafesb.com.
Tre Lune
A cheerful, sophisticated energy animates Tre Lune on Coast Village Road, offering California interpretations of fine northern Italian cuisine.
Popular To-Go Item: A wild mushroom pizza with mozzarella, herbs, and truffle oil ($22) and a baked lasagna with beef, pork ragú, ricotta, and parmesan ($29).
Reason to order carryout: You're craving the comfort you get from a generous serving of bubbling and saucy home-cooked lasagna.
The Smashburger
Third Window Brewing is celebrating five years in business with a Wagyu beef "smashburger." Naturally, the smashburger is paired with Third Window Brewing's top beer selections. The beer is inspired by the farmhouse and monastic traditions of Belgian brewing – which drew local ingredients from agricultural surroundings, bottle-conditioning – with beers such as Saison, Dubbel, Tripel, and a Blond that won a bronze medal for Best Belgian-Style Ale 2020 at the Great American Beer Festival.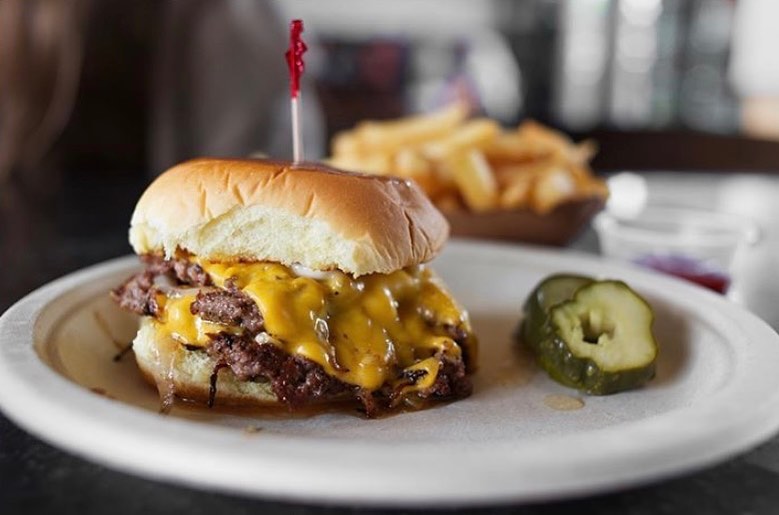 Third Window Smashburger, currently offered for pick-up at The Mill at 406 E. Haley Street, came about because brewery founder Kristopher Parker's sister Katie raises Wagyu beef on the family ranch in Los Olivos. The cows are fed a mixture of spent grain from the brewery and dried grape pomace from the winery, adding flavor and nuance to the Wagyu beef's revered marbling. "It only requires salt and pepper," said Parker.
Using good old fashioned American cheese, the beef is smashed flat on the brewery's stainless steel griddle alongside onion. "The burger is made with paper-thin white onion piled on top, in the manner of Oklahoma sliders. It's then smashed along with the beef onto a smoking hot griddle," Parker said adding that the burgers are served with a special sauce containing "house made pickles, mustard, jalapeños, Mayo, and several other things."
Burgers are at their best with a side of fries – in this case, Belgian-style fries. Chipotle Aioli, Lemon Pepper aioli, homemade beer mustard, curry Ketchup and chimichurri are just a few specialty sauces that come on the side for dipping.
Of course the smashburgers pair perfectly with a Third Window beer. Customers stopping in for a burger can purchase accompanying beer packaged in bottles, cans, crowlers (32-ounce beers poured into a specialty can straight from the tap) and growlers (64 ounce jugs poured from draught). The cost is $6 to $9.
Despite giving Parker a severe case of tennis elbow (someone has to smash the burgers!), food lovers say it satisfies hangovers and cravings of all things beef. A single smashburger is $6 and the standard double (my favorite!) is $9. Belgian fries are $4.50 small order and $6 for a large order.
You might also be interested in...