Philanthropy Spotlight: MLKSB
When I moved to Santa Barbara in 1993, I was struck not only by the area's beauty – the opportunity to play volleyball daily on pristine East Beach, the nearby mountains – but also by the rich cultural opportunities. I was mesmerized by the extensive listings in what was then called SBCC Adult Ed (now known as the School of Extended Learning) and, as a longtime arts writer and lover, I was giddy about the music, theater, and film scene that seemed far more expansive than one would expect in an area with such a comparatively small population.
Then I became aware of the nonprofit world. It seemed every other person I met had at least once worked for a local nonprofit, and it was clearly the generosity of the decidedly philanthropic folk who live here that helped make the arts scene so rich and diverse.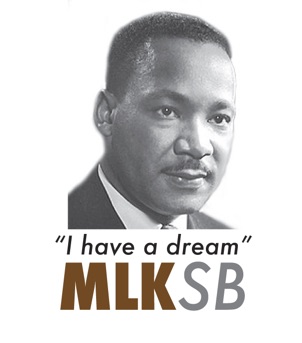 A few years ago, I began augmenting my then 15-plus years of entertainment coverage in the Montecito Journal with a column for the paper called "Benefit of the Week." And now, I am happy to announce my new assignment as the author of the weekly Giving List column, in conjunction with the inaugural edition of the annual Giving List book. With this weekly column I will have the privilege of connecting with the people at the organizations who are making such a difference in our community and write about their ongoing work that goes far beyond the impact of any single fundraising event.
I'm not sure that writing about Santa Barbara nonprofits qualifies for what Montecito Journal Media Group CEO Gwyn Lurie called "engaging in charitable deeds" in her introductory essay, but I can attest that even the smallest contribution has already affected my own personal happiness, along with a renewed sense of inspiration that followed my recent interview with Ernesto Paredes, the Executive Director of Easy Lift, to kick off the column last week.
I am excited about diving in with 50 more of our finest nonprofits over the coming year and doing my best to bring their inspiring stories to our readers and potential contributors. I feel honored to be able to talk with the people who are doing their part to make the community and the world a better place, especially during our troubled times. I hope you will enjoy the column as much as I imagine I'll enjoy writing it.
MLKCommitteeSB
The Martin Luther King, Jr. Committee of Santa Barbara chose the theme for its 14th annual observance of the holiday celebrating the birthday of the slain civil rights leader back in early April. That was just a couple of weeks after the COVID-19 pandemic brought California's first lockdown, more than a month before George Floyd's killing led to the Black Lives Matter marches and racial justice protests of spring and summer, several months before it became clear that Blacks and other racial minorities were among the hardest hit populations affected by the continuing coronavirus crisis, and most assuredly before last week's shocking insurrection at the U.S. Capitol received a far different response than the BLM gatherings had. 
Still, King's observation that "The ultimate measure of a person is not where they stand in moments of comfort and convenience, but where they stand at times of challenge and controversy" sure does seem prescient for last year's milestone events.
"More than ever Martin Luther King, Jr.'s words are as prophetic now as they were more than fifty years ago when he said (them)," says E Onja Brown, president of the committee, noting that the mostly young people protesting the death of an unarmed man whose life was brutally taken by those sworn to defend us faced plenty of their own challenges.
"Despite being in the midst of a pandemic, [so many people participated in] one of the longest and most persistent protests ever illustrated the demand for systemic changes," says Brown, whose introduction to Dr. King was standing just steps away when the civil rights leader delivered his famous "I Have a Dream" speech in Washington, D.C. in 1963.
But perhaps it's also true that Dr. King's words are just so timeless that any moment in our nation's long history of oppressing those who are less privileged would seem a more than appropriate time to consider the courage of standing bold in the face of challenge and controversy.
And that's a big part of MLKCommitteeSB's mission, to make sure Dr. King's speeches and legacy, and his vision for a world where people were no longer divided by race, perpetuate, Brown said.
One of the ways that shows up is the annual essay and poetry contests for local school children that award three prizes and honorable mention in four categories.
"The students participate in the contest each year to show how Dr. King's words connect to the realities of their own lives and the world around them," she said. "We want students to think and make connections to the theme for themselves."
The first place winners of the contests normally have a chance to read their poems and essays at a live celebration that culminates the four-day celebration surrounding the annual Martin Luther King, Jr. federal holiday, the MLKCommitteeSB's biggest event of the year.
"Dr. King's vision was the beloved community, to embrace everyone," Brown explained. "We reach out to be that point where all people can come and feel free and be in a safe environment to speak their mind."
Normally, to that end, the weekend features events ranging from speeches at the Eternal Flame at UCSB's campus, Interfaith services at local churches, and a Unity March from De La Guerra Plaza to the Arlington where a lively celebration would feature music, the student readings, keynote speeches, and more.
But of course the pandemic has forced an inevitable move to a livestreaming event. Still, Brown stressed, all of the above facets of the four-day celebration will be represented in the Committee's two-hour virtual program beginning at 11 am on Monday, January 18, which is the Federal observance of King's birthday. The event will be livestreamed on www.mlksb.org and on the MLKCommitteeSB Facebook page (www.facebook.com/MLKCommitteeSB). 
Speakers who recorded presentations include Rev. Richard A Lawrence, a retired United Methodist clergyman who was active in the civil rights movement and knew Dr. King personally as he participated in the Selma to Montgomery march and later helped Dr. King organize an anti-discrimination demonstration in Chicago. Dr. Anna Everett, an emeritus professor of UCSB, who was recently elected to the Santa Barbara City College Board of Trustees and also serves on the Santa Barbara County Commission for Women, will also talk.
In addition, the program will feature a photo and video montage of past MLK Day celebrations – including encore performances from Inner Light Gospel Choir and Santa Barbara Dance Institute, World Dance for Humanity, and the Red Sea Rhythm Rockers – and highlights from this year's other offerings from the Committee, including group and individual videos that were created for Santa Barbara's Juneteenth celebration and the Committee's Virtual Townhall meeting "State of the African-American Community in Santa Barbara County" that featured a diverse panel of health professionals in a dialogue with county administrative leaders.
"There were more than 1,000 participants on Zoom asking questions, people in the community whose voices aren't often heard," Brown said, noting that the series will continue this spring examining issues of inequality in unemployment and education.
But there's much more the all-volunteer organization could be doing with additional resources, she said.
"It has been an extra challenging time during the pandemic in terms of reaching out to people to get funding, which is what we need to do each year in order to sustain what we do for free," she said. "With more stability in the organization, we could be spending our time developing programs instead of raising money to support the ones we have now."
Brown wondered aloud why that's necessary in a community as well resourced as Santa Barbara.
"Actually, it boggles my mind," she said. "We're a community where there is enough for all of us, but for some reason, we haven't gotten the funding that we need to be able to develop our programs more. And now with the pandemic, not having direct contact with people has seriously impacted us, Because if people don't see you, it's like that old expression: Out of sight, out of mind."
You might also be interested in...