In Business: Persona Pizzeria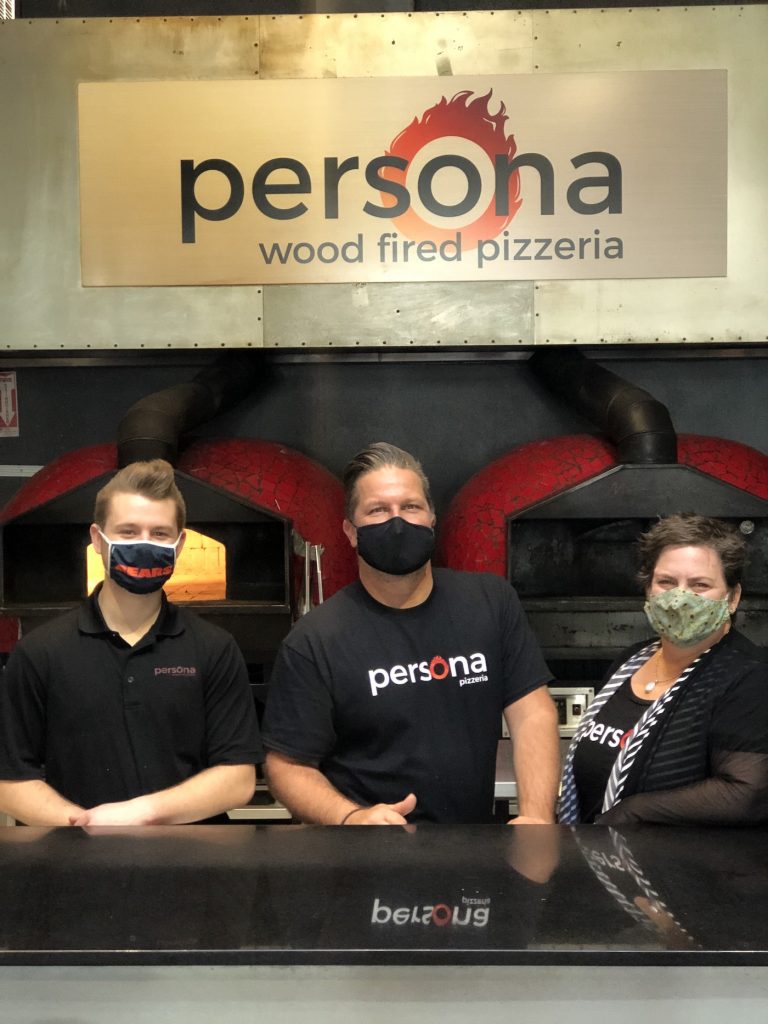 Persona Pizzeria on State Street has reopened under new ownership, despite statewide stay-at-home orders that have shut down indoor and outdoor dining in the majority of counties in California. "We know it's not the optimal time to open a new business, but we are super COVID-safe and looking forward to offering the same delicious, freshly sourced pizzas, sandwiches, pastas, salads, and exceptional customer service," said co-owner Kiona Gross, during a socially-distanced visit to the pizza shop earlier this week. 
Gross, along with co-owner Shawn Noormand, purchased the shuttered business in October; the former owners shut the doors permanently in March following the first stay-at-home order. Gross is the former owner of Curious Cup Bookstore in Carpinteria, which closed five years ago. She and Noormand are longtime friends, meeting in Carpinteria at their respective businesses. Noormand is the longtime owner of Giovanni's Pizza on Carpinteria Avenue, where he celebrates 24 years in business on January 1. "I've been looking for a new venture for awhile, and when Kiona brought the idea to me, I knew it was the perfect opportunity," Noormand said. "I have a great staff at Giovanni's in Carpinteria, who I trust to run the store while I focus my attention on this new business."
The pizza business runs deep in the Noormand family; Shawn's dad, Alex, owned the Giovanni's in Montecito for 32 years before closing in January 2019. Shawn grew up working at the Coast Village Road eatery, which is now home to Ca'Dario Montecito. Shawn's sister Shannon owns Crushcakes in Santa Barbara and Isla Vista, and sister Alex co-owns Yellow Belly Tap & Restaurant on De La Vina Street. "We do keep it in the family," Shawn laughed, adding that his own sons will be helping launch the business while they are home from college for the holidays. Noormand tells us that his dad, Alex, who many in Montecito grew up visiting on Coast Village Road, is semi-retired and spending his days mentoring small business owners for the local nonprofit, SCORE.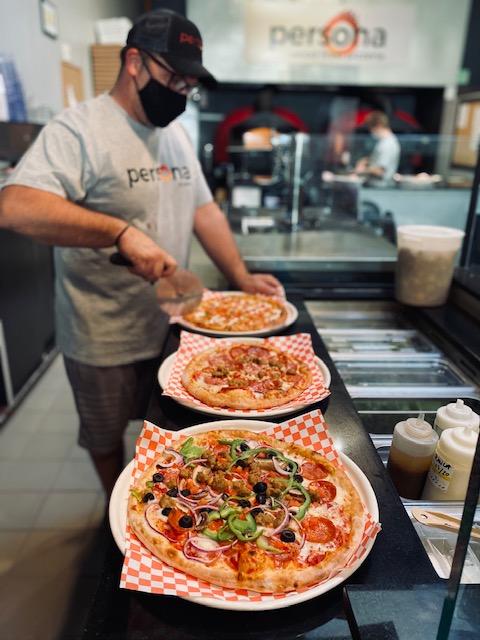 The newly opened Persona Pizzeria will keep the same name and recipes as the former franchise, but the menu has been streamlined and the prices have been lowered, offering a more affordable price point for pizza, salads, pasta, and calzones. All pizzas are personal sized (12") and there is a popular "create your own" option with an array of toppings including various sauces, meats, cheeses, veggies, and more. There are also gluten free and vegan options available. Salads include a burrata and beet salad, caprese, Caesar, house, and more. The entire menu can be found on www.toasttab.com/persona-Sb. Many of the staff members from the former iteration of Persona have returned, including manager Sawyer Diaz.
During their COVID-friendly re-opening, customers can order online, over the phone, or at the door of the eatery, located near the corner of Canon Perdido Street. Orders are available for pickup or curbside, no-contact delivery. "At this time no one may enter the restaurant, as we want to keep both our staff and our patrons as safe as possible," Gross said. Future plans for the interior of the restaurant include walls filled with local art, and the offering of beer and wine (liquor license is pending). "We will also offer lunch specials at some point too," Gross said. An empty parklet is set up out front for use once the stay-at-home order is lifted.
Initial hours are Thursday and Sunday 11 am to 8 pm, and Friday and Saturday 11 am to 9 pm for pick-up and take-out. Hours will expand in the future.
"Persona Pizzeria is a community restaurant and we take great pride in our beautiful city and its people. We appreciate your support and patience during these difficult times," Gross said.
Persona Pizzeria is located at 905 State Street. Visit www.persona-pizzeria.com for online ordering and for more information.
You might also be interested in...