A Rocking Roundup of School Holiday Events
Montecito schools held a new format for their holiday concerts and winter sings, given the new state lockdown restrictions announced on December 6. Through careful planning many schools conjured up a new direction for the holidays, including virtual concerts sent out exclusively to each student's family, new charity funding initiatives and holiday Zoom singalongs for students and their families. The head of every school was invited to offer their special Holiday Message to their students, families and our community.
Here is a holiday roundup from Santa and me on our virtual sleigh:
Cate School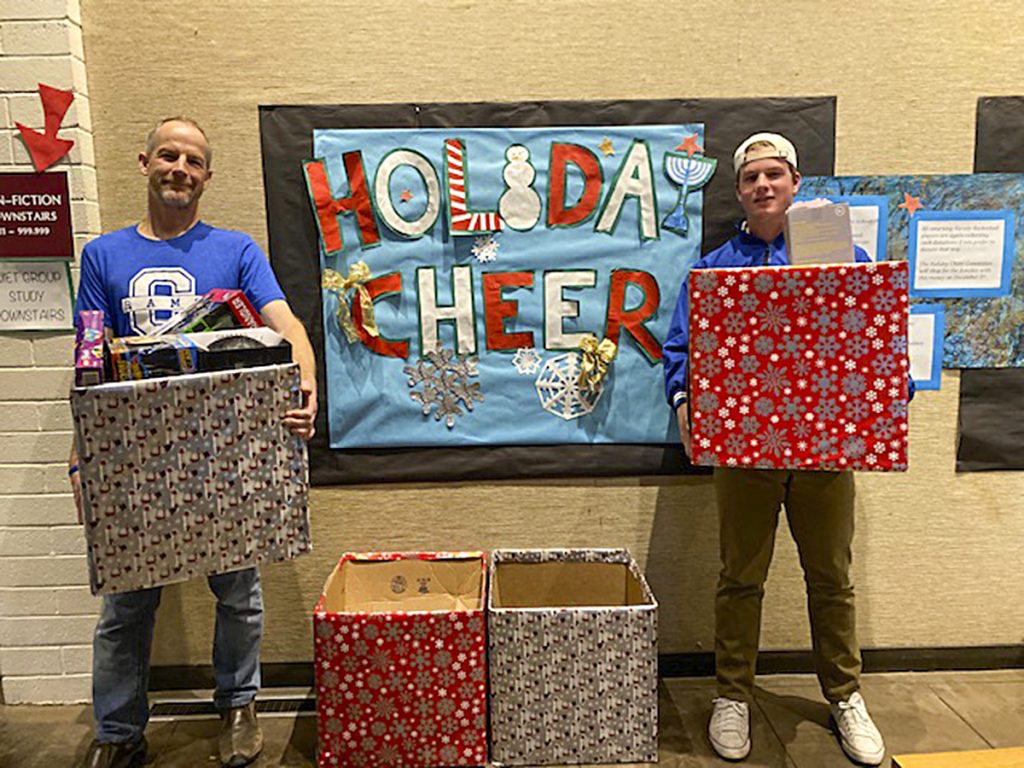 Cate School, whose motto is Servons ("we serve"), continued with its annual traditions of giving to the local community through several events with strict COVID adaptations. Every Wednesday, on Public Service Night, students called Bingo games over Zoom for residents of a group home in Santa Barbara. Members of theCate acapella group,Last Call, with faculty member Beth Caylor and senior students, joined together to sing for the residents of Cornerstone House. Cate students made regular phone calls to Shepard Place Apartment residents, a highlight for the residents isolated more than usual during the pandemic. Four Cate School adult volunteers stepped in to deliver holiday meals December 3, as students were not allowed to leave campus. Students made winter-themed decorations for PATH Santa Barbara now displayed on homeless shelter walls. Cate's Round Square board hosted two Krispy Kreme fundraisers, proceeds went to Carpinteria businesses affected by the pandemic, and to support Cate's annual Holiday Cheer program. Holiday Cheer sponsored five local Carpinteria families in need. Members of the school's varsity basketball teams collected donations from their campus dormitories, which were combined with faculty member and parent contributions. The money was used to purchase clothes, books, household items, grocery store gift cards, toys and more. Will Holmes,director ofCate Community Engagement, and his son Scott, a Cate 2020 grad, delivered goods to the families with strict COVID precautions.Scott shared, "Being able to deliver for Holiday Cheer was definitely a privilege. My last three years at Cate I was part of my basketball team's collection process, but this year it was nice to be part of the deliveries and gain perspective on how privileged I am in my life. Putting a smile on people's faces, especially during times like these, was a treat."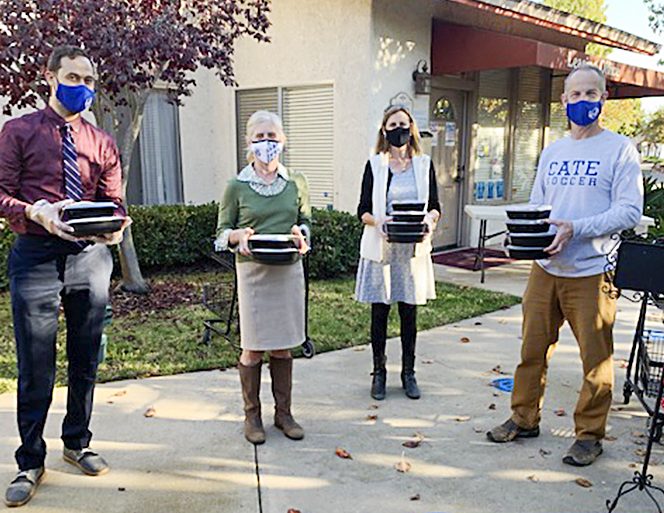 In his holiday message Benjamin D. Williams IV, the head of Cate School, said: "The Holidays at Cate begin with a ceremony called The Giving of Thanks, in which we share the blessings of this world and express our gratitude to those who make our journeys full and deep and meaningful. Then we get to work: to support those in need as we have each been supported, to reach out to those in want of company or sustenance or education. Cate is about being part of something larger than ourselves, and our motto Servons ("we serve") reminds us perpetually of our responsibility to have beneficial impact in lives beyond our own. In this year in particular, when the suffering is unusually acute, we hope we can ease burdens, reassure those who worry, and affirm the power of our common humanity."
Cold Spring School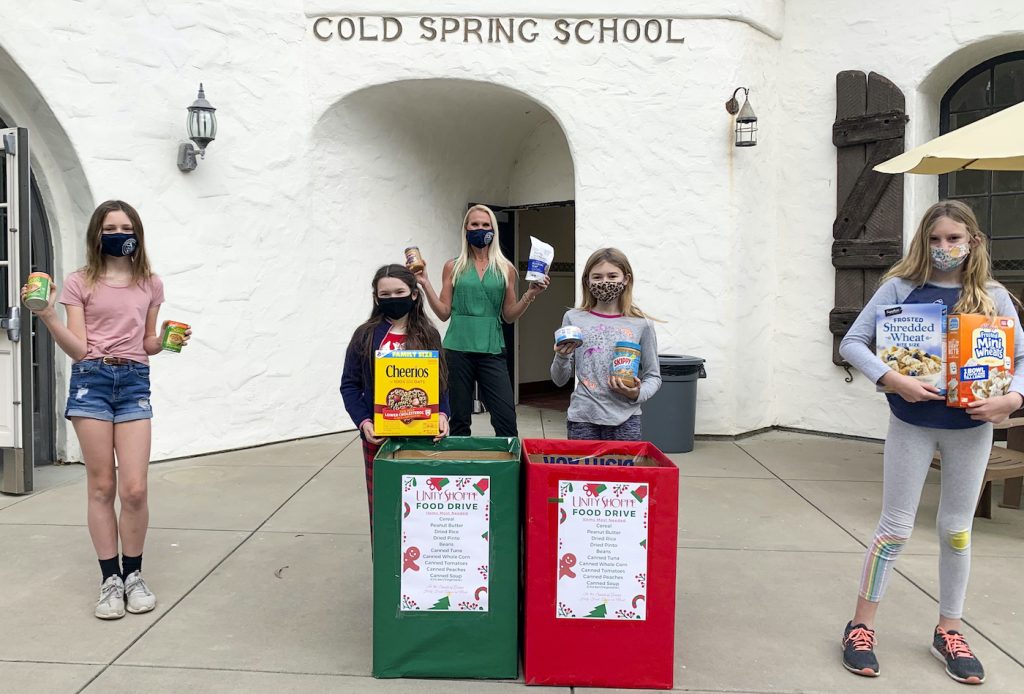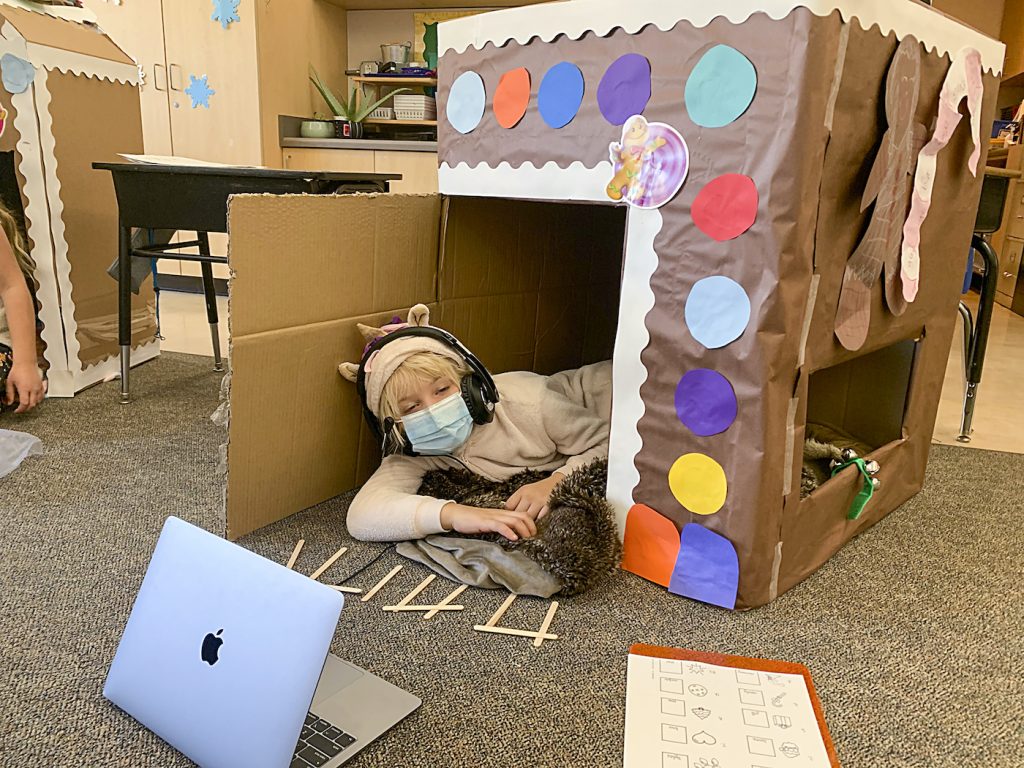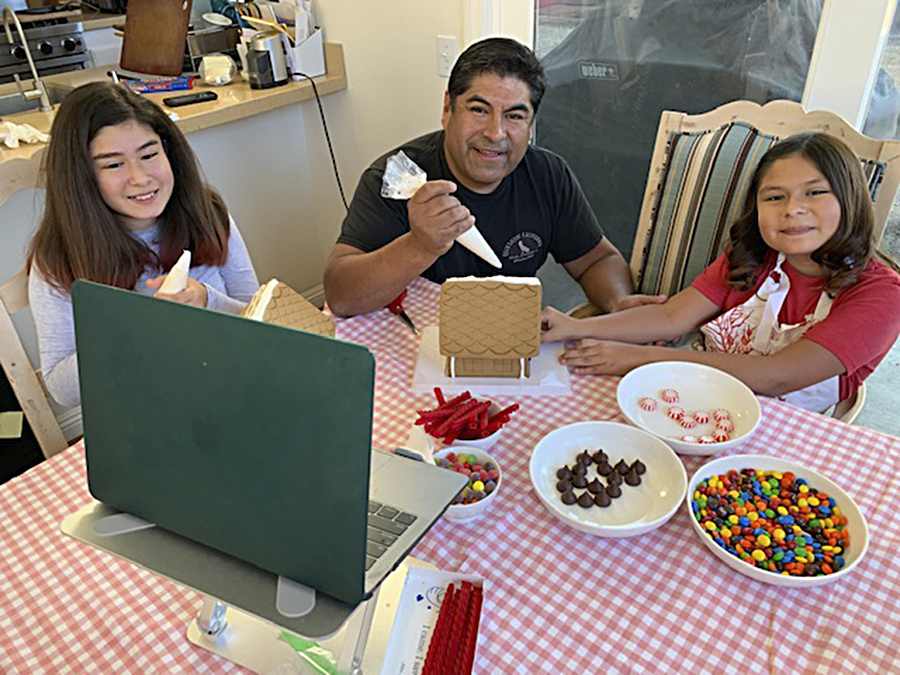 The entire student body of Cold Spring voted to trade in its annual Winter Sing and instead support The Unity Shoppe for the holidays with a food drive organized by the Student Council, represented by president Summer Smith, secretary Amelia Dysart, treasurer Georgia MacPhail, and vice president Cecilia Duarte. Teachers collected food items in a box located outside of their classrooms, and local community members dropped off canned goods through Friday, December 11. Teachers got creative with learning experiences such as remote learning teacher Becki Gonzales teaching how to decorate gingerbreadhouses sent to the students made by her husband Mark, a professional chef. First grade teacher Stephanie Carey taught families to make cardboard gingerbread houses for each student to use in the classroom as their own individual reading fort. 
The holiday message from Dr. Amy Alzina, superintendent and principal:
"We may not be able to continue with our traditional singing and large gathering, but the spirit of joy, love, generosity, and unity remain strong through this holiday season! Our entire student body has decided to support the Unity Shoppe with a food drive as a way to give back to the community. And the Cold Spring School District will be celebrating the holiday season with our in-person (90 percent) and remote-learning (10 percent) students in many creative ways thanks to our teachers and families. We are grateful to live in such a wonderful place that truly treasures each one of these virtues! Happy Holidays!"
Crane Country Day School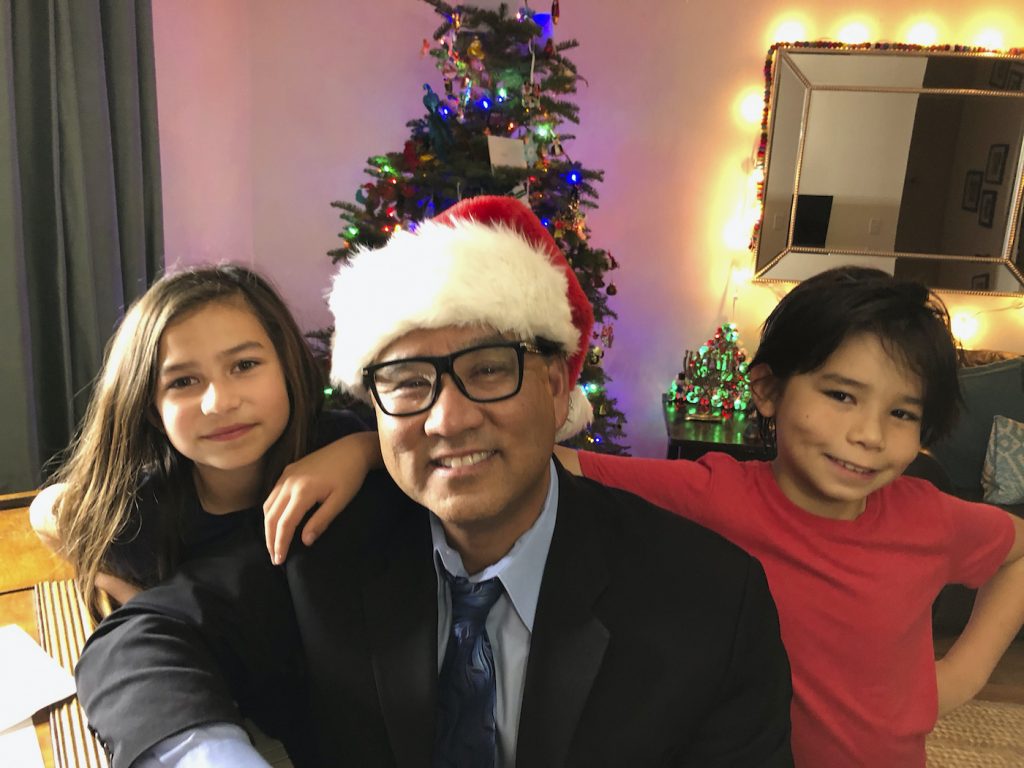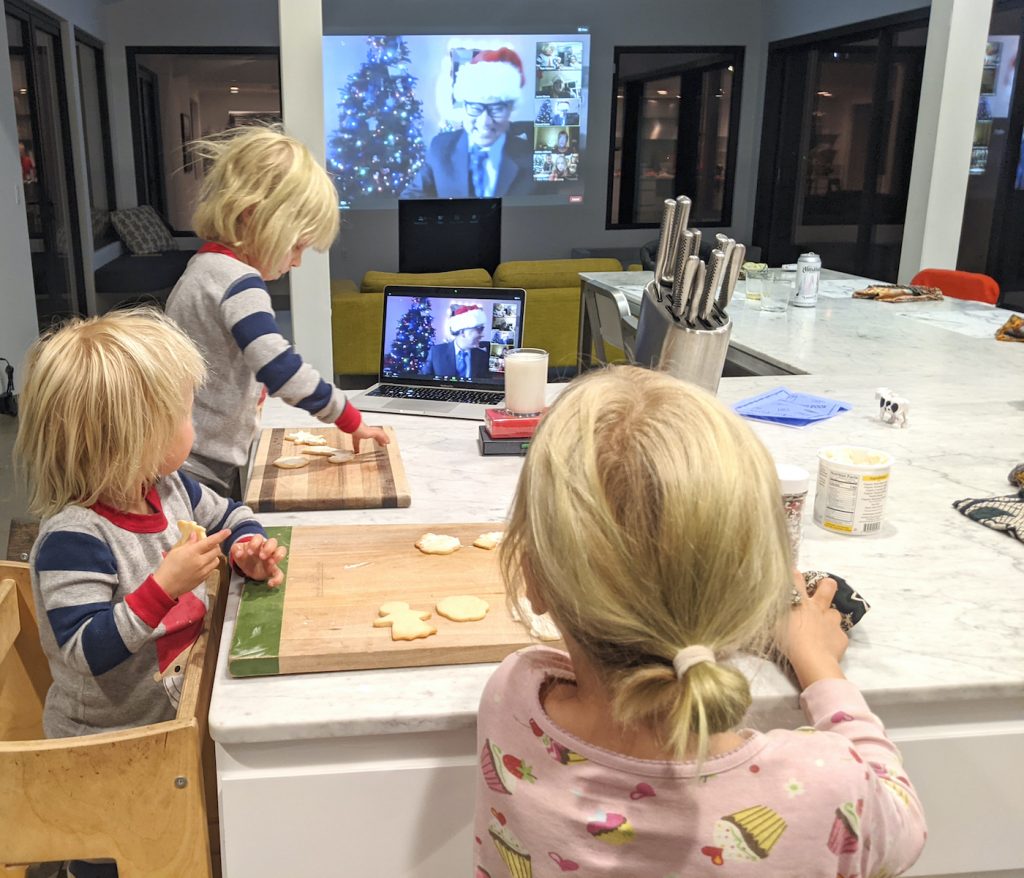 Crane hosted a Virtual Cross Cultural Family Holiday Sing Along Zoom with music teacher Konrad Kono for students and families on December 16. I attended the holiday Zoom, which included the singing of traditional holiday songs, holiday bingo games with homemade chocolate chip cookies by directorof development Debbie Williams as prizes, and break-out rooms to share favorite family holiday traditions. Everyone had received the holiday songbook to follow along. Konrad led and accompanied the singing on his electric piano, and invited everyone to dance. Songs were, "Happy Hanukah and Merry Christmas," "Jingle Bells," "The Dreidel Song," "Rockin Around the Christmas Tree," "Feliz Navidad," and concluded with "We Wish You a Happy Holiday and A New Year." Debbie shared that the school raised more than $800 for the Carpinteria Women's Club to be used for Meals on Wheels, families in need and
the Food Bank. Crane students also sent out 235 holiday cards to the "Sending Smiles" organization, which sends the greetings to patients in hospitals.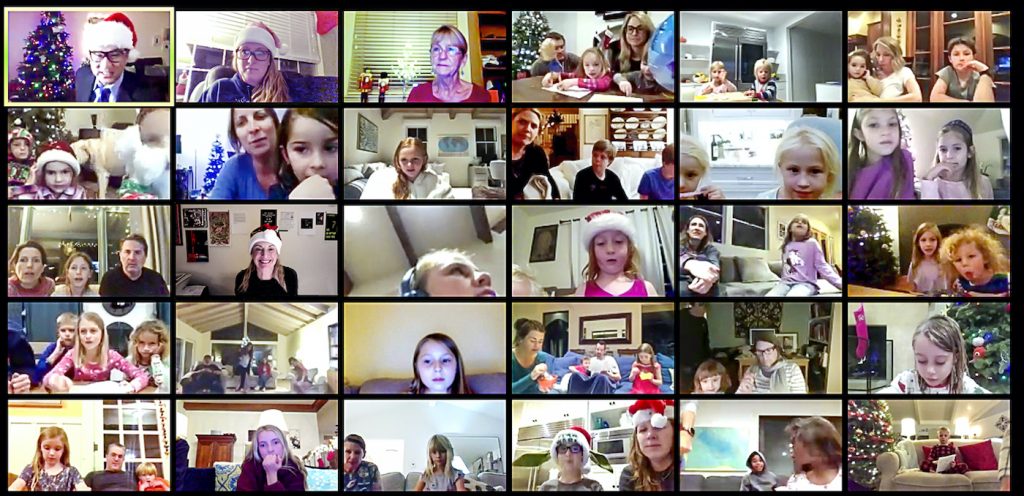 The holiday messagefrom Joel Weiss, head of Crane Country Day School:"At Crane Country Day School, we pride ourselves on our strong sense of community, our ability to provide a hands-on experiential approach to education, and our fun-filled annual traditions and celebrations. While this year has been different, we are enjoying connecting and supporting each other in new and unique ways. Our Virtual Sing Along and Cookie Baking is just one event in a series of monthly online gatherings to keep our sense of community alive during a time when parents and family members cannot meet in large groups. I am extremely thankful and grateful for our kind and supportive Montecito community, our parents who have partnered with us to keep our school safe, and our amazing students who continue to imagine, learn, laugh, and create. Thank you all for being part of our journey this year. On behalf of Crane, I wish you a bright and merry holiday season and a happy new year!"
El Montecito Early School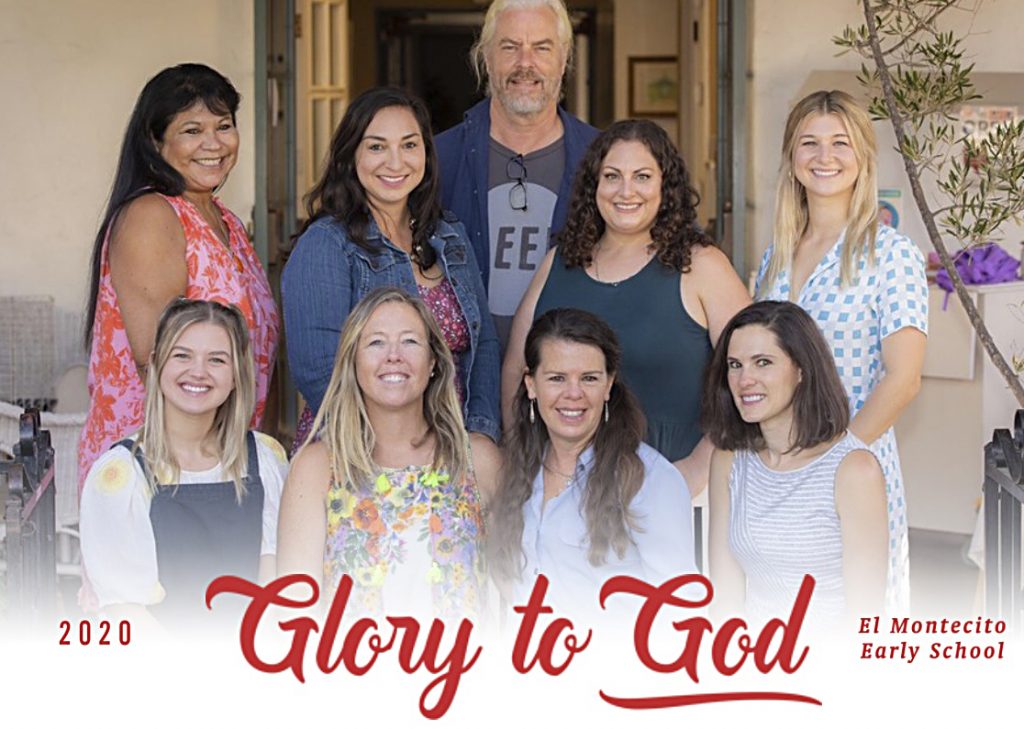 Suzy Dobreski, the school director, made a difficult decision to cancel the preschool annual Christmas Concert this year due to the lockdown.
Her holiday message: "El Montecito Early School offers the Montecito community our very best wishes for this Christmas season. We sincerely hope you all have an opportunity to experience the real meaning of Christmas, enjoy the festivities of the New Year and spend quality time with loved ones. We look forward to welcoming our students back for the start of the 2021. Blessings, from all of the El Montecito Early School staff – assistant director Meika McCrindle, property manager Shawn Monroe, and teachers Jenna Berndt, Melanie Cuxil, Bayli Morrow, Lyndsi Morrow, Lisa Salgado, and Melissa Toth.
Laguna Blanca Lower School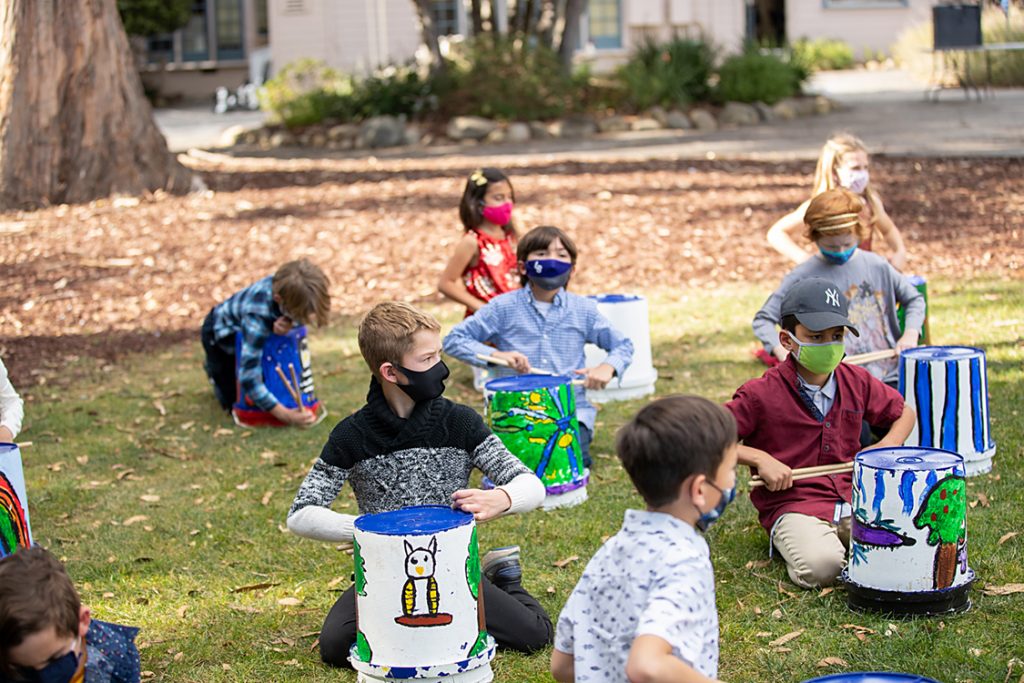 Laguna opted for an EK-12 Virtual Winter Concert titled, "Home for the Holidays." Here the students performed from their homes or were masked and socially distanced outside at the school. Highlights included the opening song, "I'll Be Home for Christmas," dancing, singing, and playing bells to "Happiness," folk songs on xylophone and electric piano, drumming on hand-painted bucket drums, a ukulele band playing "Octopus's Garden" (The Beatles), and the upper school students performing in bands with songs "Auld Lang Syne," "Come Together," and the Mariah Carey super hit, "All I Want for Christmas Is You," full on with violin, drums, electric guitars and piano, while the Lower School performed a dance outside. Thanks to music instructors Molly Markstrum and Rob Moreno, performing arts by Brianne Hwang and Dana Caldwell, choreography by Kateri Ransom, and film by Ian Branch, Moreno, Dug Uyesaka, and Island Fox Media.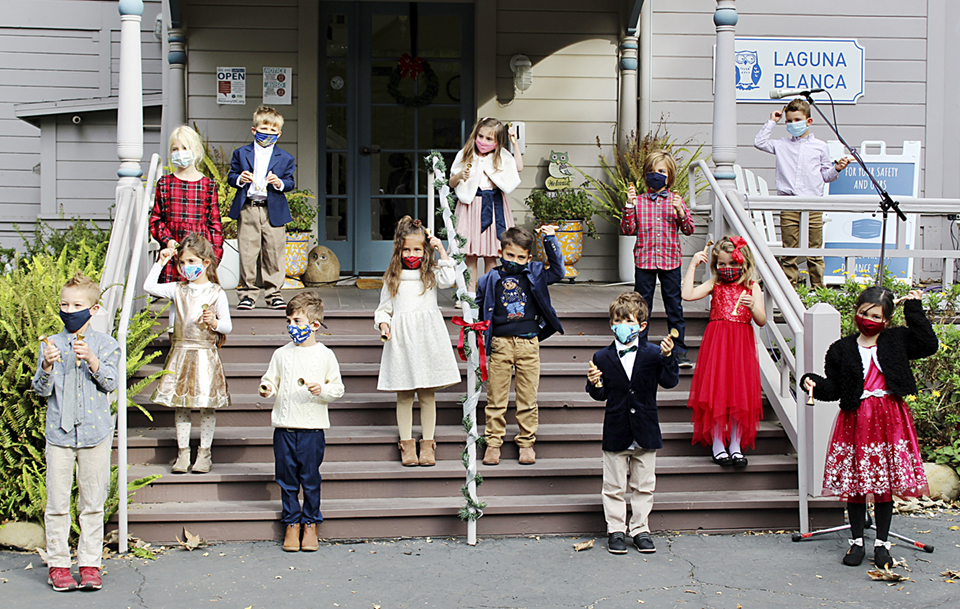 The holiday message from Andy Surber, head of Laguna Blanca Lower School: "We are thrilled to be sharing the holiday season together at Laguna. I am so proud of our community for their teamwork and care as we learn and grow together during these challenging times. I am inspired daily by how Laguna Blanca Owls adapt and find creative ways to overcome obstacles, especially when it comes to reimagining our most cherished school traditions. We look forward to all the good that 2021 holds for our families and the greater Santa Barbara community."
Montecito Union School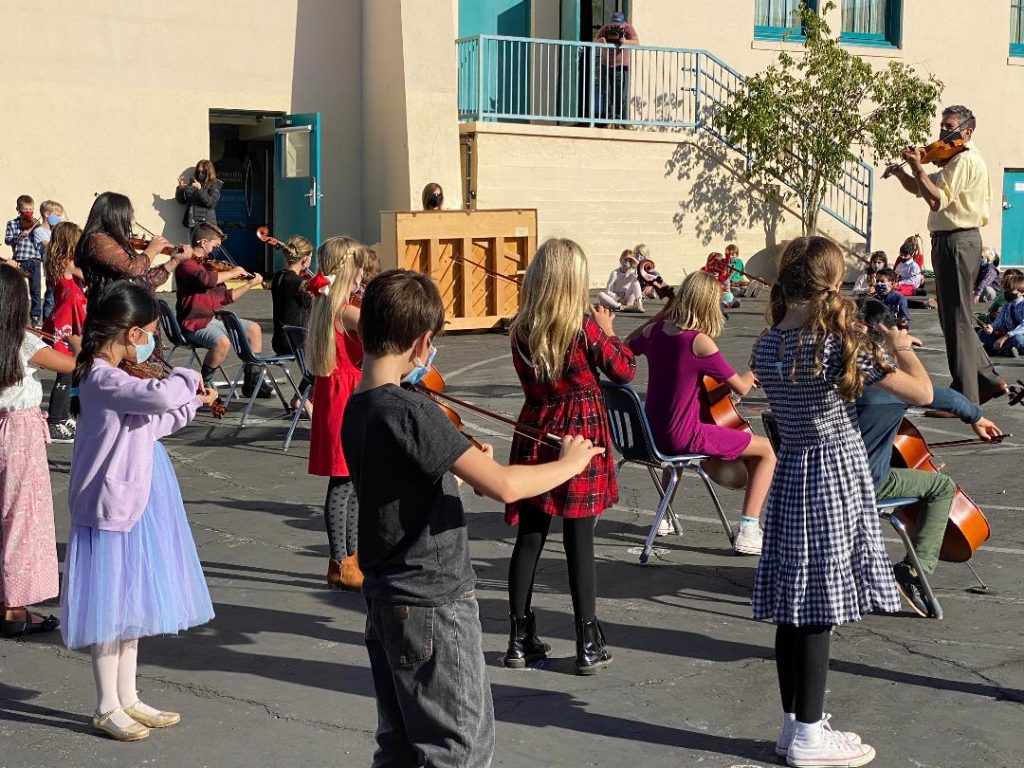 Students videotaped their Annual Holiday Strings Concert, taught and led by music teacher Ron Zecher. The strings concert is part of their annual Winter Sing. The video was sent out the students' families December 18. "I am continually inspired by the effort and commitment of our young musicians as they learn to play their instruments," Ron said. "This year it is even more remarkable as most of their instruction has been online in Zoom sessions. We are so grateful that we are able to give this Winter Strings Concert!" The Winter Strings Concert program featured songs by the second grade class – "Blast Off," "Rolling Along," and "Good King Wenceslas"; by the third grade class – "Can Can," "Dreidel," and "Jingle Bells"; by second and third grades – "A Mozart Melody"; and by the MUS Orchestra – "Burst!" by Brian Balmages, "Arioso" by George Handel, and "Carol of the Bells" by Mykola Leontovych.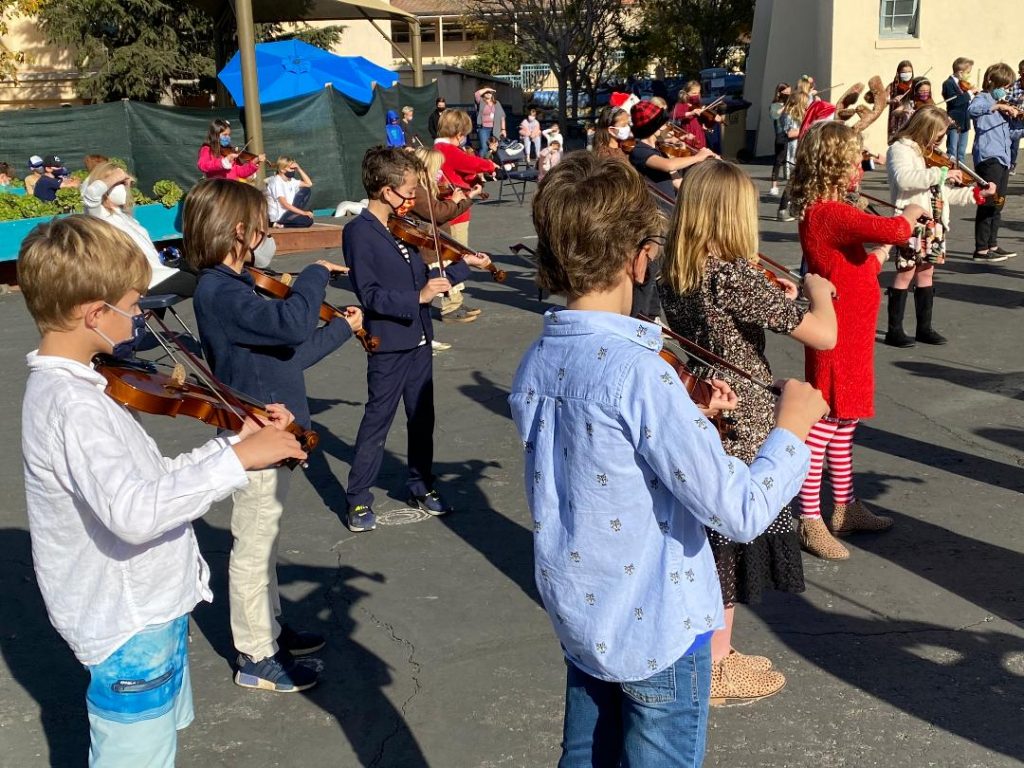 The holiday message from Anthony Ranii, school superintendent:"At Montecito Union School, we are working hard to keep up school-wide traditions during COVID-19. We are therefore overjoyed that Mr. Zecher has been able to persevere with an instrumental holiday concert, giving our young musicians the opportunity to perform and giving our MUS students, parents, and the larger community an opportunity to rejoice with the sounds of the season. Usually, our Winter Sing is highly attended by parents and community members, and instrumentalists and singers go out to the community to perform concerts to cheer members of our community that may need a little extra holiday boost. This year, singing itself has been curtailed at school as it is against health regulations for groups of students to sing close to one another. That said, the winter holiday spirit continues. Our visual arts teachers planned lessons with several grade levels that use festive lights: a symbol of many holiday traditions. Finally, many classes are focusing on gratefulness in writing assignments, in their Mustang Meetings (daily class meetings) and in their arts projects in class."
Our Lady of Mount Carmel School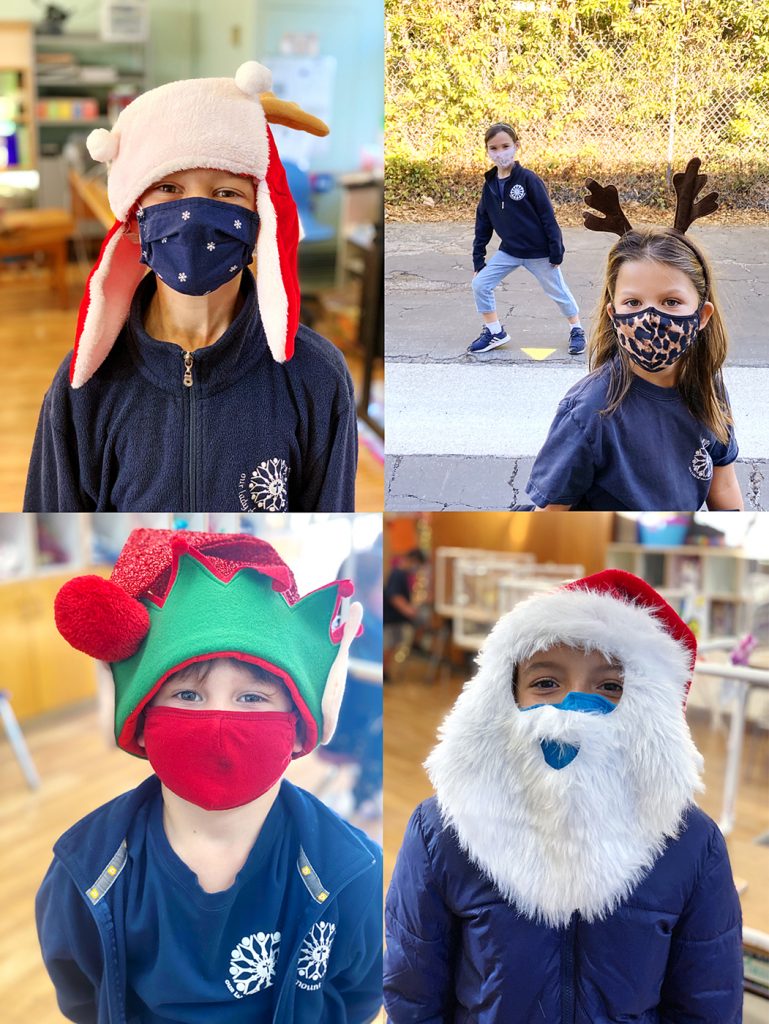 Mount Carmel had students present for in-person learning with protocols in place. Their annual Christmas Concert was changed out for the school's talent show, with each student filmed by Tera. The video host was student body president Nic Forry. Students from all grades participated. Acts included a boy group doing magic tricks, a hula hoop dance, a Michael Jackson and Cyndi Lauper imitation, a ballet duet, a girl trio masked on the beach doing a gymnastic technical group dance, and Sean performing a lovely rendition of Beethoven's "Für Elise" on electric piano, no sheet music needed. The finale was the eighth grade boys' piece to Rocky II complete with music. Other events held were a Spirit Week sponsored by the Student Council, with themed dress up in the classrooms, parent volunteers made treats for the students, a Christmas BINGO, and arts crafting. The eighth graders made a Banner of Gratitude for front line healthcare workers that was delivered by a school parent who works at the local hospital COVID unit.
The Holiday Message from Tracie Simolon, the principal of Our Lady of Mount Carmel School:"This pandemic has certainly caused us to think creatively about many aspects of our lives. I am so proud of our talented students and technology teacher Carly Van Eyck for still making this Mount Carmel tradition of the Talent Show a reality, albeit digitally this year. In spite of the difficulties that COVID-19 has created, our school community is learning lessons in problem solving and resilience, all while still celebrating our students and school!"
The Montecito Family YMCA Preschool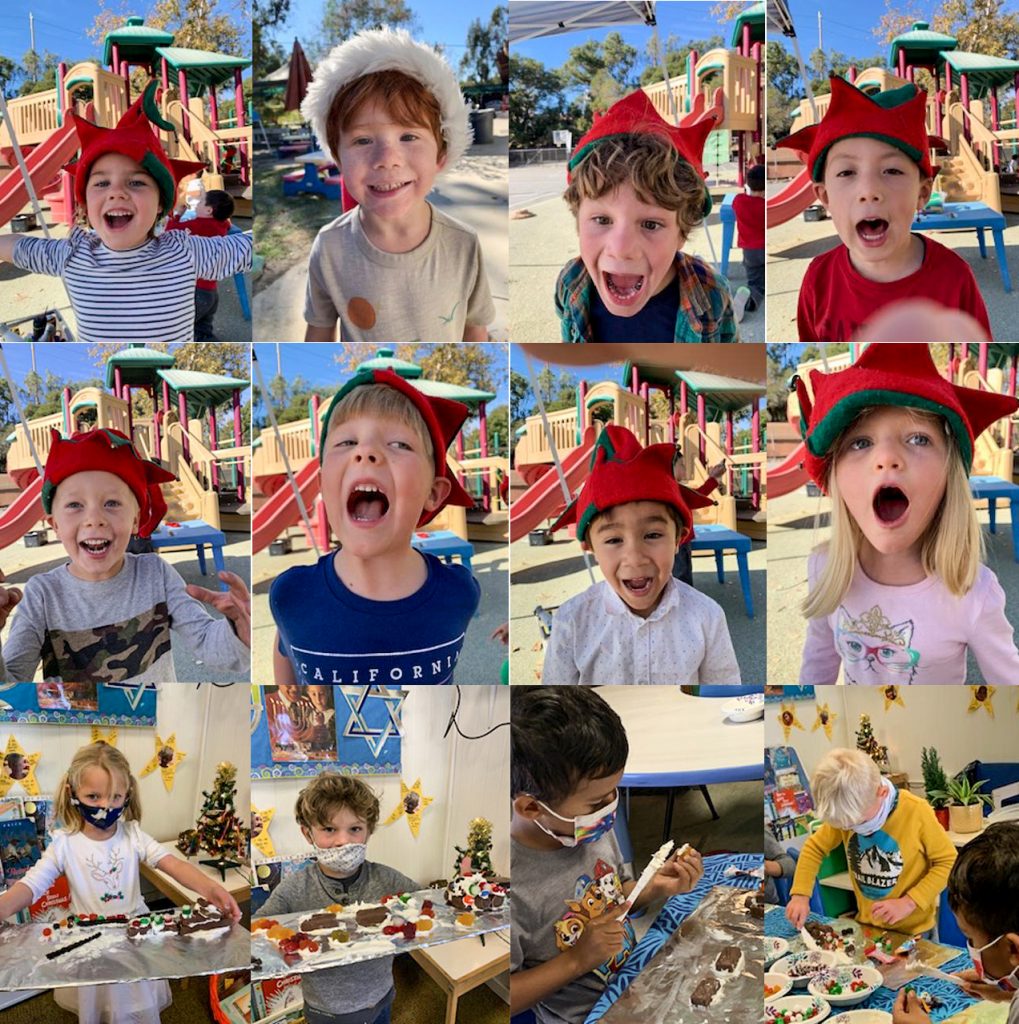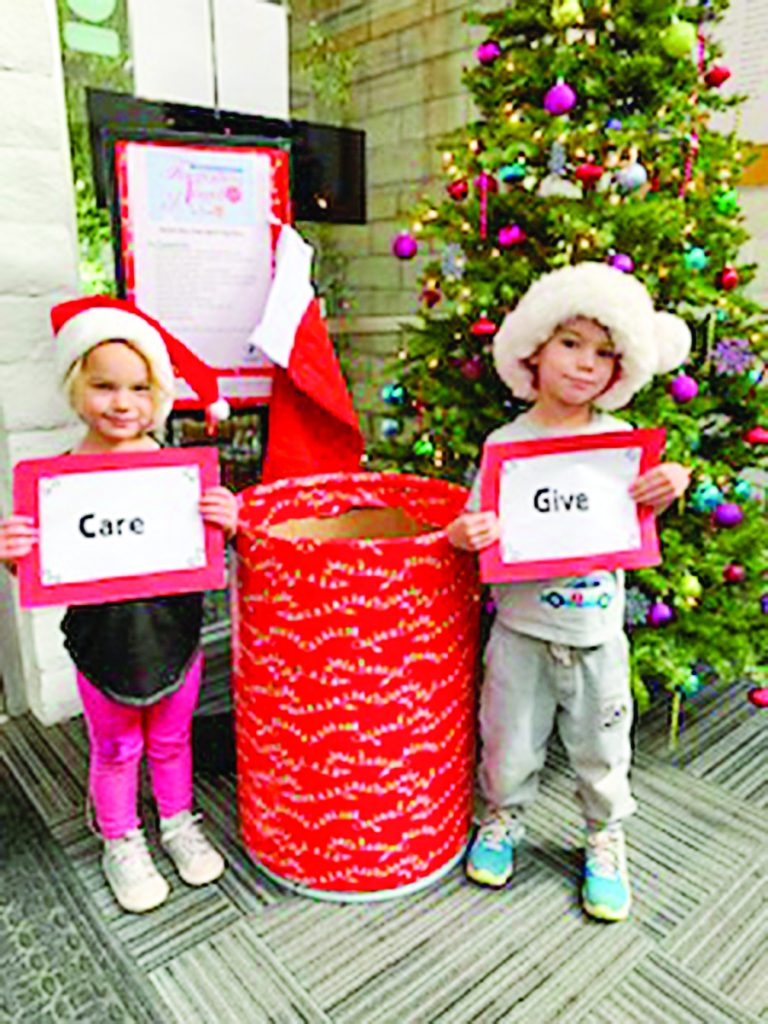 Students celebrated families during the month of December and learned about all different types of families, the traditions that families share, and opened to families in need with a toy drive for the Salvation Army. Students were excited to be able to give toys to children that needed toys. The Pre-K class did its Annual First Christmas play, however this year it was filmed and sent out to families due to COVID. Students' holiday activities included making candy trains and pancakes, and sang holiday songs outside socially distanced, quoting the 2003 film Elf, "the best way to spread Christmas Cheer is singing loud for all to hear!"
The holiday message from Annie Fischer, the director of the preschool,and her teaching staff: "The Montecito Family YMCA Preschool is a great place to be! The children have been busy learning and teaching each other about the Season of Giving! We feel so fortunate to have opened our doors to the children of this community for 35 years and provide the opportunities for them to learn and grow. Wishing you a joyous Christmas and Hanukkah, and a New Year filled with Peace and Love!"
You might also be interested in...