The Squeaky Wheel Method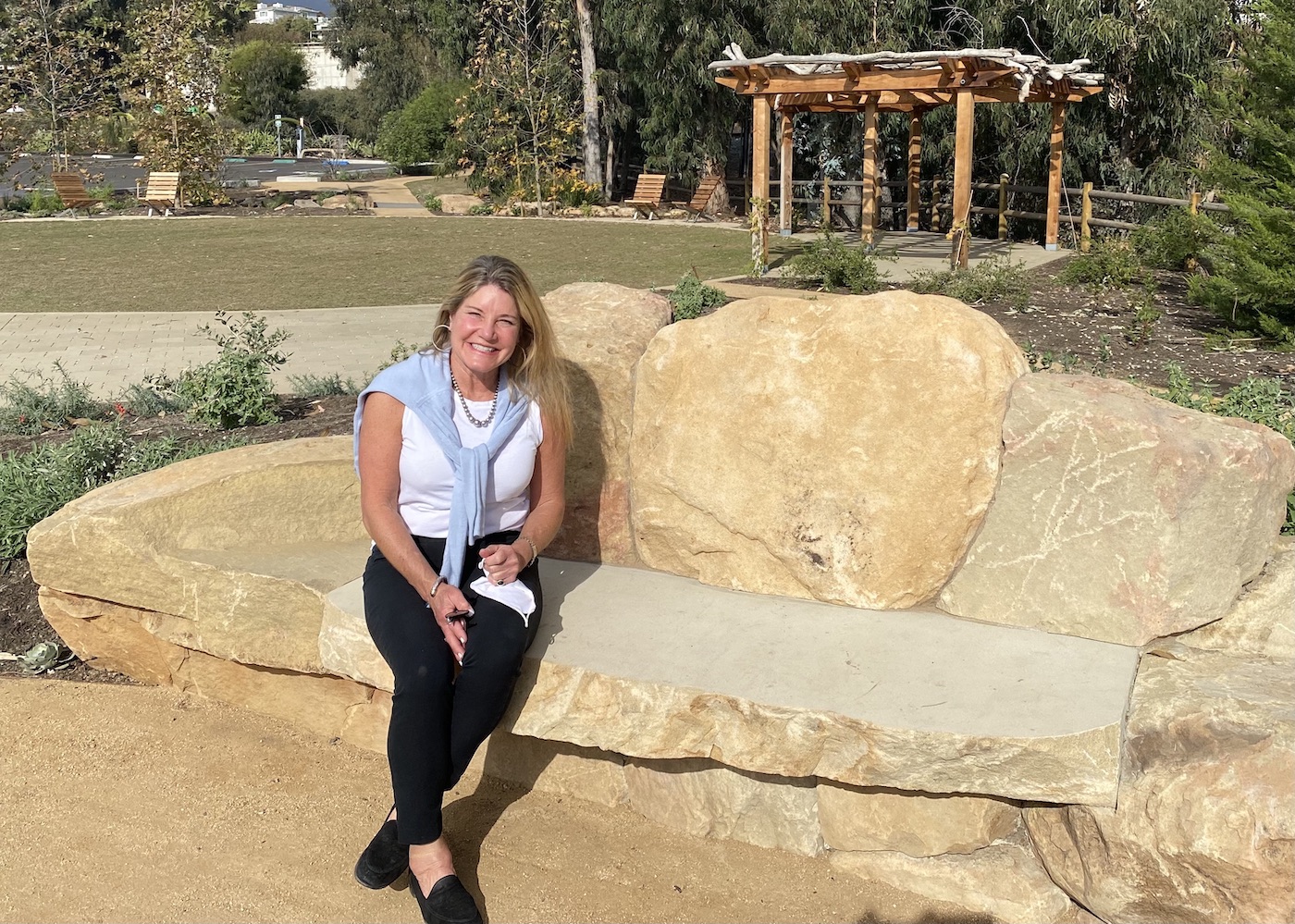 Suzy "Squeaky Wheel" Cawthon has spent eight long years on a long and winding road of a dream that began with Fran Davis, the "founding mother" of an effort to re-imagine and enhance Lookout Park. The idea was to move the camp host from its perch and a primo spot to the upper end of the beachside county park (not bad either) so residents and visitors could enjoy a newly envisioned public area. 
Cawthon, who is also the newly elected president of the Summerland Citizens Association (congrats Suzy!) jumped on board eight years ago and, along with other community members and folks in government, reviewed plans that took up three years, got help from Supervisor Das Williams on funding, and worked with the Summerland Architectural Board of Review and others to create the lovely park designed by landscape architect Susan Van Atta – complete with driftwood topped pergolas, a bocce ball court, concrete ping pong tables (don't try to play when it's windy!), a lovely stone bench overlooking the sea, and plenty of space for weddings or birthday parties or other events when things open up again. This very busy lady, with lots of dreams, is also president of the Summerland/Carpinteria Fire Board. Brava to this squeaky wheel, afirecracker who gets things done!
Whether you drop a stone in a pond and let things happen organically or become a squeaky wheel or a cog in the wheel, every project needs cheerleaders and community involvement. Change really can happen!
A Final Note & Attitude of Gratitude
This is my last column for this strange year of 2020. Writing for the Journal has been lifesaving in many ways and helped keep me occupied during the silence of my monk-like life of the past nine months. I've appreciated the camaraderie of our editorial Zoom meetings, as well as the time to reflect on new Summerland and old Summerland, to meet old friends and potential new ones via Zoom or email and even (occasionally and safely) outdoors and in-person. It's been a time to listen and quote – and hopefully spell people's names correctly. It's also given me awonderful opportunity to not just bark from this community soapbox but also to connect with those of you who read me. For all of this, I thank you. For errors, and there have been a few, I apologize and take full responsibility.
A Few Shout Outs
I hope everyone remembers Bert Vega generously at the Summerland Post Office this holiday season. She lost her work sidekick, her hours have been shortened and like all postal workers, she's a frontline worker who has been toiling without hazard pay. A good place to spread holiday generosity. Thanks Bert for always being there for the community!
And a special shout out and thank you to Editor-in-Chief Gwyn Lurie for her faith in me in 2020 and to Tim Buckley, for tolerating a Democrat.
P.S. Dear Santa,
I've been a very good girl this year. Well, practically a nun. I would like COVID to go away, none of our neighbors to go hungry, peace on earth, a clear and easy path to citizenship for many of our neighbors and, by the way, that Summerland sweater at Studio C in the Montecito Country Mart is really, really cool.
Love,
Leslie
You might also be interested in...