Santa Barbara Salvation Army Toy Drive Helps Hundreds of Families Celebrate Christmas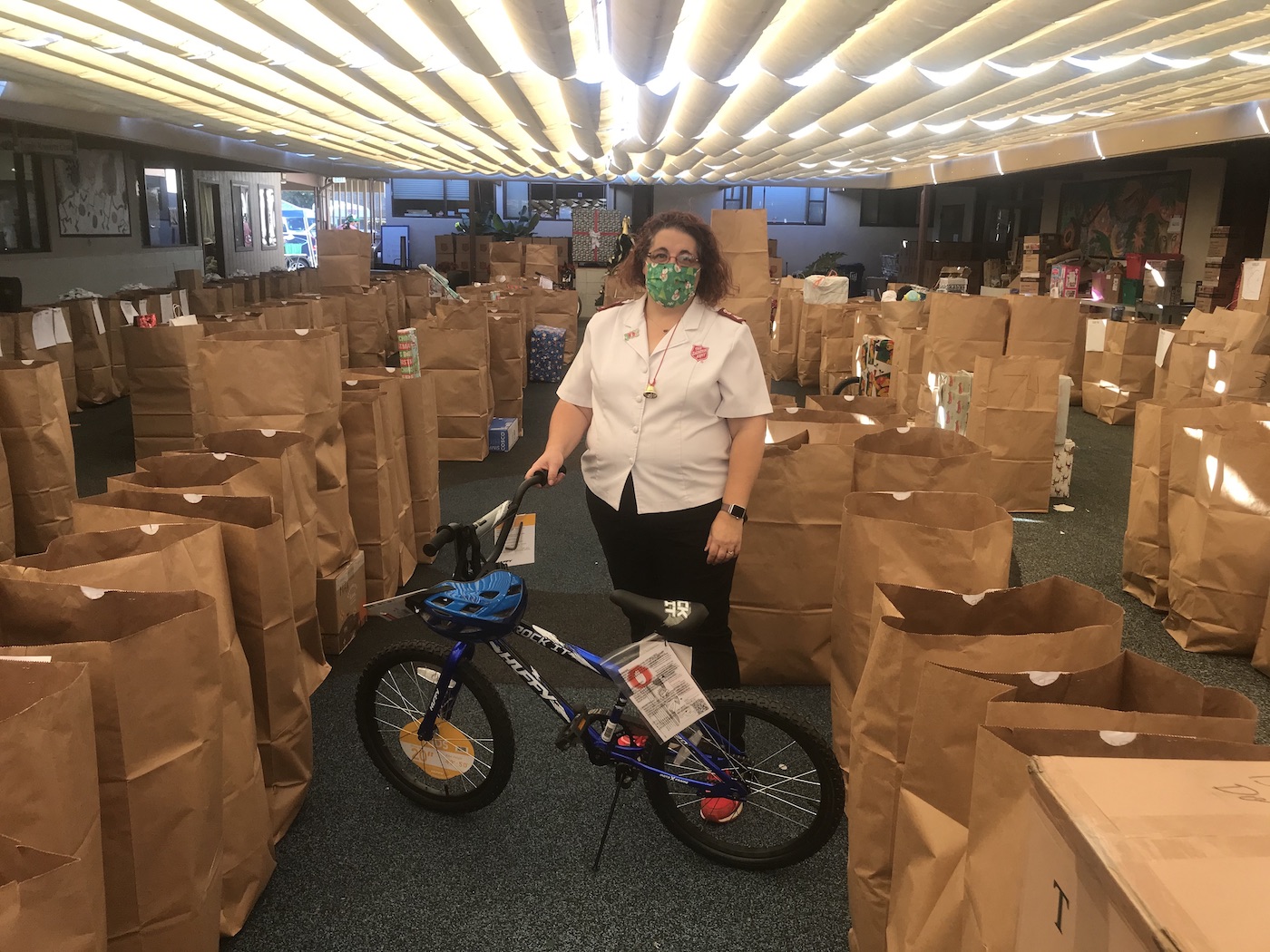 The shortest day of the year turned out to be an unexpectedly generous one for needy Santa Barbara area drive families. From 9 am to 6 pm on Monday, December 21, the Santa Barbara Salvation Army held a food and toy drive at its headquarters on Hollister Avenue, providing gifts of food and toys to more than 300 low-income families who registered for the nonprofit's Angel Tree and Adopt A Family programs.
Because of COVID-19 precautions, the toy drive was a drive-through event, with 10 families allowed to drive through the reception area that was staffed by a team of festively attired Salvation Army volunteer elves every 15 minutes. The event came as the culmination of weeks of fundraising and donation drives that took place at shopping centers throughout Santa Barbara, as well as a three-week toy drive managed by the Montecito Family YMCA, explained Major Jessyca Carr, the Salvation Army's corps officer for Southern Santa Barbara County.
"They ended it this past Friday," Carr said. "It was organized by the kids who are in the afterschool program. The Montecito YMCA really helped us out, plus there were a couple of other people who are Montecito residents who also care about us and kind of help us out as well."
As families lined up outside the Hollister location waiting for bags of toys delivered by cart-steering volunteers, Carr showed the Journal lane upon lane of bags ready to be distributed throughout the coming day. Despite organizing annual holiday toy drives for a number of years, the past several weeks, she said, had been by far the busiest she could remember, with at least 300 families having registered.
"Throughout the fall, we've had families come to us who need a little help during the Christmas season," Carr said. "But this year we had something new happen and a lot of people registered online. So people were able to tell us the child's name, their age, what they wished for, what they needed, and their clothing size."
Based on that information, Carr said, Salvation Army was able to allow contributors to actually go shopping for specific gifts personalized for various family members and then drop them off at the Hollister center. Passing along a row of neatly assembled gift packages, Carr selected one that had a brand-new skateboard, still in its original shrink-wrap packaging, poking out of it.
"Here is a bag for a family of three," she said, reading for an identification slip that was stapled to the side of the bag. "The son said he wished for a skateboard and that he loves Legos, but definitely needs some clothes, as well; his favorite color is green and he wears a size 12."
Aside from all the individually purchased items, Carr said Salvation Army also put together bulk holiday-oriented food items. Aside from chicken, butter, and other cooking staples, families could choose between masa and lard for making tamales or Bisquick and Crisco for making biscuits. In addition, the nonprofit received an unexpected bulk shipment of Hollister Co. brand T-shirts. "We had this random donation, so everyone got five shirts," she said. "We told people who are getting them to regift the ones they don't need, because who doesn't like a Hollister T-shirt?"
To donate online directly to Santa Barbara Salvation Army's charitable efforts this holiday season, please visit www.SantabarbaraRedKettle.org.
You might also be interested in...