On the Menu: Comfort Meals and New Beginnings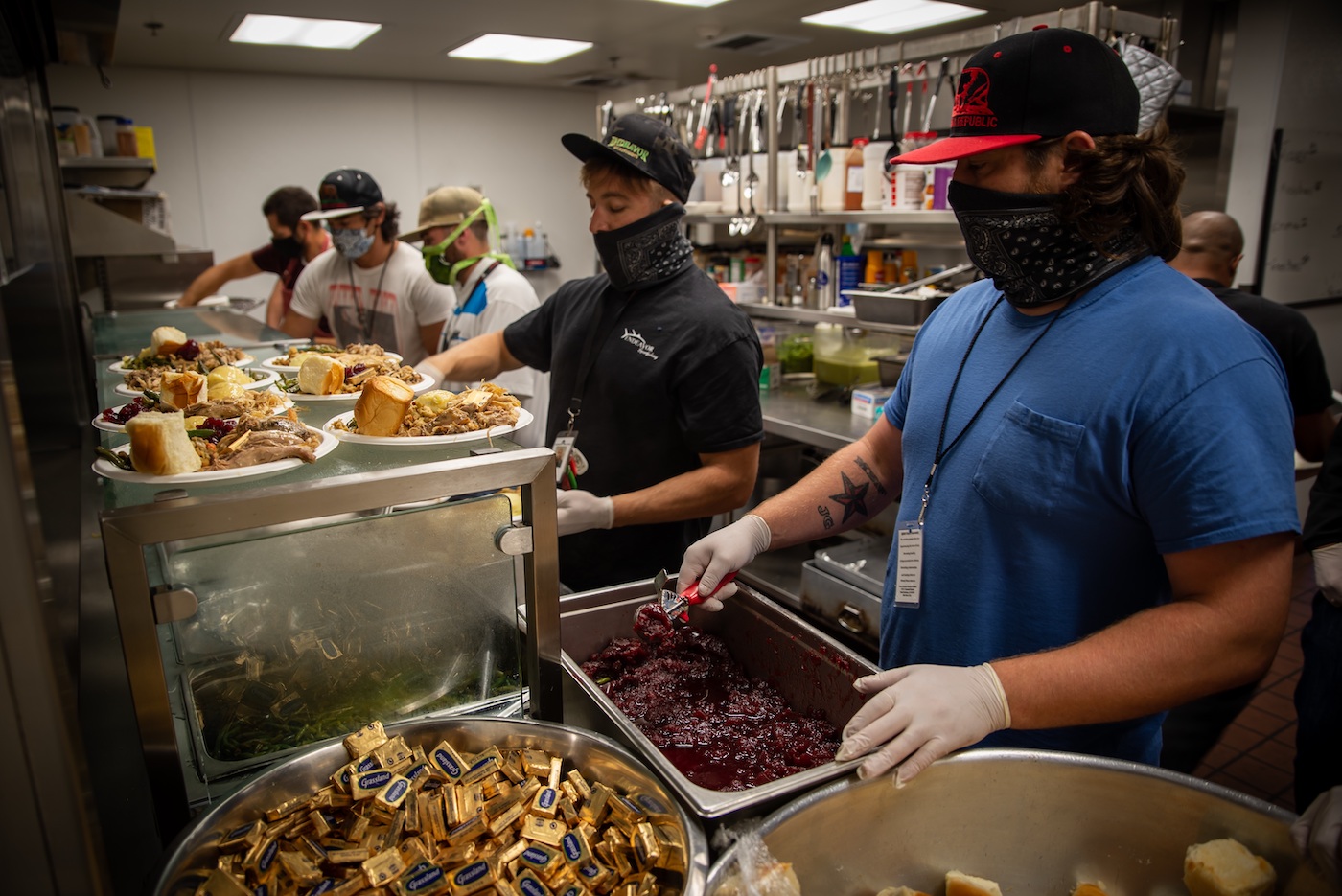 Inside the kitchen at Santa Barbara Rescue Mission a team of masked and gloved volunteers prepare six dozen turkeys – washing each bird, stuffing them with onions, garlic, and herbs, basting them with butter and seasonings – all in preparation for the most important dinner of the year, the Christmas Feast.
It's a time-consuming process that takes five days of kitchen preparation. During the pandemic, however, while unemployment is still high and COVID-19 cases are on the rise, the atmosphere is sobering. In between chopping, mixing, and hand-washings the volunteers take a respite to share a holiday joke or invoke some laughter to take their minds off the pandemic.
Sulaiman "Freddie" Rashad works as a kitchen manager and chef. Unlike most chefs, he doesn't have control over the ingredients he uses for his meals and often he has to be resourceful in his meal making. He creates dishes with ingredients he purchases with his monthly budget or those donated to the mission by local residents and restaurants.
"Every month I have a budget I work with and when I do holiday feasts it comes out of our regular budget," said Rashad. "There isn't really a special budget for holiday meals because most of the produce we use is already donated or items that we normally have in stock already." Most of the canned foods and dry foods (such as pasta) that fill the pantry come from local residents, he said.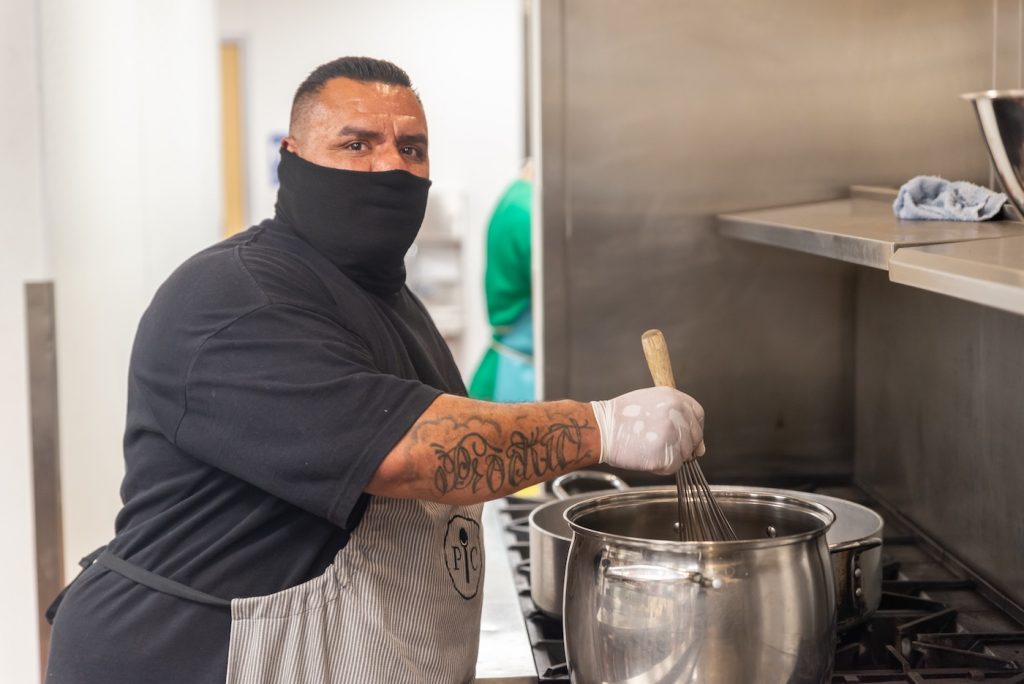 Rashad has worked at the Rescue Mission for almost two years. Previously, he worked as a junior sous-chef at Mesa Burger on the Mesa and in Goleta. Prior to that he worked in construction for 16 years.
At the Mission he manages a team of 10 men who are in the residential treatment program and work in the kitchen preparing meals.
"We have two bread guys, two produce guys, two breakfast cooks, one lunch cook, and three dinner cooks who assist me in making the feast," he said. "The produce guys handle all organizing in the walk-in fridge and prepare salad for every dinner meal and a salad bar for our residents," he added. Volunteers also provide prep work for the cooks, acting as sous chefs when needed.
Preparing the fowls for the holiday dinner is an all-hands-on-deck operation with up to 15 volunteers in the kitchen at a time, Rashad said. "Roughly seventy turkeys are slow roasted for about eight hours. The side dishes are prepared two days prior to the feast. We use all four ovens, the cook top, and flat grill," he added.
The Rescue Mission serves dinner to approximately 135 homeless guests every evening, 30 men in the residential recovery program, and 20 women in recovery at the Bethel House.
The demand for meal service during the pandemic has increased, according to Kevin Carroll, the Rescue Mission's homeless guest services director. "Meals have gone up about fifteen percent," he said. "[Prior to the pandemic] we served one hundred meals at a time, but now we are only seating twenty-four guests at a time, plus the to-go boxes."
To accommodate the increase in meals for families and individuals, the Rescue Mission spread out its holiday feast over three consecutive nights, December 21-23. All guests' temperatures were checked before they entered.
Each year the Christmas Feast serves hot meals for up to 300 guests within two hours. Typically, guests can sit side-by-side and share a Christmas meal together. This year, because of COVID-19, things were different.
"We had to re-imagine the dinner because it draws large crowds," explained Rebecca Weber, the Rescue Mission's director of communications. "We separated [walk-in diners] from our men in the recovery program who are using the dining hall located in their section of the facility. We had tables and chairs set for six feet distancing, and the meals were served in to-go containers to aid in social distancing."
A new sound system was installed in the chapel to play Christmas carols and provide a festive atmosphere for guests, Weber added.
What does a pandemic holiday feast look like? The special menu featured a traditional turkey basted in butter, garlic, rosemary, thyme, and basil served with hot gravy, roasted broccoli, and butternut squash. Local farmers donated some of the vegetables, including the butternut squash.
There were also comfort food favorites such as a five cheese mac and cheese, with sharp cheddar, colby and Monterey jack, mozzarella and parmesan. Rashad added heavy cream, butter, and milk to the macaroni to make it extra creamy and bread crumbs for texture. He tossed in crispy bacon bits to elevate the flavors.
The holiday meal also included a spring mix salad with tomatoes, cucumber, goat cheese, almonds, and a lemon vinaigrette dressing and a Hawaiian sweet roll on the side.
A Mission, Not Just a Job
Rashad sees his job at the Rescue Mission as more than a culinary experience to add to his resume. Working in the kitchen and serving the Mission's guests has a deeper, more personal meaning to Rashad because he used to be a resident.
He entered the Rescue Mission's program in January 2018 and lived there off and on for two years. He spent eight months in a sober living facility before he got the job as the Mission's kitchen manager and moved on property. 
In the beginning he was assigned to be the evening cook. He took his role seriously and decided to enroll in culinary courses at Santa Barbara City College, where he took an introduction to professional cooking course as well as courses on baking, salad making, and pantry essentials.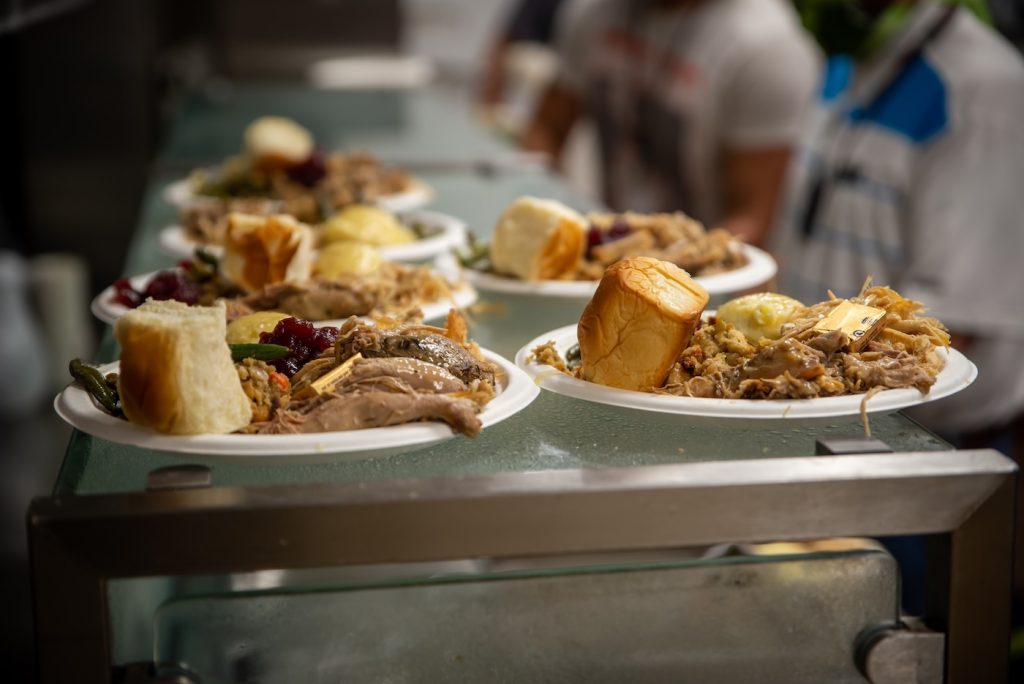 Rashad has come to realize that cooking is more than fulfilling a basic need; it's a way to connect with people.
"When I'm training my cooks I try to encourage them to cook from the heart. We also share ideas of what spices to add, there's a lot of taste testing going on," he said. "Then sometimes we have a moment when we talk recovery and advice is given or taken. We have had conversations that really hit home and get emotional – in a good way."
For this year's Christmas blessing, Rashad said he was grateful and humbled by his work at the Rescue Mission. When Rashad isn't preparing meals in the Mission's kitchen over the holidays he will be cooking at home with his nine-year-old son, Kaden. "Whenever I make dinner I try to get [Kaden] involved," Rashad said. "We make salads, mac and cheese, and baked chicken. We combine vegetables and chicken together to make our own soup recipe using what is available in our cupboard and fridge. I try to get him involved in any cooking I do at home."
You might also be interested in...