Art of Titanic Proportions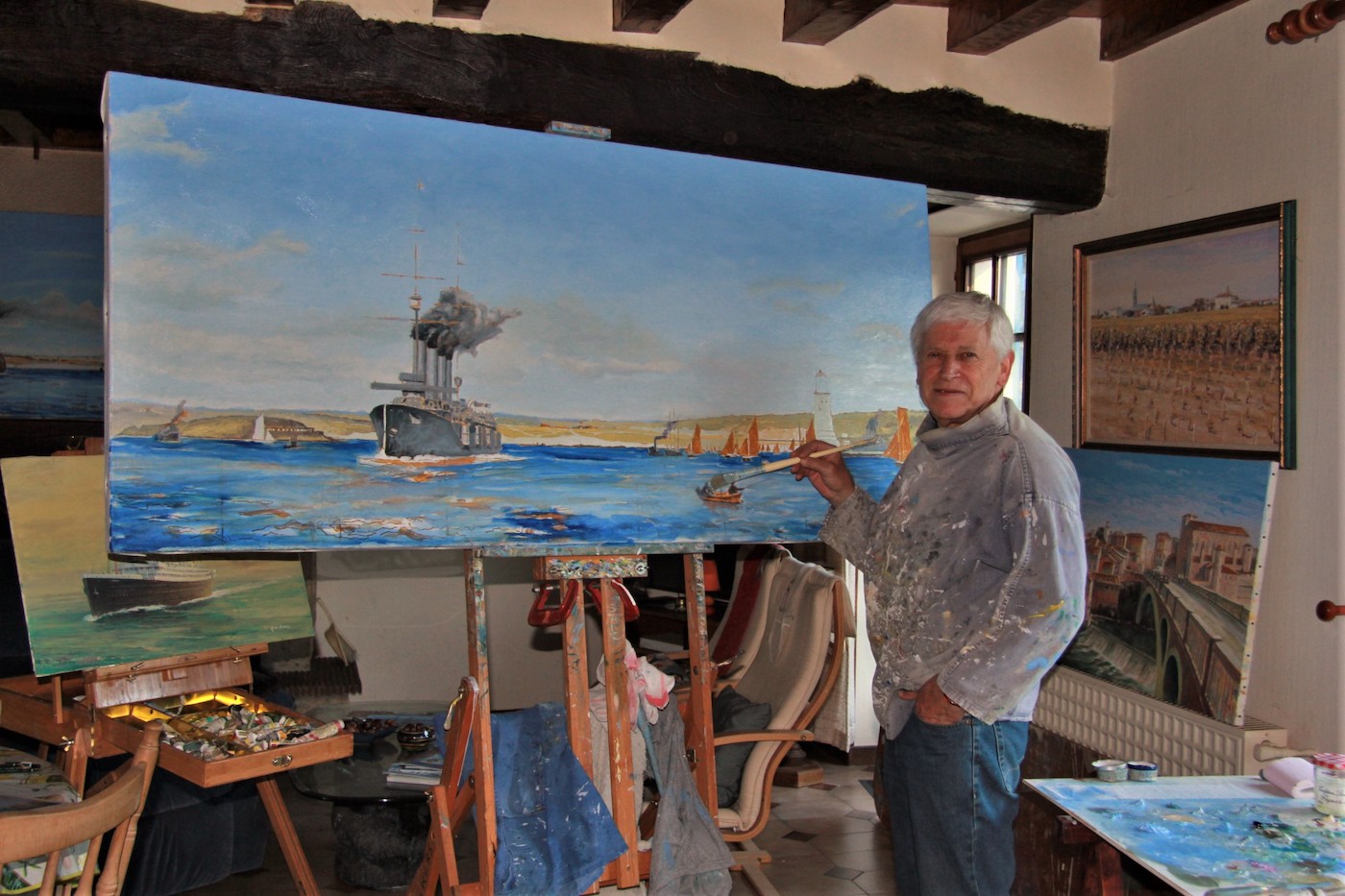 Gordon Frickers, an old friend who used to be my photographer on The Falmouth Packet when I started my career, has morphed into a very competent maritime artist.
Now living in Brittany in the north of France after 25 years in the seafaring city of Plymouth, Devon, Gordon has just completed a two-year project of twin paintings of the doomed White Star liner Titanic, which took 800 hours of research.
One of the paintings "Plymouth Harbour" was commissioned by Tim Martin, author of three books on the 883-ft., 46,328-ton ship that struck an iceberg in the Atlantic in 1912 on its maiden voyage with the loss of 1,500 passengers from its full complement of 2,240.
It is a copy of an original work by Royal Academician Norman Wilkinson that hung in the first class smoking room of the luxury liner.
"It is accurate to the last seagull and wave top and also the identical size – 31 by 68 inches," Gordon, 71, whose work has been commissioned by the Cunard shipping line, Virgin Atlantic tycoon Sir Richard Branson, and the National Trust, tells me.
He is hoping to sell the second work next year after putting it on tour, with a portion of the proceeds going to, appropriately enough, a maritime charity.
His e-mail is artistfrickers@gmail.com and his website www.frickers.co.uk/art.
Maybe a fine addition to the Santa Barbara Maritime Museum?
Zsa Zsa Gabor's Former Home Sells
The Bel Air mansion owned by the late Hungarian glamorpuss Zsa Zsa Gabor has just sold for $16 million.
Zsa Zsa, known for femme fatale movie roles and many marriages, bought the aerie for $245,000 in 1973 and lived there until her death four years ago aged 99.
The 6,400-sq. ft. home on a one-acre lot, once lived in by billionaire Howard Hughes and rock star Elvis Presley, also had a discotheque named after Moulin Rouge after her 1952 film directed by John Huston.
I was often invited there in the late '70s by an old friend, the late veteran Rogers & Cowan publicist Gloria Luchenbill, and Zsa Zsa and I would cut the rug to the Studio 54 anthem "I Will Survive" by Gloria Gaynor, who I later danced with on the CBS New York set of the Geraldo Rivera's TV talk show as she lip synched her major hit.
Ivanhoe Mines billionaire Robert Friedland, a diamond and precious metals mogul who also has homes in Singapore and Thailand, is the new owner. It is the third time the French Regency property has changed hands since Zsa Zsa's move to more heavenly pastures.
You might also be interested in...