Fizzle and Pop: These Bubbles Will Help You Send 2020 On Its Way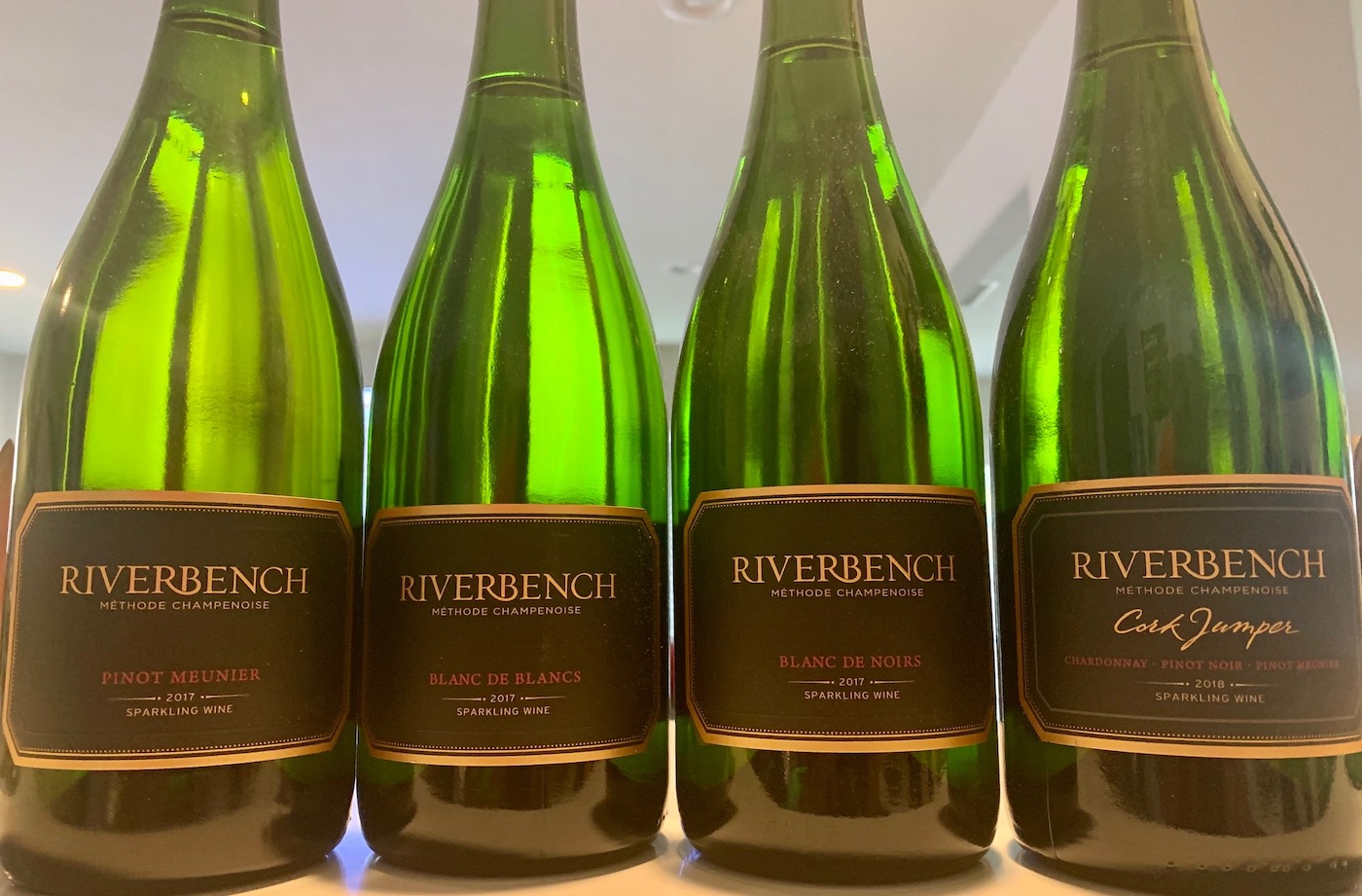 The new three-week stay-at-home order that befell California this month means Santa Barbara County's wine tasting rooms are shuttered, again. Your own hunt for great local wines to grace the holiday table and end-of-year festivities, though, continues. So keep in mind that, while the deadline for many shipments to arrive by Christmas has passed, there's still time to order directly from wineries, for curbside pickup.
Bubblies will be atop many of our shopping lists, of course, as there's no better way to usher in a new year – and to send 2020 off with a really good kick in the rear – than the effervescence of a really good sparkling wine.
Riverbench
When it comes to Santa Barbara's sparkling wine production, Riverbench continues to stand out with its annual release of four unique Cork Jumper sparklers, the handiwork of winemaker Clarissa Nagy. This is the property in the heart of the Santa Maria Valley that planted its first pinot noir and chardonnay vines – primary ingredients in the world's great bubblies – in 1973. Riverbench really began to take bubbles seriously in 2014, though, when they grafted the county's very first Pinot Meunier, still a rarity in California but a long-time darling among producers of the fizzy stuff in France. Riverbench just released their 2017 all-Pinot Meunier Cork Jumper ($68), a super bright and energetic bubbly with dark berry notes, a fresh feel and supple finish. A very limited 92 cases were produced. I sipped this one recently, while popping cold slices of Gala apples and hunks of Dubliner cheese. Yum.
Riverbench's all-chardonnay 2017 Blanc de Blancs ($48) is an homage to Champagne, with its citrusy flavors and yeasty finish; and the all-pinot 2017 Blanc de Noirs ($48) is a rosé lover's dream, with deep tangerine flavors and a velvety finish. 
The crowning jewel of Riverbench's sparklers is the 2018 Cork Jumper Cuvée ($68), a vibrant blend of equal parts pinot noir, chardonnay and Pinot Meunier that's a real snapshot of the label's estate vineyards. How does the pinot meunier enhance this bottling? By adding "an interesting austerity to the wine," Riverbench director of winemaking Laura Booras once told me, "Chardonnay in Santa Maria tends to have really bright citrus fruit character, so Pinot Meunier might help tone that down some, for the sake of achieving a truly balanced, flavorful wine." The pop of color and rush of bubbles here is titillating, while the stone fruit aromas and creamy flavors are downright delicious. A real crowd pleaser, even if your holiday crowd is a lot smaller this year.
Order Riverbench bubbly at riverbench.com.
Flying Goat Cellars
Lovers of bubbles have dozens of other Santa Barbara County options, of course. Norm Yost and his Lompoc-based Flying Goat Cellars label is a pioneer in this arena. Other Santa Barbara County winemakers, including Greg Brewer and the late Chris Whitcraft, had dabbled in bubbles before Yost launched his own line of sparklers in 2005. But Yost gets credit for being the first to make his bubblies an annual endeavor. He's crafting five bottlings of Goat Bubbles each vintage, ranging from $40 to $60, and featuring fruit from various top-of-the-line vineyards.
Buy them at flyinggoatcellars.com.
Fesstivity from Fess Parker
The Fess Parker team entered the world of bubbles in 2015 with their Fesstivity label and a quaint destination tasting cabin in Los Olivos known as The Bubble Shack. Their current 2017 Blanc de Blancs, 2016 Blanc de Noirs and 2016 Brut Rosé all feature premium Sta. Rita Hills grapes and are available as a holiday three-bottle gift pack for a discounted $140 at fessparkerwineshop.com.
And a tip of the hat to winemaker Laura Roach, who launched her LouBud label, a play on her childhood nickname, in 2015. Her limited-edition bubblies, made by hand in the méthode champenoise style, are consistently fresh. Roach announced on social media this past weekend that all her past sparkling wine releases are sold out, except for her new all-pinot noir 2019 Brut Rosé. It's "delicate and crisp with pretty red fruits and rose petals on the nose," she writes. "Bright entry of pink grapefruit, Asian pear, and croissant dough with a clean, bright finish!"
Buy it for $45 at loubudwines.com.
Caterinicchio's French Bubbly
Still looking to sip French? If it's not from Champagne, you can't call it Champagne, so the sparklers that Montecito resident Frank Caterinicchio is importing from boutique producers in Provence are, simply, French sparkling wines. But they are still delicious. At $19, the Domaine du Tix "Des Bulles au Cerveau" (Bubbles in the Brain), made with cinsault grapes, is a phenomenal value. With no added sulfites, it's racy and refreshing, and the label featuring a cartoon diver blowing bubbles from his breathing apparatus means it's a conversation piece before you even pour. A metal crown bottle cap, in lieu of a cork, makes it even more fun.
Caterinicchio also has the Effervescence by Domaine Vintur ($28), which is crisp, dry, and fizzy and comes in a bell-bottom bottle. "Makes for a great mimosa or Aperol spritz," he says, although, on its own, it's palate cleansing and thirst quenching.
Provençal Collective, which Caterinicchio, a former political consultant, launched three years ago after a serendipitous trip to France's southern Rhône Valley, features an exclusive line of organic wines. Find out more in my feature for the Winter 2020-2021 issue of Montecito Journal's quarterly glossy. To beat the holiday rush, Caterinicchio is hand-delivering his imported wines throughout Montecito.
Order directly from him at provencalcollective.com.
Cheers!
You might also be interested in...