Revolver Debuts New York Style Pizza Pies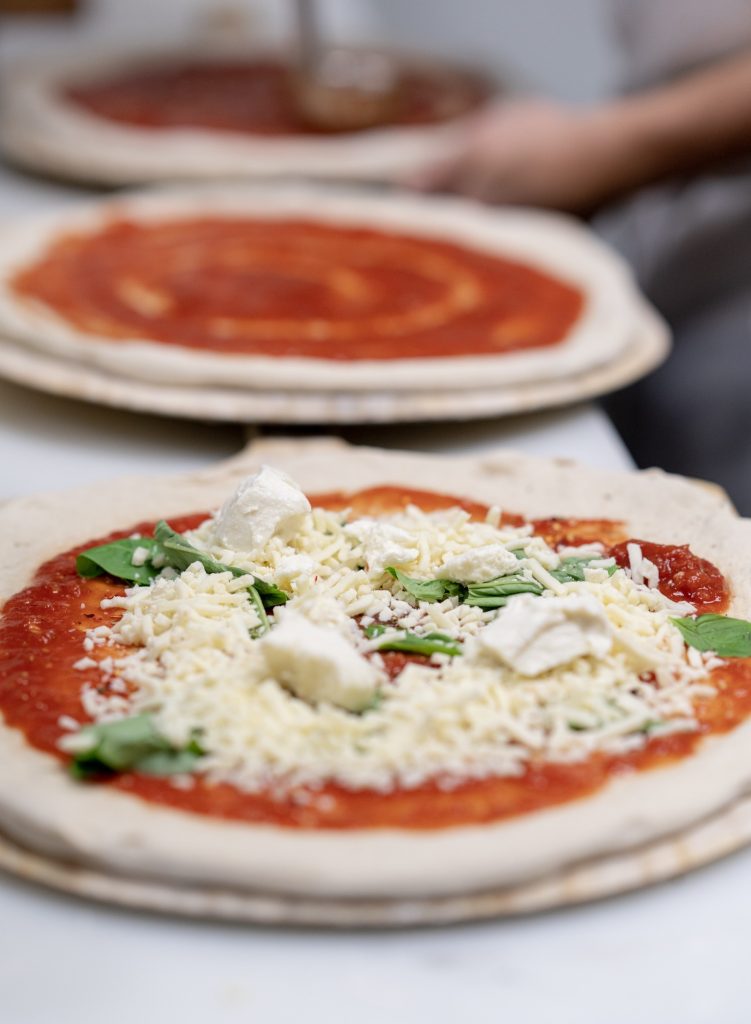 Proprietors Nick Bodden and Ronald Allen are the quintessential do-it-yourselfers of Santa Barbara's food scene with an approach not unlike early rock 'n' roll musicians like Elvis who made their own recordings in order to get their sound noticed. Bodden and Allen do that with their creative recipes and passion for food. 
Prior to debuting their New York-style pizza eatery called Revolver on Santa Barbara's Westside last summer, the pair worked together as line cooks at the upscale French-inspired bouchon on West Victoria Street. After that, they collaborated on an underground pop-up restaurant called Beefhearts, a reference to Captain Beefheart and other eclectic musicians and artists they both admired and which offered tasting menus and banquet events. When Bodden became a new dad, the duo took a break from their catering business.
"Even though we went our separate ways we would get back together occasionally to make great food," Allen said. "I continued to work on Beefhearts while Nick started the Coterie Club, private pop-up events with live music, seafood, and wines. I helped out on most of those events, kind of like George Harrison playing on one of Ringo or John Lennon's solo albums."
Fast-forward to last August and the opening of their new pizzeria, Revolver, aptly named after a Beatles' album.
 "The name of our pizzeria is an allusion to the fact that we only play vinyl records at the restaurant and the pizzas must be spun in the oven so they bake evenly, and lastly it was named after the Beatles' album because, besides being perfect, it is when all of the band members first clicked together powerfully, similar to our collaboration on the pizzeria," explained Allen, a food enthusiast, art lover, and music fanatic. 
Revolver's culinary personnel also includes baker and chef Nick Gebhardt and front of house manager Carl Perry. The group's culinary creativity is reflected in a limited menu of hand-crafted pizzas, seasonally-driven shareable dishes, and a focused beer and wine menu.
There are four pizza styles: Pepperoni ($19), margherita ($18), white, with ricotta, roasted garlic, and shallots ($17), and a red sauce vegan option ($16) with roasted vegetables ($2 extra). Every pizza is finished with fresh basil, Grana Padano, and a California-grown arbequina extra virgin olive oil.
The short and straightforward menu also features a market salad and Caesar salad ($8 each) and housemade hot sauces. Everything is made from scratch.
"The dough is hand mixed and kneaded using all organic flour with a blend of stone-milled whole wheat, rye, and ancient grains, and then naturally leavened with sourdough culture," Allen explained. "The sauce is made from organic bianco di Napoli tomatoes. The cheeses we use are fresh hand-pulled mozzarella we make in house, house-made ricotta, Grande brand low moisture mozzarella, and imported Grana Padano."
Allen acknowledges the risk in opening an eatery during the pandemic. "You have to do what you can to stay in business, and sometimes that means taking risks," he says.
He attributes his group's inspiration to Santa Barbara's pre-COVID food scene, when an influx of talented chef-owners started concepts such as Secret Bao and Rascals. They found their own ways of surviving during the pandemic and continue to serve creative dishes at their pop-ups around town.
"Starting out as a pop-up is an excellent way for small businesses to develop and connect with the community," Allen said. "If everyone involved is bringing a high quality of product and craftsmanship to their project, people respond and show up for it. This web of cross promotion and enthusiasm benefits everyone involved."
Revolver is located at 1429 San Andres Street. Curbside pickup and delivery available. Visit revolversb.com.
You might also be interested in...