Remembering Barbara Tellefson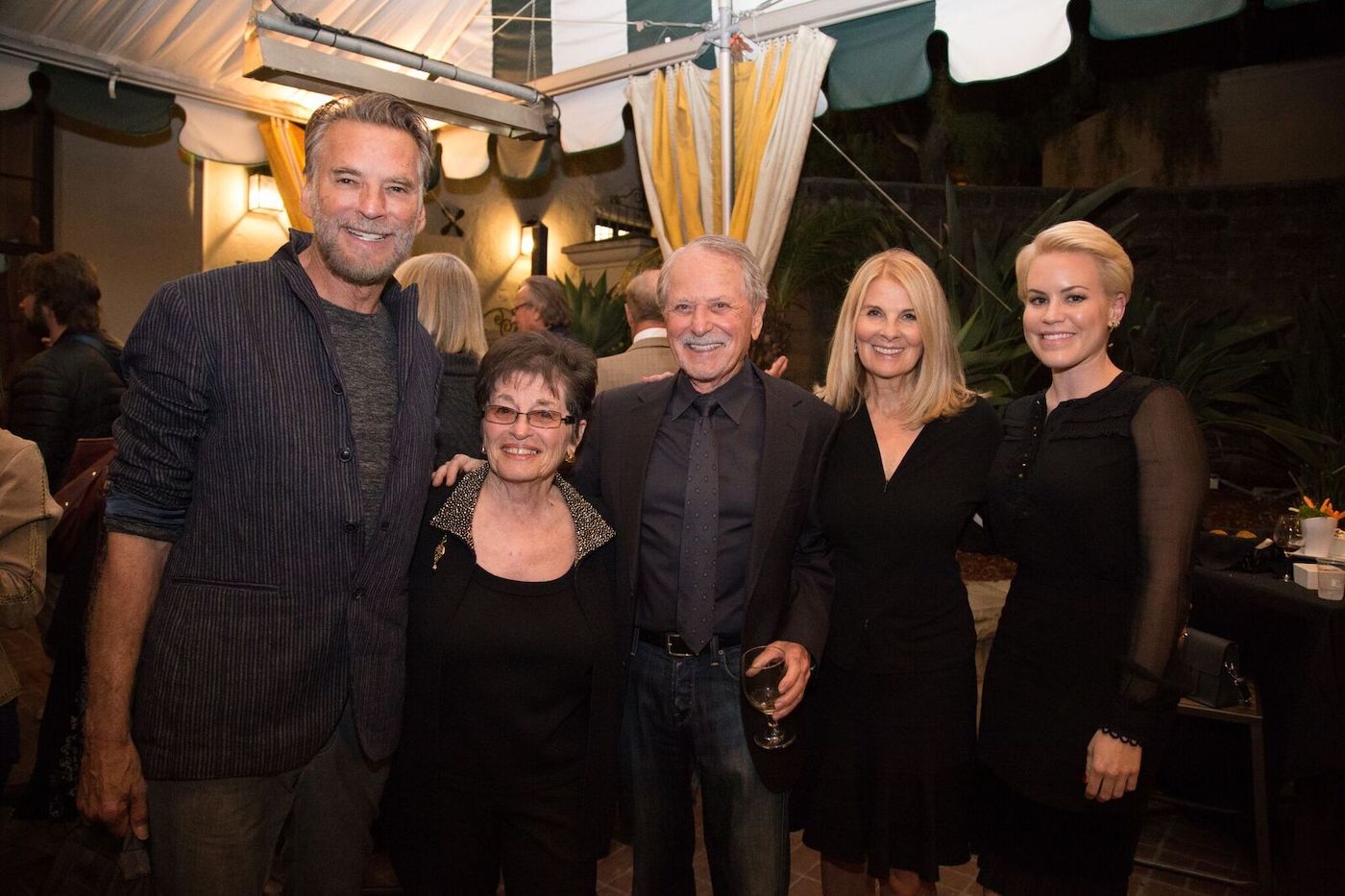 Pound for pound, or rather inch for inch, it's doubtful that Santa Barbara has ever had a more hardworking, tireless, dedicated, and effective advocate for the underprivileged than Barbara Tellefson. The founder and president of Santa Barbara's Unity Shoppe, who passed away at 84 on November 22, was an undeniable dynamo whose stature and influence rose far above her 4'10" frame.
Tellefson, who took over Unity, then known as The Council of Christmas Cheer, from Santa Barbara philanthropic legend Pearl Chase back in the early 1970s, was drawn to the charity because of its philosophy to listen to the needs of low-income parents and seniors and treat them with dignity and respect. She stayed involved with the organization for almost half a century, turning it into a year-round organization that has now served more than one million people. Her sphere of influence, both with the untold thousands of those she helped as well as people from rock stars to CEOs that she enlisted in her cause of providing people assistance with dignity, became vast and ever-growing. In the weeks since her death, tributes have been pouring in.
"Our inboxes are completely full with people sharing their gratitude," said Liat Wasserman, Unity's manager of development, grants, and communications. "She touched a lot of people over her 50 years of service. Her level of commitment and passion was ferocious, she was laser focused on the growth of the organization and never got tired of explaining why it was needed. She did not take no for an answer from anyone. She was unlike anything I've ever experienced in a single person before."
Among those sharing stories of their time with Tellefson are a wide swath of celebrities who were both enrolled and enthralled by Tellefson's energy and purpose – everyone from Montecito residents Kenny Loggins and Jeff Bridges, both of whose families also volunteered at Unity – to more recent Montecito devotees such as country star Brad Paisley, who was so impressed with Unity's operation he opened a similar store in Nashville.
"I don't think I've ever met anyone with more passion to serve others," Paisley said in an Instagram post. "She was an unstoppable force for good."
"Barbara dedicated her life to helping others and that inspired me because of the sacrifice that effort required," echoed Jelinda DeVorzon, a longtime Unity supporter who was named Santa Barbara Foundation's 2019 Woman of the Year. "Barbara was the most unselfish, loving, and compassionate person I've ever known. Her enthusiasm and goodness were irresistible. And up until the very end, Barbara's only concern was the Unity Shoppe."
"I am not alone in calling Barbara Tellefson Saint Barbara for her fifty years of devotion to her dream of serving the community…," said Anne Towbes, whose late first husband, Bob Smith, the former owner of KEYT, co-created the Unity Telethon with Tellefson and Loggins, raising millions of dollars for the Unity Shoppe over its 35 years. "Fifty years of devotion to her dream of serving the community by allowing them to choose items they need to provide for their families is certainly worthy of sainthood."
Tellefson, who arrived in Santa Barbara in the early 1970s as a "single mother" raising her younger brother and just scraping by with a low hourly wage, became determined to help others in similar situations even after her own fortunes improved, explained Tom Reed, Unity Shoppe's executive director.
"She experienced that side of life and it gave her a heart for people who are struggling and having a tough time making it even after reaching out for help," he said. "After she got to a position where she could do what she wanted, she started volunteering at different places but noticed that other charities were handing out food to people that didn't even want what they were being served, giving toys to kids that weren't right for them, but they didn't have a voice. They felt like they were invisible."
That was intolerable for Tellefson, Reed said. It wasn't until she met Chase and saw the philosophy of letting people choose what they needed for their family, the food, the toys, the clothes, that Tellefson found her calling. "She ended up pouring her whole life into it," he said.
While Loggins' popularity – the 1980s were his hitmaking heyday – was instrumental in raising Unity's profile in the early days, the singer-songwriter said that the vast majority of the credit belongs with the nonprofit's late founder.
"Barbara was unlike anyone I've ever known," he said. "She taught me about true generosity and tenacity when people's lives are on the line and she never gave up. Her vision for Unity and her spirit imbued everything."
Tellefson received many accolades along the way, including being named Santa Barbara Woman of the Year, a Soroptimist Woman of Distinction, a California State Legislature Woman of the Year, and Santa Barbara Business and Professional Woman of the Year. She was presented with Distinguished Service Awards by Anti-Defamation League, West Coast Seniors, the University of Notre Dame, and The California State PTA, while Unity Shoppe also earned the President's "Points of Light Award."
While the awards helped to raise awareness of Unity Shoppe, Tellefson herself preferred to remain out of the limelight, Reed and others said.
"She was much more interested in being in the background," Wasserman said. "But so many of our donors were in awe of her, her tenacity and her ferociousness, a fiery pistol of a woman in that little body."
"She was simply unswervingly dedicated to helping people who are struggling," Reed added. "She just had a heart and a devotion and compassion that are very rare. She lived and breathed Unity Shoppe."
Tellefson also earned praise for her ability to pivot as the community's needs changed, shepherding Unity to take a turn in the aftermath of the Painted Cave Fire, the Tea Fire, the Thomas Fire, and Montecito debris flows.
"When you're doing food and clothing and basic household goods, personal care items and all this stuff that people need, she realized it was only natural to start thinking about long-term disaster recovery and how to get people back on their feet," Reed explained. "She steered Unity into being a co-founder of disaster relief in town."
More recently, the COVID pandemic created new problems to solve, including changing the protocol at the Unity Shoppe store so that families could still shop in person in a safe way, which Tellefson took on with gusto, Reed said.
"She modified the entire operation to keep clients safe, expanding our hours and actually increasing the capacity by having people shop one family at a time in a very speedy way, but still offering choice."
Although she maintained her energy until the end, Reed said, Tellefson also had an eye toward the future in order to ensure that Unity Shoppe would maintain its important place in the Santa Barbara community.
"She had been talking about a succession plan for about the last two years and we'd already started implementing it," he said. "But it will literally take three people to fill all the roles because she worked on Unity every waking moment… There won't be much of a disruption except it's like losing a family member who everybody loved. People stayed at Unity because of Barbara. I've been here eighteen years and I'm still a newbie."
That essence of connection was echoed by DeVorzon, who closed out her email tribute with a simple addition: "Barbara was all of these things (I said above), but most of all, she was my friend and I'm going to miss her."
This year's Christmas Unity Telethon, which airs on KEYT and streams on Unity's website from 4:30-8:30 pm on Saturday, December 12, includes many tributes to Tellefson, including one from Loggins filmed in front of her home.
"We lost the most loving, generous spirit I've ever met, and a very important person to this community," he says in the video. "Barbara not only used her life to help others, but now she's giving all this, her estate, so that Unity will live on past her, to help thousands more for years to come."
You might also be interested in...