How Four Local Boutiques are Making it Work
Retail shops were some of the first businesses to close when the pandemic hit. Yet they've slowly opened up inch by inch as regulations allowed, finding new ways to connect with customers. The silver lining to the world's current state is a forced creativity it has spurred in us all. For business owners, the pandemic expanded the tunnel vision of day in, day out operations into a bigger, more long-term future. Wearing masks and adhering to social distance guidelines, four local businesses reveal how they've reopened doors and intend to keep it that way. Let's take a peek.
So De Mel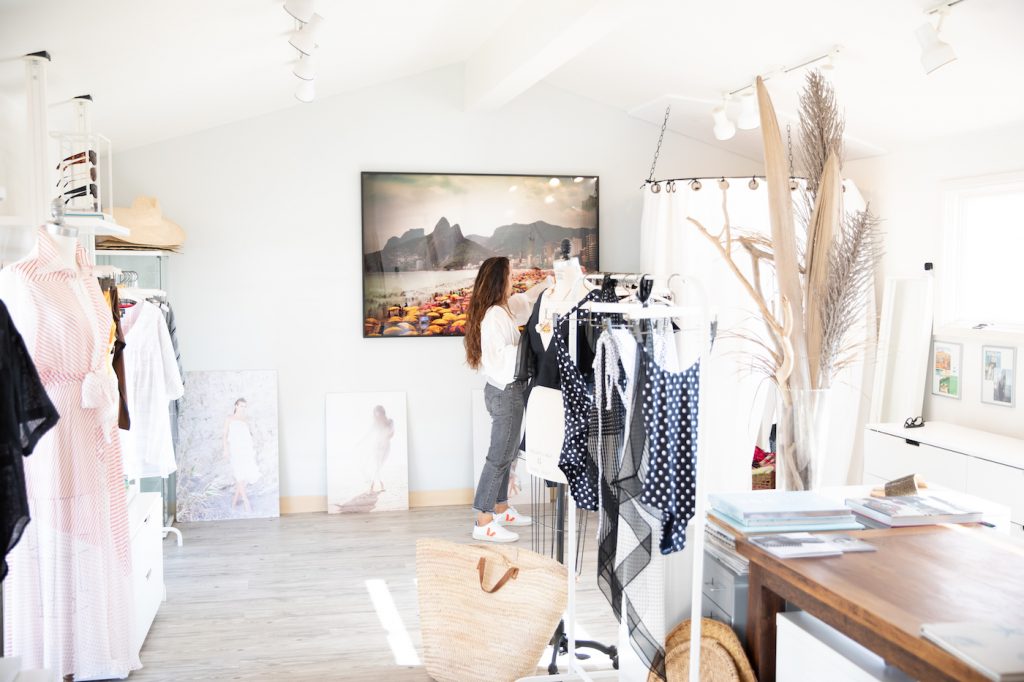 Brazilians really don't give a damn when it comes to body image, and it's something all American women can benefit from. If owner and designer Sonia De Mello of resort wear line So De Mel could bottle up that confidence and sell it in her showroom perched above Tre Lune, we'd be in much better mental shape. For 12 years, Sonia has guided clients into resort and swimwear that suit their specific body types and is careful not to push someone who isn't self-assured when slipping into her collections. "I prefer (my customers) to feel good, confident, and love it," she says. With fashion cycles topping at 52 collections per year, Sonia curates a small collection of classic designs that rise above fast fashion trends. In other words, quality over quantity thrives here.
Q. How was your business affected at the start of the pandemic?
A. Most businesses were affected by this pandemic, but like everything else, we learned to navigate through the best way we can. Instead of moving forward and creating more collections, I scaled down and kept the collection very tight and small. I'm very conscious size-wise and how much I'm adding to the collection. I've kept it very low cost and didn't hire anybody this year. It's just me, by myself, so I prefer to open only Thursdays, Fridays, and Saturdays. I'm here other days, but I'm doing wholesale or shipping. But people can call me anytime because I'm always around.
How have you been able to adjust?
Having a wholesale business that operates primarily with resorts and boutiques, we were mainly shut down. Resorts closed, and nobody traveled to them. Looking into the good part of it, we were already merging into an e-commerce prior to the pandemic, so I kept moving towards that online direction and minimized inventory rather than adding on.
What are your hopes for the future of your retail business?
I love the small business I created, and I am very fortunate to be based here in Montecito with a special clientele that keeps the business running. That allows me to continue to be creative. A quality product has always been my priority, so my focus for the future is to keep small to best control the quality of the product I create.
So De Mel is located at 1151 Coast Village Road, Second Floor. It is open Thursday, Friday and Saturday from 1:30 pm to 5:30pm and by appointment. Call (805) 969-2955 or visit www.sodemel.com, Instagram: @sodemelswim.
Beautiful You
The New York Times and Vogue magazine have touted Montecito-based beauty business Beautiful You as a "best-kept beauty secret." Since opening a location at the Las Aves complex near Andrée Clark Bird Refuge 10 years ago, owner Megan Simon
Brand has added wife and mother of two to her title. Clients can beautify with Endermologie, a tissue treatment to minimize cellulite to an organic spray tan that uses only three ingredients. Bonus: Megan now shares the space with full-service hairstylist Svetlana Hanson and licensed esthetician Melissa Peterson, rounding out their product ladder to serve clients from head to toe. Though Beautiful You is a hands-on business, they take the utmost precautions to ensure all clients' safety and health. Here's how:
Q. How did business change for you in the first part of the pandemic? What was your initial reaction to the change?
A. Business dropped off dramatically within the first few weeks of March, and then we were shut down completely, not being an essential business. Of course, I was worried about the survival of my business and the health of my family – I was eight months pregnant at the time, so I had a lot on my mind initially. But being in business for the last 15 years, I'm no stranger to crisis: the financial crash of 2008, the Thomas Fire, and the Montecito debris flow all caused enormous impact on my business. I had learned from those past events to save money accordingly, and I learned how to be proactive. I began to map out my finances and make a budget. I made calls to reduce/stop certain services like bottled water delivery and flowers to save every little bit that I could. I asked to have rates lowered on insurance and utilities. Then I started to pay attention to what essential/open businesses were doing to protect their customers' health to implement what was working well and stay away from what wasn't. I had lots of conversations with the ladies I work with directly in the space and other beauty industry professionals on how we all planned to make it through. We were of the last group to be "reopened" to the public, so I got to learn by others' trial and error. 
What have you done to adjust to the new normal?
We have always been "by appointment only," but we allotted time at the space, so the three of us weren't all there at once seeing clients. That has helped to keep traffic in our space even lower than usual. We have allowed more time for each client, so there's no cross over between appointments. Masks are required, and we have no-touch hand sanitizer at the entrance. We use an EPA registered disinfectant to clean all surfaces. We have gotten rid of our cozy blankets and extra linens in our treatment rooms to keep soft surfaces to a minimum. We use a no-touch thermometer. We offer contactless payment and water by request only. We now require a two-week rebooking buffer period for any clients canceling appointments due to symptoms. We run a HEPA air purifier in the treatment room. I continue to check in with my clients, asking them if there is anything else we could do to make them comfortable.
Anything you'd like to add heading into the holidays?
Things may look a little less plush and a bit more medical here, but you can take comfort in knowing we are doing all we can to make things safe for our clientele. We still offer the same great services, and we are sure everyone needs the self-care now more than ever.
Beautiful You is located at 1805 East Cabrillo Boulevard, Suite B. Call (805) 403-6056 or visit www.beautifulyoutan
ning.com and www.beautifulyoumc.com.
Whistle Club
Owner Rebecca McKinney Blair has arguably one of the most elegantly hip boutiques in Montecito, if not Santa Barbara. Her shop Whistle Club blends an effortless West Coast cool with East Coast unpretentious civility. You could even say her vibe is reminiscent of Parisian style – a look most American women long for – with a curated collection of designers that offer a balance of looking put together yet laid-back at the same time. Just hop on her Instagram account @whistleclub to see what I mean. How does Rebecca keep the vibe during this time? With us, she spills the deets:
Q. How did business change for you in the first part of the pandemic? What was your initial reaction to the change?
A. Initially, my business came to a screeching halt, which was par for the course in women's retail. There were so many unknowns at that time, and fear seemed to be the driving force behind all media coverage. Understandably, people were more concerned about buying toilet paper and groceries than a new dress. I think most entrepreneurs have experience with waiting for the other shoe to drop, so I feel like I was fairly quick to turn that initial wave of fear into a survival strategy.
What have you done to adjust?
Our e-commerce had been in the making for months, so it felt particularly timely that we were able to launch mid-quarantine. We also launched box service, local delivery, and curbside pickup. Since we reopened, we have obviously put new cleaning protocols in place and are diligently working to make the shopping experience feel safe and inspiring. Additionally, I have edited our product assortment to better suit the current climate and our "Covidian" lifestyles. On the bright side, 2020 accelerated some services in the retail space that I know will continue to be available and valuable in the years ahead.
Were you a part of Montecito's May Day Virtual Cash Mob? (The "Cash Mob" was a three-day event to help bring economic relief by purchasing gift cards to businesses on Coast Village Road and the Upper Village.)
We were a part of the "Cash Mob," and I was so wildly grateful for those who participated and chose to support Whistle Club or any other local business.
Whistle Club is located at 1235 Coast Village Road, Suite C. Call (805) 565-2800 or visit www.whistleclub.com, Instagram: @whistleclub.
Santa Barbara Novella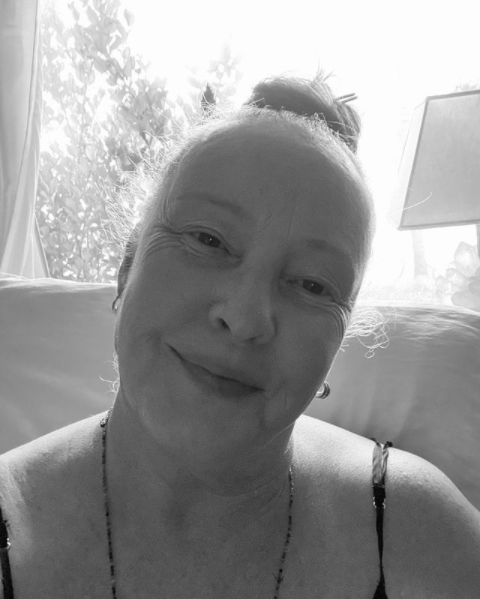 While interviewing designer Sonia De Mello (mentioned on previous page), I picked up a bottle of Santa Barbara Novella from her shelf and fell in love at first sniff. Not only is the bottle beautiful to look at, but owner Lissa Liggett blends florals and herbs into a rich and luxurious scent. Seductive, even. The story of how Lissa began making her high-end elixirs is enchanting in itself, steeped in a family tradition, only adding to the intrigue.
What is your relationship with Montecito?
My adopted grandparents, George and Eleanor, lived on Buena Vista Drive, and some of my fondest memories are of their yard and the wafting pink jasmine and orange blossoms in the spring there. I've been selling at Pierre Lafond for almost 20 years now.
How did you get started in the fragrance business?
I've been making "potions" since I was a little girl. I grew up in Santa Barbara with a Native American-Spanish mom. I followed her around, up and down the local creeks and marshes to gather basket weaving materials and helping her wildcraft natural dye ingredients from all over for her weaving shop down in De La Guerra Plaza. So, I was constantly surrounded by the incredible smells of Santa Barbara. I was always trying to capture those experiences and scents and bring them indoors. I would fill jars with my favorite herbs and flowers and leaves, and it was vodka that I first used to distill those scents into a potion to wear.
Did your business suffer at all during the first part of the pandemic?
It oddly increased, as people needed more self-soothing, and also people began sending gifts of perfume and votives to friends and family that they also wanted to sooth during those awful first weeks and months.
How have you adjusted to the new normal?
I've been doing free local deliveries, which is also really cool for me because I get to actually meet the wonderful people buying my products – masked and distanced, of course! I usually don't get to meet customers because I just drop off orders at stores and leave.
What made you decide to open a storefront during this time?
Our family was planning on moving to Europe just as COVID hit, and we had downsized from a large home to a small rental. I found a great space in Victoria Court right next door to Rêver Atelier and I thought it would be a great working studio space, rather than trying to work from a small space at home. I thought I might put up a few shelves and if someone wandered in they could buy something they liked. I've been surprised and awed by the response.
Anything you'd like to add heading into the holidays?
I'm just so happy and grateful to be so well received and will stay open as long as it is safe for me and my clients, following the one person at a time masked protocol.
Santa Barbara Novella is located at 1221 State Street, #14. It will be closed for three weeks because of the stay-at-home order but is offering free local deliveries. Visit www.santabarbaranovella.com, Instagram: @santabarbaranovella.
You might also be interested in...