Curbside Menu Spotlight
With new mandates affecting Santa Barbara's restaurant scene, each week we will highlight exceptional takeout offerings to help ease our minds and our bellies during the pandemic. 
Bluewater Grill's Seafare To-Go Eats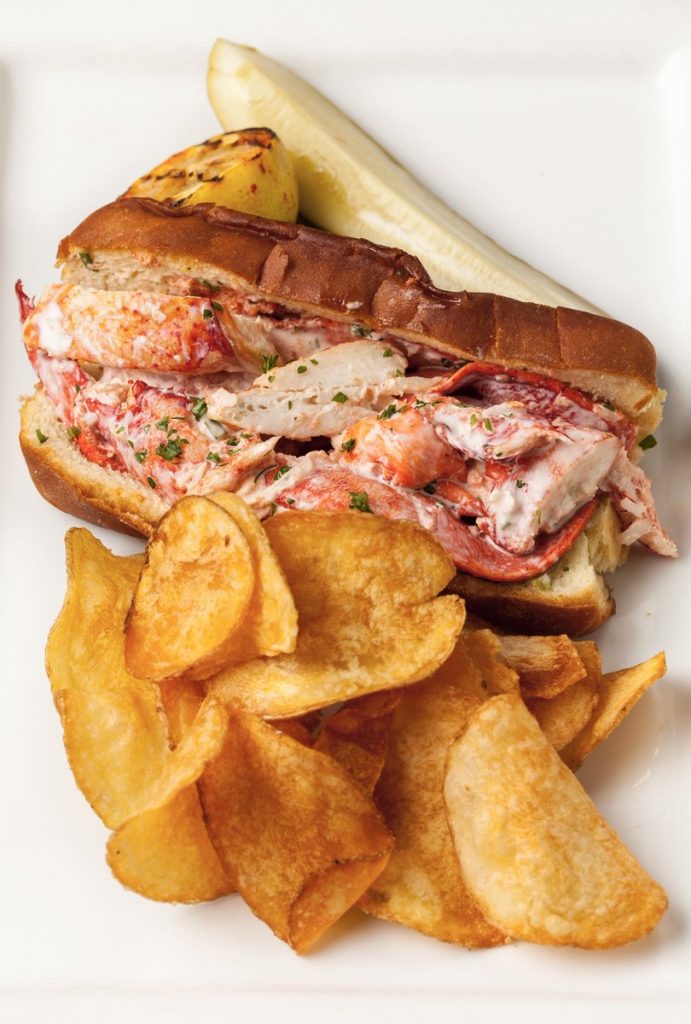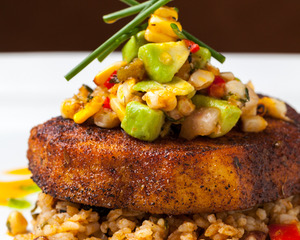 Housed in a funky lighthouse building, Bluewater Grill serves up fresh seafood, favorite cocktails and wines of the Central Coast, all paired with a friendly service team. Whole Idaho rainbow trout, San Francisco-style cioppino (tomato-based seafood stew), pan-seared sea scallops and Alaskan king crab make appearances on the menu of coastal-fresh catch and hearty pastas. Swing by to order award-winning clam chowder, fried calamari, and crab cakes, then go picnic by the beach.
Popular To-Go Items
Lobster Roll: ($24) Chunks of fresh lobster meat with a slick of hot butter or aioli served in a grilled New England style brioche bun. Chipotle blackened swordfish: ($30) Grilled to perfection and served with dirty rice (calico beans, Spanish rice), and topped with roasted corn and avocado salsa – dairy and gluten free. Lobster mac' n cheese: ($24) Pieces of whole Maine lobster, Roma tomatoes, Tillamook cheddar cheese sauce, and panko bread crumbs. Seafood Louie ($19.50): Fresh tomatoes, cucumber, hard-boiled egg, avocado, red rock crab, and bay shrimp served with Louie dressing – gluten free.
Bluewater Grill is located on Cabrillo Avenue between State & Helena Street, across from Stearns Wharf. For carryout, call (805) 845-5121. Delivery is available through Uber Eats. Visit bluewatergrill.com.
Lucky's Latkes
Specially made for Hanukkah, Lucky's Steakhouse serves traditional-style, fresh out of the pan latkes. The potato pancakes are fried in oil as traditionally done, and served with applesauce and sour cream during the eight days of Hanukkah – December 10 to 18. They're also available for carryout.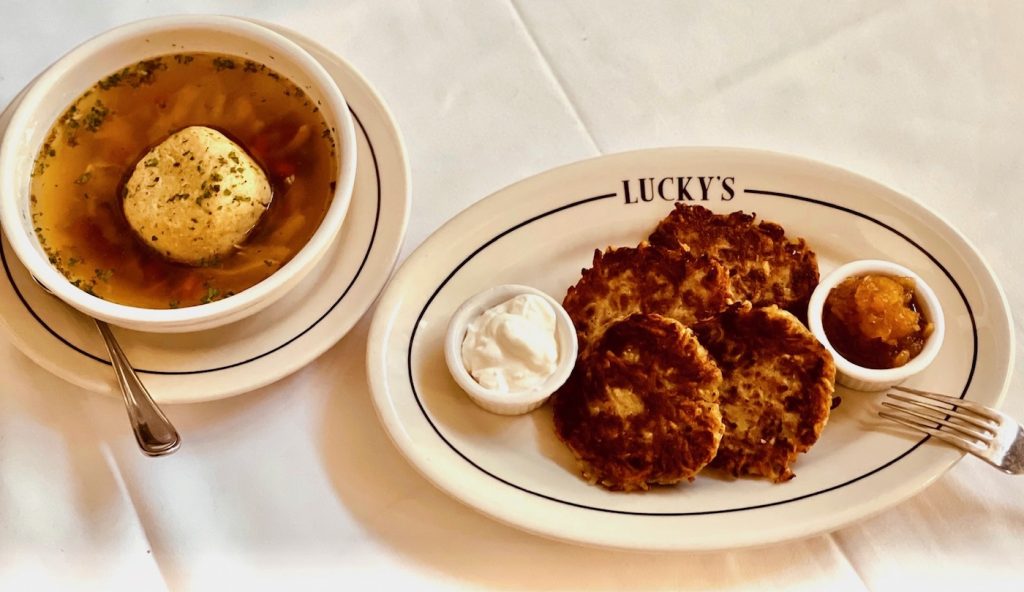 Alternatively, you can make them at home. Serve with crème fraiche, salmon or roe and a sprinkle of chives as a starter for your celebratory evening or holiday breakfast.
Executive chef Leonard Schwartz shared his recipe with the following guidelines for home preparation:
Ingredients:
2 pounds of russet potatoes, peeled
1 medium brown onion
2 eggs, beaten and seasoned w/ a little salt and pepper
2 tablespoons of matzo meal (or you can use flour or breadcrumbs)
Salt and pepper
Clarified butter or vegetable/canola oil for frying
• Grate the potatoes, coarsely grated
• Grate the onion, finely grated
• Combine the matzo ball meal with the potatoes and onion
• Season lightly with salt and pepper
• Heat a large heavy duty skillet (black cast iron is the best) to medium heat
• Add a generous amount of butter or oil (about a quarter inch)
• Spoon the mixture into the pan and press lightly to form a pancake.
• Sauté until golden brown on both sides.
• Transfer onto a paper towel.
• Serve warm with applesauce and sour cream
You might also be interested in...