Summerland's Outdoor Eats
With City officials urging a Safer at Home order aiming to slow the spread of the coronavirus, now more than ever is the time to support local businesses. Indoor dining is banned for the time being, and as we move into the winter months, dining outdoors is not ideal. But Summerland, a sleepy seaside community, offers many casual and delicious dining options. Choose from a handful of eateries along Lillie Avenue. Then wander over to Sweet Wheel Farm & Flowers afterward to pick up some fresh produce and herbs for your next home-cooked meal.
Tinker's Burgers
This classic burger shack serves up some tasty, highly rated burgers, seasoned curly fries and classic milkshakes. Triple burgers, patty melts, chicken strips, and fish and chips are a few popular items on the menu. If you like it hot, try the pepper jack burger with grilled onions, jalapenos, and bacon, dressed with chipotle habanero ghost pepper aioli.
Tinker's is located at 2275 Ortega Hill Road, #C. Open daily, 11 am to 5 pm. Outdoor seating on picnic benches.
Summerland Beach Café
Serving home-style egg and bacon dishes on the patio of a Victorian beach house that catches fresh ocean breezes. Belgian waffles, kettle oatmeal, huevos rancheros, and crab Benedict are tried and true favorites.
Summerland Beach Café is located 2294 Lillie Avenue. Open 7 am to 2 pm Monday through Friday, and 7 am to 3 pm Saturday and Sunday.
Red Kettle Coffee
This friendly, open spot facing Lillie Avenue offers a tasty selection of regular and non-caffeinated beverages. Try signature local favorites. Ray of Sunshine Latte lives up to its description as a "hug in a mug" with espresso, turmeric, honey, and cinnamon. Salty Bumble Bee Latte blends espresso, pink Himalayan sea salt, and honey. Snickerdoodle Latte mixes espresso, brown sugar, vanilla, and cinnamon. The café has a wide selection of bagels and baked goods. Grab a seat outdoors and enjoy a blissful moment before starting your day.
Red Kettle is located at 2275 Ortega Hill Road, #A, Open 7 am to 2 pm Monday through Thursday, 7 am to 4 pm Friday to Sunday.
The Nugget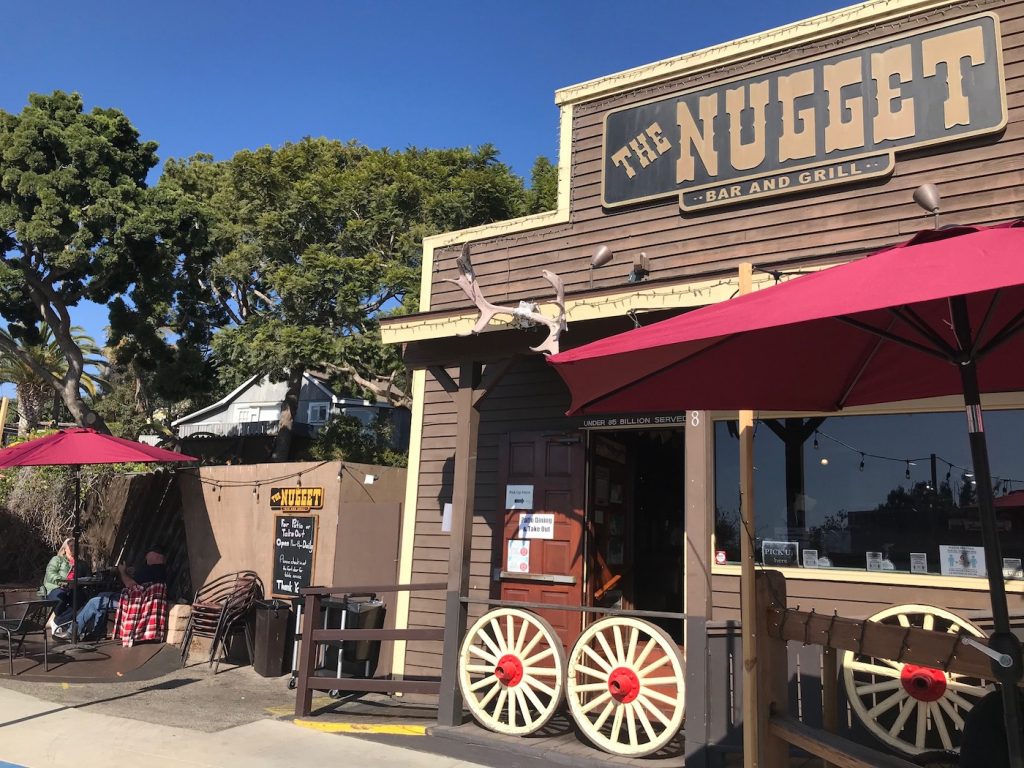 The Nugget is an American bar and grill with a frontier-themed exterior and an eclectic interior. Specialties include burgers, steaks, baby back ribs, and grilled seafood. My favorite is the red-wine braised beef stroganoff served with egg noodles. The Kentuckian, made with Maker's Mark bourbon, sweet vermouth and cherry garnish, or the rosemary lemon cocktail, made with Absolute Citron and fresh herbs, are perfect aperitifs.
The Nugget is located at 2318 Lillie Avenue. Outdoor seating on the sidewalk terrace from 11 am to 8 pm daily. Pick up available via Grubhub.
Rusty's Pizza Parlor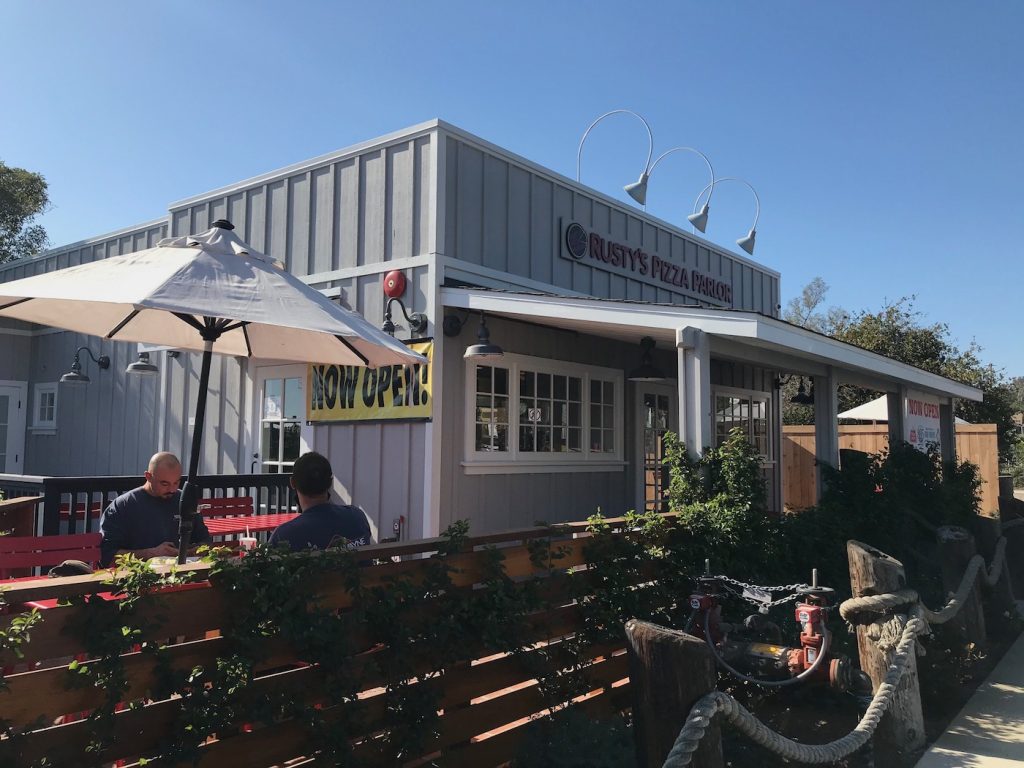 Set up in a weatherboard cottage, this is Summerland's best spot for thin or thick-crust pizza, sub sandwiches and quick and easy salads. Choose from more than 20 toppings or opt for local favorites Chile Verde pizza and garden special pizza.
Rusty's is located at 2315 Lillie Avenue. It is available for pickup or delivery daily from 11 am to midnight.
Feast at Field + Fort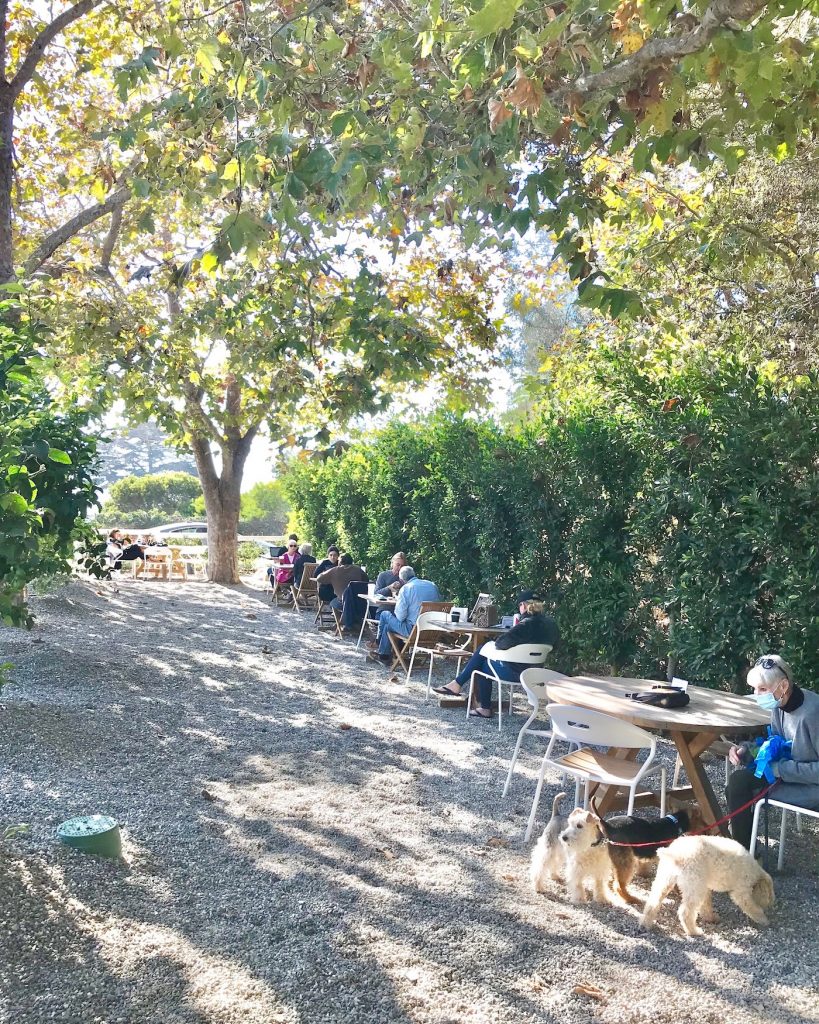 This café offers a nice selection of craveable dishes for breakfast and lunch such as house-made English muffin with pork apple sausage, egg, cheese, and apricot habanero jam; Italian black rice porridge, topped with a poached egg, braised greens, pecorino, tomato jam, and truffle butter; roast beef, whipped feta with Harissa, preserved lemon aioli, and herbs on levain bread; and chicken tarragon sandwich topped with pickled onion.
For a late lunch or early dinner option, try the rotisserie chicken with roasted potatoes and cabbage or a country spread of labneh, tabbouleh, beet hummus, feta, herb salad, seasonal pickles, and fresh-baked bread.
Feast at Field + Fort is located at2580 Lillie Avenue. Open daily from 9 am to 5 pm. Outdoor bistro-style seating in a spacious garden setting, take out and curbside pick up.
You might also be interested in...