Santa Barbara's Bucket Brigade Unveils New Trail Project in Montecito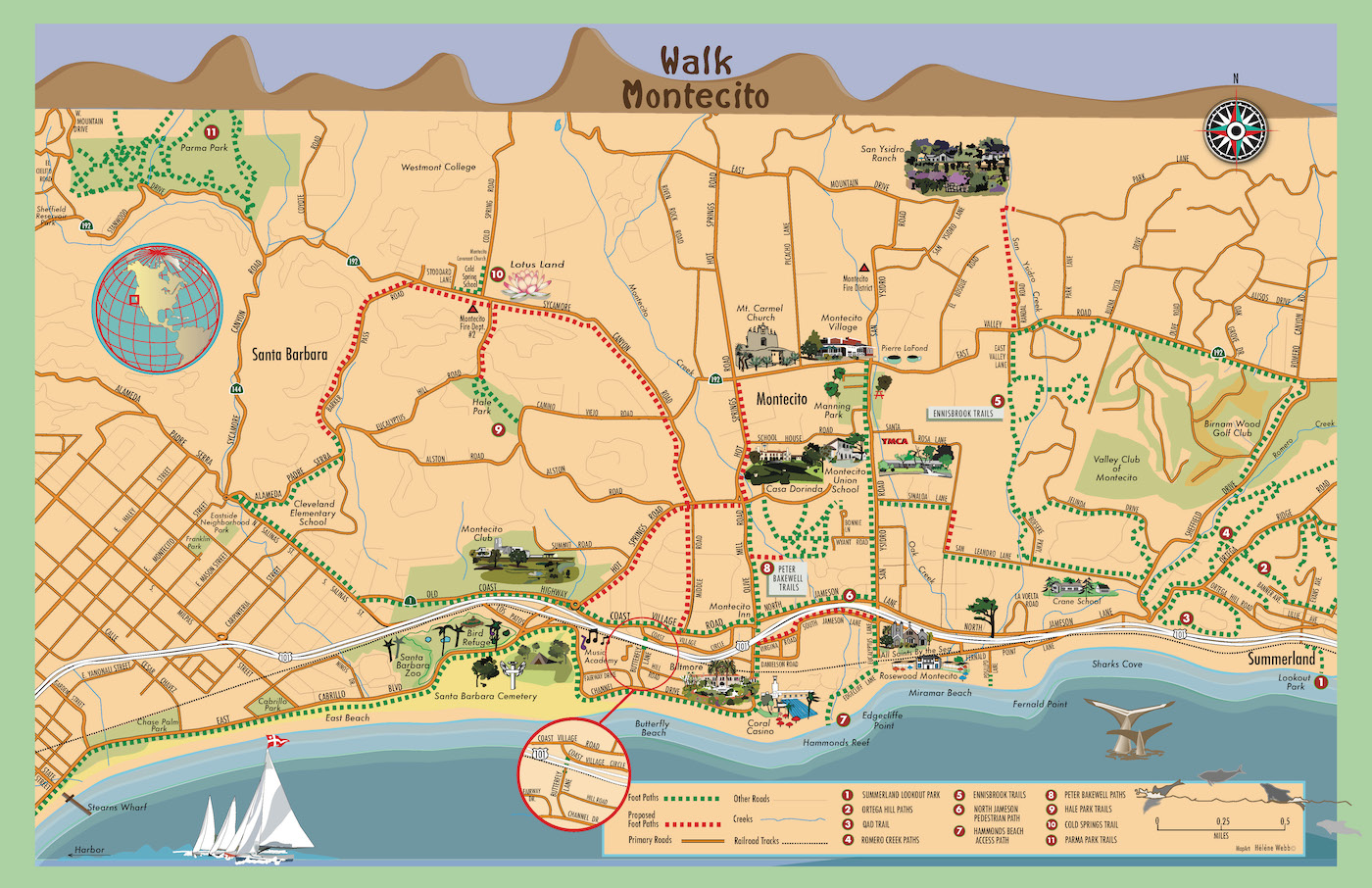 If you've ever trekked up the walking path on the west side of San Ysidro Road between the 101 Freeway and East Valley Road, or along the north side of North Jameson Lane between San Ysidro and Olive Mill Road, then you are already familiar with Montecito's recently established community trail network. While sidewalks were not only never part of Montecito's development plan but rather something of a third rail of local planning, that didn't stop the Santa Barbara Bucket Brigade and the Montecito Trails Foundation (MTF) from winning approval for a network of deconstructed granite walking paths.
Especially during the ongoing COVID-19 pandemic, walking paths have proved to be extremely popular among local residents eager to get their exercise by walking and hiking outside rather than competing for socially distanced equipment at the gym. Thankfully, the Bucket Brigade and MTF have just announced the next phase in their plan to develop Montecito's community trail network: a non-paved walking path along the east side of Hot Springs Road that will take pedestrians from the intersection at Coast Village Road near the Vons grocery store uphill to Mt. Carmel Church where Hot Springs intersects with East Valley Road.
According to Bucket Brigade co-founder Abe Powell, the project, which is currently in its early, fundraising stage, is part of an ongoing effort to promote pedestrian safety in Montecito, with a particular focus on linking the pathway network to every school in town, a mission whose importance has become all the more apparent in recent months. "COVID exposed this need," Powell said. "Everybody was walking in the streets and trails around town, so we realized we needed to create a network of pedestrian trails that connect all the schools."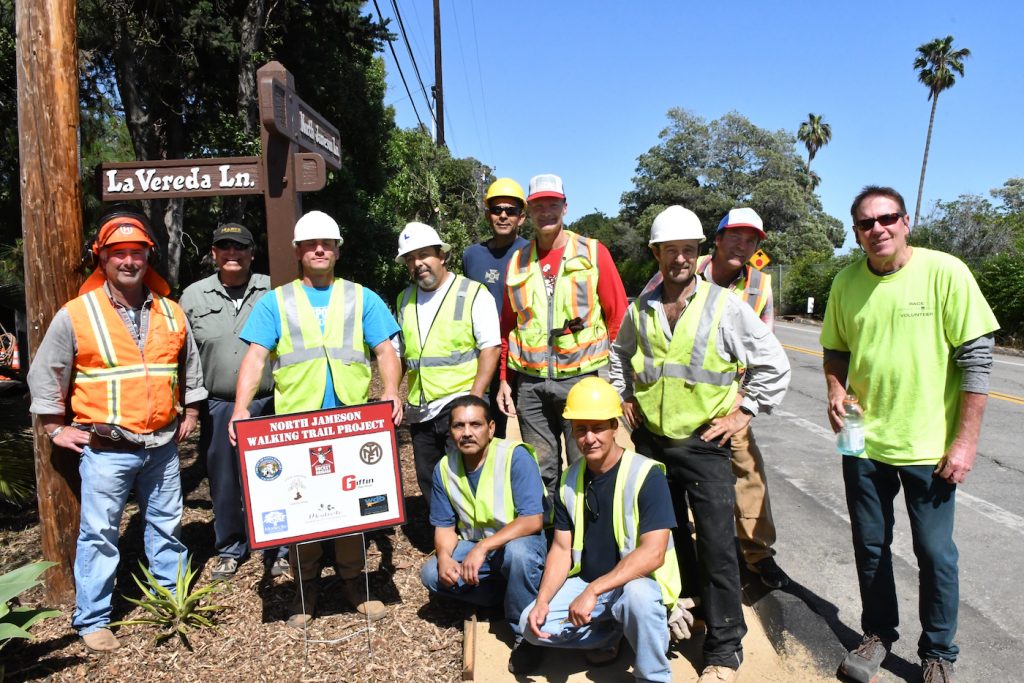 Although both Laguna Blanca and Montecito Union School are already connected to the San Ysidro walking path, Powell said plans are still afoot to connect both Cold Spring School and Cleveland Elementary School, and ultimately create a network that will allow pedestrians to walk safely from Summerland through Montecito all the way to Santa Barbara. Safety isn't the only objective, however; another could be termed community/commerce cohesion.
"The goal is to create a pedestrian corridor so people can walk safely from Montecito to Milpas or Summerland," he explained. "We see people walking a lot and the idea is to connect the families in the neighborhoods to the businesses that are close to where they live and go to school."
Per Powell, the group's fundraising effort is to raise cash to expand and complete the walking path network over the next two years, which is about half as long as long construction has already been underway. "It really started with North Jameson, which was a horrible mess," he recalled. "As a dad and soccer coach, when I was driving along and seeing kids walking in the street, I thought about it and was like, 'Why is there no sidewalk, no trail? Why doesn't somebody do that and make it safe for kids?"

Powell is well aware of the controversy currently swirling around county-approved traffic roundabouts which will soon replace the San Ysidro/North Jameson and Olive Mill/Coast Village intersections. And he says the walking paths will help relieve the pain.
"The roundabouts have nothing to do with us but the intersection at Olive Mill is nuts," he says. "Every time I go there I have the sense of 'Whose turn is it?.' And San Ysidro Road is a failed intersection, so a roundabout is the preferred way to get people through that intersection. Is that going to be pleasant? Probably not, but our approach is to focus on how we can create a good network of trails where kids can walk to school, because that takes a big chunk of that traffic right off the table."
Anyone who doubts the notion that walking paths can reduce traffic congestion need only cruise up or down San Ysidro Road just before or after school and witness all the kids walking to or from their classes, thus greatly reducing the number of cars clogging up the road during peak hours.
"With San Ysidro Road, we really showed that if you build it, they will come, and now there is a parade of kids going up and down that hill to school," said Powell. "It's really nice. When you see a bunch of kids walking up and down up the streets, it's not only homey, but it improves the vibe and functionality and safety of the neighborhood."
The pathway also provides a financial benefit, Powell added. "Every time we add a walking path, it improves the community, and it improves the value of our neighborhood," he explained. "The positive feedback has been off the chart. When we were building the trail on North Jameson, I was there every day and one of our biggest safety problems was all the moms driving by and stopping and trying to hug us, some of them in tears," he said. "It was a thing. We saw this incredible outpouring, because now you can just walk out your door and walk to school. It's a game changer; we realized this is something we can do and stick with this and do this."
The walking path from Vons to Mt. Carmel is currently scheduled to break ground in February 2021. To contribute to the ongoing work to expand Montecito's community trail network, please visit www.sbbucketbrigade.org. To join the Montecito Trails Foundation as a member, go to www.montecitotrailsfoundation.info/membership.
You might also be interested in...