Heal the Ocean and MarBorg Industries Team Up to Remove Maritime Debris From Montecito Beaches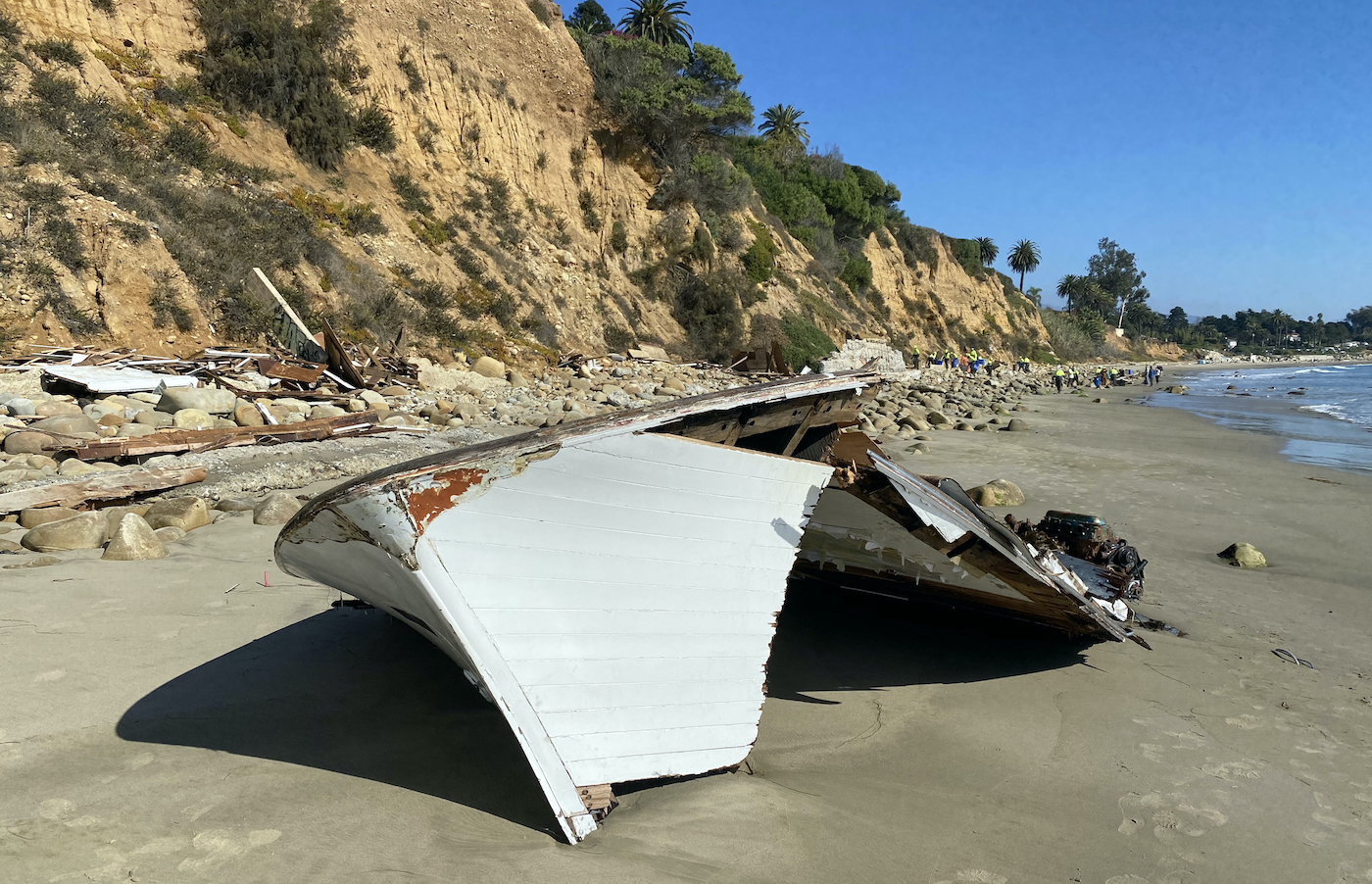 Thanks to a collaboration between Heal the Ocean and MarBorg Industries, as well as funding from the Ohana Foundation, which was created by Kim and Jack Johnson (yes, that Jack Johnson), all the debris from a boat that disintegrated in early November near the Santa Barbara Cemetery has been removed. Although the identity of the person responsible for the shipwreck has yet to be determined, the debris posed a major environmental and safety hazard for Montecito, given that it resulted in a wide array of wreckage, including splintered pieces of wood, boat machinery, cushions, electronics, and other junk that presented dangers to marine life as well as beach users.
The removal work took place during low tide on the afternoon of November 11 and was performed by a 12-member MarBorg heavy equipment team which accessed the beach near the Biltmore Hotel at Channel Drive; the crew included an equipment operator, an excavator, a roll-off driver and others. Although various beachcombers had sought to stack the debris in piles along the beach, much of it was too heavy to lift until MarBorg's heavy equipment was able to break it apart for onsite removal.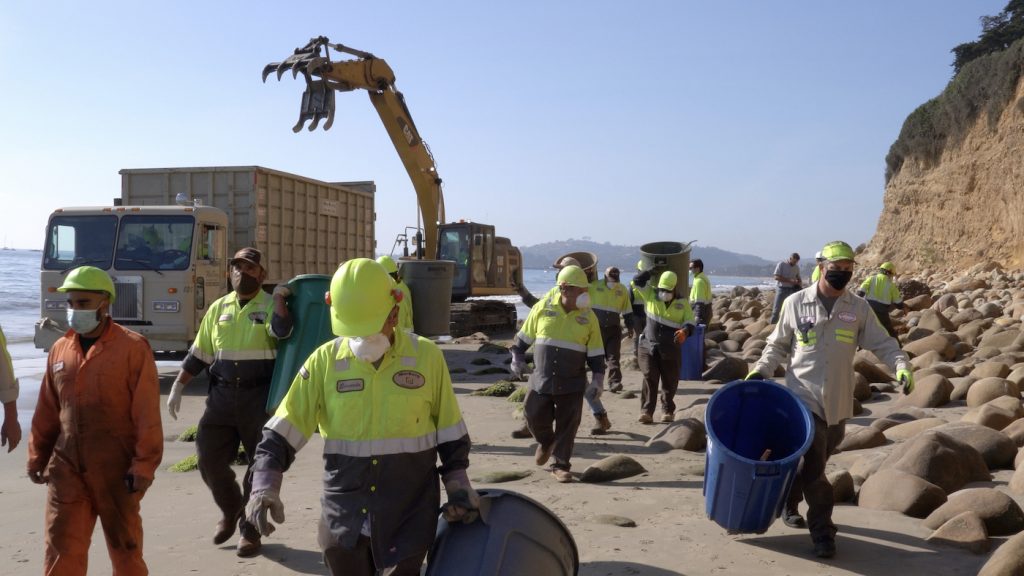 Hillary Hauser, executive director of Heal the Ocean, told the Montecito Journal that she is working with Santa Barbara Harbor Operations Manager Erik Engebretson to organize an approach to various state and local agencies to work up a plan to limit the crashing of boats on the beaches or to find means of insurance or grants for cleanup. This isn't the first time Heal the Ocean and MarBorg collaborated on debris removal; the last time was as recently as September.
Because many vessels are used by low-income and/or homeless people for shelter, owners are often incapable of paying for cleanup expenses, so unless the Santa Barbara Sheriff's Office is able to both identify the boat's owner and obtain compensation for debris removal, there is currently no mechanism in place to fund such work beyond public donations.
According to Hauser, Heal the Ocean and MarBorg went into action almost as soon as the boat washed ashore. "It went ground on November 9 and all this junk ended up in the surf between East Beach and Hammond's Beach," Hauser said. Because East Beach is part of the City of Santa Barbara and Hammond's belongs to the county, Hauser said she wasn't sure who to call first.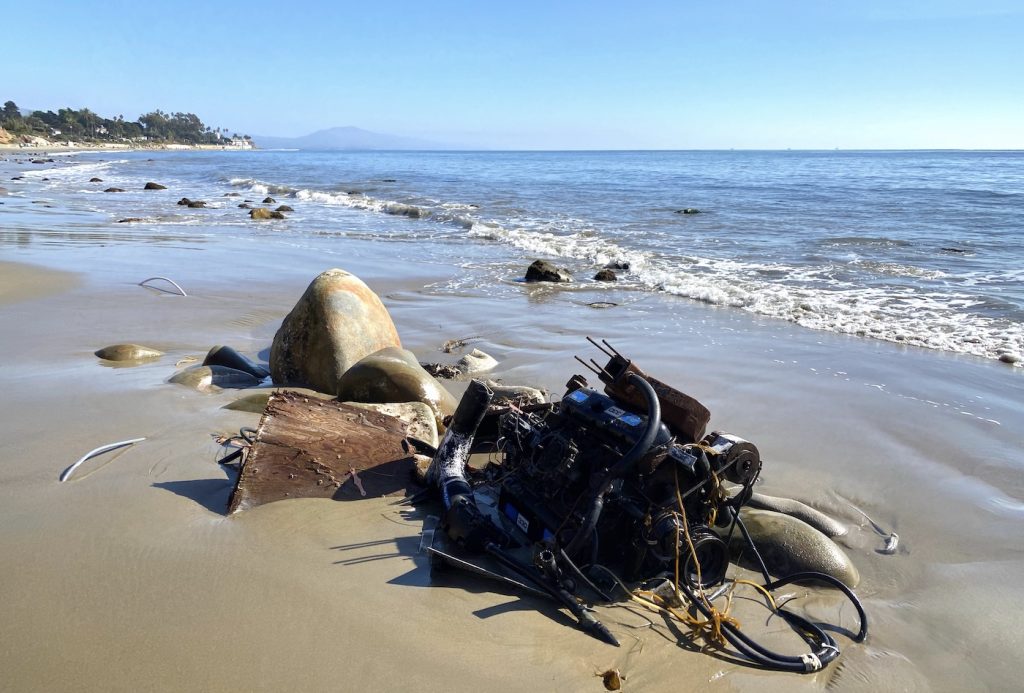 "I started making calls and before long, it started driving me nuts," Hauser recalled. "Finally I called MarBorg Industries, because it's the greatest company, and we had already worked together. We started a wonderful Styrofoam recycling program with them that is an ongoing thing. They make it into picture frames." Specifically, Hauser called MarBorg's president Brian Borgatello, who was unavailable for comment by press time. "I called Brian and said we have a boat on the beach, all these batteries and engine parts and wood and nails are spread all the way down from East Beach to Hammond's and there are big pieces of it everywhere. He said, 'Oh, we do that kind of thing,' so I made a deal with him then and there."
Along with Santa Barbara attorney Jeff Young, who once owned an oyster farm that had to shut down in the 1980s because of ocean pollution, Hauser helped found Heal the Ocean in August 1998. At first, the group focused its efforts on cleaning up Rincon Beach, a legendary surf spot that had been negatively impacted by septic system leaks; that work ultimately led to no less than seven miles of Santa Barbara coastline being cleared of such pollution. The group was also instrumental in combating oil leakages along Santa Barbara's surf zone in 2018, an effort that resulted in legislation sponsored by State Senator Hannah-Beth Jackson that provided $14 million in funding over seven years to cap leaks and clean up local beaches.
To contribute to Heal the Ocean's ongoing efforts to keep Montecito's beaches clean, visit www.healtheocean.org or www.givebox.com/685.
You might also be interested in...