Tina Frey Designs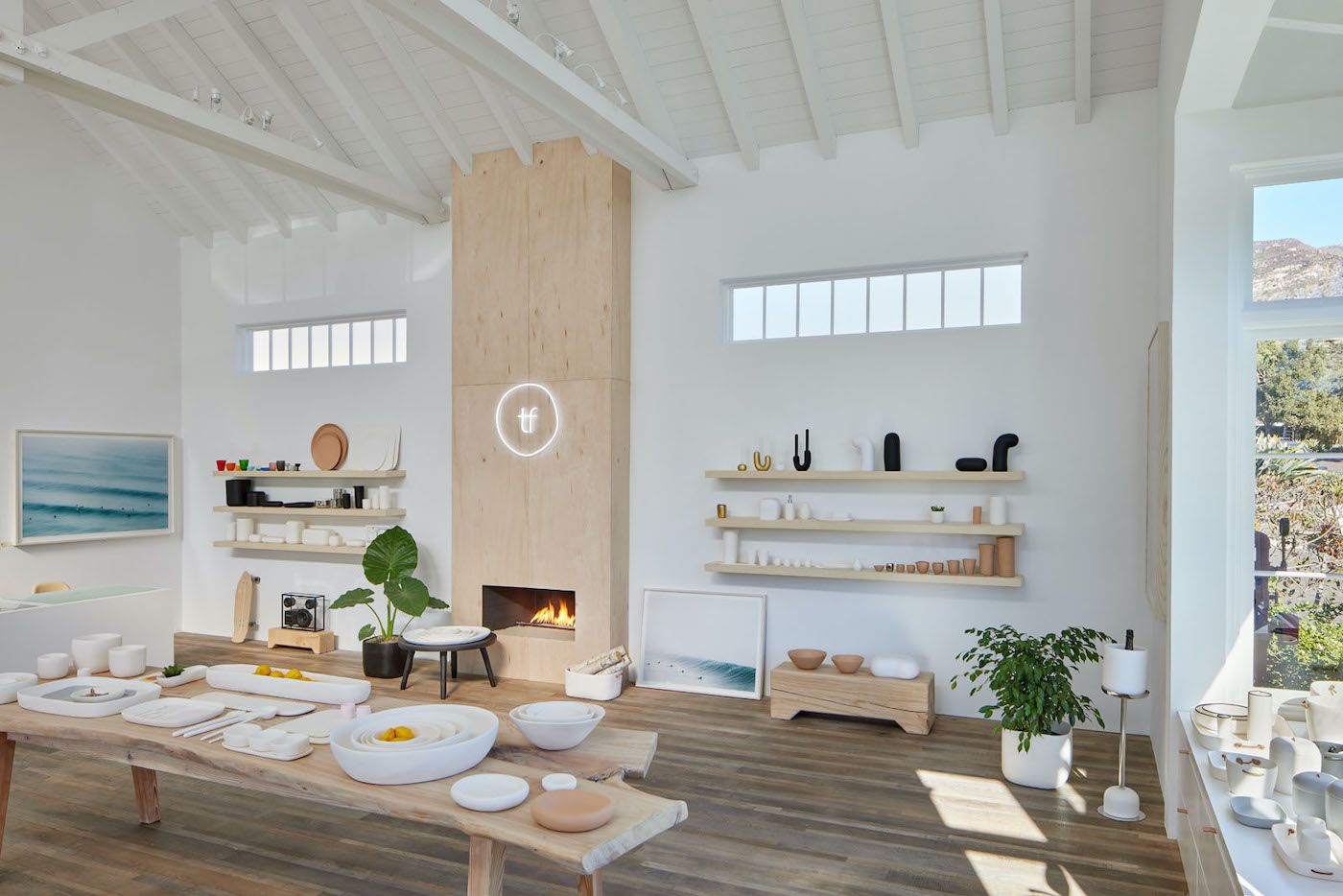 A new home design store has opened in San Ysidro Village; TF Design Montecito softly opened earlier this month. Namesake owner and designer Tina Frey has personally curated the space with a comprehensive collection of her simple and modern resin designs. All pieces are conceived and hand-sculpted by Frey, and handmade by a talented and dedicated team of craftspeople. 
Frey, who met with us earlier this week, says that opening a store in Montecito has been a dream for years, made possible by a relocation prompted by the COVID-19 pandemic. She and her husband, Jochen, made the move from San Francisco to Montecito, embracing Frey's love of surfing and cool coastal aesthetic. "I always wanted to open a space that could show off the entire collection of my designs. I've put things in here that I would put in my own home, and now I can show it to the community," she said. Frey also has a studio, shop, and showroom in San Francisco's Bayview neighborhood, an industrial area in the southeast corner of the city.  
The new 810-square-foot Montecito store, which feels like a minimalist Scandinavian cabin, boasts high-beam ceilings, a cozy fireplace, clean white walls, light woods, and an abundance of natural light that blankets the space. Frey's pieces are artfully displayed throughout, allowing guests to explore individual products along with full collections. The collections include everything from tableware and barware to candle holders and coffee tables for accessorizing and furnishing every part of a modern home. Designs are comprised of food safe resin, which is shatter resistant and safe for outdoor, indoor, and bath areas, allowing them to stand the test of time.
Frey was born in Hong Kong and raised in Canada, before moving to the Bay Area. Her former career was in finance, but she admits that creativity has always been in her soul. She began working with resin, a rare medium, 13 years ago, making two bowls in four colors, and showing them at various design outlets. "It essentially grew out of creativity," she said, noting that the now expansive collections reflect a sophisticated, uncomplicated style, perfect for Montecito.
The space is accented by furniture pieces by renowned Danish female furniture designer Nanna Ditzel, including the iconic Hanging Egg Chair and Chill Lounge Chair. The store's walls feature ocean artwork by photographer Kate Holstein, whose series of photographs captures liquid and light, what Holstein refers to as her two greatest muses. This collection of designers is exclusively curated for the store by Frey, who is a longtime fan of both Ditzel and Holstein's work. The store will host additional pop-ups in the coming months.
With the opening of the new store, Tina Frey Designs is launching its Fall 2020 Collection, Paper Sized Platters, available at TF Design Montecito, as well as online and in specialty retailers globally. The serving platters are based on international paper size standard dimensions, and each successive size in the series is defined by halving the preceding size across the larger dimension. They are available in black, white, and fog, and a rainbow set that can be purchased individually or together. The Fall 2020 Collection also includes the launch of a Meditation Seat, inspired by Frey's own meditation practice that has taken place during the pandemic.
In addition to residential uses, Tina Frey Designs can be found around the world in five-star resorts, mega-yachts, and Michelin-starred restaurants, including Four Seasons Hotels & Resorts and Alain Ducasse's restaurants throughout Paris, Monaco, Hong Kong, and others. Frey offers custom pieces and orders, and has created custom colors for various design enthusiasts, as well as for her restaurant and hotel clients. "The pieces are perfect for outdoor dining, poolside, and bathrooms," she said, adding that while the pieces feel like porcelain, they are not as fragile as such.
TF Design Montecito joins fellow retail neighbors Jenni Kayne Collection, House of Honey, Birgit Klein Interiors, Hogue & Company, William Laman Antiques, and Country House, all tucked behind San Ysidro Pharmacy.
To learn more and shop Tina Frey Designs, visit www.tinafreydesigns.com and follow @tinafreydesigns. The store is open Monday to Saturday from 10 am to 6 pm and Sunday from 11 am to 5 pm. •MJ
You might also be interested in...