Sweet and Savory Fondues: Perfect Recipes for Holiday Quarantine, With Wine Pairings by Santa Barbara Wine Collective's Marina Sonn and Ellen Long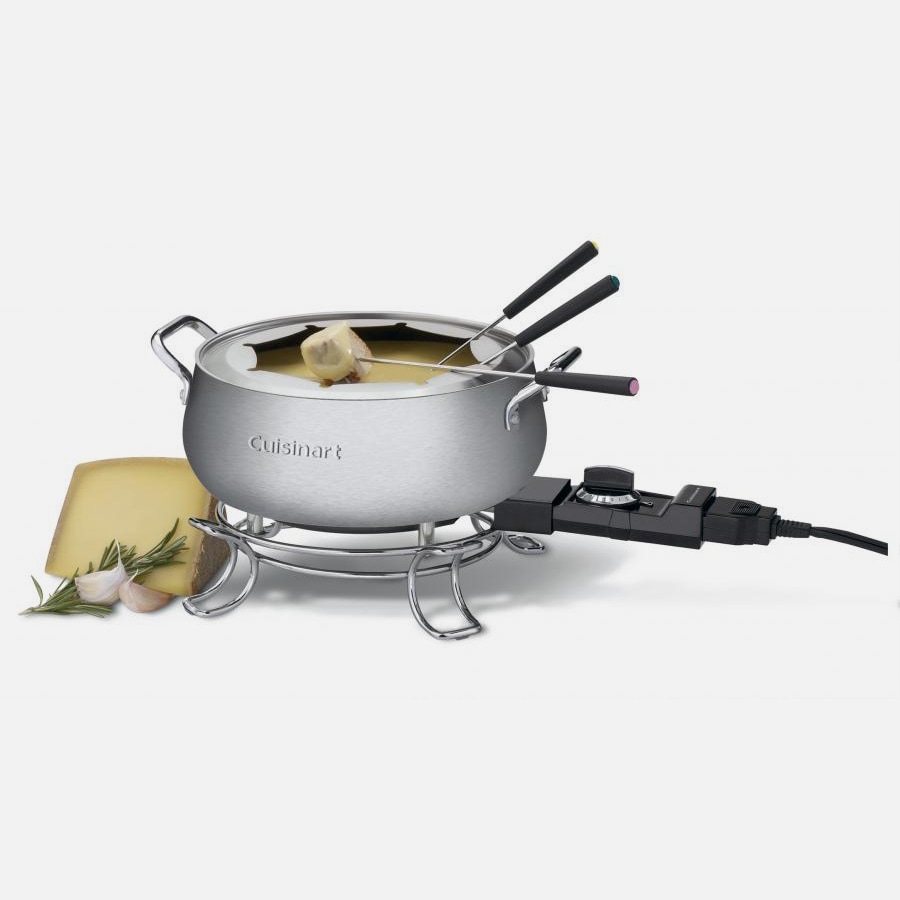 The prospect of sheltering during the holidays has thrown us all out of our comfort zone. But hunkering down and getting creative with your meal making should be a cinch, especially when you consider fondue, a classic holiday tradition that brings cohabitants together for an evening of festivity in the kitchen, dining room, or living room, preferably fireside.
Fresh baguette slices, savory melted cheeses, ambrosial broths for cooking meats and seafood and delectable hot chocolate sauces can add comfort to these otherwise uncertain times. Gather up some pinecones, garlands, and mistletoe to decorate your home and unwind with a glass of wine and fondue feast. Consider investing in a fondue pot or give the gift of fondue to loved ones in quarantine – it's ideal this season.
Here are some tips: Melt the cheese gradually over low temperature to keep it from hardening or burning; If your fondue gets clumpy, add either more wine or a couple of teaspoons of fresh lemon juice. Use caution around small children and hungry or curious pets. Never leave an empty fondue pot over an active flame. Use potholders to move fondue pots. And most important in this COVID era, no commingling of fondue forks, so keep track of your own. Here are some quick tips and recipes to help get you started.
Our Favorite Fondue Pots
Cuisinart CFO-3SS Electric Fondue Pot: Features a fondue bowl, a base, a temperature probe, a fork rack and eight fondue forks with color-coded tips. A utility player, you can use this electric fondue pot to cook meat, seafood, and vegetables. Price: $70.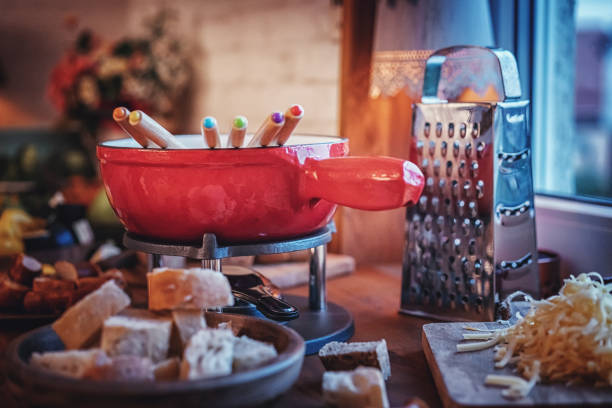 Emile Henry Ceramic Fondue Pot: Made in France of all-natural clay with a beautiful burgundy glaze. Price: $134.95.
All-Clad Stainless Steel Fondue Pot: Comes with dishwasher safe ceramic insert and six sleek color-coded forks. Stainless steel lid holds forks upright, perfect for cooking meats and seafood in a seasoned broth. Price: $169.99.
Ruffoni Historia Hammered Copper Fondue Pot: Comes with six stainless-steel forks with stay-cool wooden handles and chrome burner stand. Made in Italy. Price: $350.
Classic Swiss Fondue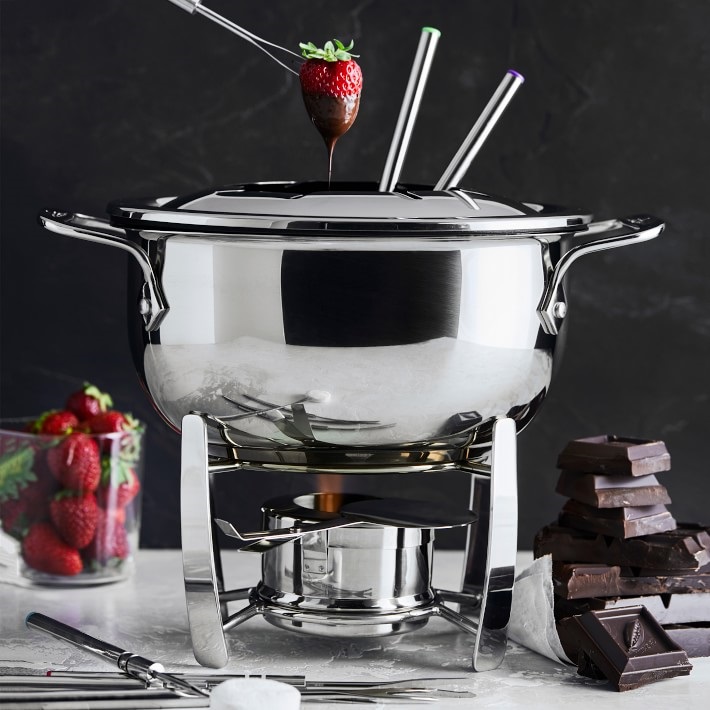 Yield: Serves 8
Ingredients:
1 garlic clove, cut in half
1 pound Gruyère cheese, grated
½ pound Emmentaler cheese, grated
1 cup dry white wine
1 tablespoon plus 1 teaspoon cornstarch
Freshly ground pepper
Freshly grated nutmeg
Procedure:
1. Rub the inside of the fondue pot with the garlic clove halves and then discard garlic. Combine the grated Gruyère and Emmentaler, wine, and cornstarch in a medium-sized pot on the stove and cook over moderate heat, stirring occasionally, until the cheeses begin to melt, about five minutes.
2. Add pepper and nutmeg, stirring gently, until creamy and smooth, about 10 minutes.
3. Remove from heat and transfer to a fondue pot and serve immediately with cubed French or sourdough bread in a basket with a crudité platter consisting of a medley of ripe cherry tomatoes, blanched asparagus, snow peas, and green beans, farmers market carrots, cornichons, hard boiled eggs (halved) and boiled small potatoes (halved), and 1 pound thinly sliced beef carpaccio. Garnish platter with parsley.
Santa Barbara Wine Collective Wine Pairing:
2018 Tatomer – "Meeresboden" Grüner Veltliner,
Santa Barbara County
Tatomer's Grüner Veltliner encapsulates German-style winemaking and is an ideal food pairing wine. This wine stands alone with an enchanting smoothness and drinkability. Through its palatable nectarine and melon notes, Tatomer's Meeresboden welcomes the nutty flavors found in a rich, creamy Gruyere fondue, creating a beautiful balance.
Cheddar Cheese Fondue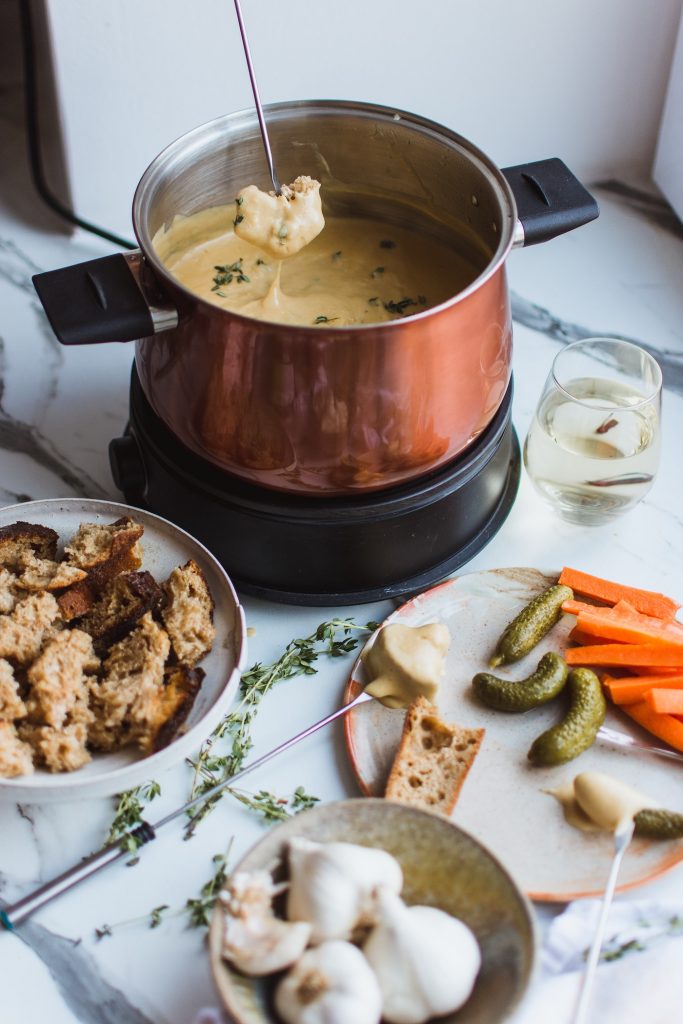 Yield: 4 servings
Ingredients:
1/2 cup of your favorite light beer
2 teaspoons chopped garlic
1 garlic clove to rub around inside of fondue pot
1 teaspoon dry mustard powder
2 teaspoons Worcestershire sauce
6 ounces medium-sharp cheddar cheese, grated
2 ounces Emmentaler Swiss cheese, grated
2 tablespoons all-purpose flour
Procedure:
1. Combine grated cheese in a bowl and coat lightly with flour. Slice one fresh garlic clove in half and rub both halves around the inside of the fondue pot before discarding.
2. In a medium size pot over the stove, combine beer, garlic, dry mustard, and Worcestershire sauce. Gradually add one-third of the cheese when the beer mixture is warm and whisk quickly.
3. Continue to add the cheese and whisk until the cheese is smooth.
4. Transfer to the fondue pot and put over a flame. Serve with a basket of assorted breads, such as French bread, pretzel bread, and brioche, cut into bite-sized cubes. Other dippers can include Granny Smith apple wedges, farmers market carrots, raw broccoli, raw cauliflower, and Trader Joe's parmesan pastry pups. 
SBWC Wine Pairing: 2016 Notary Public Cabernet Sauvignon, Santa Ynez Valley 
At the Collective, we call this our "cabin in the woods wine." Cozy and rustic, this wine beacons warmth. This cabernet is more floral than most cabs, with abundant fresh herb notes and liberal tannins. Hints of fresh rosemary and juniper offset the richness of a bold, medium cheddar. The wine's lush fruit core balances the mustard and Worcestershire sauce of this fondue.
Crab and Brie Fondue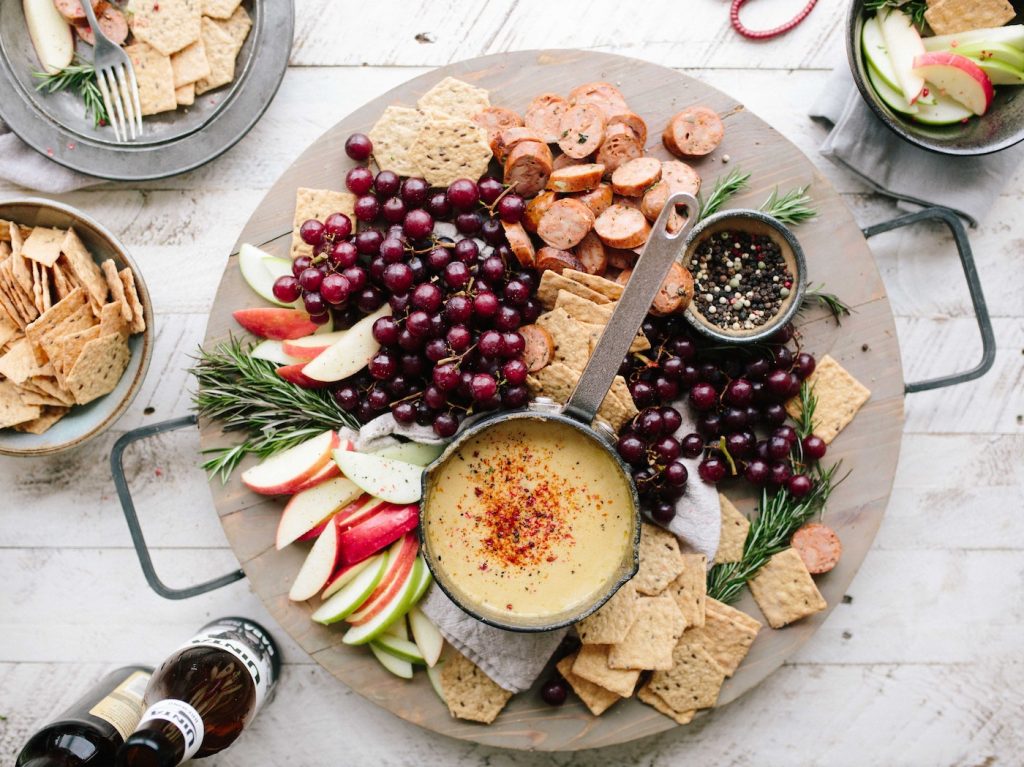 Yield: Serves 4-6
Ingredients:
4 tablespoons unsalted butter
1/4 cup minced shallots
2 cups heavy cream
8 ounces brie, trimmed of rind
1 teaspoon kosher salt
1/2 teaspoon freshly ground white pepper
1 pound lump crabmeat, picked clean of shells and cartilage
Procedure:
1. Melt butter in a large skillet over medium heat. Add the shallots and sauté for a minute until the shallots are soft and translucent.
2. Add the heavy cream and bring to a simmer. Once the cream is hot and bubbling, add the brie and use a whisk to stir it into the cream. Season with the salt and pepper before adding the crabmeat.
3. Continue to cook the mixture over medium heat for about 3 to 5 minutes.
4. Remove from the heat and immediately transfer the mixture to a fondue pot and set over a low flame, stirring occasionally. Serve with a basket of cubed French or sourdough baguette and a side of artichoke hearts and fresh baby Bella (cremini) or white button mushrooms.
SBWC Wine pairing: Cebada Canyon Estate 2017 Sparkling Rosé     
This velvety sparkling wine is handcrafted in Santa Ynez by Sandra Newman. Scored 91 on Wine Enthusiast, this classic wine has a touch of rose on the nose, and whispers of strawberry and banana on the palate. Mousy effervescence and inviting minerality tantalizes the senses and makes this wine the perfect partner to this rich, smooth, brie-based fondue. No sugar is added to this wine, allowing for one's enjoyment without feeling the effects of a festive night the next day.
Pot O' Chocolate
Chocolate fondue is the ultimate winter pleaser. Chocolate is already decadent, so you can get fancy or keep it simple. Use a fondue pot with a double boiler or heat fondue mixture on the stove top and transfer to a fondue pot. Gift it or store it: You can prepare the fondue in advance and then store in glass jars in your refrigerator for up to four days. Reheat on low in the microwave.
Country Chocolate Fondue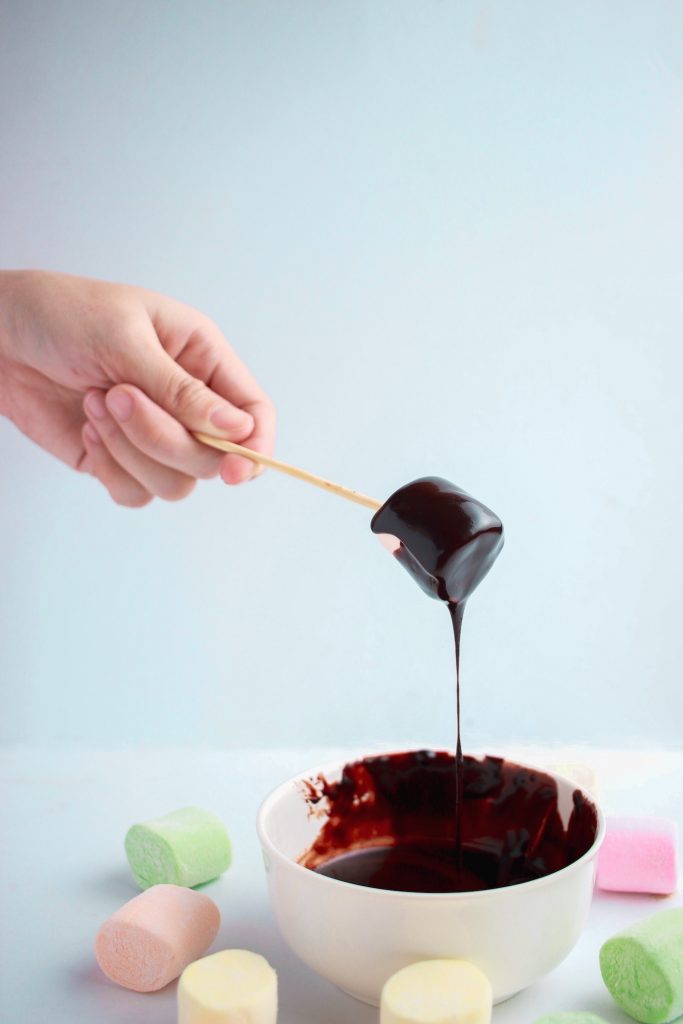 Yield: Serves 4
Ingredients:
12 ounces semisweet, bittersweet, or milk chocolate, chopped
1 cup heavy whipping cream
1 teaspoon pure vanilla extract
⅛ teaspoon kosher salt
Optional: 1/2 cup of crushed walnuts, almonds, or pecans
Optional: 1 tablespoon of Grand Marnier or your favorite brandy
Procedure:
1. Combine the chocolate and cream in a saucepan on low heat, stirring often, until the chocolate is completely melted and the mixture is smooth. Don't let it come to a boil; keep it on low heat.
2. Once melted, stir in the vanilla extract. Add 1 tablespoon of Grand Marnier or brandy, if desired. If needed, stir in heavy whipping cream a tablespoon at a time to adjust for a thinner consistency.
3. Pour the mixture into a fondue pot or small slow cooker to keep warm while serving. Optional: Add ½ cup crushed nuts on top to finish.
4. Serve with sliced bananas, whole strawberries, pound cake, shortbread, biscotti, gingerbread cookies and marshmallows, regular or coconut coated.
SBWC Wine pairing: 2018 Stolpman La Cuadrilla 
This wine welcomes festivity and gratitude. La Cuadrilla means "The Crew," and this wine is a dedication to the vineyard workers on the Stolpman Estate. This wine – 70 percent Syrah, 15 percent Grenache, and 15 percent Sangiovese – presents spiciness from the Syrah, evoking cracked red chili pepper-like warmth. The peppery blend is balanced by red cherry and dark chocolate notes, contrasting with the creaminess of this delightful fondue. 
Mexican Chocolate Fondue
Yield: Serves 6
Ingredients:
1½ cups heavy cream
1 teaspoon pure vanilla extract
4 4-inch cinnamon sticks, crushed
1 teaspoon ground chile de árbol or cayenne pepper
8 ounces Mexican chocolate, coarsely chopped
8 ounces semisweet chocolate, chopped
Procedure:
1. In a small saucepan, add the cream, cinnamon, and chili powder on medium to low heat, and bring to a simmer.
2. Place the Mexican chocolate and the semisweet chocolate in a medium-sized bowl. Strain the milk and cream mixture over the chocolate, and stir, using a whisk to melt the chocolates.
3. Wipe sauce pan and pour mixture back into saucepan and simmer on low heat. If needed, stir in heavy cream a tablespoon at a time to adjust for a thinner consistency.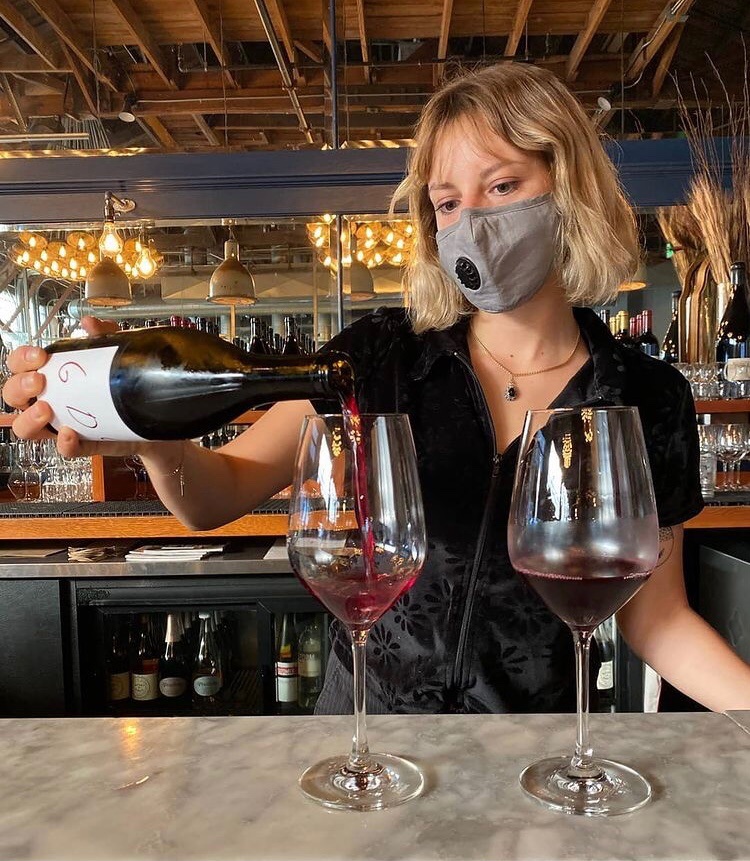 4. Whisk until smooth and then transfer to a fondue pot and serve with sliced bananas, fresh or dried mango and papaya. Serve with a bread basket filled with cubed pan dulce or cinnamon churros such as San Diablo Artisan Churros.
SBWC Wine Pairing: A Tribute to Grace 2017 Vie Caprice Grenache
A Tribute to Grace's 2017 Vie Caprice Grenache is romance in a glass. Dedicated to the heart Chakra, foot tread, and given verbal affirmations by the winemaker during fermentation, this wine is an expression of gratefulness and the divine. "I live in balance, in a state of gracefulness and gratitude," are the words spoken by Angela Osborne as the wine is brought to fruition. Ruby red in color, this biodynamic and organic red has herbal notes of sage and a presence of tobacco on the nose, which complement the cinnamon and spice from the chile de árbol in this fondue. It is a dense Grenache without being overly jammy, the pallet is enveloped in soft doris plum and bourbon cherry. It is the perfect balance of sweetness and savory elements, excellent for food pairing, and a reminder to slow down, enjoy, and relish in its delight.
Chocolate Fondue with Fruit and Grilled Pound Cake
Yield: Serves 6-8
Ingredients:
1 pineapple, peeled, cored and sliced inch thick
1½ pound cakes, sliced 1 1/2 inches thick
2 tablespoons unsalted butter, melted
4 apricots, pitted and quartered
1 cup heavy whipping cream
2 tablespoons bourbon
10 ounces semisweet chocolate (2 1/4 cups coarsely chopped)
10 ounces bittersweet chocolate (2 1/4 cups coarsely chopped)
1 pinch of salt
Procedure:
1. Light a grill. Grill the pineapple slices over moderate heat until charred on both sides, about 8 minutes.
2. Brush the pound cake with the melted butter and grill over moderate heat until toasted, about 4 minutes. Cut the cake into 1-inch cubes and transfer to a plate.
3. Cut the pineapple into 1-inch cubes and transfer to a separate plate along with the apricots.
4. In a medium saucepan set on the grill, bring the cream and the bourbon to a simmer. Add both chocolates and the salt and remove from the grill. Let stand for 5 minutes, then whisk until smooth.
5. Serve the fondue with the grilled pound cake and fruit.
(Source: Food & Wine Magazine)
SBWC Wine Pairing: Tatomer's 2017 Steinhügel Riesling
Tatomer's 2017 Steinhügel Riesling is an expression of "bone dry" Rieslings typical of Germany and Austria, where Tatomer studied winemaking and sought inspiration. Steinhügel means "stone pile" – alluding to the granite decomposite behind Big Sur in the San Lucia Highlands where the grapes are harvested. This wine is an easy drinker, with long textures of mouthwatering minerality. We chose this wine for this fondue to show its versatility; it is light enough to balance the heaviness of the pound cake, but has generous fruit notes, complementing the grilled pineapple and apricots. Tatomer's Steinhügel is an approachable and enjoyable white for any time of day, a sophisticated divergence of typical expression of Californian terroir. 
You might also be interested in...