Saluting Navy Art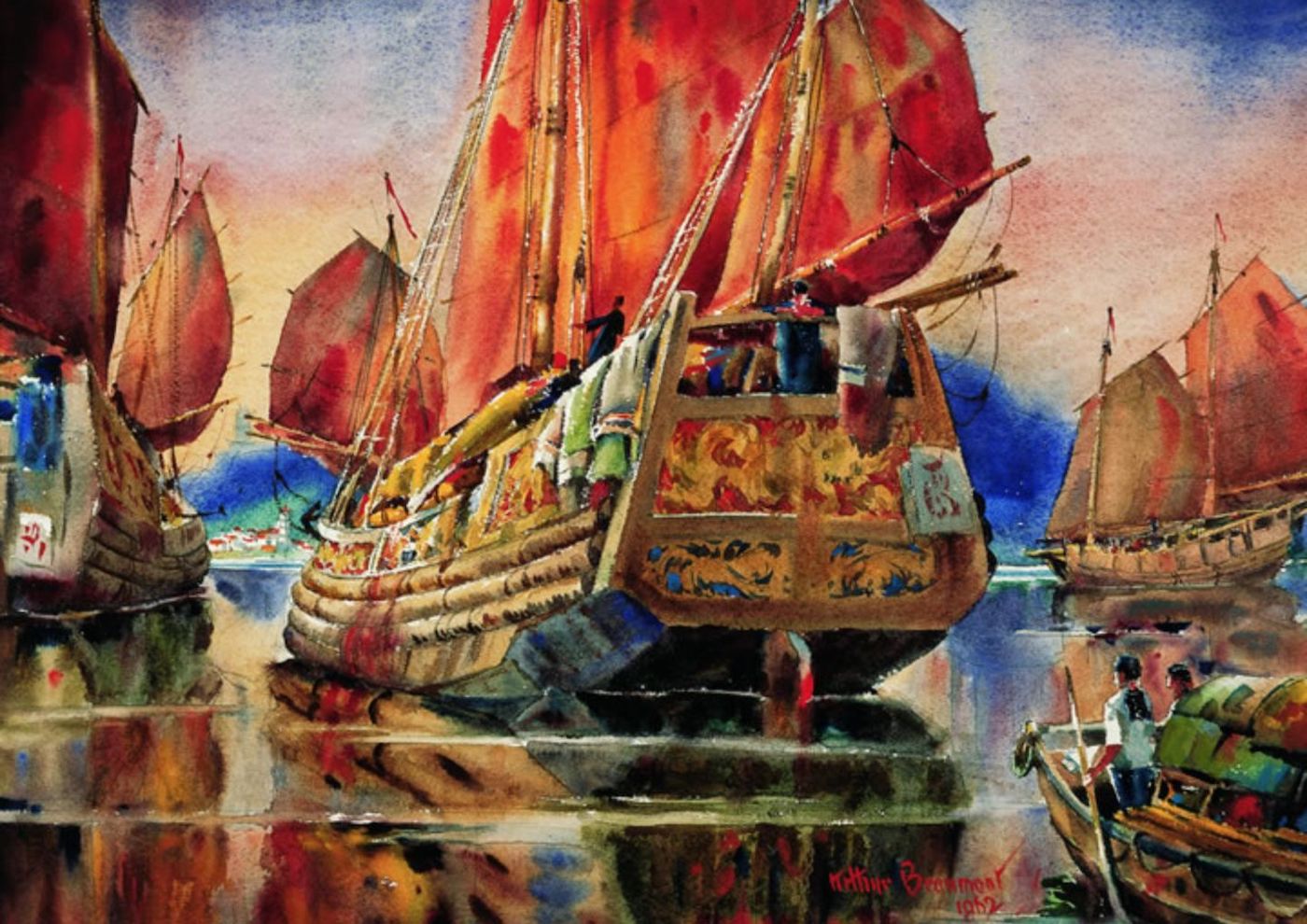 The Santa Barbara Maritime Museum is hosting an extensive collection of 53 paintings that chronicle the accomplishments of the U.S. Navy, from the USS Constitution to atomic bomb tests, and expeditions to the North and South Poles.
The colorful show, Arthur Beaumont: Art of the Sea, who was known as the Artist of the Fleet, starts on December 3 thru May 30, 2021. It will be its last appearance on the Left Coast and SBMM is one of only 10 museums nationwide given permission to host the exhibition.
Beaumont, who was born in Norfolk, England, and died in 1978 came to America to study art at Berkeley, and received a commission as a lieutenant in the Navy. Following the end of World War II, he continued to travel and paint for the U.S. Navy on missions in the Pacific, to China and Japan.
Throughout his life Beaumont used impressionist techniques in painting the stunning images, and on January 21 his son, Geoffrey Campbell Beaumont, who has written a book about his father, will give a lecture.
Back for Another Season
Mike Wolfe and Frank Fritz, hosts of the popular History Channel show American Pickers, are returning to our Eden by the Beach next month.
The series follows the dynamic duo, two of the most skilled pickers in the businesses they hunt for America's most valuable antiques.
As they hit the back roads from coast to coast, they are on a mission to recycle and rescue forgotten relics.
If you're interested in participating call 1-855-OLD-RUST or e-mail AmericanPickers@cineflix.com.
A Few of Her Favorite Things
Former TV talk show titan Oprah Winfrey, 66, has unveiled her annual list of favorite things for 2020 in the December issue of her magazine, O.
The 72 items total $11,598 though many are under $100 with the priciest items including a $3,500 Samsung outdoor TV and The Mirror, a $1,495 piece of workout equipment that allows users to stream exercise classes.
Other highlights include a $70 sea salt, a $60 ranch truffle set, a $264 hoodie, and a $75 dog hoodie for your favorite canine.
"The elves and I have worked overtime in search of fantastic treats for everyone," gushes Oprah.
You might also be interested in...