Blackbird Sings Again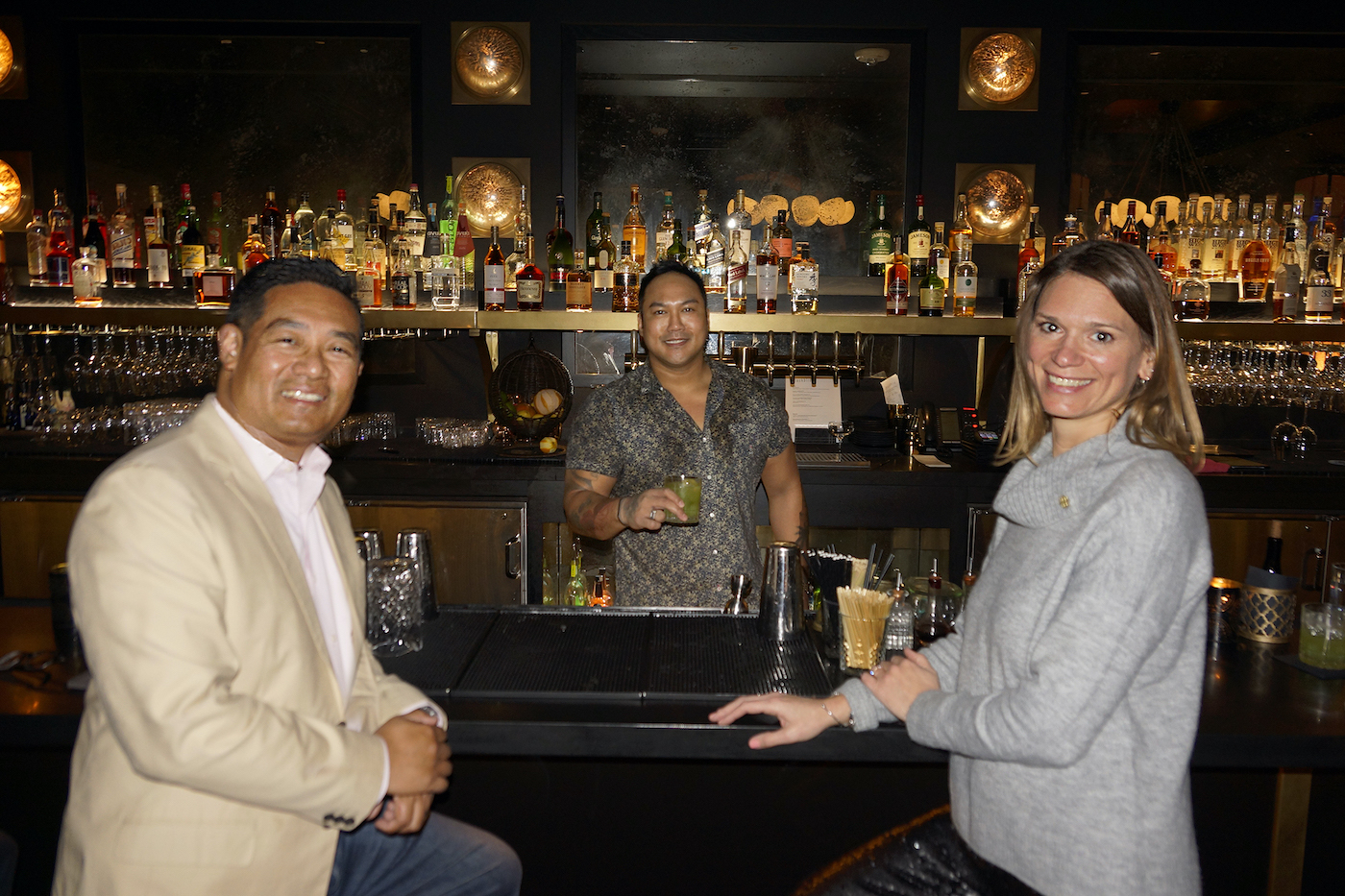 To the Hotel Californian for the re-opening bash of Blackbird, the hostelry's signature restaurant, which has been reimagined with "a beverage-forward atmosphere" featuring cocktails by celebrity mixologist Devon Espinosa, alongside a thoughtfully curated menu of light bites by executive chef Travis Watson who pays homage to the culinary bounty of the Central Coast.
My trusty shutterbug Priscilla and I attended the opening of the eatery two years ago and tried out the Memphis-style barbecue chicken wings and buffalo cauliflower with carrot coulis and smoked blue cheese, washed down with Grassini cabernet, before concluding the repast with honey and blueberry cheesecake.
Others checking out the revamped locale were Bill and Barbara Tomicki, and travel guru Charles de L'Arbre with his wife, Barbara.
Now, like then, we left raven about the experience.
Media Blitz
The arrival of the Duke and Duchess of Sussex in our rarefied enclave has kept me busy over the last few weeks and saved me from going completely mad in this pandemic lockdown.
Going from full throttle to full stop has not been fun, but the world's media has kept my phone red hot.
Interviews have included the London newspapers, the Sun, the Daily Mirror and the Daily Mail, as well as the German celebrity glossy Bunte, Los Angeles Magazine and People.
I also seem to have become a regular on the nationally syndicated TV entertainment show Access Hollywood hosted by Mario Lopez, with whom I used to appear on the late Dick Clark's show The Other Half, with Partridge Family actor Danny Bonaduce, taping at NBC in Burbank.
Fond memories…
Off the Field, On the Market
Montecito's latest celebrity resident is decorated all-star baseball player Steve Finley, who played for a total of eight teams, including the Dodgers, Astros, Orioles, and the Padres, in his 19-year major league baseball career.
Finley, 55, has splashed out $5.7 million for a 5.7-acre 1930s ranch in the foothills above our rarefied enclave, a mere four percent discount on the asking price of the three-bedroom, three-bathroom single-story hacienda style residence.
It also boasts a two-bedroom, one-bathroom guesthouse, as well as a large motor court that can handle two dozen vehicles.
Finley, a five-time Golden Glove award winner, and his wife, Meaghan Hunt, have long primarily resided in the affluent San Diego suburb of Rancho Santa Fe, where the retired player has embarked on a second career as a Morgan Stanley financial advisor for his fellow athletes.
You might also be interested in...