Bakery Goods for the Holidays
The fall and holiday season that invites joyous family gatherings also brings fresh baked goods to your table. Artisanal breads, cakes, pastries, galettes, and rolls will make that seasonal meal. Local bread makers and pastry chefs have stocked their pantries and are busy kneading, rolling, shaping, and baking. So focus on your family recipes and let the pros bake your breads, buns, and desserts. Here's a list of our very best local bakers.
Sweet Wheel Farm & Flowers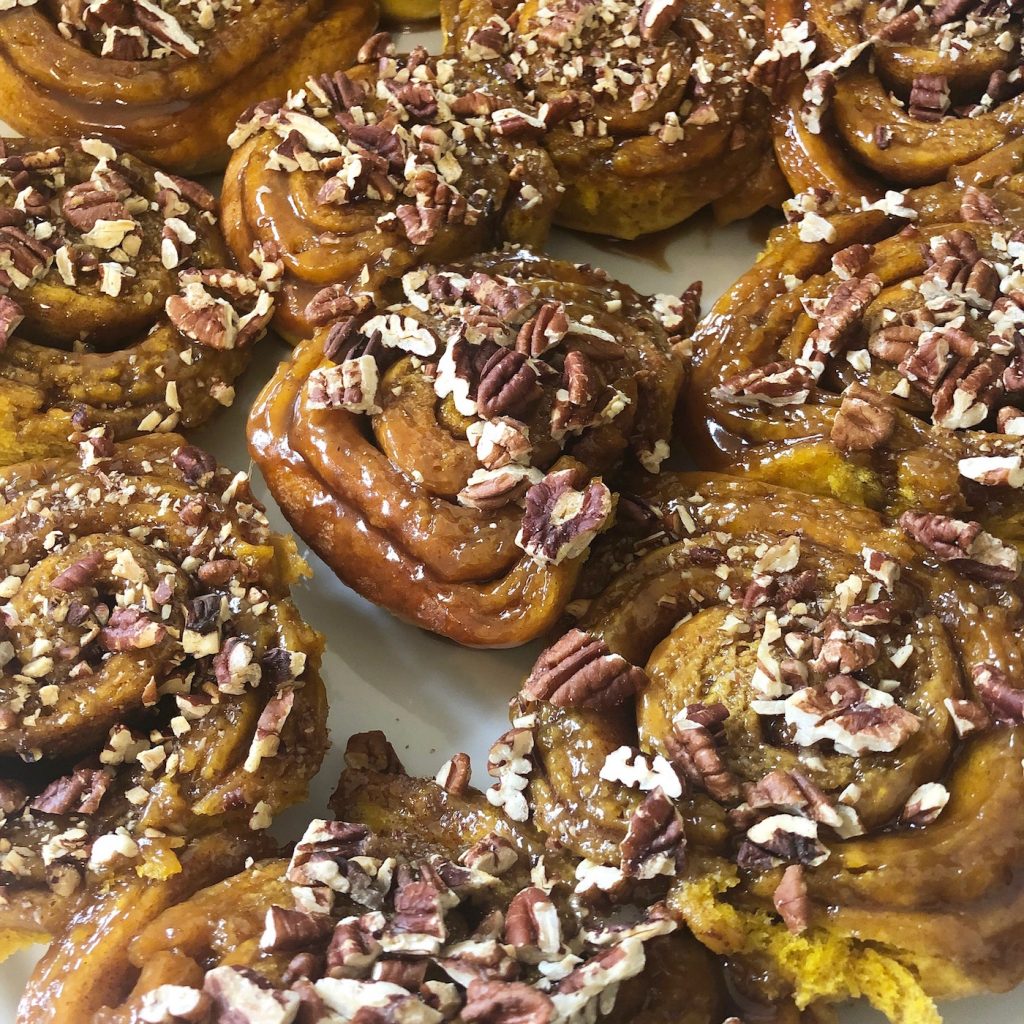 Carrots, pineapple, zucchini, and apple are just a few muffin varieties topped with oats and freshly baked ($4.95) at Sweet Wheel Farm & Flowers' six-foot rustic cart, parked across the street from Summerland Beach Café. Owner Leslie Person Ryan restocks the cart every morning with fresh fruits, vegetables, wildflowers, and specialty foods made with ingredients from her garden and mini farm. More fall-inspired items include pumpkin sticky buns with honey pecan glaze ($8), Medjool date and pecan scones topped with vanilla cinnamon drizzle ($7), and a vegan, gluten-free pumpkin and chocolate chip scone with vanilla drizzle made with coconut milk ($7).
Follow Sweet Wheel Farm & Flowers on Instagram (@sweetwheelfarms). They have two locations at 2285 Lillie Avenue, in Summerland, and 1150 Coast Village Road, in Montecito.
Field + Fort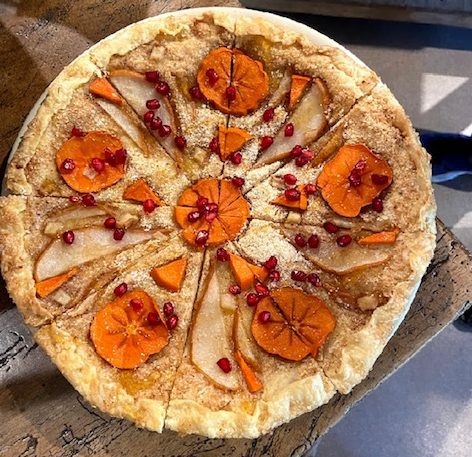 The café at Field + Fort is embracing fall with a tantalizing selection of breakfast pastries and holiday pies. The café's motto is "essentials for everyday living," and the holidays are no exception. There is a rotating menu of scones ($4.50) with fall fruits and flavors, which might be pear and candied pecan one day or pumpkin with baharat glaze the next, says chef Austin Moore, whose personal favorite is a pear and persimmon galette ($5), drizzled with orange blossom honey and garnished with fresh pomegranate tendrils. Before you take your essentials to go, order a cappuccino and relax in a bistro-style outdoor garden setting.
Follow Field + Fort's social media (Instagram @fieldandfort) for updates on pies to special order for Thanksgiving and more holiday specials as they become available. It is located at 2580 Lillie Avenue, Summerland.
Bree'osh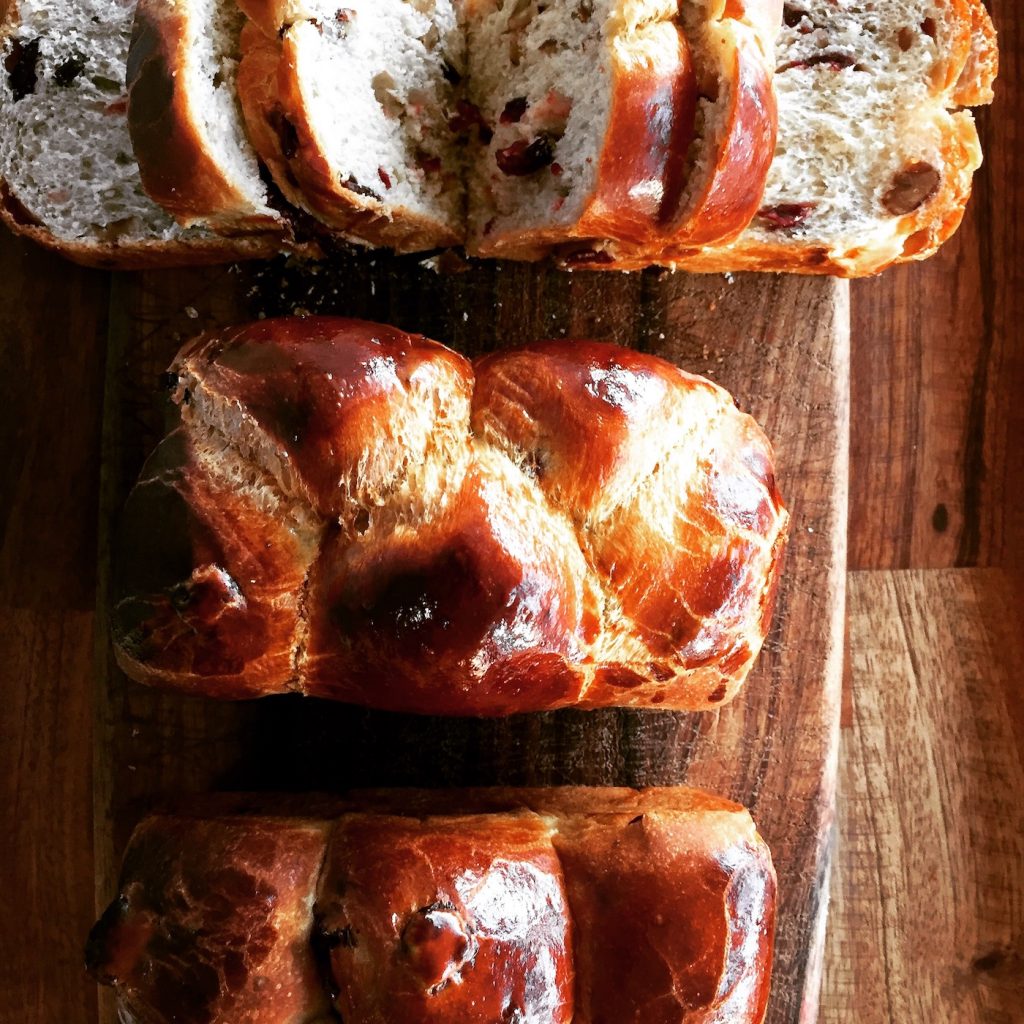 Pastry chef-owner Pierre Henry and wife, Nelly, rely on fresh fruit and herbs from the local farmers' market for their fall lineup of pastries and breads. The tiny pâtisserie on Coast Village Road is already taking holiday season orders for cranberry-candied orange brioche loaf ($15, serves 6) and pumpkin pie ($30, serves 6) made with cinnamon, ginger, lemon, nutmeg, cloves, and cardamom. Weekends bring fresh batches of apple turnovers ($5), a reverse puff dough and apple stew and whole King's Cake ($48, serves 8), a flaky puff pastry with caramelized crust filled with creamy almond frangipane.
Bree'osh is located at 1150 Coast Village Road
D'Angelo Bakery
D'Angelo Bakery offers seasonal breads and pastries made from scratch. Each day the popular neighborhood bakery churns out a wide selection of artisan and Old World varieties: French seigle (rye), sourdough, wholegrain, country wheat levain, pumpernickel, walnut and raisin rye, just to name a few. The baking begins in the early morning hours when the aroma of D'Angelo's breads and pastries wafts into the streets of downtown. The bakeshop is a go-to for locals who have grown accustomed to its low-key approach to elegant dishes (such as bananas foster French toast and roast turkey and fontina grilled sandwiches) and strong Italian coffee. Think old school Italian deli meets West Coast sensibilities. For the holidays, the bakery is introducing a pumpkin tartlet ($9), as well as a variety of seasonal fruit tartlets to enjoy. Bring a list of your pantry essentials and room in your stomach to sample the goods.
D'Angelo Bakery is located at 25 West Gutierrez Street.
Helena Avenue Bakery
Helena Avenue Bakery shifts the menu along with the seasons to showcase new baked goods and provisions that are perfect for holiday meals. Everything bagel ($2), buttermilk biscuits ($3), and challah ($12). Available every Friday, their challah is similar to brioche. Its egg-y, buttery flavor makes great sandwiches, and it's a favorite for French toast or as a base for holiday stuffings. Other sweet and savory baked goods include Fairhill Farms Fuji apple pie ($32), made with butter, sugar, cinnamon, nutmeg, lemon juice, salt, flour and Fuji galette ($5), a rustic buttery pastry rolled flat and topped with tomatoes, ricotta and cream cheeses, crowned with fresh basil before it's baked to perfection.
Helena Avenue Bakery is located at 131 Anacapa Street, Suite C (enter off Helena Avenue near the corner of Yanonali Street).
LOKUM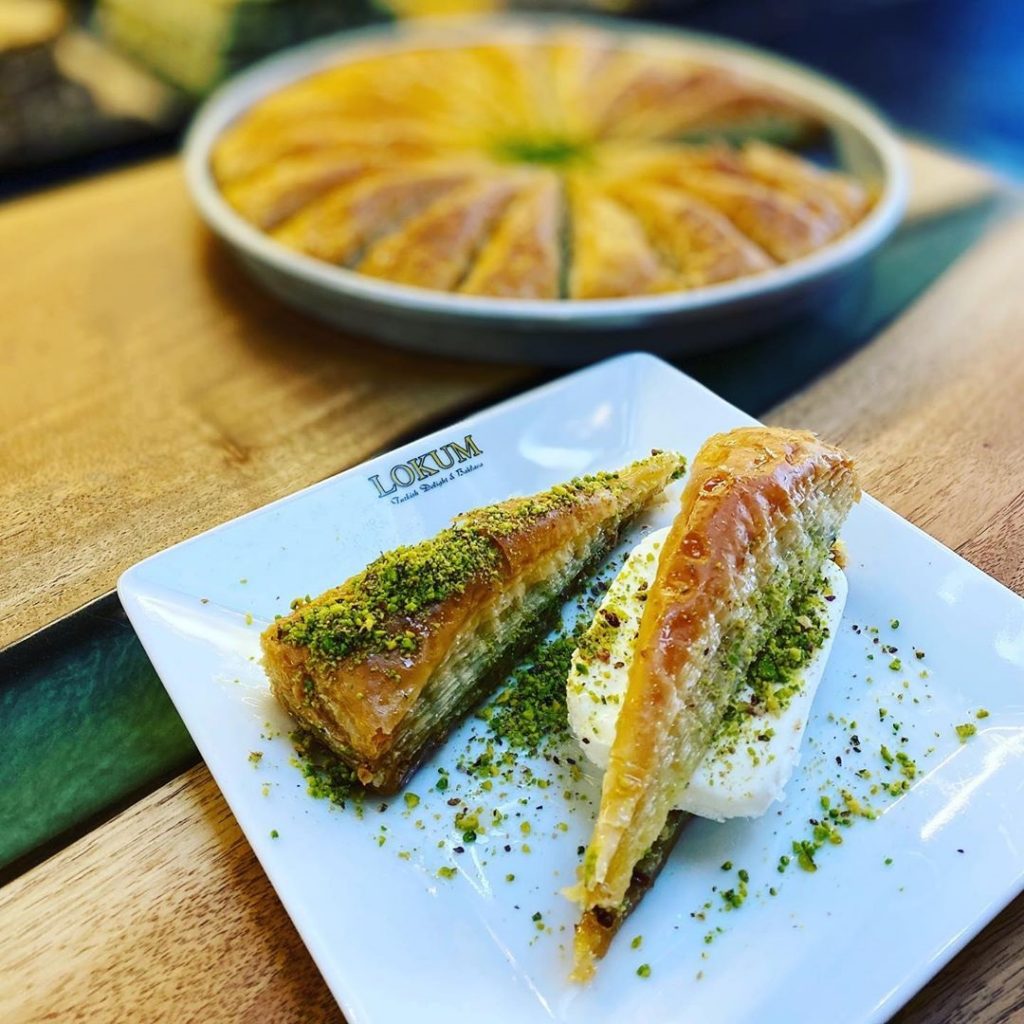 LOKUM offers a delicious selection of Turkish baklavas made with pistachio, walnut, or hazelnut ($6), with nuts sourced from Gaziantep, the Black Sea, and Central Anatolia regions. "Even though it is available year-round, when the holidays come, people either bake their own baklava, or they order a tray of it from their local bakery," explained Bülent Derdiyok, who co-owns and operates the Turkish café with his brother Levent. "In the Mediterranean, baklava always has its place on the holiday dinner tables, and gets served to the guests when they come over to visit." Anatolia style baklava ($10) is a dessert made from layers of filo pastry, filled with pistachios and walnuts, and sweetened with syrup. Take one bite and experience the crunchiness of baklava, as its mild flavor melts in the mouth and its glossy syrup creates a sweet sensation on the finish. It is cut slightly larger than other baklava varieties. Besides baklava, the café is also known for its Turkish coffee ($15-$20 for an 8.8-ounce canister) and ornamental Turkish delight ($35 to $58).
LOKUM is located at 1019 State Street, Santa Barbara.
You might also be interested in...