In the Kitchen with Serkaddis Alemu
A seasoned Ethiopian chef on the art of making injera and a new approach to communal dining during the pandemic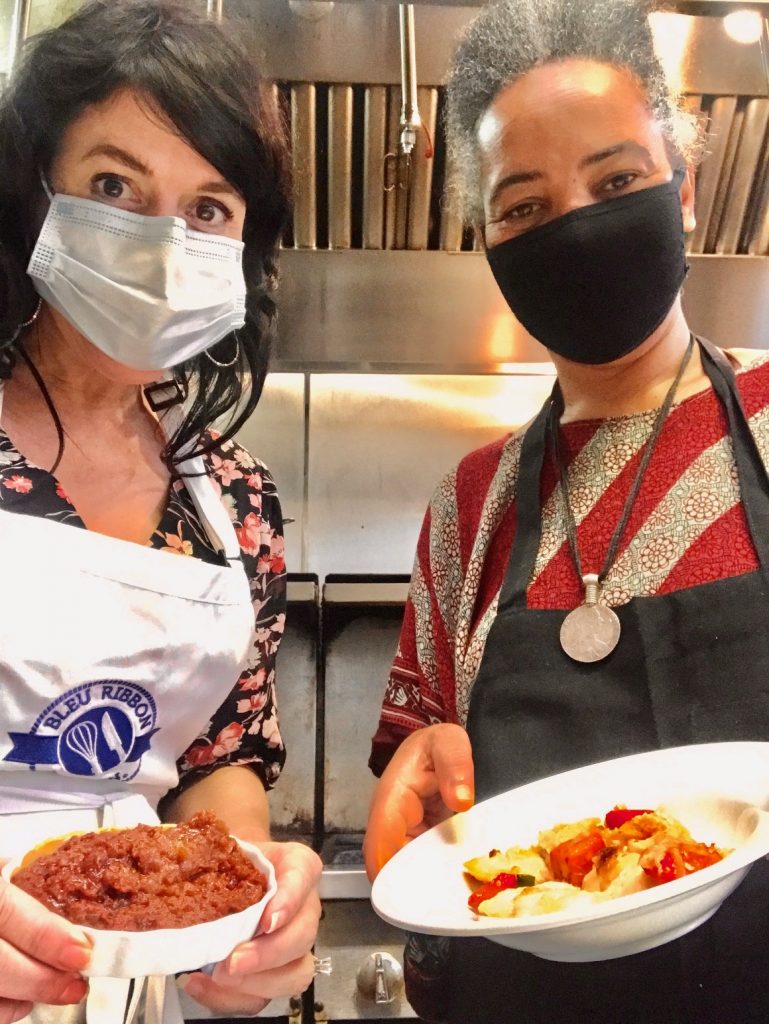 Petit Valentien serves bistro-style French cuisine with classic offerings such as Petrale Sole, but weekend brunch is another matter. That's when diners gather at the bohemian-style café for Ethiopian feasts of spicy meats and braised vegetable and curried bean stews served atop injera, a large crepe-thin, spongy sourdough flatbread meant to be devoured by hand in a communal setting.
A collaboration between owner/chefs Robert Dixon and Serkaddis Alemu, the restaurant has always embraced its versatility. But in the COVID era, traditional Ethiopian dining can be a little more complicated given the state's new guidelines.
That's because it's communal eating on an intimate scale, two or more people seated around the circular injera, which is meant to be both platter and utensils; strips are torn off and are used to scoop up the food. Then there is also the romantic tradition of gursha, which is to choose and then delicately stuff a bite-sized portion of injera cloaked with stew into your partner's mouth. 
So, Petit Valentien now offers family style and individual plates. Servers will bring a small or large metal platter (depending on your appetite) to your table in La Arcada's historic courtyard, which offers ample seating for social distancing.
Those who have never tried Ethiopian food would be tempted if they could see Alemu in the kitchen. Her countertop is typically filled with ramekins of garlic, turmeric, ginger, spicy berbere, hand-sliced red onion, jalapeño peppers, nubs of beef, thick wedges of tomato and honey wine for a filet of sole dish, as well as a medium-sized bucket of fermented dough for injera.
Ye'Doro Minchet Wat (spicy minced chicken), Zilzil T'ibs (seared beef), Q'ey Sir Be Dinich (beets and potato), Shiro (chickpea stew), and Gomen (red cabbage and Quosta [sautéed chard]) are just a few of her specialties.
Her recipes aren't found in a cookbook. They were passed down from one generation of her family to the next for several centuries. She knows exactly how much salt to fill in the crease of her hand before sprinkling it into a pan of sautéing fish filets, or when to stir a pot or move a pan off the flame and into the oven, thus allowing her a moment or two to chop an onion or knead some injera dough.
Alemu recently took time from her busy weekend cooking schedule to show me how she prepares her favorite dishes.
Q. Is the communal aspect of Ethiopian dining lost during the pandemic?
A. Here at the restaurant we always practice giving our customers the choice to dine family style or have an individual dining experience. We let our customers decide which direction they want to go. So, come COVID-19, we didn't have to transition from family style to individual servings. In regards to losing the communal aspect, I don't think so, because if you're eating with your family or friends, whether you are sharing from the same plate of food or not, it is still breaking bread with your people.
How did you learn to prepare Ethiopian food and what are some memories and traditions that come to mind when you're cooking?
I come from a bygone era in Ethiopia. I came to the U.S. nearly three decades ago. At that time, in Ethiopia a woman's worth was being a good cook. My parents tried to get me out of that lifestyle, especially my mother. I did learn how to cook just like any little Ethiopian girl would at that time. Women were cooking something on the open fire all the time, so you see how things are done. Then comes a time you would be asked to cut and prep the food, followed by starting the charcoal fire. My love and appreciation for Ethiopian cuisine has grown stronger in the years since I've left. I travel to Ethiopia often, but no one or place has influenced me more than my mother. One unique aspect of my culture is how songs are incorporated in the pounding of grains and spices. Women do most of the preparation of food so they would clap for each other for moral support and to keep the rhythm of the movement.
Where do you source ingredients for your authentic cuisine?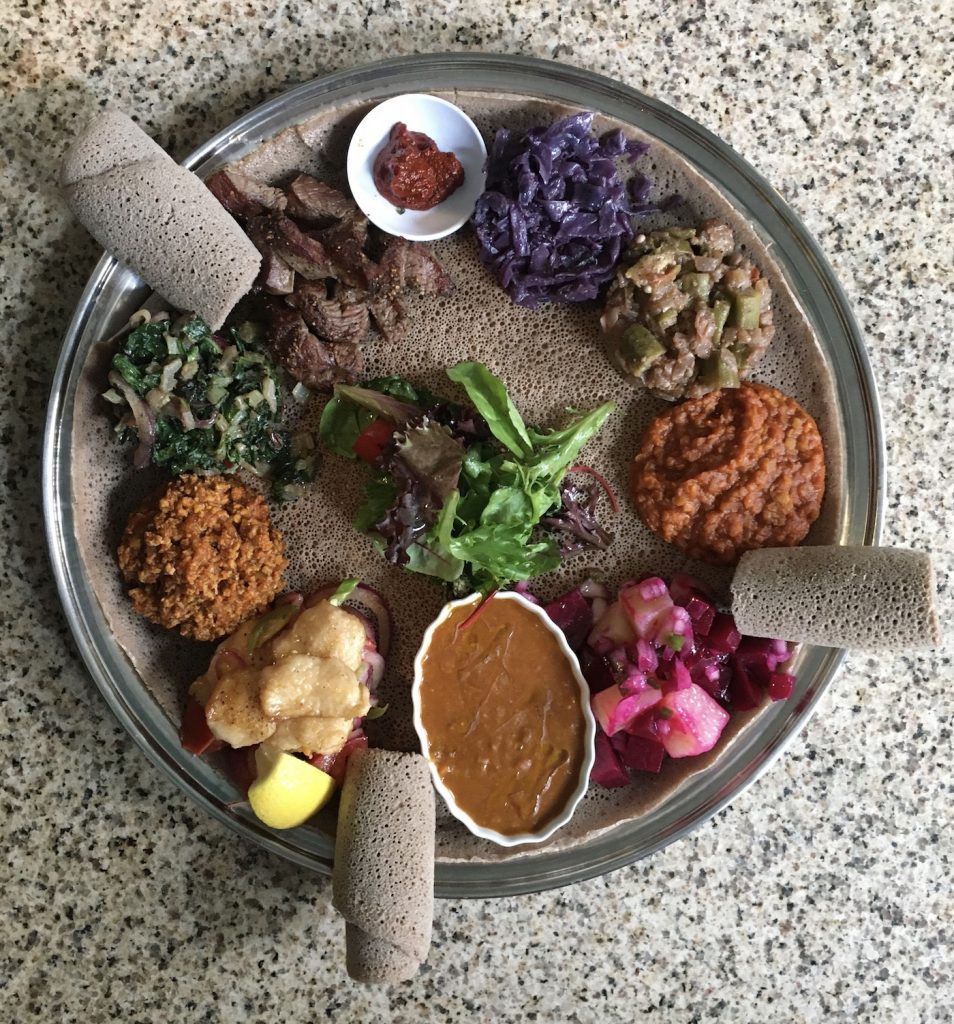 Ethiopia! I travel to Ethiopia with my family once a year to visit family and collect all my essential spices and ingredients. When most people travel they bring extra clothes and shoes. I fill my luggage to the brim with spices.
What's the secret to creating the perfect tangy and sour flavor of injera?
The secret to injera's tangy taste is fermentation. If you get that fermentation right then you get a better looking, better tasting injera that will complement anything that you throw right on top of it. To get the perfect fermentation, I create what we call in Ethiopia ersho. Ersho is the mother dough. I mix it with 100 percent teff flour and water and knead by hand. Then I ferment the dough for three days. On the third day I make what is called absit, which is a small scoop of the dough. I boil it, let it cool down and then mix it with the fermented dough. The last step is to add water and thin out the dough to the right consistency. I'm currently working on creating a starter kit for diners who want to make injera in their own kitchens. Keep an eye on our website or call the restaurant to find out how to pre-order it.
What foods and spices go best with injera?
Injera is very versatile, it's not just good with one particular dish. Although it is a staple food in Ethiopia consumed for breakfast, lunch, snacks, and dinner. Here in the States one can combine it with what is already familiar: eggs at breakfast, salad at lunch, and protein at dinner.
Any cooking techniques you live by?
Hand cut your onions instead of using a food processor. Your onions will be less watery and you will have more control to create thicker and more flavorful caramelized onions.
What Ethiopian dishes are making a comeback?
The old way of styles and cooking techniques are coming back again, especially breads. Out of the many different varieties of breads these are two recipes I would love to master: Doro Dabo is one. Doro Wat is an Ethiopian national dish and this recipe combines this with a dough and then it's baked. My favorite dish growing up was Dabo firfir for breakfast. I would sprinkle sugar or honey on it, accompanied by hot milk. The other type of bread I want to master is steamed bread. It's done by digging a hole in the ground, starting charcoals, then putting a big pan with water in the hole and then the bread dough goes in a separate pan on top of the water, then it is covered and the rest of the hot charcoals go on top. So it's an underground bread. It's fantastic, it tastes wonderful.
What is the Ethiopian coffee (buna) experience like?
Coffee in general is another communal aspect of Ethiopia. It's the nicest humble service you can offer a guest. Coffee ceremonies usually can last an hour or more. [The experience] is sitting and awakening your five senses. That means you see the coffee bean roasted, you hear the coffee being pounded, you smell the coffee and the smoke of frankincense in the air, and then you taste the coffee.
You produce your own tej honey wine in-house. It has a sweet ale quality.
Tej is honey mixed with water and what we call gesho, a species of buckthorn to speed up fermentation. I believe it's one of the oldest alcoholic beverages ever made. However it doesn't have to be fermented. Ethiopian Muslim communities, as well as some Christian communities, don't consume alcohol, so the honey is mixed with water and it's called berze. So, it's only natural to put it on our menu here at the restaurant. Tej has been a part of Ethiopian culture as far as our history goes, so I am happy to keep featuring this beverage as part of the experience of authentic Ethiopian cuisine.
Petit Valentien
Ethiopian brunch is served from 11:30 am to 2:30 pm, Saturday and Sunday, at 1114 State Street in La Arcada. Combination plates are $16, and include one meat and two vegetable dishes. For reservations, call 805-966-0222.
Assa T'ibs Recipe
Sautéed Fish
Note: Rinse fillets and pat dry with paper towel for a good golden-seared crust.
Ingredients
Serving 4
• 1lb sole fillet, cut in half lengthwise and then cut diagonal into 32 medallion pieces
• 1/2 medium red onion, thin slices
• 1 large tomato, diced
• 1 Jalapeño, cut in half and sliced
• 1 lemon wedges (cut into quarters)
• 4 tbsp all-purpose flour (cornmeal optional)
• 4 tbsp canola oil
• 1/3 cup white wine (optional)
• Kosher salt
Instructions
1. Measure and place ingredients on your kitchen counter
2. In a large, deep skillet heat oil medium-high
3. Meanwhile pat the fish dry with paper towel. Season the fish lightly with salt on both sides.
4. Dredge the fish in flour or cornmeal (optional) on both sides, patting off the excess
5. Gently place the fish in the pan and cook for 3 minutes or when you see a golden-seared crust, then flip the fish
6. Once flipped, add tomato, onion, jalapeño and white wine (optional) into the saucepan
7. Lower the heat to medium and allow the mixture to cook covered another 2 minutes
8. Remove from heat and serve immediately with lemon wedges
You might also be interested in...