With Autumn, Chefs Embrace the Season's Bounty
Fall is here, and restaurant chefs in town have begun introducing new dishes that aren't just inspired by the traditional flavors we associate with fall – such as root vegetables and wild game – but also the bounty of area farms for their autumn-inspired dishes. The timing couldn't be better, with COVID-19 cases slowing down in Santa Barbara County, which has moved into California's red tier of restrictions. Restaurants are reopening with exciting fall menus in place. For diners who are not quite ready to eat out, chefs are devising special items for carry out.
Some of the best comfort foods are traditionally served during the fall and winter months: Roasted meats, hearty stews, rich and creamy sauces, potatoes (any style), all things baked or grilled in butter, imported cheeses, and decadent desserts.
This season, Montecito and Santa Barbara chefs rise to the occasion – pandemic or no pandemic.
Game Time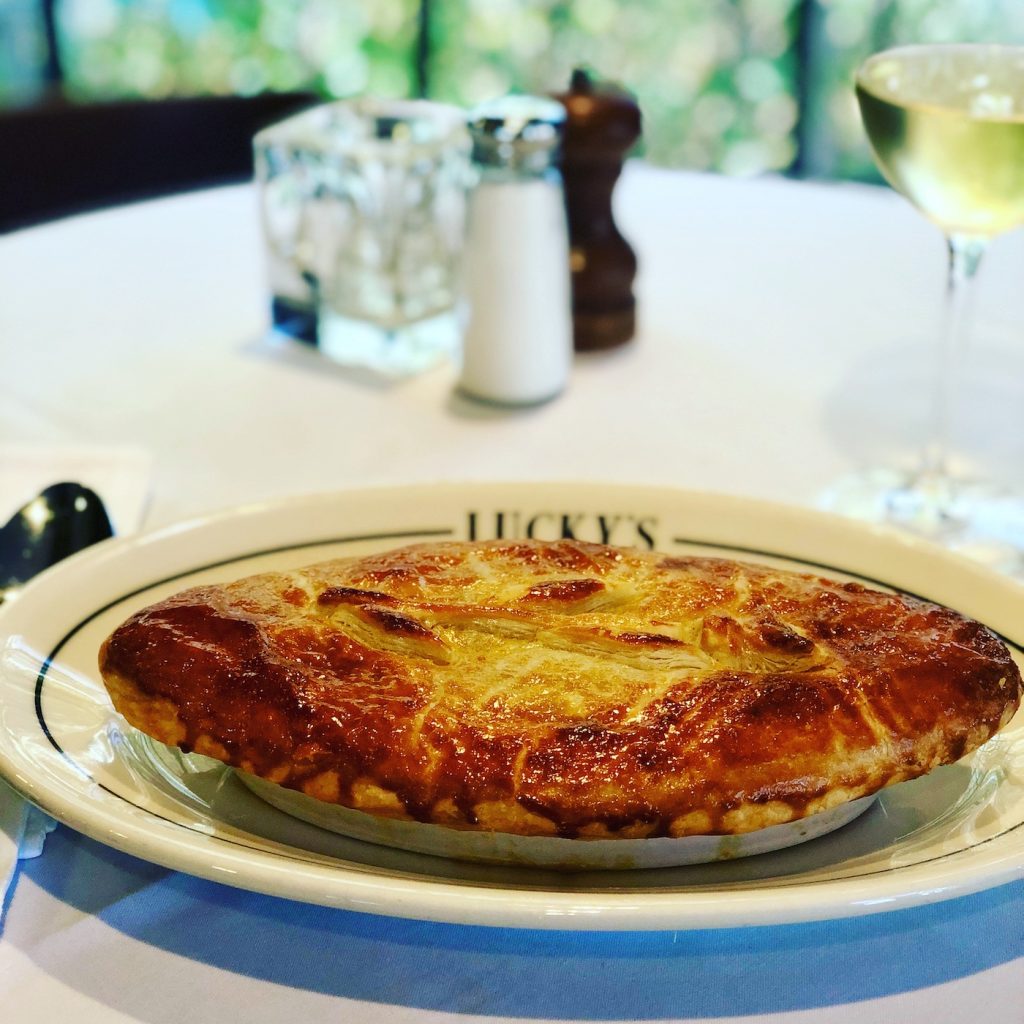 At Lucky's Steakhouse, executive chef Leonard Schwartz and chef de cuisine Rene Gonzalez have introduced autumn-inspired dishes that highlight seasonal produce from local growers.
Several vegetable dishes are served as stand-alones, or family style, while others as delicious sidekicks to meat, seafood and poultry, Schwartz said. "For fall, we try to feature vegetables as sides that are at their best, such as beets, Brussels sprouts, and butternut squash," he added.
Among Lucky's new dishes: braised short ribs with pan-roasted root vegetables dressed in a red wine sauce ($46) and a chicken pot pie with roasted chicken, sautéed morel mushrooms, carrot, celery, onion, sweet peas, pearl onions, chicken velouté (lightly thickened chicken broth) enveloped in a butter puff pastry ($42). There is also a filet mignon stroganoff with butter noodles ($40) and a "Braised Special" on Sundays that sounds intriguing and undoubtedly delicious; it's designed to highlight the freshest ingredients available that week.
Notably, October is the beginning of game season, a popular time for serving winter meats such as venison, pheasant, guinea hen, and rabbit legs. Finding these specialty meats locally isn't easy. A few chefs said they've tested game on their menus but ultimately diners weren't drawn to them. "I personally love gaming meats," said one chef who asked to remain anonymous. "[Game meats] have a distinct flavor that most Southern Californians are not familiar with because they're not part of our everyday diet. In my experience they either sell like hot cakes or they don't sell at all."
Instead of venison or rabbit, local chefs are leaning heavily on selections of fowl, poultry, and specialty cuts of beef. Lucky's will highlight duck and quail on its chef's menu this fall/holiday season.
Chefs Schwartz and Gonzalez are curing duck legs for confit in the kitchen's walk-in refrigerator. "The legs need to cure another week or so," Schwartz said. "When the duck legs are ready, we will do a dish we call duck breast and leg, port and dried cherries, goat cheese croquette."
The quail dish, which will be available in early November, sounds equally tantalizing. The bird is marinated in rosemary, extra virgin olive oil and garlic, then grilled and served on a bed of grilled radicchio and endive and finished with fig balsamic vinegar reduction.
"The duck is more of a French-style dish, while the quail will be more Italian in nature," Schwartz explained. "The richness of the flavor of the quail works against the slight bitterness of the grilled veggies. The fig balsamic brings the whole thing together."
(An aside: For game meat lovers who want to stock their freezers for the season, The Wild Meat Co. in the UK offers venison, game birds, rabbit, and even squirrel entirely from farms and estates in east Suffolk.)
You might also be interested in...