Westmont's New Website Wins Award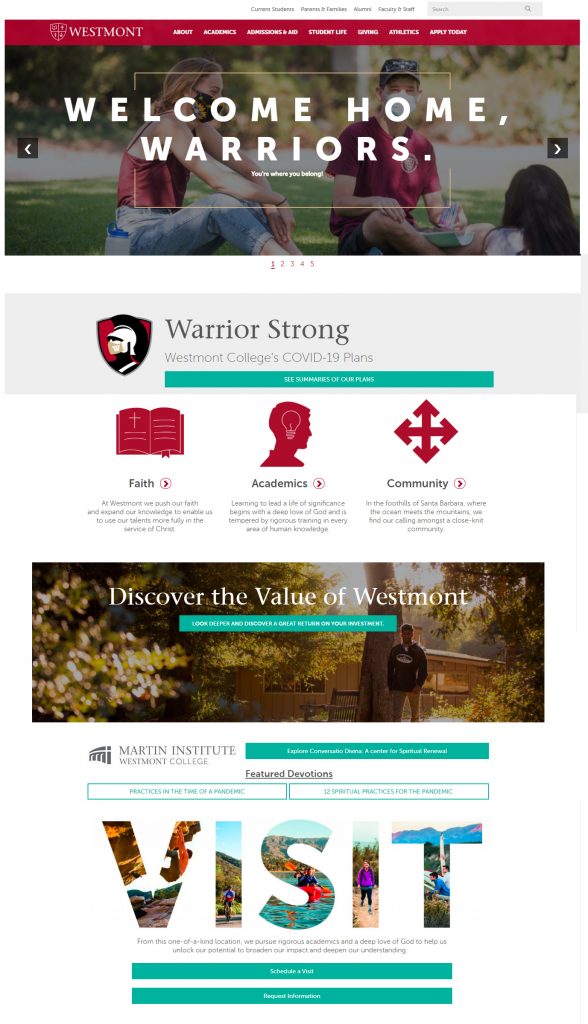 The Westmont College website, which has undergone a five-year overhaul, won the Web Marketing Association's 2020 WebAward for Outstanding Achievement in Best Faith-Based Website. A select group of independent judges from around the world selected Westmont's website for setting the standard of excellence in website development.
In 2015, Westmont began crafting new brand guidelines, messaging, visual style, and communication flows. The following year the college rolled out a vastly improved homepage and admissions site that works equally well on desktop computers and all devices including smartphones.
"We embarked on a journey to create a finished product that effectively communicates what is so special about Westmont," says Reed Sheard, vice president for advancement and chief information officer. "These redesigned webpages reflect elements of the updated style that will serve the college well into the future. Over the last few years, we've received valuable data that has informed and helped us perfect the final work of a completely revamped Westmont website."
The college overhauled the entire site with a new sitemap, expanded tools for content creation, and a change to Drupal as its new content management system.
"We've increased our branding efforts and reach through content features that provide high touch and engagement. We've been training faculty and staff on the new technology, offering assistance to update their appropriate webpages so they're relevant and appealing," says Irene Neller, vice president of enrollment, marketing, and communications. "We track and measure all web activity and user navigation so we can maximize our opportunity for a more robust, comprehensive and user-friendly westmont.edu. It's all about experiencing the Westmont story through your device of choice online."
You might also be interested in...