Taking Our Utility Lines Underground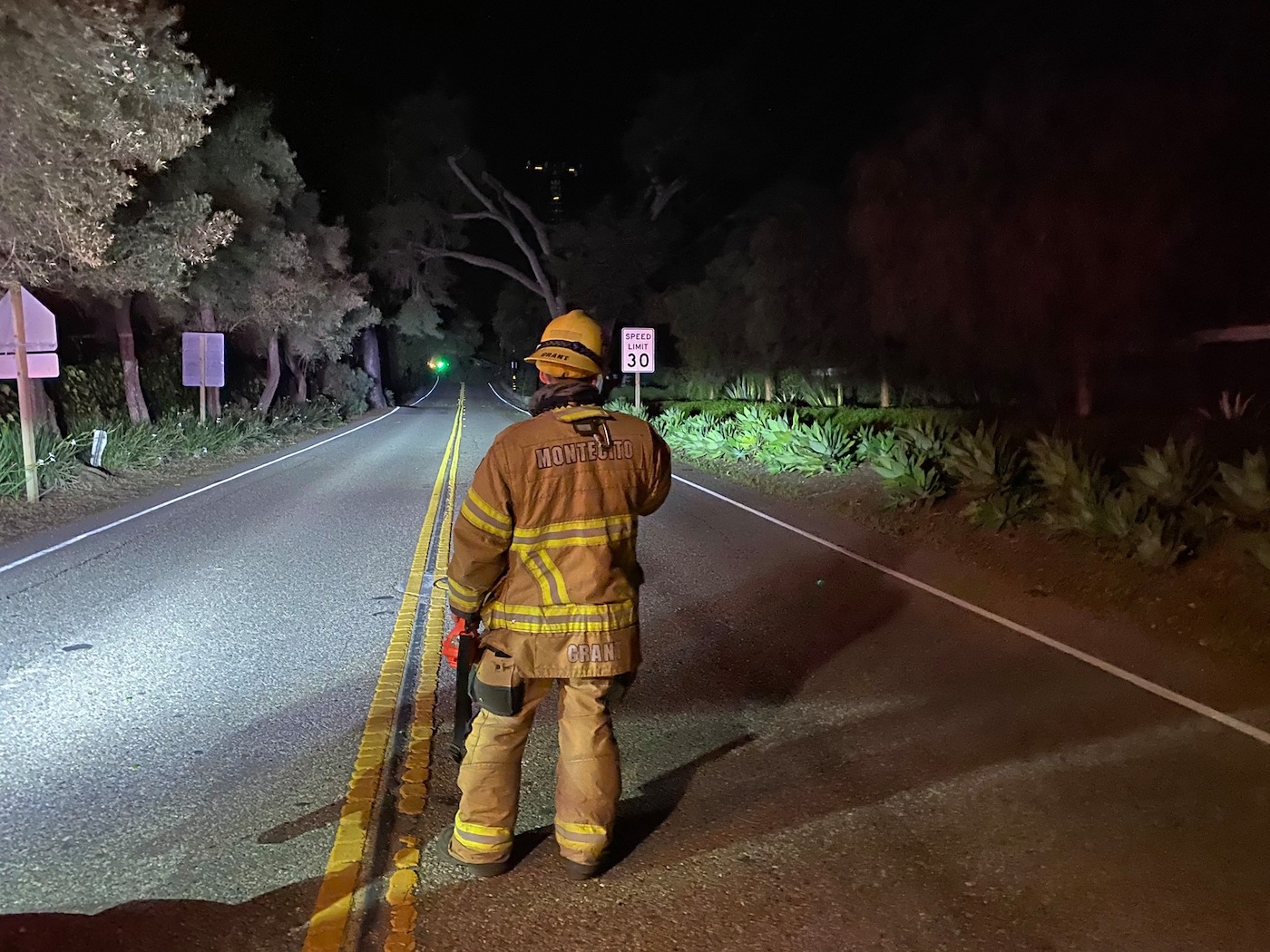 At the Montecito Association Land Use Committee, we decided to tackle undergrounding as a team. The Office of Assembly Member Monique Limón, representatives from the office of First District Supervisor Das Williams, Ventura County Supervisor Steve Bennett, and Hidden Hills Councilmember Laura McCorkindale joined us. We have several brave neighbors attempting to underground their utilities at Hodges and Periwinkle, and we're supportive of it.
Ted Stern, who masterfully navigated this issue in 2003 for Montecito, was also with us. Much of his research is still relevant. Boulders in the ground and major transmission lines present big obstacles. Undergrounding power cables is expensive: quoted in 2003 at $1 million per mile, the cost is now $3 million per mile. Who will pay to do it? Apparently, we the residents will, and there are various funding mechanisms we need to explore.
Also new since 2003: A pandemic-induced real estate boom. Telecom and internet equipment is now crowded onto electric poles and we also face the risk of massive fires, public safety power shutoffs in high winds, debris flow and insurance issues. Ted Stern was a visionary – we should have undergrounded in 2003. The Montecito Journal has covered the real estate boom thoroughly. We have a lot of new neighbors moving in.
These neighbors quickly run into a problem that has plagued us since January of 2019: they can't get homeowners' insurance. Many of our long-term neighbors are not getting renewed, can't find coverage, or have to pay five to ten times what they used to pay, even with no claims. This is a statewide problem, triggered by the giant wildfires California has experienced. We worked with our Assembly Rep and California Insurance Commissioner Ricardo Lara. He tried to raise the California Fair Plan (the plan of last resort for many homeowners) limit to $5 million. He was swiftly met with a giant lawsuit from insurers unwilling to issue those policies. He and Limón proposed legislation that was killed by the insurance industry lobby in committee.
In Montecito, we've swiftly moved to climate defensiveness. What can we do to make ourselves more resilient and less prone to disaster? Montecito is the place where the impossible can happen. The Partnership for Resilient Communities installed ringnets in our canyons. County Flood Control dredged the creeks to allow more flow and it is expanding our small debris basins at Cold Spring, San Ysidro, and Buena Vista. It is also building a giant debris basin at Randall Road, with the support of the Partnership for Community Renewal SB. The Montecito Fire Department brought in sheep to eat brush off Mountain Drive, it regularly clears brush and chips it, and the department helps you figure out defensible space around your home. The Montecito Water District secured a drought-proof water supply for the future, and is managing groundwater sustainability. Maybe Montecito Sanitary will finally recycle our wastewater.
A whole lot of people are working really hard to defend this community from the ravages of climate. But if we can't get insurance, that's a big problem.
We're also frustrated with the California Public Utilities Commissions mandates on Edison: they're 'hardening' and fireproofing poles all over Montecito, and replacing poles that are on the verge of failing. That was not enough to stand up under high winds this April, as a tree fell on East Valley Road at Picacho Lane started an electrical fire.
In high winds, Edison enacts Public Safety Power Shutoffs to prevent fire, rendering power supply unreliable. What if we took the hazards of overhead lines out of the equation? What if our legislature forced utilities to help pay for undergrounding, instead of putting it on the backs of neighbors? What if the Public Utilities Commission directed Edison, when about to spend $50,000 to replace a pole, if the neighborhood wants to underground, then direct that money to undergrounding?
Would undergrounding make a difference with insurance companies? In this era of giga-fires, Thomas has been knocked to the seventh largest wildfire in California history by five fires that just happened. Are insurance companies headquartered in New York and Connecticut going to continue doing business in California? Insurance Commissioner Lara is having a virtual statewide insurance forum on October 19 – we'll be there. See insurance.ca.gov for more info.
These are the mega-million-dollar questions, and we're going to bravely attempt to find out. We're forming a committee to study undergrounding, and the mechanisms that could be used to pay for it. Stay tuned to these pages for more info, and get involved! Join the Montecito Association, and be part of solutions like these for our community. We would be honored to have your membership.
You might also be interested in...