Joining Hands Across Montecito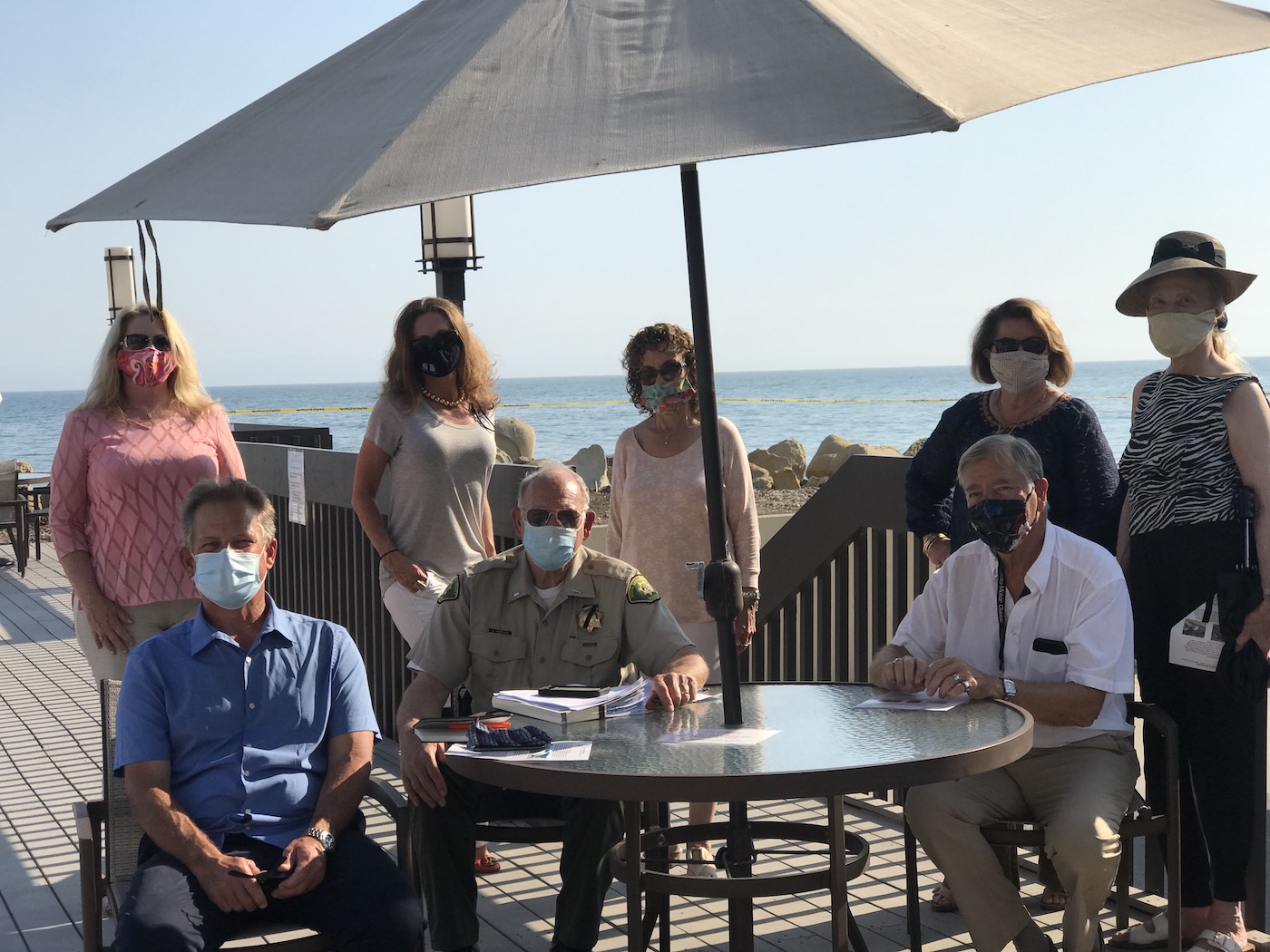 In the middle of another heat wave, it's 95 degrees near the beach in Montecito and everybody has moved indoors. Everybody except our small group trailing behind Luis Alvarado, a determined homeless outreach specialist with the Santa Barbara County Behavioral Wellness Department who has come to Montecito to make contact with as many homeless people as he can find today. Climbing down into a deep gully between the 101 Freeway and the railroad tracks, we meet a couple that look hot, stressed, and malnourished. They are reluctant to come out of their makeshift bivouac. The freeway noise overhead is deafening, but Alvarado gently convinces them to fill out forms applying for housing. He hands out water, snacks, and garbage bags. Then, in the gracious manner one might adopt when leaving a dinner party, he thanks them and promises to return.
The numbers might be a shocker, but according to the Montecito Association, our lovely chocolate-box village has 50 people living in deplorable circumstances along creek banks, adjacent to railroad tracks, and in ravines near freeways. This most affluent and luxurious slice of The American Riviera hides a homeless population that the Association says has grown larger since the 2017 Thomas Fire and subsequent mudslide.
Over the past few weeks, several villagers, including me, have accompanied professionals to visit our unhoused neighbors. To find them, we have crept into seldom seen spots, tiptoed around hundreds of pieces of drug paraphernalia, and photographed dozens of strewn parts of bicycles and other "found objects." We are supporting Montecito's newest eleemosynary effort: Hands Across Montecito, a.k.a. the HAM project, a homeless outreach initiative created by Montecito Association Executive Director Sharon Byrne and championed by Board President Megan Orloff. The ambitious one-year pilot project aims to persuade Montecito's population of folks living outdoors to move into shelters, motels, or supportive housing programs in Santa Barbara, and to accept mental health, drug, and other services as needed. 
Under Byrne's supervision, the HAM Project has hired Long Beach-based City Net to handle outreach, coordinating with County employees and officials. This not-for-profit agency, founded in 2005, has several years' experience working in Santa Barbara County and also has projects going in Orange, Los Angeles, and Riverside County, says its president, Brad Fieldhouse. According to Fieldhouse, City Net has assisted more than 4,000 homeless individuals and families into housing. The agency is currently partnering with the city of Santa Barbara and Cottage Health to help navigate homeless individuals into housing and services (similar to what Alvarado does for S.B. County.) In Montecito, City Net caseworkers will visit our residents experiencing homelessness weekly, create case files, and treat each individual as a client in need of permanent housing and support.
In late September, the HAM project commenced with a detailed baseline survey of Montecito's homeless residents by a team of caseworkers, sheriff's deputies and the group of volunteers accompanied and organized by Byrne, whose decade-long experience in case-based homeless outreach undergirds the new project. When she headed the Milpas Association several years ago, Ms. Byrne and local business partners created a similar program serving a group of chronically homeless panhandlers who lived along Milpas Street – all but one were in treatment and housed within a year. In establishing a correspondingly ambitious goal in Montecito, Byrne also draws on a deep knowledge of county resources she has gained since 2012 as chair of Santa Barbara County's Behavioral Wellness Commission.
"What we really need," she says, "is a results-oriented model of operation. A lot of service providers think of success in terms of we gave out so many blankets or so many meals. Our metric is going to be, how many people have we housed, made stable, and treated? And have people been able to stay that way for a year or more?" Ms. Byrne would be satisfied, she says, if half of Montecito's unhoused residents were off the streets within a year.
So far, the $100,000 project already has received funding pledges, donations, and commitments totaling $40,000. Partner organizations including Heal the Ocean, Montecito Trails Foundation, California Highway Patrol, Santa Barbara Sheriff's Department, Montecito Fire, and the county's Behavior Wellness department have signed on. Caltrans has pitched in three times in 2020 to pick up litter left by unhoused individuals on state property throughout the county. Rubayi Estes, Vice President for Programs at the Santa Barbara Foundation, extended the Montecito Association an invitation to apply for a $5,000 grant to support an independent program evaluation. [See nearby information for how to make a donation.]
"As our homeless count continues to grow, it is increasingly posing safety and health risks in addition to cleanliness and security problems, for our residents, businesses, employees, and tourists," says Orloff, an executive vice president of Montecito Bank & Trust. "Unlike giving money directly to panhandlers, City Net's model, focused on repetitive and sustained outreach, has proven successful in providing the foundation to assist individuals in getting off the streets and connected to services they need."
Still, Dana Newquist, one of the project's earliest supporters, would like to seek more local involvement by active groups that have large numbers of dedicated volunteers and equipment, such as Montecito Emergency Response and Recovery Action Group, or MERRAG, and the Bucket Brigade. Andrea Eltinge, Newquist's wife and a Montecito Association board member, adds: "The community will step up and go the distance for solving this problem. It affects all of us who live here, and Montecito is a generous community, and we have and will stand together both financially and getting out to do the job. I am very hopeful."
A Growing Problem
Dozens of residents have contacted the Montecito Association to complain about the growing "footprint" of homeless individuals in Montecito. For years, the only noticeable Montecito homeless residents have been elderly women such as "M" on the Upper Village green, and "V" who spends most days in front of the Chevron gas station and car wash. But recently, there have been numerous folks regularly pushing grocery carts along Coast Village Road. A block to the west at the Montecito Country Mart, a local professional wrote to the Montecito Association in September complaining about "an increase in homeless, drug, and mentally impaired individuals flocking to" the Mart each morning. Along with daily panhandling, the complaint noted that, early that month, a male was observed chasing and menacing a barista inside a local coffee shop until he ran away when Santa Barbara police officers arrived.
"We do what we can when people call us" regarding the homeless, says Sheriff's Lieutenant Butch Arnoldi, who serves the Montecito area. If someone has a criminal record and is engaging in harassment, "you can get a restraining order." However, Kathy Washburn, president of a local homeowners association, says the process is "very, very expensive, and no guarantees."
Montecito and Summerland have experienced a dramatic increase in thefts in 2020, compared with the previous two years, according to the Santa Barbara County Sheriff. Together, Summerland and Montecito had 119 reported thefts in the first eight months of 2020. That compares with just 67 reported thefts in all of 2019, and 62 reported thefts in all of 2018. "Theft is up throughout the county," says Lt. Arnoldi. "The thefts are coming from handbags in shopping carts, unlocked vehicles and garages, everywhere there is an opportunity."
County statistics don't break out crime according to whether an individual lives indoors or out, and Montecito's crime statistics are reported together with a dozen other unincorporated county communities. Annual homeless counts frequently list Montecito's unhoused residents as living in Santa Barbara. As Montecitans perceive a greater presence of homeless individuals, many are wondering, where are they sleeping?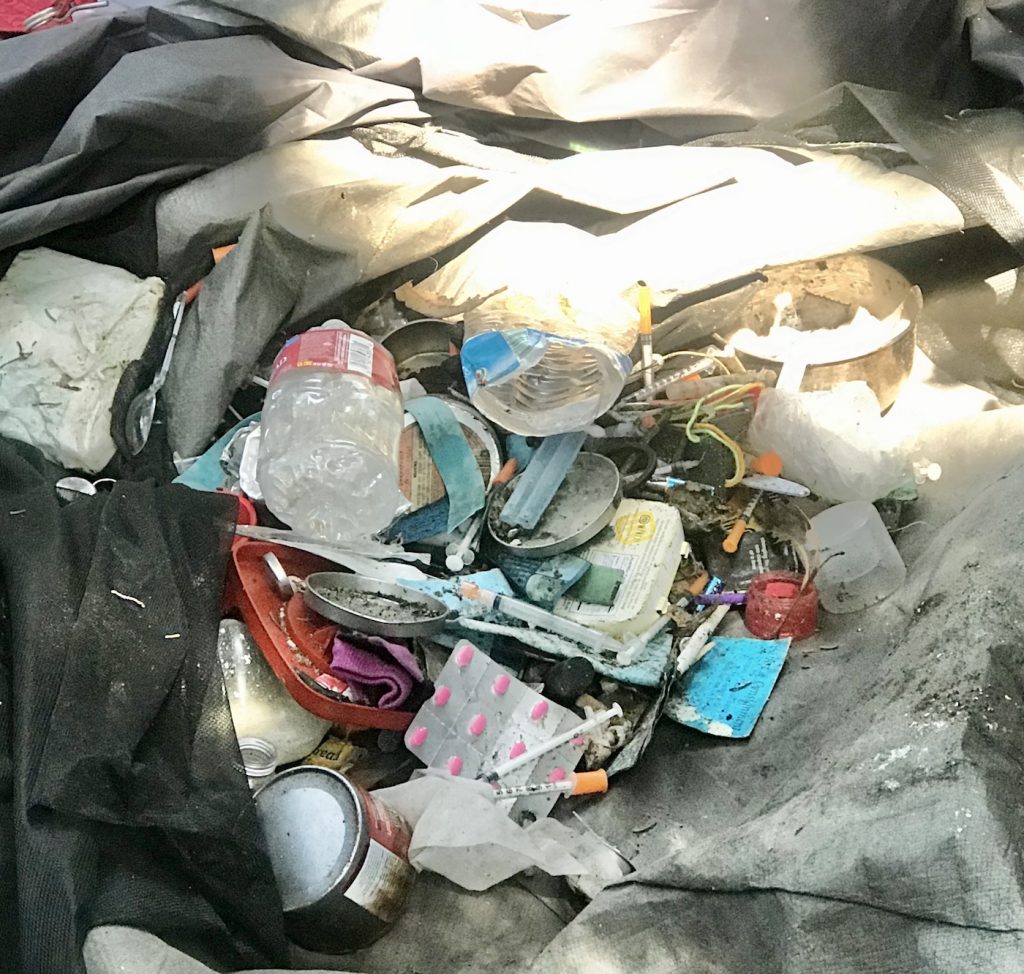 The answer, as our Hands Across Montecito support group is discovering, is mostly in camouflaged tent communities hidden among deep vegetation near the beach and the Union Pacific railroad tracks – frequently referred to as a "corridor of concern" – stretching from the Bird Refuge to the Rosewood Miramar Hotel. The appeal of these remote locations is immediately clear to volunteers; the areas receive few police patrols or visits by county homeless outreach workers. "One day, we startled a big group of maybe fourteen meth users in a camp near Hot Springs Road," says Byrne, referring to methamphetamine. "They sure weren't expecting to see us."
On an early September day, at the height of the recent heat wave, two of us follow Mr. Alvarado, the County's health and wellness coordinator, as he "walks the line" along the tracks, gazing north at the gleaming white Montecito Club clubhouse and south at the Santa Barbara Cemetery's George Washington Smith-designed chapel. We pass the cemetery's long-abandoned former crematorium. Alvarado explains that the Butterfly Lane tunnel enables campers to leave their concealed campsites to access Coast Village Road for panhandling and socializing. Therefore it's often best, he notes, to visit his hoped-for clients in the early morning.
We find another camping couple that relates with delight that they just acquired a bicycle, sold it for $800, and are happy to be moving, even temporarily, to a motel room in Santa Barbara. We look around for a group of three young people, familiar to county agencies and law enforcement, that have been camping on a hard-to-reach beach bluffs area below the cemetery during the spring and summer. They were suspected of starting a fast-spreading campfire in the historic cemetery on July 30 that required two fire departments to extinguish. "We'd really like to get them off the beach and into housing," says Byrne.
On another stretch of the railroad campground corridor, we head to what has become the community's major center of concern: the densely populated, upscale, area surrounding Hammond's and Miramar beaches adjacent to the Chumash burial ground. Residents of the gated neighborhood comprising three contiguous beach communities, Bonnymede (which is where I live), Montecito Shores, and Sea Meadow – about 250 condominiums and single-family homes – have been complaining to the Association, the Sheriff's office, and on Nextdoor about trespassers who look like campers. Residents want to know, how did they get inside the gates, and what do they want?
The Montecito Association's Byrne shows us how: an open, legal footpath known as the Surfrider Trail that begins on Danielson Road, heads south over the railroad tracks, and opens directly into the gated neighborhood. Public beach access is, of course, an important and protected legal right in California. However, this public access lane is adjacent to what Byrne describes as "attractive nuisances," the two- and three-story condominiums at Bonnymede and Montecito Shores. Last year, Montecito Shores residents found evidence of visitors sneaking in at night to use swimming pools, restrooms, and basement washers and dryers.
We meet Alvarado near the burial ground and follow as he treks the Surfrider Trail toward the railroad tracks, struggling to keep up as he quickly disappears up a steep hill into a hidden and rugged, heavily forested path. After a while we encounter a flimsy tent sheltering two young men who are surrounded by drug paraphernalia and piles of bicycle parts. A brand-new bicycle sits outside the tent. The young men aren't interested in speaking with us, yelling at Alvarado to "hit the rocks," meaning get out of there. Undaunted, Alvarado calmly asks their names, makes a note of the encounter, and explains he will "come and visit them another time."
Back on the tracks, we encounter a dazed looking young man who says he is from Pennsylvania. He doesn't want to stay and chat either, but Alvarado, nonetheless, makes notes about the young man in case he encounters him again. Continuing on into an even more remote jungle-like area, we look down into a campsite tucked under a creek culvert, a spot that is difficult to see and would be much harder to access. The appeal of camping along the creek isn't merely its remoteness, Alvarado points out; the creek offers direct access to the beach. Although the area appears to be a hive of campsites, many strewn with drug paraphernalia and bicycle parts, we meet fewer people on this visit than on others. Andrea Hein, one of the volunteers, sums up our feelings: "I was amazed at how many individuals are full out living along our train tracks and how much outreach is actually necessary to get them in to programs."
A key concern of Montecito residents, like homeowners all over the U.S., is removal of the furniture, tents, and other items left by campers. During COVID, the Union Pacific railroad has been dealing with a massive expansion of people camping on the railroad company's property up and down the state of California, says spokesman Tim McMahan. Because of the danger of pedestrians around the railroad tracks, he says, Union Pacific strongly urges individuals and nonprofit groups not to take on clean up themselves. However, he notes, Union Pacific is interested in working with the Montecito Association and City Net on implementing removals by a professional company.
Elusive Solutions
Ultimately, the HAM project's expectations for favorable outcomes depends on the patchwork of agencies – governmental and nonprofit – into whose hands the City Net outreach workers will entrust unhoused residents in Montecito who agree to place themselves "in the system" for services. A highly critical report from the Santa Barbara County Grand Jury earlier this year noted, among other systematic shortcomings in the county's homeless response, that "all overnight emergency shelters are at capacity year-round, there are not enough day centers."
The Grand Jury labeled as woefully inadequate and uncoordinated Santa Barbara County's programs to combat homelessness. The report said that over several years, only 76 of the 3,623 eligible people in the county's official computer systems got into permanent housing. Housing advocates say affordable rentals are nearly impossible to find in Santa Barbara where even 700-square-foot apartments go for more than $2,000 per month.
Skeptics of the HAM project are questioning the need for a program targeting just 50 individuals, an insignificant number in a county whose official pre-COVID homeless population was already at 1,900. "The county government should have been engaged on Milpas, and they should be engaged in Montecito," says Susan Rose, who retired from the County Board of Supervisors after eight years of service and who in 2004 founded New Beginnings' nationally recognized Safe Parking Program, which serves hundreds of families living in their cars each year. Yet Rose and others acknowledge that the county employs far too few homeless outreach workers, and these are chiefly needed in the North County, where newly homeless and unemployed families are struggling.
Montecito's residents experiencing homelessness mostly fall into the category of chronically homeless, similar to about one-third of the county's unhoused population. As such, says New Beginnings Executive Director Kristine Schwarz, they are most likely to suffer from trauma that impairs mental health and/or to be addicted to substances. They have the greatest need for services and are considered the most difficult to persuade indoors. "It's about building a relationship with them. Once they get housed, sometimes they really will make a miraculous change in their lives and evolve back to a distant self, someone who is functioning, thriving in life. But sometimes they're just too wounded. Even when they get into housing, it's hard for them to maintain it," says Schwarz.
Byrne knows only too well the importance of maintenance – and diligence. After she left her position at the Milpas Association, the homeless-outreach project she founded wasn't continued, and Milpas Street gradually devolved back into a magnet for unsheltered individuals and panhandlers. She also strongly recommends better security at Montecito's homes and businesses and along the railroad right-of-way. A separate Santa Barbara County Grand Jury in 2019, following a surge in rail deaths, found that 12 out of 20 people killed by trains were transients living along the tracks, including some suicides. The report recommended installing cameras to help patrol "hot spots."
The beach communities, Byrne notes, also need to embrace modern security technology and "close the 'candy store.'" An ad hoc committee of residents from beach neighborhoods has been meeting regularly to exchange information, brainstorm ideas, and research how other communities in California are handling similar issues. A major step has come from the board of Montecito Shores, which reached out to a nationally recognized security firm, Covered Six, to conduct an assessment of Hammond's Beach access/security problems and to recommend a comprehensive technology and human-based security system. The charge is being led by one of the complex's newest beachfront owners, Laura McCorkindale, who has worked closely with Covered Six as a city council member in the guarded, gated community of Hidden Hills – an enclave that has a reputation for excellent safeguards.
Even as the HAM project just gets underway, Byrne is already planning for follow-through and follow-up, frequently speculating about "where we will go after the first year" and expressing a desire to get county and private homeless-services agencies more involved. She's not the only one with expectations; the 2020 Grand Jury report on homeless programs includes a ray of sunlight: "…the Jury was told by the director of a local homeless organization that the cooperation demanded by COVID-19 opened new doors and created alliances that hopefully will continue to grow."
Byrne can also count on our ever-expanding cadre of volunteers and supporters. "I'm really surprised," she says, "shocked even, in a really pleasant way, that so many Montecito ladies and gentlemen are willing to come out, walk the railroad tracks, and find out how some of our most vulnerable people are living."
You might also be interested in...