Enlightenment in the Kitchen: Michael Krohnen on Cooking for J. Krishnamurti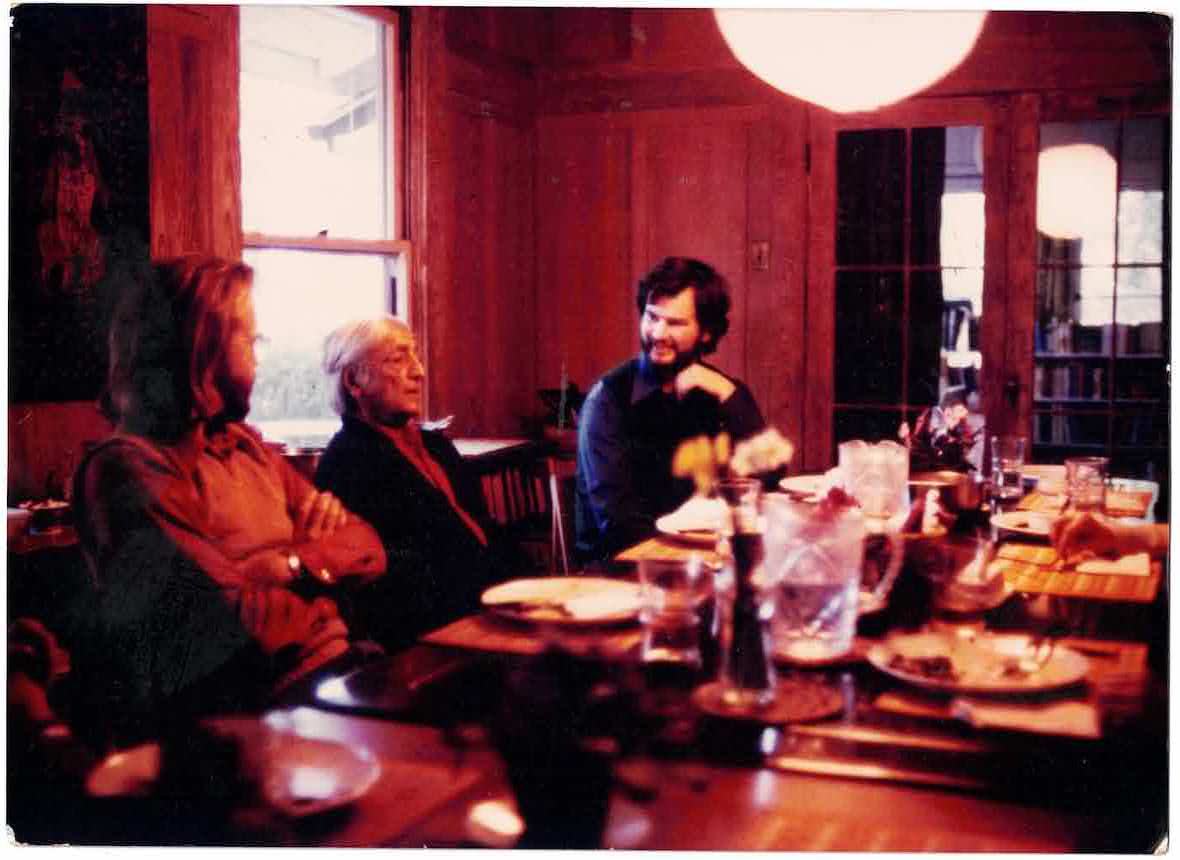 "I'm very simple in what I prepare in the kitchen these days," Michael Krohnen says as he stands in a small yet tidy and well-appointed kitchen of a 1910 farmhouse in Ojai's East End. Although not a classically trained chef, Krohnen is nonetheless known throughout the world, and his thoughts on cooking have been translated in several languages, including Chinese, Japanese, Korean, and Spanish. Krohnen is the author of The Kitchen Chronicles: 1001 Lunches with J. Krishnamurti (1997), but his day job for the past four decades has been at the Krishnamurti Educational Center, an oasis of the mind for exploring the teachings of world lecturer J. Krishnamurti. Krohnen lives at Pepper Tree Retreat, the guesthouse at the center; his bedroom is adjacent to the kitchen where he used to prepare simple vegetarian meals for Krishnamurti until his death of natural causes 34 year ago.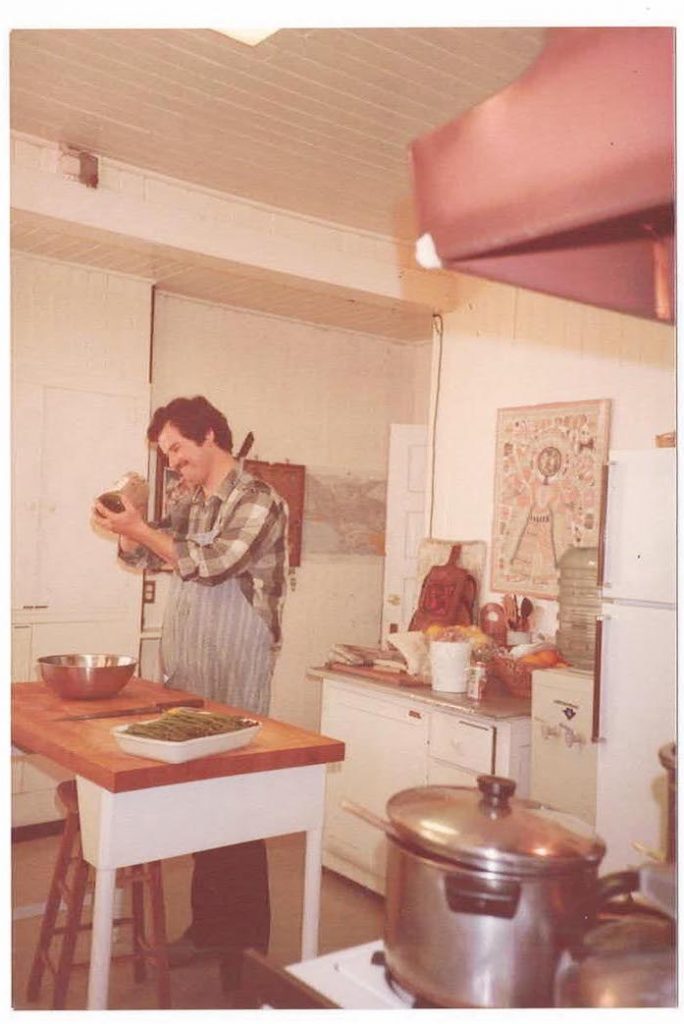 These days, he serves as librarian and tour guide of the Krishnamurti Library, which holds remarkable collections on philosophy, religion, and nature. On a recent visit to Ojai, Istopped by the Pepper Tree Retreat to learn about his approach in the kitchen.
Q. During his time in Ojai, Krishnamurti welcomed thousands of visitors from around the world. People interested in religion, philosophy, and meditation continue to visit the Krishnamurti Educational Center to explore his life and teachings. Do you see a lot of visitors at the center during the pandemic?
A. We have been at full capacity over the weekends. For a while we were closed and reopened over a month ago, with a two-night minimum stay. Guests come to the Pepper Tree Retreat to read and relax, go for walks and hikes near the property, in the Los Padres National Forest, or enjoy the tranquility of our medicinal herb garden. Sometimes I give them a tour of the Krishnamurti Library, currently closed to the public because of the coronavirus.
We have a small resident student program; at the moment there are three students residing with us. They come to the KEC to learn about Krishnamurti, and to find out about meditation, which for him was a state of mind, a constant quiet observation. Most of us think of meditation as a practice, while he didn't see it that way.
How did you find yourself cooking for Krishnamurti?
To answer this, I have to begin with my life's journey to Ojai. I was born in a small town near Frankfurt/Main in Germany, in the fall of 1943. Growing up after the war, and learning about the recent horrors of the concentration camps, of the Nazi violence and the World War, was a very difficult experience for me. After high school graduation, in the 1960s, I immigrated to the U.S. I had a kind of religious mind and was fascinated by learning about different religions, especially Buddhism, Taoism, and Hinduism. This was also the time that I discovered J. Krishnamurti and his work. Saving up some money, I went to visit my mother in Germany, and then connected with some good American friends who had just gotten married, and together we travelled overland to India. But it wasn't until 1970-71 that I had the good fortune of being invited to a small group discussion with him of primarily younger people, in Madras (now Chennai). To see him live, elegant in Indian dress, and hear him speak was an extraordinary experience for me, a kind of illumination. And so I went to attend his public talks in various Indian locations, and then in California (Ojai, Santa Monica, and San Francisco), and in Switzerland and England, where he had just started a small high school (Brockwood Park).
During my travels, I met an older couple, Alan and Helen Hooker, who attended his talks all over the place. They lived in Ojai, California, where they had founded a restaurant called The Ranch House that became a celebrity attraction. Alan had cooked for Krishnamurti many years ago, and had written a successful vegetarian cookbook. We became good friends, and I was a guest at their house in Ojai several times; during my travels in Asia, we maintained correspondence by letters and postcards.
While teaching at a school in Japan, in 1975, I received a letter from Alan informing me that Krishnamurti wanted to start a small school in Ojai, on the property that had been under litigation for over 15 years, and had just been returned to him in a settlement. There were still a few job openings: gardener, maintenance man, and cook. Well, I had no training in any of these, but asked Alan to put down my name, possibly as gardener. When I arrived at 'Arya Vihara' (the original name of the house now called 'Pepper Tree Retreat'), the lady who welcomed me said, "Oh, you are the cook."
I was quite shocked, but then started to learn, with Alan's help and by studying his cookbook, how to prepare vegetarian meals for the school staff and students (only three at the time), and then, to my surprise, also for Krishnamurti when he was in Ojai. Usually he visited Ojai and California for three months, February through May, each year. The rest of the time he travelled the world to give public talks to large audiences, and also visited the schools he had founded in India and England.
Cooking for Krishnamurti and his guests was a great challenge, but Alan and Helen helped me tremendously. And I discovered that cooking was an art form.
What was life like for you in the kitchen?
Usually I started preparations between 8 and 9 am, and it was often difficult to deal with the time pressure. By 12:30 or so, I had pretty much things ready and started arranging the food buffet style. Lunch time was set for 1 pm, and the guests would wait in the living room adjoining the dining room, having lively conversations amongst themselves, or reading some of the books from the bookshelves. Krishnamurti and his hostess, Mary Taylor Zimbalist, would walk over from their residence, 'the Pine Cottage,' about a hundred yards distance. While Mary entered the living/sitting room to welcome the guests, Krishnamurti would enter the kitchen through the small patio door to say hello to me and see what was for lunch. After the food was set out in the serving room, buffet-style, he would ask me, "Can I tell them it is ready?" When I said, "Yes, please, Krishnaji," he would very shyly and modestly walk up to the waiting guests and announce, "Madame, est servie!" Especially if there were guests he didn't know, he turned out to be quite shy and reserved. He insisted on being the last to serve himself, allowing others to stand in line in front of him. I would be the last in line, right behind him, and he said, "Please, Michael, go ahead." I responded, "Thank you, Krishnaji. But the cook never goes in front of the host." He understood and allowed that arrangement.
What were Krishnamurti's favorite meals?
Usually Krishnamurti didn't express his likes and dislikes. He loved healthy eating. All of his early life in a Brahmin family, he had been vegetarian. During his annual three-months visit to India, he had an Indian chef. In Europe, he had a fondness for Mediterranean cuisine, especially Italian. Similarly, in Ojai, he adhered to a vegetarian diet of that type. He had few dietary restrictions: minimal use of fats and oils and dairy products. He avoided butter and cream altogether, as well as refined flour and sugar products. Nor did he like hot spices, like cayenne. For his meals, I tried to buy the freshest produce, if possible organic. He loved soups, especially 'the seven-bean soup' from Alan Hooker's vegetarian cookbook, which consisted of seven different varieties of beans, with fresh vegetables and parsley.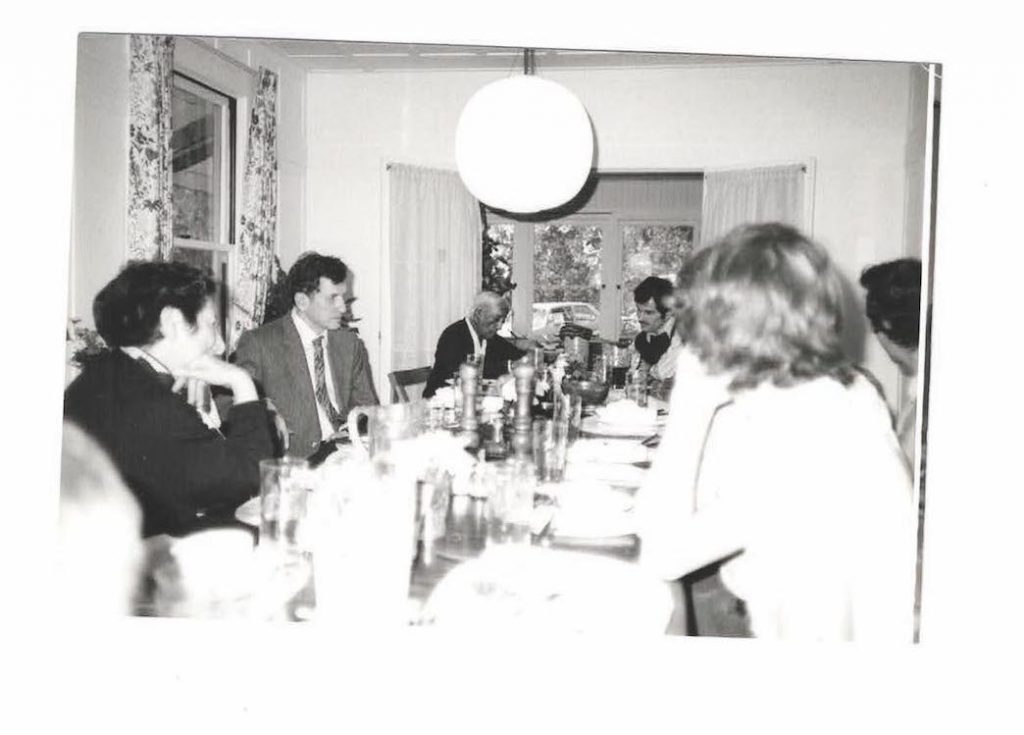 I usually prepared a tossed green salad, with two types of dressings: vinaigrette and tahini. In addition, there would be two mixed salads, like potato-and-egg salad, and grated carrots, with lemon, honey and pine-nuts. Then, the main cooked components would be the carbohydrate part: rice, or potatoes, or pasta. The protein dish: quiche or a bean-dish; accompanied by the vegetable dish: broccoli steamed and served with an olive sauce; or mushrooms in its sauce.
Then the dessert could be ice cream, or cookies – but when I prepared brownies, he would not eat them, because chocolate is a stimulant, and he avoided all stimulants. Sometimes I prepared a fruit salad, with papayas, pineapple, bananas. And there was always fresh fruit available.
What was mealtime like with Krishnamurti?
Lunch was the main meal of the day at 'Arya Vihara,' with 10 to 20, sometimes as many as 30 guests on special occasions, and always buffet style. Since I was invited to participate in the meal, I would often sit close to Krishnamurti, and we would discuss movies, books, and world events. Mary Zimbalist was usually present, as were Alan and Helen, and trustees, staff, and friends. Sometimes special guests were participating in the meal: former Governor Jerry Brown, actor Richard Chamberlain, and many other artists and scientists. So, one might describe mealtime with Krishnamurti as a profoundly cultural event.
What are you cooking in the kitchen at Pepper Tree Resort (formerly 'Arya Vihara') these days?
I mostly cook for myself these days. Thus, I have become very simple in what I prepare. A typical meal I prepare for myself is green salad, some cherry tomatoes, avocado, lemon juice and olive oil, and nutritional yeast. One of my favorite meals is tortillas heated up, a bit of tomato sauce, with quite a bit of grated cheddar cheese, some avocado and cilantro and oregano, a few drops of hot sauce.
If I am still hungry, I'll try some Häagen-Dazs chocolate ice cream.
Stay
Pepper Tree Retreat is on the campus of the Krishnamurti Educational Center in Ojai. Pepper Tree Retreat, 1130 McAndrew Road, Ojai, CA 93023. For more information, call (805) 646-4773 or visit kfa.org/peppertree-retreat.
Ojai Retreat & Innis a slice of Shangri-La. It sits on a private five-acre hilltop overlooking the Ojai Valley. The Swiss innkeeper and executive director Ulrich Brugger is very knowledgeable about Krishnamurti's life and teachings in Ojai. The Inn offers complimentary breakfast, indoor and outdoor areas for meditation as well as a library with collections on new age, religion, astrology, meditation and yoga. A scenic nature trail is located at the edge of the property. Ojai Retreat & Inn is located at 160 Besant Road, Ojai. For more information call (805) 646-2536 or visit ojairetreat.com.
Eat
The Ranch House Restaurant serves local and fresh garden cuisine. Open for dinner from 5 pm to 9 pm. For more information call (805) 646-2360 or visit theranchhouse.com.
You might also be interested in...