Metro Theatres Ready to Reopen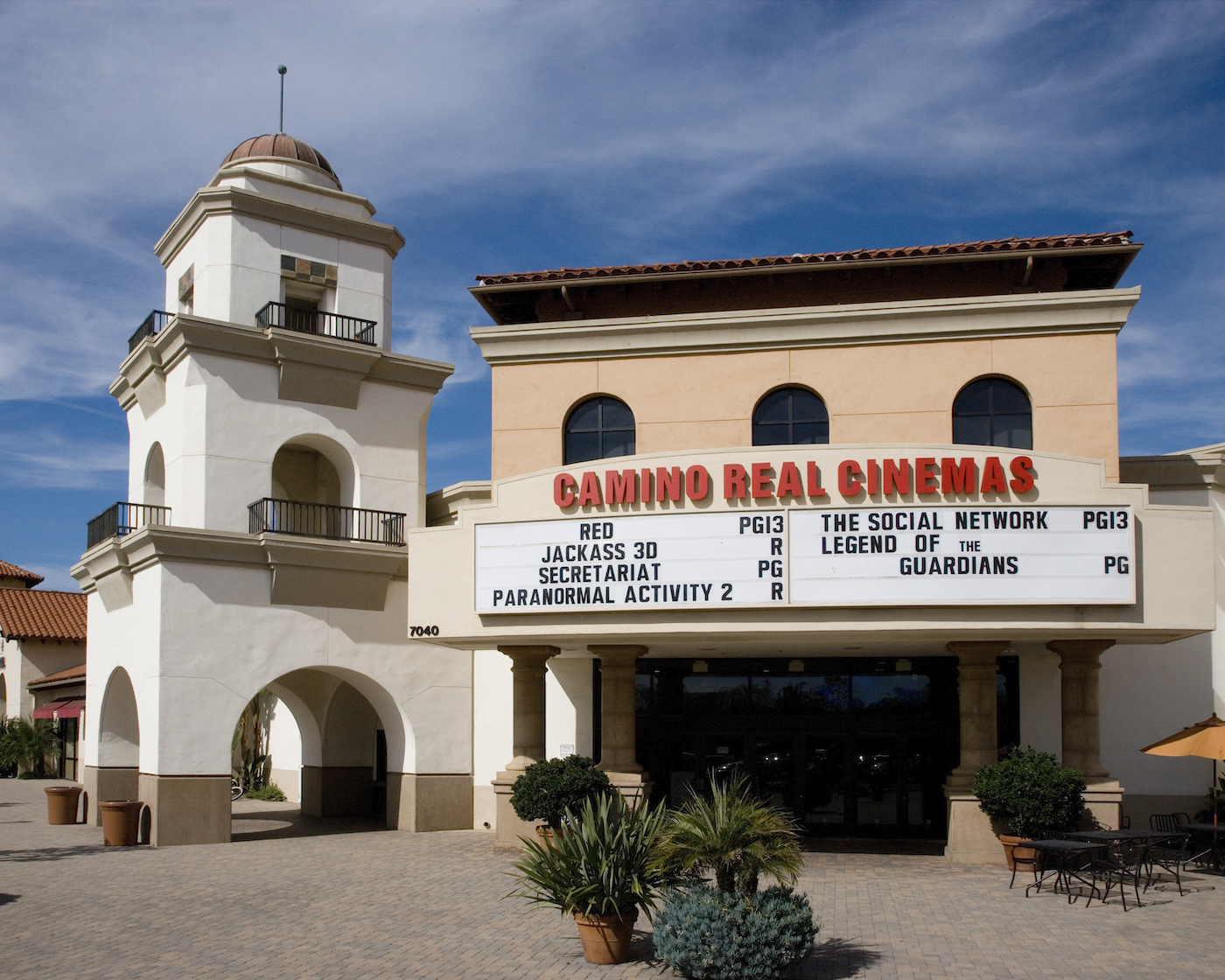 Normally a designation as a red zone would mean no parking or even stopping. But when it comes to pandemic procedures, the designation is more like rolling out a red carpet, as two weeks of reduced cases means more businesses can reopen. Accordingly, Metropolitan Theatres plans to welcome back moviegoers at two of the Santa Barbara screens this Friday, October 2: Fiesta 5 at 916 State Street and Camino Real Cinema on Marketplace Drive in Goleta.
"We are really excited to be able to welcome our guests back to the movies," said David Corwin, president of Metro, a four-generation, 97-year-old family-run company. "We're in the business of entertaining people and it's been hard not to do that all this time. But everyone's health and safety remain our top priorities, and we want people to have trust and confidence in us as we reopen our theaters with new protocols in place."
Those enhanced safety procedures are in accordance with current local guidelines, and feature a three-step approach in creating awareness of the measures that include alerting attendees about what they can expect and experience when they enter the theatre, including using smart software to assign the reserved seats for appropriate distancing, providing for three empty seats between groups and leaving every other row empty, and operating at no more than 25 percent capacity or 100 people per theater; ones to ensure employee safety that include additional protocols, and precautions taken for safe food service on-site. Metro has also aligned with more than 300 companies nationally with the National Association of Theatre Owners' CinemaSafe.org in voluntarily following a set of health and safety protocols developed by a team of industry experts based on guidelines from the Centers for Disease Control (CDC), World Health Organization (WHO), and Occupational Safety and Health Administration (OSHA). A complete list of the safety measures can be found at www.MetroTheatres.com/SafetyProcedures.
"We're doing everything from enhanced cleaning to putting high-end MERV 13 filters and improving the air flow in the cinemas – being completely compliant with everything from CinemaSafe.org and beyond, because we know that's important for people who are concerned," Corwin explained. "I think being in a big auditorium where you're far apart from other people and not conversing with anyone is a lot safer than other activities people have been doing for the last few months at restaurants, grocery stores, and gyms. So I hope they feel comfortable when they see what we've done."
There are also incentives to welcome guests back to the movies beyond just feeling safe, including expanded bargain pricing Sunday through Thursdays, double M Rewards points on concession and ticket purchases, and special pricing on a selection of concession items through October. The company is also introducing "Your Private Screening," which allows for intimate watching experiences of new theatrical releases for parties of up to 20 family members and friends, with prices starting at $130.
Among the films that will hit the big screen this weekend are a re-launching of Christopher Nolan's Tenet and the sci-fi comedy Save Yourselves at both theaters, plus the K-Pop documentary Break the Silence, Aaron Sorkin's The Trial of the Chicago 7, Sundance favorite The Forty-Year-Old Version at the Fiesta, and Unhinged and the family film Hocus Pocus at Camino Real.
Down the road, though, Metro is, as are all theaters, dependent on the studios providing new films for folks to see, and the whole industry has been moving slowly if not completely on hold as the pandemic progressed. Now, with things easing across much of the country, though, Corwin is hopeful they'll be able to reopen more screens as the studios release more movies.
"There are already a lot of significant pictures on the calendar, including the new Bond movie and an animated film from Disney, and we expect more will come available as people start to return to the movies," he said. "I think a lot of people are craving the shared experience of watching movies in the theater, being with other people and reacting together, which you just can't get at home. You can't say with much certainty what the timeline will be, but there finally is new product. So we really wanted to get open and show people what we've done."
For more details, screening schedules and more, visit www.MetroTheatres.com.
Yeah, Baby!
Director Jay Roach Revisits Austin Powers
It's hard to imagine that even in their wildest fantasies the makers of Austin Powers: International Man of Mystery envisioned the success of the over-the-top spoof of the James Bond franchise. The movie was written by and starred Mike Myers as an international spy who awakes from a decades-long cryogenic slumber to confront his old nemesis, Dr. Evil, also portrayed by Myers. The film turned into a tentpole, spawning two sequels, countless Halloween costumes, and lots more fun. The premise finds Powers still living in the swinging 'sixties when he's re-animated 30 years later to team up with Vanessa Kensington (Elizabeth Hurley) to stop Dr. Evil from obtaining the nuclear weapons he needs to hold the world hostage while also dealing with his overactive libido, producing hours of shagadelic fun.
Continuing its lockdown series, the Carsey-Wolf Center's Script to Screen series takes a look back at the nearly quarter-century-old film via a Zoom conversation with the first-time director Jay Roach joining CWC moderator Matt Ryan for a virtual discussion of the Austin Powers trilogy. Visit https://www.carseywolf.ucsb.edu/pollock-events/austin-powers for details and to register for the 2 pm discussion on Saturday, October 3.
SBIFF Meets CWC
UCSB's Carsey-Wolf Center was also the driving force behind the next film in SBIFF's Film Talk, the new online series of screenings and discussions between film festival programmers and local filmmakers. Our Last Trash, which highlights the current global recycling crisis and the adverse effects of disposable plastics on the environment, premiered in 2018 as part of GreenScreen, a hands-on, project-based environmental media production program at the university where students work in teams to leverage their collective production skills and environmental knowledge. The film explores the meaning of a "zero waste" lifestyle, and how some individuals are taking on the plastics issue one reusable item at a time toward creating a more sustainable planet. Watch the 20-minute film featuring colorful animations and riveting interviews at https://vimeo.com/392560681 and visit https://sbiff.org/filmtalk to register for the discussion taking place at 6 pm on Thursday, October 1.
You might also be interested in...