Student Researchers Persevere Over Summer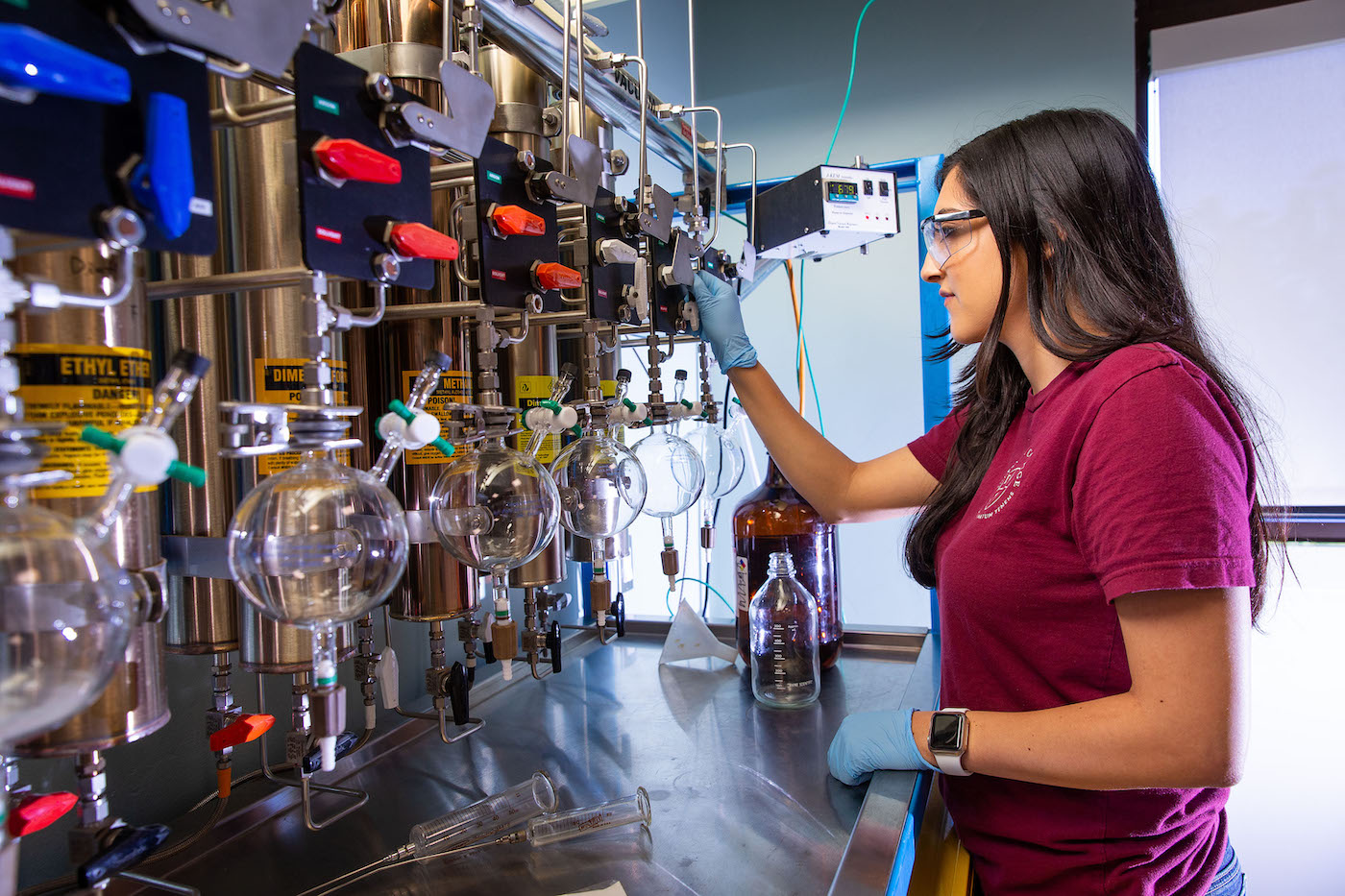 Twenty-seven Westmont students adhered to strict safety protocols to work with their professors on research projects during the summer. Due to the pandemic, Westmont will skip the annual in-person October symposium, where students present their summer research findings.
The work spanned a wide range of topics, including factors that affect the presence of western fence lizards, identifying cerebral palsy in newborn babies, using motion-capture cameras to analyze prosthetics, atypical posture development in infants, and the urbanization of acorn woodpecker behavior.
Westmont has a long tradition of providing opportunities for students to join with their professors in cutting-edge research. "Just as internships in fields like business or medicine give students real-world experience that prepares them for future study or careers, research with faculty gives them a taste of collaborating with peers to solve real problems that matter to their disciplinary communities," says Patti Hunter, vice provost. "The skills they develop equip them to work in teams, talk with others about their ideas, and tackle unsolved problems."
COVID-19 forced Amanda Sparkman, biology department chair, to completely redesign her projects because she lacked access to research field sites. Her largest new project predicted that woodpeckers living in areas with higher light pollution, which also tend to be more developed areas with more noise, would wake up earlier and go to bed later. "But, in fact, we found just the opposite," she says. Kendra Dayton and Seth Wilmoth continue their research this fall. "We all had to get up before sunrise to watch woodpeckers emerging from their nest cavities, and also be out there watching them after sunset," Sparkman says.
They completed a side project on lizards, finding that the strongest predictor of the reptile's presence was if the location had sufficient rock cover for retreat. Lizards were also less often found in high-density commercial areas.
The novel coronavirus kept Don Patterson, professor of computer science, and student researchers from collecting data about cerebral palsy on newborns. Instead, students John Panos and Nathan Young worked remotely on developing new machine learning models, which synthesized accelerometer and 3D camera data to try and create a unified system for clinical use. "We applied the models to a robotic baby as a way of attempting to get our data pipeline up and running," Patterson says. The research continues with a new grant request submitted to the National Institutes of Health (NIH).
Student Taylor Jennings worked in the motion-capture laboratory to calibrate a nine-camera tracking system while creating protocols for a prosthetics research project. He also analyzed data from people walking on a rotating treadmill that disrupted their typical gait. Adam Goodworth, associate professor of kinesiology, says they will apply for an NIH grant in October and present their findings to an international conference in 2021.
Students Leila Parker and Christina Dubell, working with Michael Everest, chair of the chemistry department, discovered that hemoglobin sticks equally well to clean glass and glass that has been coated with an organic precursor, similar to Rain-X. "This was a big surprise," Everest says. "We had seen large differences in previous studies before we returned to hemoglobin." The researchers bounced a laser off the face of a prism to measure the degree to which molecules would stick or not.
Friday Concert Features Faculty
The Westmont Music Department features its talented faculty members in the Friday Concert Series on October 2 at 7 pm. Listen to the free recital at vimeo.com/showcase/westmontmusic.
Emily Sommermann (violin), Adelle Rodkey (oboe), Trina Carey Hodgson (cello), Andrea Di Maggio (flute), Kathleen O'Brien (mezzo-soprano), and Miroslava Kisilevitch (piano) will perform individually. The recital will include songs by Bach, Gabriel Faure, Viktor Kosenko, Freiderich Kuhlau,and Gilles Silvestrini.
Alumna Megan (Silberstein '14) Billings, a soprano, will perform as part of the Alumni Spotlight on Friday, October 9.
You might also be interested in...