Montecito's Bucket Brigade Launches Countywide Growing Project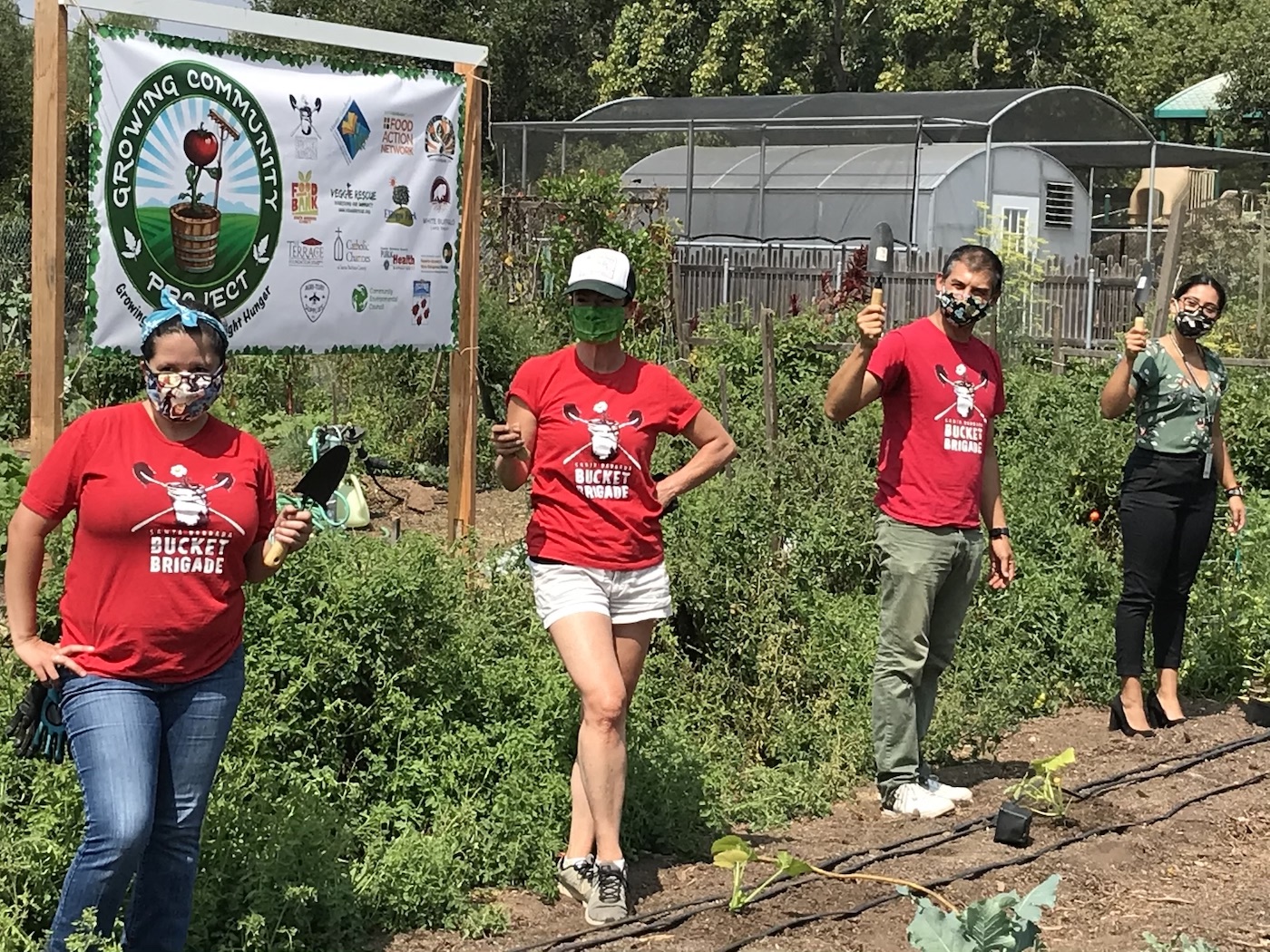 Fresh on the heels of donating and distributing 33,000 cloth masks sewed by 300 volunteers, the Bucket Brigade (as well as 16 other organizations including the Santa Barbara County Food Action Network and the Foodbank of Santa Barbara County) is taking its crowd-sourcing expertise in a new direction: launching a major campaign of community and home gardening to provide healthy fruits and vegetables to needy families throughout Santa Barbara County.
Just after noon on Sept. 14, Bucket Brigade co-founder and CEO Abe Powell joined First District Supervisor Das Williams and Trinity Garden manager Mallory Russell for a groundbreaking ceremony at the group's new plot located within the large community garden adjacent to Trinity Evangelical Lutheran Church. Joined by other volunteers, the trio planted the first few seeds of what will become the pilot plot of the Brigade's new project.
According to Russell, the garden dates to 2011, when church members created it from two underutilized volleyball courts and a weedy field. So far more than 100 species of trees and plants have been planted and last year the garden produced 4000 pounds of food. A contemporary, crowd-sourced take on the "Victory Gardens" campaign that urged Americans to grow food and vegetables during the First and Second World Wars, the Bucket Brigade's gardening project aims to bring gardening afficionados throughout the county together in an organized effort to distribute food to those in need.
Speaking to the crowd, Williams thanked the Brigade for helping to address a major challenge currently facing Santa Barbara County. "We are facing an increased number of folks in need of aid," Williams said. "We have at least 20,000 more people out of work, we have a reduction in unemployment benefits, and a lot of people are looking over the edge of an economic cliff."
"Our neighbors need our help," Powell added. "Just yesterday I talked to Meals on Wheels and they told me they have seen a 78 percent increase in requests for senior food assistance this year alone. We are in the midst of a major food security and food resilience crisis in the making. The time has come to step up and take action."
Anyone with their own backyard garden or who is willing to volunteer at a community garden or to help distribute the food is urged to visit the Bucket Brigade's website (www.sbbucketbrigade.org) for more information on how and where to get involved.
You might also be interested in...