Flor de Maiz Brings Indigenous Meals with a Twist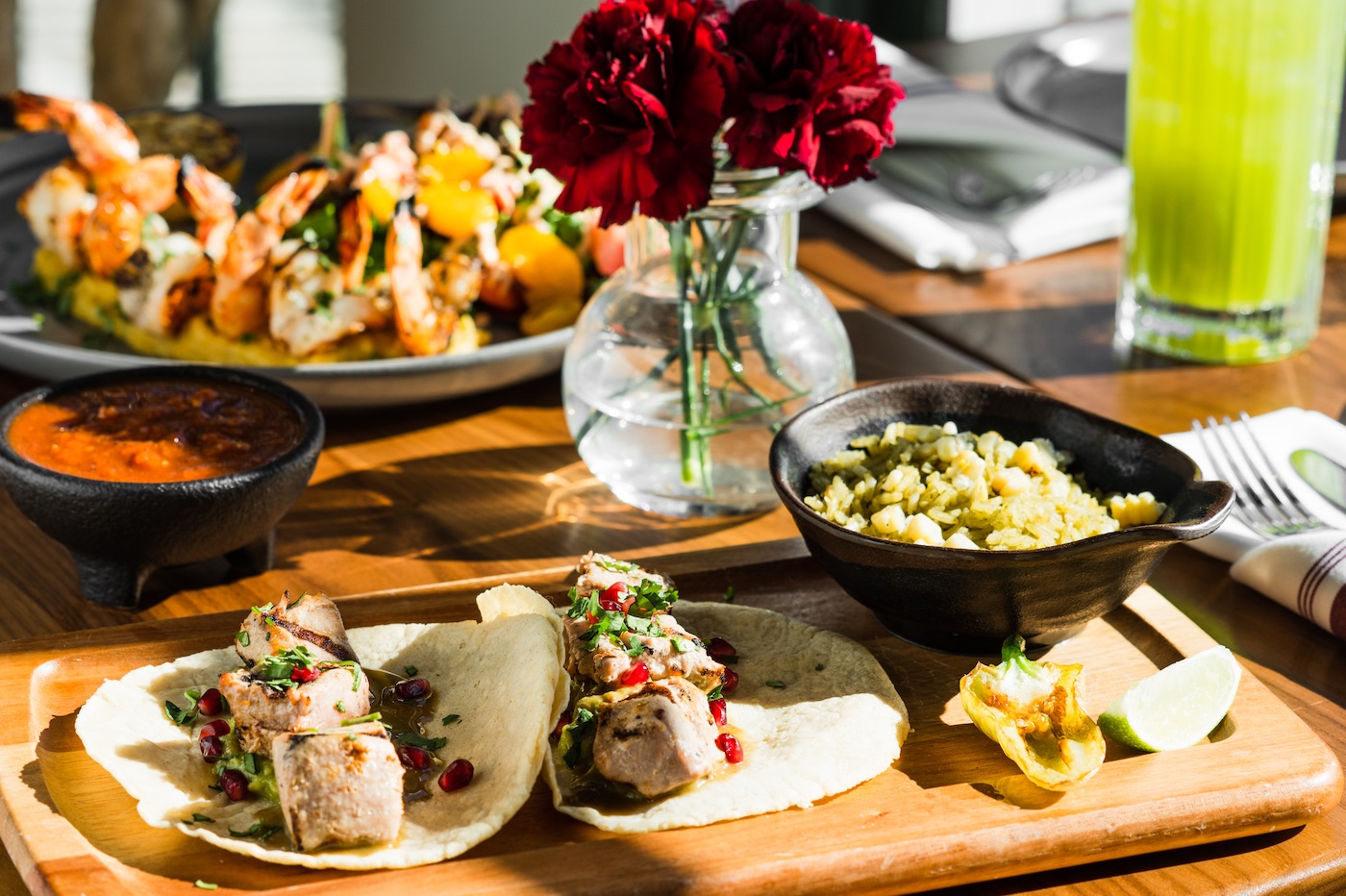 Complex, intriguing, and utterly delicious, Oaxacan cuisine – with its roots in southeastern Mexico, where proud indigenous people fine-tuned the art of Mexican cooking over centuries – is making its way into the hearts (and stomachs) of Santa Barbarans at Flor de Maiz.
The latest concept by restaurateur Carlos Luna, the restaurant opened last fall with upscale Mexican dishes, a bustling open kitchen, and a lively bar that opens onto a seated patio with awesome views of Stearns Wharf and the Pacific coastline.
Flor de Maiz, which means cornflower, pays homage to one of the oldest civilizations, serving dishes prepared with the same indigenous recipes and techniques that have been used for hundreds of years. Luna adds a few unexpected, flavorful twists.
"I have always wanted to bring the innovative cuisine of Oaxaca to Santa Barbara, and we knew we had the perfect opportunity with Flor de Maiz," said Luna, a Guadalajara native who established a reputation for authentic, quick and casual Mexican dining with Los Agaves on Milpas Street in 2008. He grew that concept into five locations in Santa Barbara and Ventura counties. In 2017 he opened Santo Mezcal, a fine dining room at the Funk Zone's Hotel Indigo serving modern contemporary Mexican cuisine.
Bringing the exciting flavors of Oaxacan cuisine to Santa Barbara has always been on Luna's bucket list.
"Oaxaca has a legacy as the center of Mexican culinary culture, with some of the most internationally renowned cuisine," he said. "Santa Barbara is a world-class destination, and we felt that this concept would work really well with our evolving food scene."
For his new concept, Luna recruited one of Mexico's finest rising talents for the role of chef de cuisine, Francisco "Paco" Cavazos. The goal from the very beginning was to prepare Chef Paco to run the kitchen of his Oaxacan dining concept, Luna said.
The 35-year-old Guadalajara-born Cavazos worked his way up the culinary ranks at a handful of hotels, including Hotel Presidente Intercontinental in Guadalajara, where he led his team in turning out quality plates in high volume, perfectly portioning out each dish, making sure food was delivered quickly before losing its luster under a heat lamp.
Chef Paco's culinary experience at convention hotels and overseeing high volume production in the kitchen was the perfect training ground for feeding the hungry masses at Los Agaves. A mutual friend introduced him to Luna, who hired the budding chef and arranged an apprenticeship for him with world-renowned Casa Oaxaca restaurateur/chef Alejandro Ruiz. After studying with Ruiz, Chef Paco found himself leading a team of cooks and serving diners by the dozens as executive chef at Los Agaves. A few years later he led the culinary team that opened Santo Mezcal.
Luna tapped hospitality veteran Hector Arellano as food and beverage director and general manager. Arellano worked at fine dining establishments in Cabo San Lucas and Miami before teaming up with Luna to oversee the rollout of each of his restaurants. Arellano and Chef Paco have worked closely together for the past five years, collaborating on the culinary direction for each restaurant and finding menu inspiration for new dishes.
Some of those dishes materialized on Flor de Maiz's opening menu, with Oaxacan-inspired classics such as panuchos de cochinita pibil (crispy corn tostadas topped with savory marinated pork), mole negro con pollo (chicken in black mole), and mole verde con mahi mahi and (green mole with mahi mahi).
When restaurants were allowed to open post-COVID-19, Flor de Maiz offered an abbreviated menu with production and labor costs in mind, but after two weeks they went back to the original menu and added more dishes, Arellano said.
One of those dishes was a chef's special Tomahawk steak with its handlebar-like bone protruding from perfectly seared meat. "We chose this meat selection because of its uniqueness, quality, and flavor," Arellano explained. "To our knowledge, no one else in town is serving it, and we were looking for something new and exciting to offer our diners."
The excitement begins as soon as you are seated in the busy outdoor dining area. There is seating on the front and side patios and some spilling out into the sidewalk. A red smoky salsa made with fire-roasted peppers and tomatoes and a green creamy salsa made with fresh jalapeno, serrano chilies, garlic, and canola oil emulsion is served with a basket of freshly made corn tortilla chips. After a few bites of this palate-stimulating combination you may be content with just the salsas, chips, and your lavish mezcal cocktail, but don't be.
Choose as your first course one of variety of ceviches including octopus, shrimp, kampachi, and cauliflower – each marinated in citrus juice and assembled in combinations prepared from a variety of fresh ripe tomatoes, red onions, grilled pineapple, cilantro, serrano pepper, coconut, jicama, pumpkin seeds, dried corn, and quinoa ($14-$22).
From the griddle, try the slow-cooked pork marinated in achiote adobo and served on a freshly made corn tortilla with a swath of black beans and topped with avocado aioli and pickled red onions ($16).
Tacos are a delicacy here with hearty fillings: octopus, mahi, lobster, Angus filet, and vegetarian bean. Each is sautéed or grilled and garnished with onions, cilantro, avocado, and colorful accents such as peppers, grilled pineapple and gourmet sauces like avocado aioli ($17 to $20). For the shrimp and octopus tacos, Chef Paco scatters ingredients you might grow in your garden such as purslane (a highly nutritious and edible "weed" succulent) and pomegranate (seeds).
Chef Paco relies on local farmer's market produce but he also uses imported herbs, spices, heirloom chilies, and Mexican chocolate for its inspired chef-driven plates. Epazote, a native plant in Mexico and Guatemala, is used to season beans, stews, and other rustic dishes. Hoja santa is a big, floppy fragrant leaf herb used for mole amarillo and mole verde as well as the restaurant's notable cocktail selection.
The grilled octopus, marinated in hoja santa leaf pesto and presented with rice and creamy huitlacoche (a corn fungus with an earthiness similar to mushrooms considered the "truffle" of Mexico), is a delicious herbaceous dish ($26). The rib eye steak, served with guacamole, potatoes sautéed in garlic and pickled onions, is punctuated by the zesty flavor of a classic heirloom chile de agua ($40).
The menu features a handful of moles that lean on tradition: two chicken enchiladas, one dressed in verde (green) mole, the other dressed in coloradito (red) mole ($18); Jidori chicken breast charred and smothered in mole negro, sprinkled with sesame seeds and served with cilantro rice, pasilla pepper, grilled corn and fried plantains ($27), and pulled duck meat rolled in corn tortilla, fried and dressed in coloradito red mole and served with herbed black beans, red onions, cheese, and Mexican sour cream ($21).
The restaurant offers a wide selection of agave spirits. Mitla is a popular mezcal drink with house-made orange and chipotle marmalade, fresh squeezed lime juice and sea salt, garnished with a fresh orange wheel and rosemary ($14). Margarita Picosa combines habanero, mezcal, agave nectar and lime juice and a glass dusted with a chili salt rim ($13). El Tio Tono mixes tequila blanco, averna amaro, grapefruit syrup, pineapple juice and Peychaud's bitters ($14). Signature cocktails and margaritas are available for $8 to $10 during Happy Hour from 2 pm to 5 pm daily.
For dessert, the sweet cornbread and burnt milk ($12) is so rich and tantalizing it will make your lips pucker as you nod your head slowly, resigning yourself to bliss and anticipating a new level of satisfaction upon your return.
Flor de Maiz offers a handful of carryout specials, including a family pack of nine tacos with rice for $49.
Flor de Maiz is open for outdoor dining Sunday through Thursday from 11 am to 9 pm and Friday and Saturday from 11 am to 10 pm. Carry out meals are available. 29 East Cabrillo Boulevard, Santa Barbara, (805) 869-6524.
Correction
A recent article about local wineries open for business ("Did the Pandemic Cancel Your Summer Wine Adventure?") incorrectly stated that Babcock Winery has outdoor seating for 35 guests. The winery has outdoor seating for 175 or more guests and does not require a reservation for parties of six or less.
You might also be interested in...