The People Person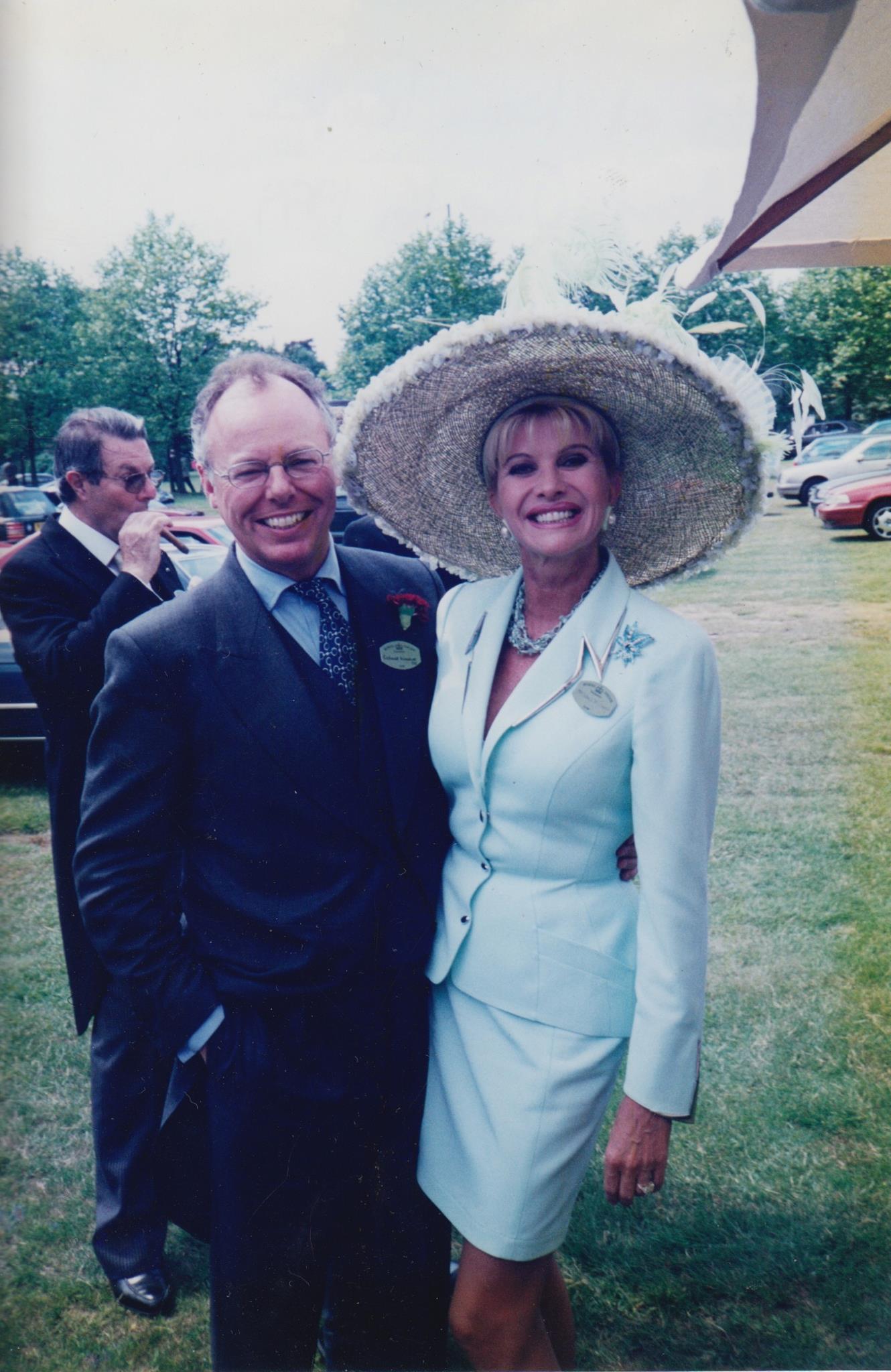 Where in the World is Richard Mineards?
Our favorite society columnist, Richard Mineards, is missing. Well, his column "Montecito Miscellany" has been missing from our pages, which in itself feels like a big loss. After several months of wondering, Where's Richard?, I connected with Mr. Mineards via telephone to see what's shakin'.
Right off the bat, he dove into stories with his incomparable accent, adding juicy tidbits and colloquialisms within each plot. So instead of writing a feature on his current state of affairs, I figured what better way to hear it than from the man himself? Without further ado, here's a Q&A with Richard Mineards.
Author's note: for optimum enjoyment, read in his "very" English accent.
Q. Hey, Richard, it's Megan from the Montecito Journal. How the heck are you?
A. I find it a miserable, nightmarish time. To go from full throttle to full stop is not a very pleasant experience. What I am missing most of all are the lunches, and dinners, galas, the opera, ballet, and the symphony. And now it's just basically dead stop. I mean, I, how many books can you read? Luckily, I have most of the premium TV channels and I can watch movies, but many of them I've watched before because I covered them over the years. I really miss the social interaction of meeting people. I'm quite a gregarious type, you know. And now the big moment in my day is getting coffee and a jalapeño bagel from Pierre Lafond in the Upper Village. So, this is really a nightmare. And what really upset me last month was my sixty-seventh birthday. I was supposed to fly to a friend's house near Marrakesh in Morocco, but the EU banned all US flights. So, that scuppered that plan.
So sorry to hear about your birthday. Happy belated, by the way.
Well, thank you for that. The nice thing about it was, Priscilla, my photographer. We're sort of the Batman and Robin of the social column; you can't have one without the other. Because my trip to Marrakesh is canceled, she organized a surprise party at Roger Chrisman's home in Ennisbrook. He's the former Commodore of the Yacht Club. He and his wife, Sarah, hosted a small lunch of eight guests. At least I had something to celebrate on the day, otherwise it would have been a total bust.
Lots of people ask about you and are missing your column. How's writing going?
My column has been on hiatus since mid-May. For a couple of months after the mid-March pandemic closed everything, I tried to bring out a column, which was three pages rather than five because of what was happening, but it just dried up. We intend to bring the column back at the beginning of September, but, at the moment, I'm beginning to wonder, because things are not getting better, they're getting worse. If I have nothing to cover, essentially, I have nothing to write. It's a really depressing time.
I'm lucky I'm not ill. I know people have been dying, and I can only feel for those impacted by this. I can only feel for people who are in dire straits, who don't have a job or lack of physical status. So whatever I'm suffering, they are suffering in spades! Also, there is a lot of indecision going on about schools going back, and I don't understand why everybody is crying about wearing a mask. Wearing a mask makes good sense to me. I see the pandemic continuing. I mean, I'm not a pessimist, I'm an optimist in all matters, but I don't see this clearing up until after Christmas.
I love hearing your stories, and I know I'm not alone. How long have you been writing?
At the end of the year, I'm celebrating fifty years in journalism. I started as a junior reporter for The Falmouth Packet, a weekly paper, in 1970. Then I moved on to the Cambridge Evening News and the Daily Mirror, which was the biggest selling newspaper in Britain at the time in 1976. I started covering the Royal Family. I moved on to the Daily Mail. My last year in Britain was in 1977, which was the Queen's Silver Jubilee year. And in betwixt '76 and '77, I came to America for the first time, and I was offered a job on New York's new entertainment magazine, the Star. I said, I can't do it soon because I have to go back to England for my commitment to cover the Silver Jubilee for the Daily Mail. But I moved to America in New York in '78 and became the gossip columnist for Rupert Murdoch's Star. And then he bought New York magazine, and I became one of two editors on the gossip column, which was a more sophisticated gossip column for the intelligentsia. And that's when I started doing television for my expertise on the Royal family. I started doing a TV show in Boston, and I was invited to do The Joan Rivers Show, where I became a regular. And that was my trajectory into television. Who would have thought I'd become an anchor with CBS and then a commentator on ABC News?
That's quite a career! Would you say that you were a little gossip in school? Or how did you get to that part of journalism?
Well, I think so. When I was very young, about ten or eleven, I loved reading the gossip columns of the national newspapers. And, of course, there were many of them. The William Hickey column in the Daily Express I really enjoyed reading. Who would've known I'd be a regular correspondent for them when I moved to America? I did a show on the USA network called The Joan Rivers Show, every four weeks or so. Then the network found out it was the most-watched show, so they put in gossip segments every day. I signed a contract, and that's when I became a quote-unquote celebrity.
What was the first moment you realized you were a "celebrity?"
One day, I was with a friend of mine, and we came out of the dry cleaners on Manhattan's Upper East Side. This young boy came up to me and said, "Aren't you on The Joan Rivers Show?" And I said, "Oh, yes, I am." And he said, "My mother loves you. Can I please get your autograph?" (Richard laughs.) The little boy gave me his mother's name and I wrote it down, then ended with "Pip! Pip! Richard Mineards." I have always used "Pip! Pip!"
For us Americans out here, what does "Pip! Pip!" mean anyway?
Pip! Pip! is the contraction of "Toodle Pip," an Edwardian form of goodbye. So that's how I always used it, even on TV. I said it when I used to host the gossip show on E! Entertainment Television, which didn't make me particularly rich. We have saying, "You can't spell cheap without E!"
That's hilarious! And I used to watch your show years ago! On the subject of journalism, do you prefer writing or to be on TV?
Well, I mean, I started in newspapers already. But I like the immediacy of television. And I certainly like the checks, because they send me a great deal more than, certainly, a newspaper would. When I started as a journalist back in 1970, I got the equivalent of about seven pounds a week, which was about ten dollars. My salary has gone up since then, I have to say. Certainly, my TV contracts enabled me to invest wisely and save for my old age.
Yeah. That makes sense.
And I can't thank Joan Rivers enough. She was the one who made me sort of a media celebrity. Joan became a dear friend. We lived near each other. I used to live on 66th and Madison, and she would be near 61st and 5th Avenue, I think. She always invited me to parties. In fact, Marlon Brando had the apartment below her, and she was always complaining. "Thank God I'm so thin because he is so fat. Otherwise, I'd never fit into the elevator." That was quite fun.
Looking back on your long career, who was the most prominent celebrity you've met?
Well, the Queen. I mean, how big of a celebrity can you get?
Good point.
In 1977, she was 25 years on the throne. I was assigned to pretty much cover every single day for the Daily Mail. We were allowed to talk to the Queen, with the understanding that what was said could not be recorded. I found her utterly charming. I never thought in my wildest dreams that I would ever talk to the Queen. And here I was, talking to her every other day or so.
So, have you got in touch with any old friends during the pandemic?
I've been making a lot of phone calls to England, catching up on what's going on there. Because, for my 50th anniversary in journalism, I'm trying to get it back into England. I've taken over a restaurant in Penzance for 28 people, and I've hired the harpist to the Prince of Wales to perform for three hours. You know, to hopefully play some baroque, medieval, and classical music. But what I worried about now is the pandemic, as I say, it's already a scupper my plans for my birthday in Marrakesh. I just hope it's not going to impact my 50th-anniversary dinner in England at Christmas. We'll wait and see. It's up in the air, really.
Would you rather be in England than America right now? Where would you feel more comfortable?
Let's put it this way, I mean, I love Montecito. There are worse places to be in lockdown, as it were. But I would like the variety. So, you know, I like going back there. I always get back for Christmas for two or three weeks. I'm happy being down here. What I am missing, as I said earlier, is the interaction of going out every day. I mean, my diary was absolutely chockablock with events and engagements. And, as I say, maybe now I go out every day to get my latte and my jalapeno bagel, but that's really about it. So, I just mean essentially watching a lot of old movies on television, reading endless books. Other than that, I can't wait to be unleashed and to get back to writing again.
Side note, are you a dual citizen?
Yes, I am indeed a dual citizen of the UK and US, having become an American citizen in 2003.
I'm sure many people would love for you to write a memoir. Is that something you're considering?
I've been very lucky in my life. I met a lot of princes, the Queen, and other monarchs. So, there's certainly a memoir. I had this idea that if I did write an autobiography, I'd call it, There is Life After Lunch. Because when I was at New York magazine, I would very often go out for lunch, and that would morph into a cocktail party. Then that would morph into a dinner, and that would morph into probably attending Studio 54, which was the most exclusive discotheque in the world in its heyday. Because of my position as a gossip columnist, I had no problems getting in. And I knew the owners very well. But, certainly, there are a lot of stories in there.
Like what?
Well, I used to go sailing with a fellow Johannes von Thurn Taxis, whom I met at a party for Princess Diana Spencer. I met Prince Johannes at Doubles, the oh-so chic club at the Sherry Netherland on Fifth Avenue. We were chatting, he's quite an imposing guy, and it turned out his family founded the German postal system. He took my card, and out of the blue, I got a cable from his Lord Chamberlain (the most senior officer of a Royal Household) saying His Serene Highness would like me to join him on his yacht, the Aiglon, in the Caribbean. I went all about nine trips with him and his family on the 53-foot schooner.
One of the most memorable trips was when we were in the Cayman Islands, Dominican Republic and Cuba. We went into the marina, Marina Hemingway, in Havana. And I didn't know that he knew Fidel Castro. So Castro joined us on board the yacht for cocktails, and then he invited us for dinner at the Palace of the Revolution. The cherry on the top of the cake was when Castro invited us to stay on his private Island, Cayo Piedra, which is two islands connected by a bridge. And we went there on a one hundred 20-foot cruiser with three gunboats on either side of us from a secret naval base. We went over to the island, and I was in (Nikita) Khrushchev's bedroom. We stayed on his private island for three days. Even I was impressed by that. I couldn't wait to tell my father that his sperm had been dallying with Fidel Castro on his private island. I have a picture of myself with him.
That's quite a story!
I've really been blessed in life with the eclecticism of the people I've met. From the Royals to rock stars I remember one time in New York, a friend of mine knew Eric Clapton. We went to The Plaza Athenee, where Eric was staying, and we met Eric. We got invited to go to a concert of his at Madison Square Garden. We went in his limousine, entered backstage, and then I got this prime seat to see Eric Clapton play. That was really, really quite amazing. Is this all rather overwhelming for you Megan, or…
Not at all. I enjoy your stories! Switching gears, can you walk me through a typical day for you, pre-pandemic?
Well, yes, absolutely! I get up at about six o'clock in the morning. I get on the internet, check my emails, and then organize my diary. Then I check all the newspapers in England, the Telegraph and the Mail and see what stories are happening. I'd go out to a charity lunch, probably at the Hilton, Miramar, or the Biltmore, for three hours, then come back to check my emails and the internet to see what was happening. In the evening, I would go off to a cocktail party, and then there would be a gala type thing. Or, I'd be off to the Granada for the symphony or the opera or the ballet. Now I look at my diary, which used to be overflowing with events and occasions, and it's really quite bereft of anything. Now, when someone says they want to get in touch, I say, "Just call me anytime because I got the time."
Is there a positive side to having more time to yourself?
Well, not really. I mean, I love reading books, and I've obviously got more time to do that. I've got quite a lot of books that I have stacked up for ages that I'm catching up on, which has been quite fun. I've been watching movies on television. Although, a lot of I've seen when I used to go to the screenings when I was at New York magazine. It's pretty boring, frankly. I've always led a sort of very busy, gregarious, animated life. And, as I said, going full throttle to full stop is no fun at all.
What books have you been reading?
I'm reading Andrew Morton, a friend of mine who wrote, Diana, Her True Story. I'm reading his new book, Wallis in Love, which is about Wallis Simpson, the love of King Edward the XIII. I'm also reading this lovely book called Riviera Dreaming about how the Cote d'Azur started in the 1920. I also read this two-part piece by the late Kenneth Rose, who was the gossip columnist for The Sunday Telegraph in London. He knew everybody terribly well, very well-connected to members of the Royal Family and the prime minister. It's absolutely fascinating, giving behind the scenes of all the celebrities and government of the day. And I've got endless Royal books that might be worth rereading if this continues for much longer, hopefully not. But how are you dealing with the pandemic?
How am I dealing? Well, I'm doing a lot of interviews and staying busy with my blog. My personal deadlines keep me busy every week. So, that consumes my time, but…
See, that's what I miss! You know, I like deadlines. I mean, the more pressure I'm under, the better. With the Montecito Journal, I would always send them my copy on Sunday, then go in on Monday to edit the column. I'd get in the office again on Tuesday to make sure the right captions were with the right pictures with the right headline, that kind of thing. That's what I miss.
What would you like to tell readers right now?
I can't wait to get back to covering events and organizations. In the twelve years I've been doing the column, I've always tried to shine the spotlight on good organizations and good people. Hopefully, we'll get back to that again because I think a lot of the organizations need it. If they don't get promoted through publicity, who else is around to do it? They're all desperate; they're not getting the funding now. And in a way, we desperately need them to cover. Hopefully, we'll get back to some normality, but that will be for some time to come on.
Well, this has been such a treat. I've wanted to interview you for years. Thank you so much, Richard.
Any time. It's been nice to spend time doing this. It's a great pleasure because this is what I'm missing. Be safe. Bye-bye!
You might also be interested in...