Its Mission is Preserving the Missions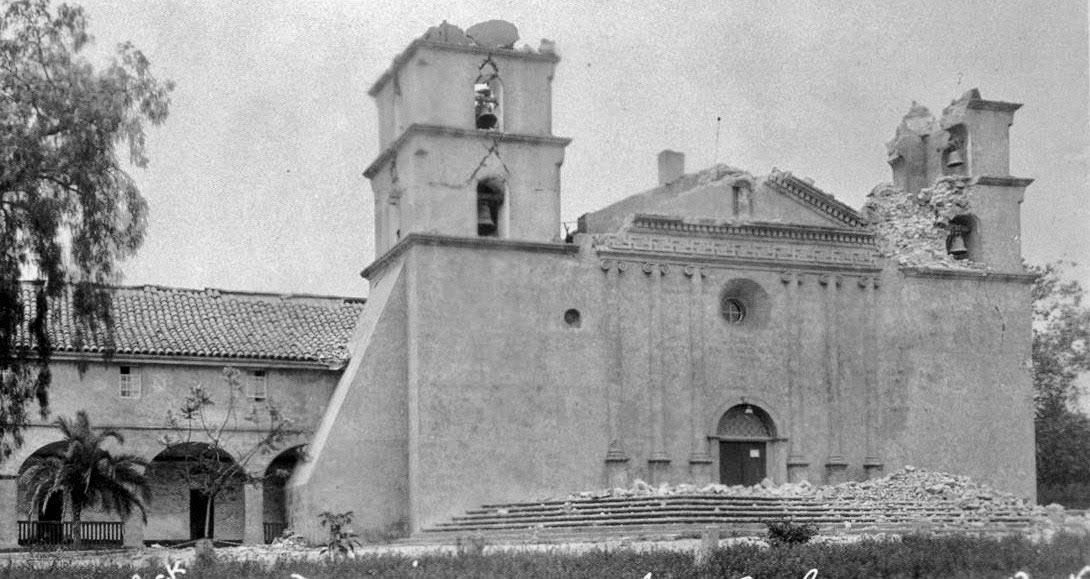 According to the California Missions Foundation press brochure, "Nothing defines California and our nation's heritage as significantly or emotionally as do the 21 missions that were founded along the coast from San Diego to Sonoma. Their beauty, stature, and character underlie the formation of California. Over time, many mission enclaves have developed into some of California's most significant cities: San Diego, Santa Barbara, San Luis Obispo, San Jose, San Francisco, and Sonoma. All 21 missions are California Historical Landmarks. Many have been designated National Historic Landmarks." Make note that Santa Barbara is one of those.
I'm sure history is more exciting when our fourth graders study the mission era and can actually see one. And of course they are a number one tourist attraction to millions.
To protect and preserve them the foundation was established in 1998 and is the only organization dedicated to the mission's long-term preservation. We all need to share in the vision of saving these treasures. Without them an important piece of our history would be lost.
Foundation Executive Director David Bolton tells me that Mission San Miguel Arcangel was structurally damaged in a 2003 earthquake and needed to be restored and stabilized. San Francisco's Mission "Dolores" was losing its Indian painted murals to decay. Mission Santa Barbara's façade was crumbling with each passing day. These have all been repaired. Grants from Save America's Treasures and donations from individuals, corporations, and foundations continually needed, aid the foundation.
Another challenge is missing treasures such as baroque statues, Indian basketry and stonework, candlesticks, textiles, historican photographs, and mission era tools. These have disappeared from unguarded missions. The Foundation has worked to upgrade security with state-of-the-art equipment.
Many mission collections need to be fully catalogued and costly archeological examinations need to be made. Nature challenges the primitive construction of our missions. Most buildings are adobe (dried mud) and are susceptible to water damage.
An historical timeline began in 1769 when a Spanish expedition from Mexico led by Father Junipero Serra founded Alto California's first mission in San Diego. The Spanish king sent military troops and Franciscan missionaries to the new land to colonize the territory and convert its Indian inhabitants to Christianity. Father Serra died at age 70 after founding nine missions in 15 years. Father Fermín de Lasuén founded the tenth mission in Santa Barbara. He founded nine more in the next 12 years. Over 54 years, four forts or presidios were also founded along the California coast.
The founding of the California missions began seven years before the American Declaration of Independence was signed in 1776 and ended 25 years before gold was discovered at Sutter's Mill in 1848. Mission expansion came to an end in 1823 with the one in Sonoma.
The Mexican War of Independence was fought from 1810 to 1821. In 1833 under the Mexican Secularization Act, missions were confiscated and sold which began their decline. The United States won the war with Mexico in 1846 and took control of California. It became the 31st state in 1850. Mission buildings and some land holdings were returned to the Catholic Church through presidential executive orders.
The Association for Preservation of the Missions began in 1888 followed by various others. Newspaperman Charles Fletcher Lummis founded the Landmarks Club to preserve missions in 1896. Then there was the California Historical Landmarks League founded by Sen. Joseph R. Knowland in 1902 with support from William Randolph Hearst. Hearst himself purchased Mission San Francisco Solano and deeded it to the State of California in 1926. In the "Good Old Days" Hearst used to take his guests from his "castle" over the mountain and through the canyon to show them Mission San Antonio de Padua. Before the pandemic, religious retreat groups could spend the night there in private rooms and have a simple catered dinner. How many folks get to sleep in a mission? Don and I had a grand time with our group imagining what life would have been like back then.
Today we have the California Missions Foundation working on the missions' behalf. The foundation was founded by Chairman Emeritus Stephen T. Hearst, whose grandfather was William Randolph. He and his great grandmother Phoebe did a tremendous amount in the area of preservation of California's historic buildings. The foundation has provided more than $14 million in grants to all of the California Missions, including major projects at Old Mission Santa Barbara and the Presidio de Santa Barbara. The foundation is governed by a board of 12 from all over the state.
Board president Michael Imwalle has also been the archaeologist for the Santa Barbara Trust for Historical Preservation for 33 years.
The foundation is currently spearheading a fundraising effort to raise $500,000 to cover the deductible for the July 11, 2020 fire that ravaged Mission San Gabriel. It was the fourth built in the chain of 21 in 1771 and was the beginning of the city of Los Angeles. The fire began at 4:26 am and quickly consumed the mission's wooden roof spreading quickly toward the altar and reredo (altar backdrop). The artisan was renown sculpture Uriate. The reredo held six statues including the Mission's patron Saint San Gabriel.
As the foundation's board chair Michael Imwalle says, "The California missions give each of us the opportunity to walk through time. Like California's great Redwoods, the missions are living history. They reflect the work and inspiration of our forefathers and the dedication and care of succeeding generations to keep these missions alive, relevant, and accessible." Build it and they will come! And they do by the millions to witness echoes from the past.
For more info about California Missions, contact Director of Administration Dori Belmonte, PO Box 23035, Santa Barbara, CA 93121 or www.californiamissionsfoundation.org. The phone is 805-963-1633.
You might also be interested in...