Paul Madsen's Long-Delayed HomeRebuilding Project Almost Ready to Break Ground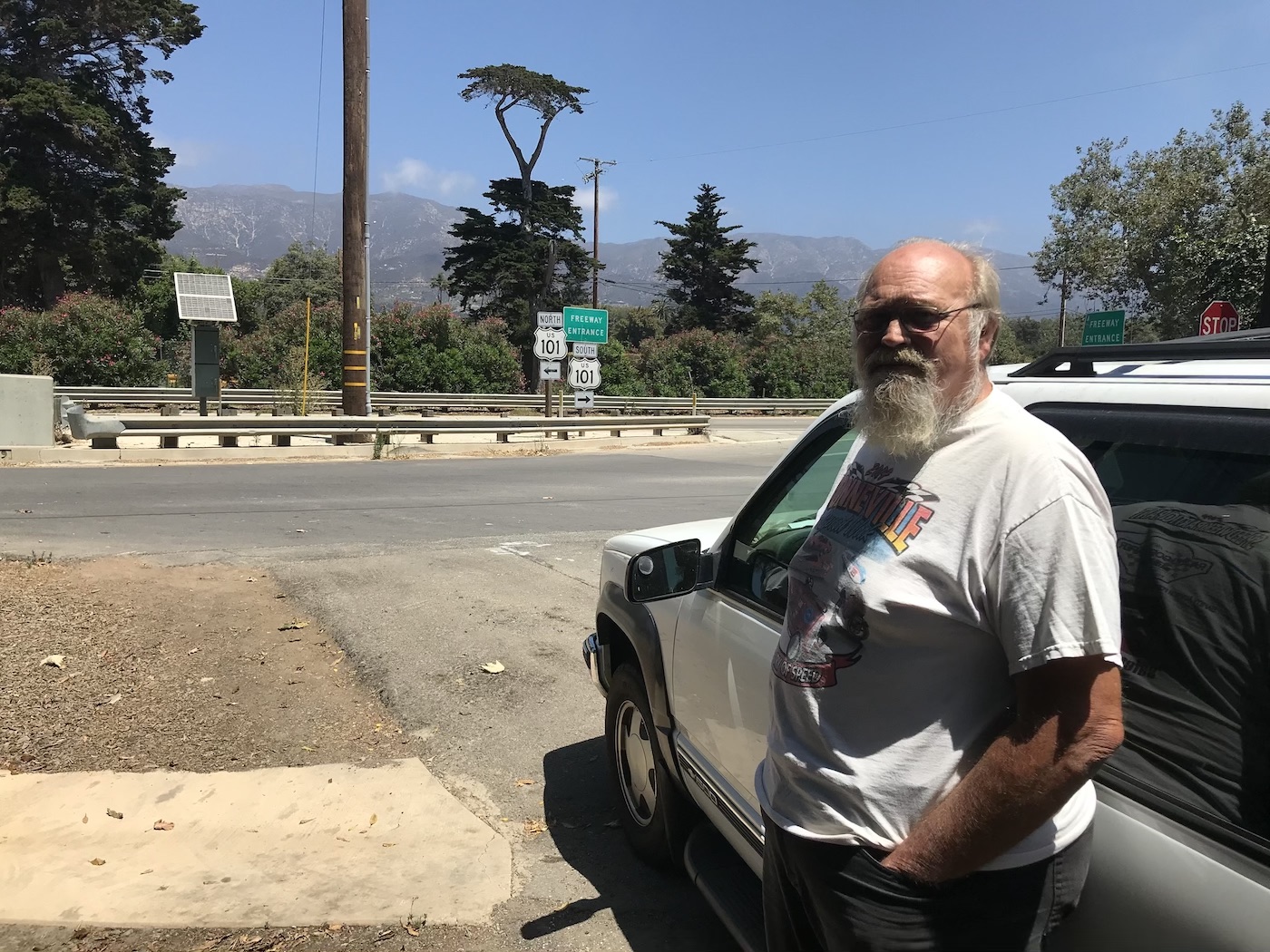 For a man accustomed to building and racing some of the world's fastest cars, Paul Madsen could be forgiven for thinking that it wouldn't take two years to receive a permit to rebuild his house, which was destroyed in the January 2018 debris flows. But as the Montecito Journal highlighted last week, so far, it's taken the retired auto mechanic longer to get a permit to rebuild his home on Posilipo Lane than it took for his next-door neighbor, the Rosewood Miramar Beach resort, to complete its $200-million construction.
If you didn't catch the cover story in question, while the mudslides inundated his nearly 100-year-old structure, which was already four feet below street level, the house had to be destroyed. Madsen, who retired from J&S East Valley Garage four years ago, has been living in a tiny one-bedroom apartment ever since.
Because his lot is located next to the 101 Freeway southbound onramp, and because Madsen prefers to spend much of his time sitting in his SUV while taking in the mountain view and watching the traffic go by, many residents had begun to wonder who he was. That's how we were alerted to his plight.
For last week's story, we attempted to speak to Madsen's architect, David Winitsky, who originally submitted a rebuilding application to the county back in March 2019. But Winitsky didn't return calls for that story and it wasn't until this week that he finally left us a message saying that he would have absolutely no comment on the matter until the county issues all the outstanding permits and the project is officially approved.
The Journal, however, was able to speak with Ciara Ristig, a county planning officer who worked directly on the project. According to a chronology provided by Ristig, a major part of the project's delay is the fact that Winitsky took from January 7 until August 9 of this year to resubmit building plans with the required corrections demanded by the county. That certainly accounts for part of the delay, though we are eager to hear Winitsky's account.
Another major factor in the delay is the fact that county planners refused to grant the project so-called "like for like" status, a term popularized by First District County Supervisor Das Williams in the wake of the disaster. "Like for like" supposedly allowed anybody who lost their home to receive expedited permitting so long as they stuck to simply rebuilding their house rather than increasing its profile or footprint.
Rather than simply expediting Madsen's rebuilding permit, the county appears to have forced him to go through a time-consuming Conditional Use Permit process with the California Coastal Commission, which also caused a several-month delay – from early March to end of November 2019 – in the process.
"To be exempt from needing extra permits, the restored structure shall be the same use, footprint and not exceed the original height by 10 percent," Ristig said.
But doesn't Madsen's project fit those exact criteria?
Yes, answered Ristig, adding that "the project had been deemed needing a [Conditional Use] permit by the time it got" to her desk. Unfortunately, based on a section of the county's planning code that Ristig sent the Journal, it appears that Madsen failed to qualify for "like for like" treatment simply because his property is located within the so-called Coastal Zone and was, therefore, subject to appeals via the Coastal Act. (Such considerations apparently didn't bother Williams or other county officials when it came to allowing all of Carpinteria's aging greenhouses to convert into massive cannabis farms without having to bother with the same CUP and hearing process Madsen had to endure.)
Here's the good news: On Friday, the day after the Journal printed his mug on the front page, Madsen received word from architect Winitsky saying that the wait was finally almost over… like any-day-now almost. According to Ristig (although she couldn't provide an exact date), barring any final, unforeseen hurdles, the project is currently under final review and is expected to receive an official green light as early as this week.
Stay tuned!
You might also be interested in...