Mind and Body in Sync, While You Walk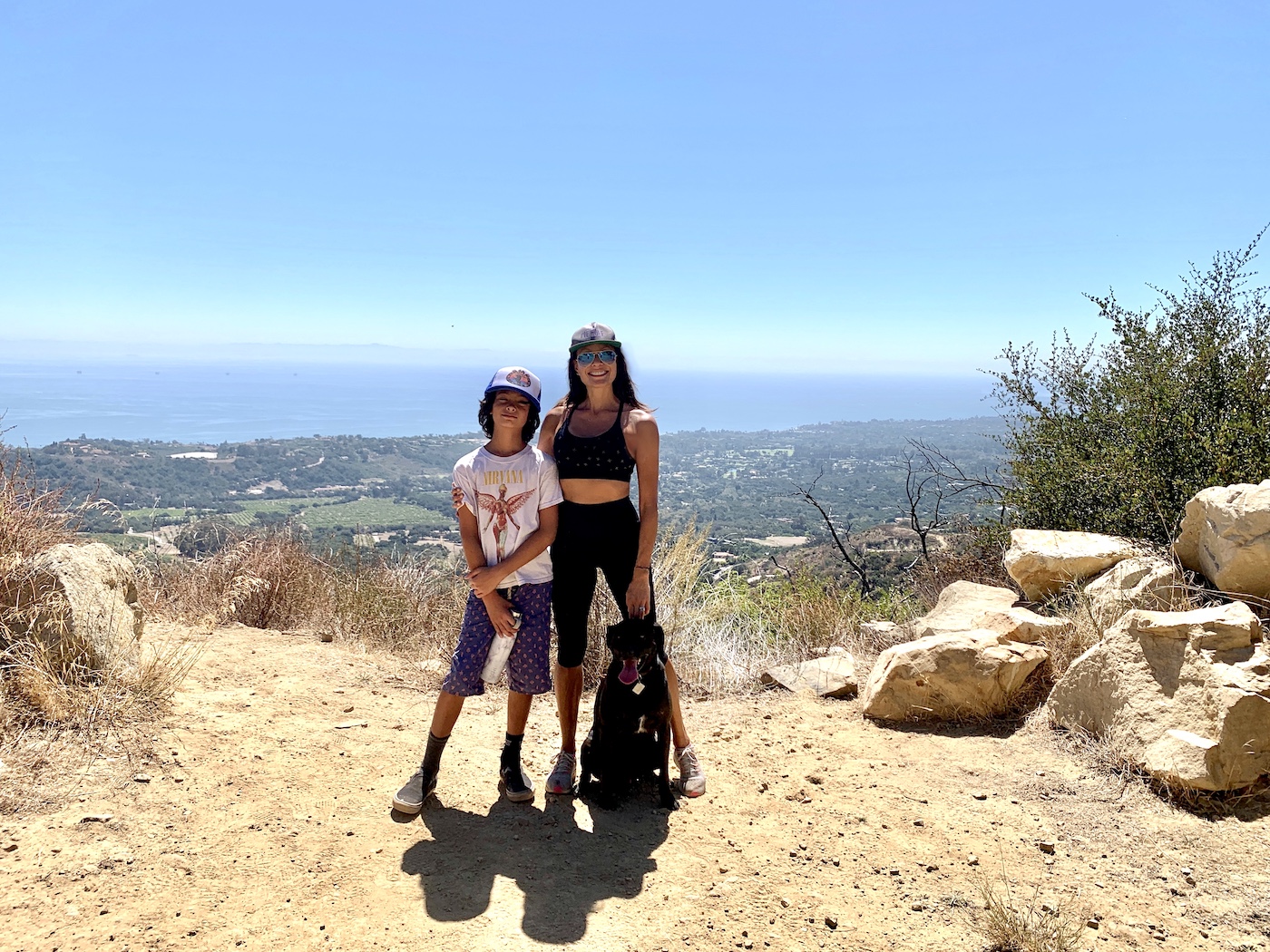 After nearly 16 years living in Montecito, not a day goes by when I don't think how lucky we are to live in such a special place. Since quarantine and now as my kids have started three different schools online from their bedrooms, never have I been more appreciative of our precious beaches where I can steal away for a few moments of peace and quiet, and our beautiful mountains that offer a world of canyon trails and neighborhood paths waiting to be discovered. 
Getting out into nature has been my savior over the last few months. Whether you're an avid hiker or just someone who needs a break from our bizarre new reality, taking advantage of the Montecito trails that stretch throughout the Santa Ynez mountains behind us and into the lowlands of our community, can provide a much needed sense of renewal, rejuvenation, and fresh perspective. Within minutes and walking distance from your home you can be transported to another world with unparalleled views and leave your stress behind.
Since the debris flow, our mountains have changed but the trails, some of which were routes used by the Chumash and early settlers to travel between the coast and the interior, are intact. Many people don't know this but all of the public trails in Montecito, Summerland, and Carpinteria are preserved and maintained by the Montecito Trails Foundation, a volunteer organization established in 1964 and funded through tax-deductible donations. In addition to trail upkeep they provide the charming trail signs, meticulous maps, information on conditions, and interesting historical facts, such as the story behind the Hot Springs Hotel built in the 1880s on the Hot Springs Canyon trail.
Whether you want a strenuous, heart-pumping hike, a mellow flat walk to do with your kids, or something in between, the Montecito trails offer a path for everyone. More than just a physical workout, being in nature on a trail can boost your mood and improve mental health. According to a study by Stanford University, spending quality time in the great outdoors reduces stress, calms anxiety, and can lead to a lower risk of depression. In addition, being outdoors opens up your senses to your surroundings and improves your sensory perception. Seriously, it's the best mood shifter I know next to a good margarita.
As we're all so separated these days, one of the best ways to safely reconnect with friends and get in a workout, as well as a doggie walk (dogs are allowed off leash), is a hike such as Romero Canyon, Hot Springs Canyon, or Buena Vista Trail. If you really want to social distance and sweat, try the 'steep streets' such as Mariposa or Buena Vista then head over to the Fearing Trail that connects Bella Vista Drive to Romero Canyon Road.
For an easy and super accessible trail to walk with your kids, try my family's favorite, the Ennisbrook Trail, which features the Secret Whisper Tree where you can "tell secrets and wishes into (its) ear." Ashlee Mayfield, Montecito Trails Foundation President, says, "One of my favorite Montecito trails has always been the Ennisbrook Trail. It was the first trail I used to introduce my kids to hiking, and is still a favorite on sunny days because of its beautiful tree canopy."
If you need alone time, put on your headphones and listen to music, a podcast, or download a guided walking meditation app such as Walking Meditations or Headspace. Walking meditation is designed to bring your body and mind in sync while you walk. It involves very deliberate thinking about how you walk, as you walk, while paying attention to your breath. For example, as you take each step focus your attention and be very intentional about the placement of your feet and legs. Pay attention to how your feet hit the ground, heel to toe, how your body moves, and how you inhale and exhale. If you don't like to sit and meditate, walking meditation is a great alternative as it brings the meditative experience into daily activity.
The Montecito trails are a treasure for our community and I'm deeply grateful to the dedication and hard work of the Montecito Trails Foundation. According to Ashlee Mayfield, "Seeing people out enjoying the trails is the best gift we can receive in return for our work."
For more info, to get a detailed trail map, donate, or become a member, visit: www.montecitotrailsfoundation.info.
You might also be interested in...