Farm to Cart – Fresh Food and No Long Lines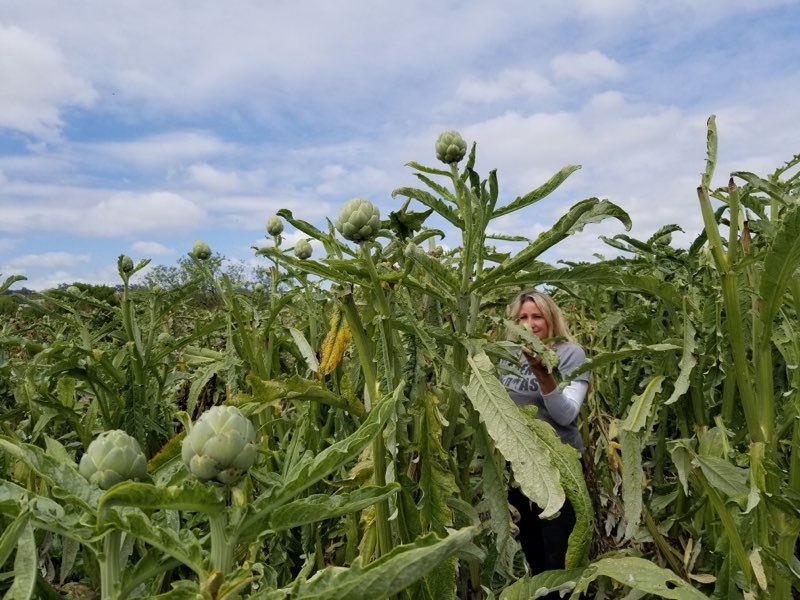 Local food activist and Sweet Wheel Farm & Flowers owner Leslie Person Ryan is on a mission to solve the "food desert" of Summerland. The think-outside-the-box purveyor of all things grown from the earth offers fresh fruit, vegetables, herbs, baked goods, wildflowers, and specialty foods made with ingredients from her garden. Person Ryan operates two stands locally – one on Coast Village Road in Montecito and one in the heart of Summerland on Lillie Avenue. What's picked on her farm in the morning goes on the cart that day. Person Ryan promotes her colorful and nutritious edibles as a quick and healthy alternative to pandemic meal kits. You just pack it in a box and go. It is no surprise Person Ryan has been a champion of local sustainable agriculture and a proponent of educating youth about sustainable food practices in school. Person Ryan recently partnered with Carpinteria School District to introduce a curriculum for elementary students. We caught up with her to discuss farming and her culinary inspirations.
Q. Why is it important for students to attend farm-apprenticeship programs?
A. The students that I have talked to that have gone through internships gain experience and perspective on farming. Farming may sound romantic, but it is hard work! Right now, because of interest, we are creating an internship program for our farms as well as volunteer hours that students can apply for at our farm through our nonprofit, Santa Barbara Agricultural and Educational Foundation. Our mission is to provide educational resources for sustainable agriculture, educate the public on the benefits of eating organically, support our local farmers, and foster a sense of community through food.
You've been a business owner for several decades. At what point did you decide that food was going to be your focus?
It was when a client told me her story of getting into a fight over the "last stale sandwich at the liquor store" in Summerland, after the 2018's debris flow. As a community volunteer and lifetime activist, I knew that I would have to give it my all to create a solution to end the food desert in Summerland. Something that many people don't know is that Summerland residents were unable to get food for more than a week because there was no way out after the debris flow.
You mentioned you studied cooking in Mexico, perhaps catching a glimpse of the culinary influence that inspired Diana Kennedy, a British woman with no professional culinary training who rose to prominence and became an authority in regional Mexican cuisine (as featured in the documentary, Diana Kennedy: Nothing Fancy) and Susana Trilling, a Texas-born chef who became a champion of Oaxacan cuisine. Can you tell me briefly about your culinary journey there? How does it influence what you're doing now?
Let me preface the response by saying that I have frequently gone on vacation to Mexico since I was 19 years old. I fell in love with the food immediately and started cooking American Mexican cuisine. Then I just decided to go full-on authentic Mexican. Over the last couple of years, I began attending cooking schools in Oaxaca as I have had a business there for about a decade. Most profoundly, every class and every day starts with a trip to the local mercado where the local merchants and farmers sell their foods: fruits, meats, fish, herbs, spices, and cheeses as well as every kind of cooking supply imaginable. I now believe farm-fresh food being cooked and eaten that day is a healthier lifestyle for all of us. In Oaxaca, probably most cooking schools start with moles, so I learned mole. I then took many classes from acclaimed chefs and even took a wondrous metate class outside of Oaxaca learning to grind spices for multiple things as well as a private cheese-making class with Susana Trilling, a Texas-born chef who moved to Mexico and became a champion of Oaxacan cuisine. I stayed in a Spanish immersion school with a family that has become my Oaxacan family.
What is your culinary approach with the Sweet Wheel Farm & Flowers cart?
In-season organic and pesticide-free produce, food less handled. That means that our cart forgoes many people touching it like stockers, cashiers, and trucking/shipping. All of the produce is literally picked at the farm and put on the cart.
Who's your biggest culinary inspiration?
I was lucky to have parents who really enjoyed cooking and cooked from scratch. My father was a predecessor trawler to Huell Howser. He would seek out these tiny ethnic food purveyors from all over Southern California. I don't know how he found them. He would pull off the freeway in some random place and say, "This is my favorite German delicatessen…" We had no less than six kinds of mustards in our refrigerator at all times. My mother was a wonderful cook and was active writing cookbooks.
Your fruit and vegetables are grown at your home in Summerland and farm in Orcutt, respectively. Are there any that do particularly well in this climate and soil?
Summerland has milder temperatures that are great for planting. We are planting the farm now in diablo clay soil, which is dark grayish silty clay that has slow permeability and drains well. You will see me plowing and preparing to grow some pollinators and vegetables that are low water usage. We grow pineapple and mango at home, and have experimental raised beds. In Orcutt we grow micro black beans, corns of all colors and other staples including berries, cilantro, tomato, beans, cauliflower, melons, green beans and tomatoes. The soil there is sandy loam, which is made up of sand, silt and clay and perfect for secondary crops.
What are some novel agricultural techniques you're using to be more environmentally friendly?
I am a believer in secondary crops where using your irrigation, you can grow under something taller and today we started planting field tomatillos under our corn. In San Diego I grew agave under oranges as a secondary crop. I also rely on what I learned in organic rose gardening to treat pests.
What do you consider affordable, high-quality foods?
Our black micro beans might be one forthcoming. If you are looking for quality, look for non-GMO seeds and foods. You may be surprised. If I could offer one bit of advice it would be to wonder why our food looks so perfect.
What's your solution to healthy pandemic eating?
Visit our cart, of course!
What are some quick meal options on your cart?
For breakfast we offer a nice selection of berries and stone fruits as well as melons. For lunch today we had someone stop for BLT fixings with our organic red butter lettuce, avocados, and heirloom tomatoes. For dinner, try a golden and green zucchini scramble with roasted baby potatoes and onions with herbs like thyme and a bay leaf.
Sweet Wheel Farms is located at 1150 Coast Village Road. Hours are Monday through Friday 8 am to 5 pm; Saturday 9 am to 4 pm and Sunday 9 am to 4 pm; Summerland location is 2285 Lillie Avenue. Hours Monday through Friday 10 am to 9 pm; Saturday 11 am to 9 pm Sunday 11 am to 5 pm. For more information contact (805) 770-3677 or visit https://sweetwheelfarms.com.
You might also be interested in...