Viva Oliva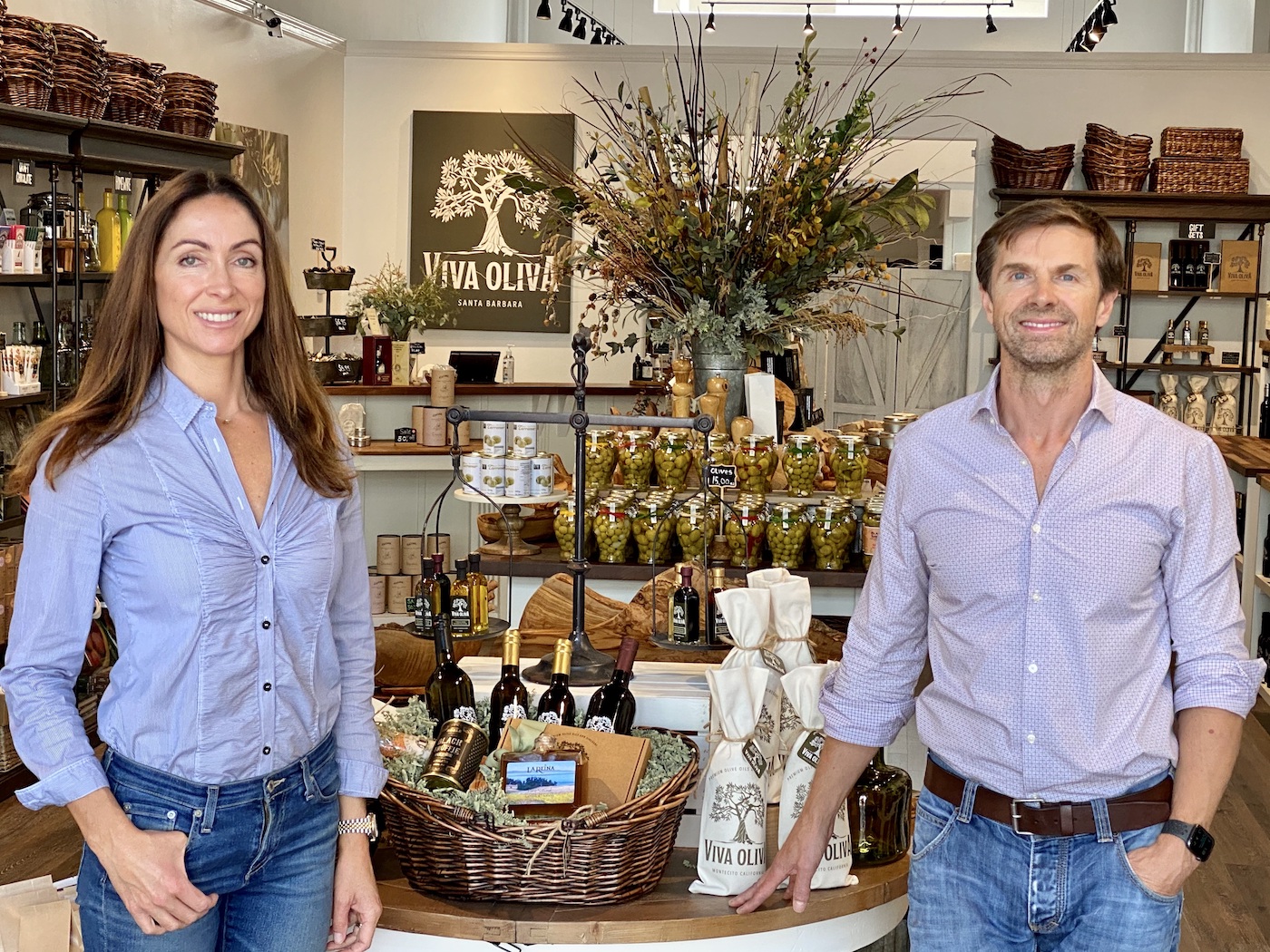 Keeping Your Pandemic Pantry Up to Date
Having a well-stocked pantry during the pandemic is crucial for those days when there's nothing in your fridge and you're reluctant to brave long lines at the grocery store. Whether you're tossing together pasta and clams or a home cooked bean salad, somehow shopping your pantry makes life feel orderly and easy.
Local purveyor Viva Oliva offers premium olive oil, balsamic vinegars, and specialty provisions to Santa Barbara gourmands who want to keep their pantries up to date.
Viva Oliva's new bright and airy, high-ceiling artisan boutique in downtown Santa Barbara makes shopping fun. It has a modern gallery feel, complete with stylish wood-and-metal shelving, olive branch floral displays, and a wide selection of pantry essentials from olive oils, balsamic vinegars, salts and spices to stuffed olives, truffles, pasta and tins of imported seafood delicacies such as baby sardines, octopus and mussels.
Here shoppers will find notable Santa Barbara suppliers such as Santa Barbara Soups, La Reina Pure Natural Coastal Honey, Jilli Vanilli, Ojai Jelly, Mustard and Co., Cabin 11, Santa Barbara Pickworks, Pascale's Kitchen, and Chocolats du CaliBressan.
And then there are the tempting novelty items: Haku Twashi Whiskey Barrel Aged Fish Sauce ($37), Noble Tonic 01 Tuthilltown Bourbon Barrel Matured Maple Syrup ($32), and Pacific Pickleworks Asparagusto! ($15).
Previously Viva Oliva was located in a quaint 800-square-foot shop on Coast Village Road, where original owner Andy Newell operated the business from 2015 to 2017, before it was purchased by Sven and Amanda Dybdahl. The couple had a desire to expand its concept and move into a larger space that would allow them to keep up with a higher volume of business.
The couple's new digs in a 2,500-square-foot space includes a loft office, temperature-controlled cellar and shipping/storage space. Amanda handles retail and shipping, while Sven oversees marketing and e-commerce.
"Andy laid the foundation for Viva Oliva and many of the products that she curated we still carry," Sven said. "We have since developed the brand and expanded it significantly to include more specialty food items." The couple also puts a focus on marketing and opening new sales channels, particularly its online business, with free shipping for purchases more than $75.
The shop offers a star-studded lineup of 40 extra virgin olive oils that vary from single variety and specialty oils to infused (blending herbs with the oils) and fused (a technique that involves crushing the olives together with herbs) for a variety of vivid flavors. Picual, coratina, Tuscan herb, basil, lemon, garlic and wild rosemary are just a few EVOOs available.
"Olive oil is not a product that improves with age, it's best consumed as fresh as possible," Sven explained. The crush date is added to each bottle. Once opened, a bottle of olive oil retains its peak flavor for three to four weeks, he added.
Viva Oliva partners with Veronica Foods, a family-owned company run by third-generation Italian immigrants who work directly with olive oil producers in California, Spain, Italy, Greece, Tunisia, Portugal, Chile and Australia.
Given their global sourcing, Viva Oliva can offer customers fresh products twice a year, whereas if it carried just California olive oils it could sell only one harvest per year.
While a fresh and clean olive oil can make a meal taste great, balsamic vinegars, another coveted pantry item, with thick, deep fruity tones and woody flavors from the barrel-aging process, can add a final touch of excellence with just a few drizzles.
Viva Oliva's selection is produced in Modena, Italy, and offers both dark and white varieties, made with Lambrusco and Trebbiano, Albana and Montuni grapes, respectively. The process involves caramelizing the balsamics in a large copper pot over an open wood fire before they are aged in wood barrels similar to those used in winemaking, Sven said. The variety of woods (such as oak, chestnut, acacia, cherry, mulberry, ash and juniper) add new dimensions to the flavor.
Pomegranate, black mission fig, dark chocolate, lavender, Sicilian lemon, grapefruit, ginger lemon grass and Blenheim apricot are just a few experimental fusion vinegars that can be used to dress a salad, marinate a pork chop or drizzle on your favorite pizza or ice cream.
Add any of them to a glass of sparking water or cocktail – voila! – you have a refreshing craft-vinegar tonic made with natural extracts. The Blenheim apricot is a regal variety that was imported to England in the mid-19th century and grown on Winston Churchill's estate. It's a delicious ingredient that tastes even better as a cocktail.
The olive oils and balsamic vinegars range from $15-$23 for a 200 ml bottle. Sample sets are available for $15-$36. The shop also offers a fine selection of kitchen essentials such as linen dishtowels and aprons, olive wood servers and Italian crockery.
Viva Oliva is so enticing and the staff so welcoming it could easily become a food lover's favorite hangout post pandemic. For now we venture out of quarantine knowing exactly which ingredients to pull from the shelves in order to complete our gourmet weekend. Order online at www.vivaoliva.com or visit 927 State Street in downtown Santa Barbara.
You might also be interested in...