Let's Dance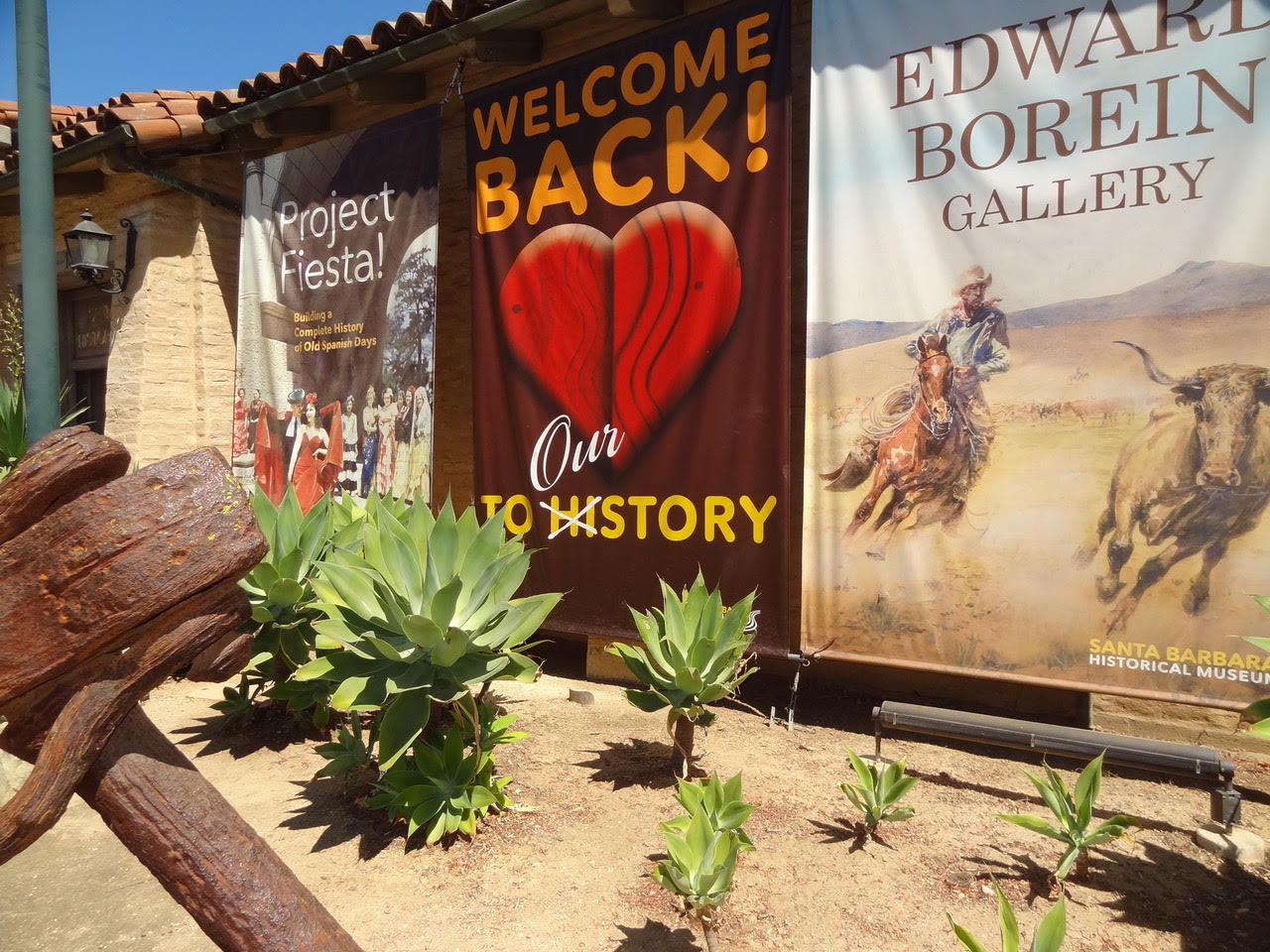 The Santa Barbara Historical Museum is one of the cultural gems of our city with a collection of more than 80,000 irreplaceable objects and artifacts relating to Santa Barbara's extraordinary past. For local history it's a must. The museum complex was constructed in 1965 by the Santa Barbara Historical Society (now called Museum), which was founded in 1932. Santa Barbara's rich past is represented with artifacts from Chumash, Spanish, Mexican, "Yankee," and Chinese cultures.
The library contains documents including 50,000 historic photographs. There are also two early 19th century buildings: the 1817 Casa Covarrubias and the 1836 Historic Adobe adjacent to the museum.
Because of the pandemic, Fiesta had to change as well. The museum is promoting "Project Fiesta! Building a History of Old Spanish Days." It is free to the public, outdoors in the courtyard, and features art, film, vintage posters and historical photographs highlighting those celebrations begun in 1924.
Acting executive director Dacia Harwood explained, "There is a postcard section from the John C. Fritsche Postcard Collection housed in the Museum's Gledhill Library. The collection numbers some seven thousand three hundred cards, the most extensive collection of old Santa Barbara ever assembled," and never before seen.
Fiesta El Presidente Erik Davis reminded us, "The rhythm of life in Santa Barbara is measured from one Fiesta to another: Families gather together, making memories, forming traditions, having the pride we all feel in our community. This year many signature events will be online or on television."
Erik's theme was "Let's Dance!" The Museum had blown up giant posters from years past and hung them all around the courtyard, many of them dancing fiesteros. The Spirit of Fiesta Alena Velasco and Jr. Spirit Alexandra Nocker each did a dance after receiving their Fiesta necklaces.
This year's Saint Barbara, Teresa Kuskey Nowak (the city's patron saint), was there dressed in her white attire with red cape and golden crown. Each year Reina del Mar Parlor No. 126, Native Daughters of the Golden West selects one of its members for this honor. The tradition began in 1926. Teresa claimed her civic pride is because her father was so active. "I grew up watching a man who continually gave to his community, often anonymously," she said.
Old Spanish Days 2020 executive committee is: El Presidente Erik Davis, La Prima Vice Presidenta Stephanie Petlow, El Segundo Vice Presidente Alex Castellanos, El Secretario David Bolton, and La Tesorera Maria Cabrera.
The Museum is located at 136 De la Guerra Street and you can still catch the exhibit through August 22. Call 805-966-1601 for hours. Viva la Fiesta!
You might also be interested in...