Montecito's Friendship Center and the Bucket Brigade Deliver Fiesta-Themed Totes to Santa Barbara Seniors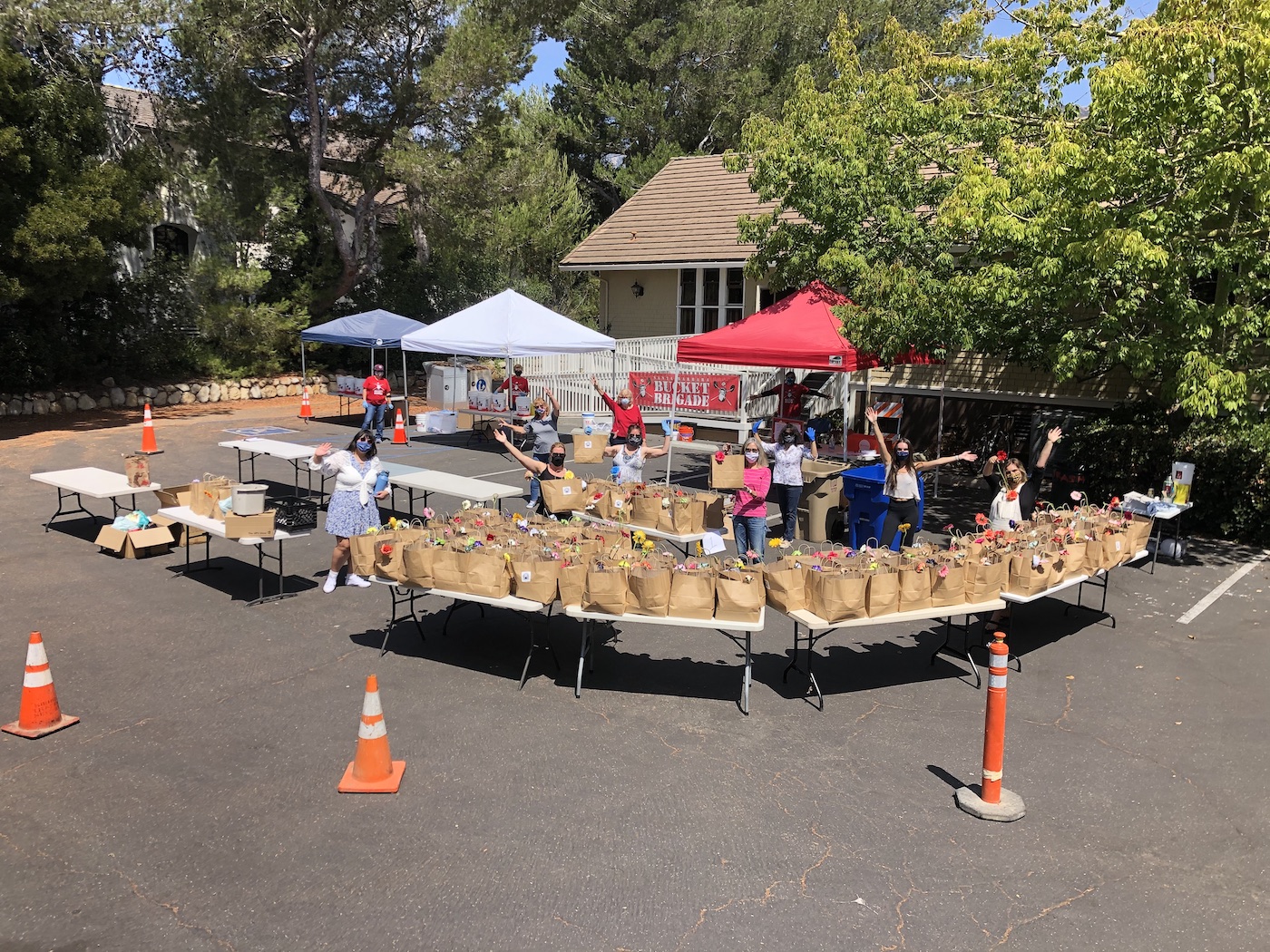 This week, both sides of State Street would typically be lined with crowds watching men and women wearing traditional Mexican costumes parading on horseback or dancing in formation from one end of town to the other. But thanks to COVID-19, the annual Old Spanish Days Fiesta has been called off for the first time since World War II, when the event was postponed from 1942 until 1946.
The event has a particular resonance with area seniors, who have watched it evolve over the years while also lending it a sense of continuity. And while this year's Fiesta has been called off, all is not lost.
Ever since the pandemic began, Montecito's Friendship Center Adult Day Services and the Bucket Brigade have been providing monthly deliveries of canned food, drinks, healthy snacks, and fun activities to area seniors who have now been isolated at their homes for nearly half a year. Although the first donation drive took place at the Friendship Center in March, both center staff and Bucket Brigade members have been using the parking lot behind the Montecito Library on East Valley Road every Wednesday morning since April to organize the deliveries.
On August 4, to mark what would have been this year's Fiesta parade, about a dozen volunteers set up in the parking lot to fill tote bags with Fiesta-themed supplies that went out to 125 seniors that afternoon. Other groups involved in the volunteer effort include the Santa Barbara Food Bank and the city's Community Action Commission, which runs a free lunch program. For this month's delivery effort, the Rosewood Miramar Beach also provided free, boxed lunches to volunteers.
Beneath a portable shade canopy in one corner of the lot, Bucket Brigade staffer Ana Fagen was busy dividing masks that had been sewn for seniors by the group's network of volunteer tailors into various sizes by stretching them along a specialized ruler. "Once we wash them and package them, we send them out to people who request them," Fagen said, adding that the masks are delivered to Friendship Center clients along with the food each month. "Their clients enjoy getting these care packages," she explained. "It brightens up their day."
A few meters away from Fagen, under the watchful eye of Bucket Brigade's co-founder and executive director Abe Powell, and his friendly pooch, Hazel, dozens of bags lined several tables in the parking lot as volunteers stuffed each one with various care package items. "We've been doing this since March," said Kim Larsen, the Friendship Center's family services manager. "We didn't do it last month, because we decided we were going to do it the first week of August to take in the Fiesta Days and do a Fiesta-themed bag."
The bags and the items inside, she added, were donated by the local parlor of the Native Daughters of the Golden West, of which she happens to be vice president. According to Larsen, the care-package deliveries originally numbered around 60 or so per month but have steadily grown as more caregivers found out about the program and requested that their patients be added to the list.
The Bucket Brigade was on hand that afternoon to deliver the lion's share of the totes, 115 or so, with the Friendship Center delivering the rest. "This is simply because in my case, seven of the people on the list are my neighbors," Larsen explained. "I thought it would be easier to deliver them myself."
Inside each bag were drinks such as Ensure and Capri Sun, as well as coffee and tea packets and healthy snack bars. "But the main thing they like are activity packets, similar to a lot of the stuff we do at the center," said program manager Kathryn Cherkas. "We have coloring sheets, trivia, and word games, a Santa Barbara-themed crossword. It's not the content that's in each bag but the sentiment, and the wonderful Bucket Brigade volunteers dropping by and saying hi to 130 people. It really makes our members feel good. We also have gift cards in this delivery so it will probably be our most popular one ever."
You might also be interested in...