Little Dom's Opens New Seafood Concept in Carpinteria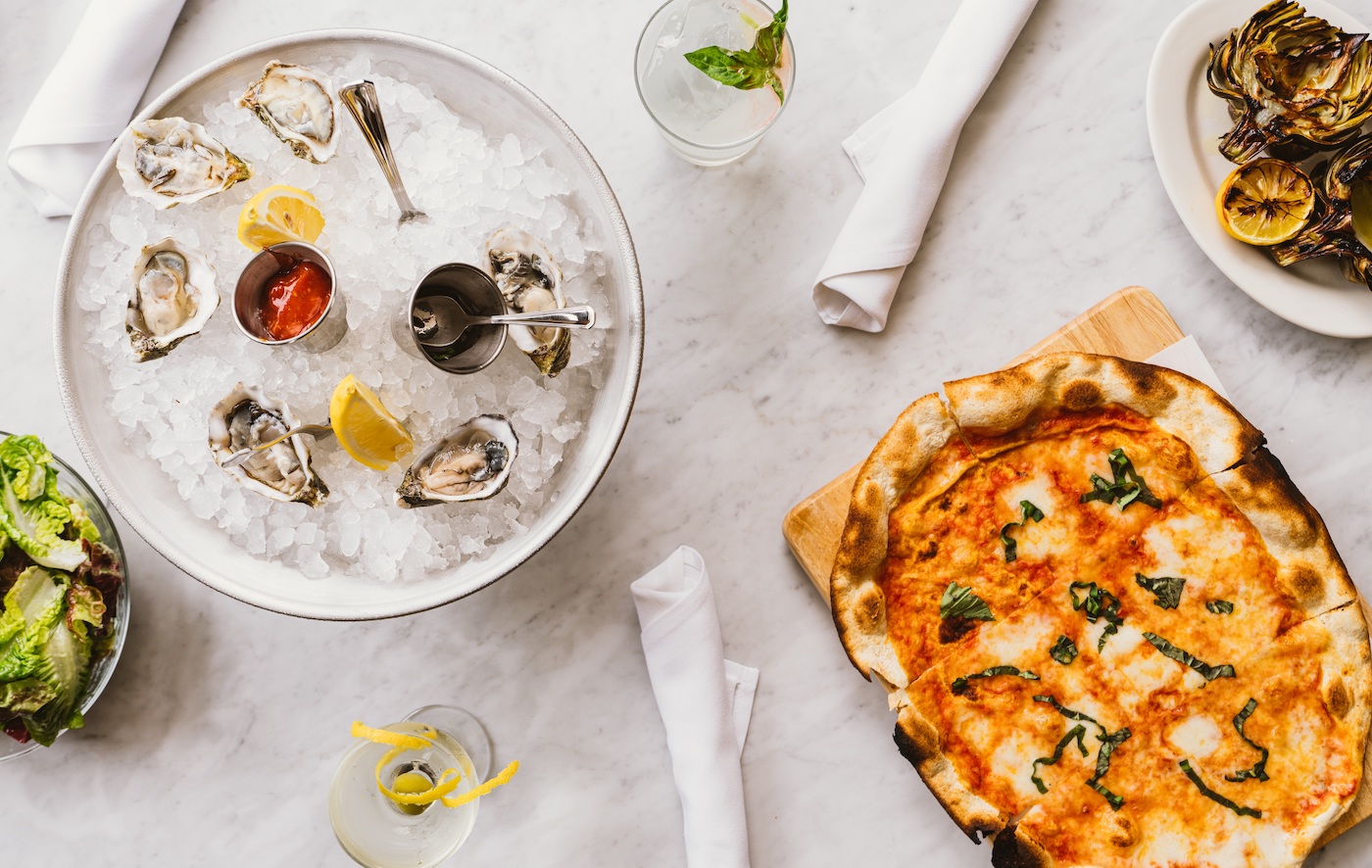 Step inside Little Dom's Seafood's newly opened Carpinteria location and be transported back to a time in the mid-20th century when red faux leather booths were en vogue and portraits of famous Italian patrons were displayed on walls like badges of honor. Back then, neighborhood restaurants serving traditional Italian American fare were indies, not part of any kitschy chains.
This seaside gem, by Los Angeles restaurateurs Warner Ebbink and Executive Chef Brandon Boudet, has a deli-style takeaway counter, raw bar, and expansive dining room with bar seating and outdoor tables set along bustling Linden Avenue.
In 2008 Ebbink and Boudet opened Little Dom's in L.A.'s Los Feliz neighborhood, offering wood-oven pizzas, pastas, and other classic dishes. The restaurant quickly established itself as a hip eatery with an understated sophistication.
"Not that I have anything against it, but it's never been a goal of mine to be lumped into a commercialized dining experience," Ebbink said. "Brandon and I have been inspired by East Coast diners, but our real inspiration comes from the design aesthetic and culinary offerings of Cal Italian restaurants in San Francisco's North Beach."
Little Dom's Seafood mirrors the L.A. location's old school charm but with an emphasis on local seafood, pizza fired in a wood-burning oven, organic produce, and wines of the Central Coast. Its proprietors work with local purveyors including Frecker Farms and Beylik Farms for fresh-picked fruits and veggies and Sea Stephanie Fish for stellar seafood.
There was a strategy about adding "seafood" to the name. "We wanted to feature some aspect of the local culture and flavor on our menu," Ebbink said. "There are so many resources around here it's incredible. We don't want to be the seafood restaurant that buys their seafood out of state or out of country. Our concept is all about supporting local fishermen."
The menu features pastas, wood-fired seafood and pizzas, salads, crudos and a chilled seafood selection with prices ranging from $15 to $28. Fresh raw oysters, live uni, and smoked fish rillettes are just a few of the tempting delicacies offered. Prices range from $3 per oyster to $21 for live uni.
Boudet showcases local catch in updated classics such as squid ink mafaldine ($21), a northern Italian inspired pasta dish served with uni butter. Equally superb is the chef's new take on the classic meatball sandwich: a meatball burger, with a cast-iron-smashed meatball patty, aged provolone, pickled tomato and Calabrese chili aioli on toasted brioche ($19).
The eatery offers a Monday Supper Special three-course meal for $25 per person. Add a bottle of Little Dom's house blend wine for $20.
Pastry Chef Ann Kirk bakes an impressive lineup of house-made desserts including Choux Choux, with local strawberries and mascarpone, and a made-to-order flourless chocolate olive oil cake, topped with her signature olive oil gelato, toasted pine nuts and sea salt.
To complete the dining experience, sommelier Jeremy Allen curates a selection of coastal craft beers as well as bottlings from boutique wineries in Italy and along California's Central Coast, such as Palmina, Holus Bolus and Habit Wine Company. His libations menu features classic Italian cocktails with a twist, such as That Amaretto Sour.
Little Dom's Seafood is open for takeout and outdoor dining, allowing up to 40 guests, and available by reservation only, through Resy or by phone. Find Little Dom's Seafood at 686 Linden Avenue, Carpinteria. Dinner service from 4:30 pm to 10 pm Wednesday through Sunday.
You might also be interested in...